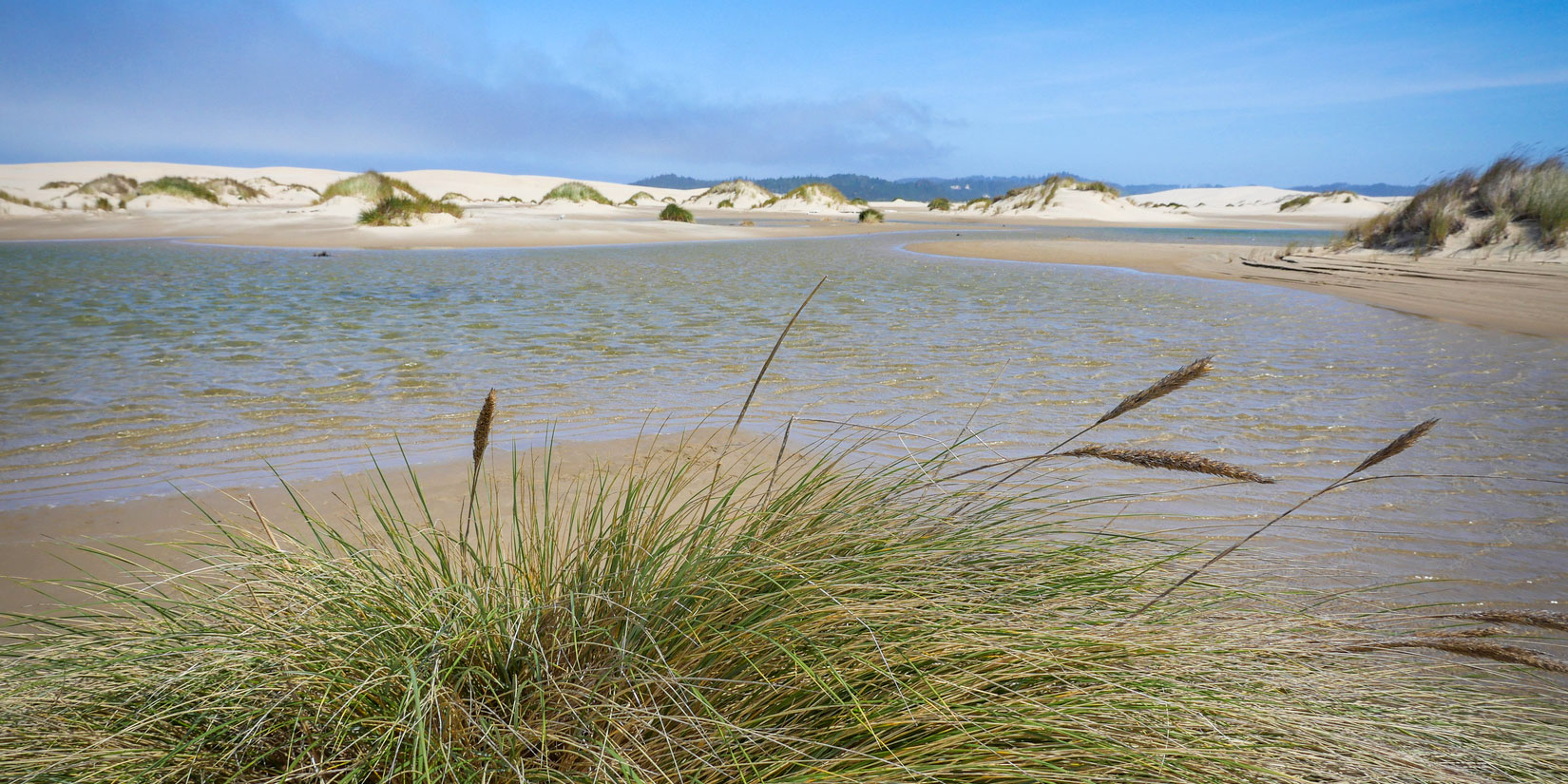 The Oregon Coast Visitors Association (OCVA) has joined Tourism Declares a Climate Emergency, an international initiative that supports tourism businesses, organizations and individuals in declaring a climate emergency and taking purposeful action to reduce carbon emissions as per the advice from The Intergovernmental Panel on Climate Change (IPCC) to cut global carbon emissions to 55% below 2017 levels by 2030.
Read the official declaration here. 
Read the OCVA Mitigation, Adaptation and Resiliency Plan-2022
Presentations
TECHNICAL SESSION ON THE GLASGOW DECLARATION ON CLIMATE ACTION IN TOURISM

1.27.22

The Glasgow Declaration on Climate Action in Tourism (https://www.oneplanetnetwork.org/prog…) aims to unite those leading tourism's transformation around a common set of pathways for climate action.  During the afternoon session, the milestones planned for 2022 were presented and signatories (https://www.oneplanetnetwork.org/prog…) had the opportunity to share feedback and exchange with the Coordination Team on achievements, priorities and challenges.

Catalysing A Decade of Climate Action in Global Travel and Tourism

11/4/2021 – Earlier in the day, the Glasgow Declaration for Climate Action in Tourism was launched, an initiative to galvanise the global travel and tourism industry to commit to a decade of climate action.

This afternoon event was designed to build on this and create a dynamic opportunity for leading tourism stakeholders around the globe to highlight good practice and innovation on the journey to net zero, while exploring the actions, enablers and barriers to achieving it. None of us individually hold all the answers, but collectively we can share our knowledge and accelerate climate action.

Tourism and Climate Action Watch Party

10.12.2021 – Climate change has the potential to significantly impact travel and tourism in the coming years, but our sector also has a tremendous opportunity to be a catalyst for change, and to do so it is imperative that we work closely together. You do not need to be an expert nor committed to a climate action plan to engage in this conversation.

Oregon Coast Tourism and Climate Action Workshop

10/12/2021 Workshop with OCVA's climate scientist Patty Martin during the 2021 People's Coast Summit

Information Session on Accelerating Climate Action in tourism: The Glasgow Declaration

09.21.2021 Information Session on Accelerating Climate Action in tourism: The Glasgow Declaration

Podcast - Oregon Coast Tourism and Climate Change: Where does tourism fit in? | Big Tourism

8/21/2021 – Arica Sears and Climate Change Specialist Patty Martin as they give the ASPN audience a peek behind the curtain at the Oregon Coast Visitors Association (OCVA) and it's recent commitment to climate action. Climate change has the potential to significantly impact travel and tourism in the coming years, but this sector also has a tremendous opportunity to be a catalyst for change, and to do so it is imperative that coastal communities and tourism destinations work closely together. Explore the role of tourism in climate change, what they've learned at OCVA so far and where they are going next.
Research and Data
Electric Micromobility in Oregon

This report provides actionable strategies and best practices for the Oregon Department of
Transportation (ODOT) to facilitate e-micromobility growth. It extends ODOT's work on the 2021 Transportation Electrification Infrastructure Needs Analysis (TEINA) project, which reported on electric vehicle charging infrastructure needs for light-duty, medium-duty, and heavy-duty vehicles in Oregon through 2035.

Oregon's Blue Carbon Ecosystems

Blue carbon refers to the carbon stored and sequestered in the soils, living vegetation, and other biotas in coastal and marine ecosystems. Managing these ecosystems provides an opportunity to mitigate climate change by reducing greenhouse gases (GHGs) emitted into the atmosphere. To help interested stakeholders make sense of this evolving opportunity, The Nature Conservancy in Oregon compiled this document to examine the status of blue carbon science in Oregon and the Pacific Northwest (PNW). Specifically, this report summarizes regionally relevant scientific literature to help readers understand the basics of the blue carbon cycle and GHG mitigation, and the mechanisms of carbon sequestration and storage in Oregon's coastal and marine ecosystems. With this document, we aim to highlight what is known and what remains unknown concerning coastal and marine blue carbon in Oregon and provide recommendations for managing blue carbon ecosystems as natural climate solutions.

2021 Biennial Zero Emission Vehicle Report - Oregon Department of Energy 2021

As of June 2021, there are 38,482 light-duty zero-emission vehicles registered in Oregon, comprising just over 1 percent of passenger vehicles. While ZEVs are increasingly popular, the state did not achieve its 50,000 registered ZEVs by 2020 goal, and it is not on track to achieve the 2025 or 2030 goals. However, Oregon is well-positioned to increase ZEV adoption with policies and programs that support ZEV sales in Oregon, including incentives, to help reduce up-front vehicle costs.

Transportation Electrification Infrastructure Needs Analysis (ODOT)

The goal of Oregon's Transportation Electrification Infrastructure Needs Analysis (TEINA) study is to evaluate the likely future charging infrastructure needs of all modes of electric transportation. As such, it is a needs analysis intended to set the stage for development of a follow-up deployment strategy. TEINA focuses on light-duty vehicle (LDV) charging needs while also including transit, delivery, freight, and micromobility vehicles during the modeling period of 2020–2035.

Environmental Justice Impacts of Zero Emission Electric Vehicles

How governments can enhance equity outcomes of their zero emission vehicle policies.

2023 - Oregon Climate Assessment

The Oregon Legislative Assembly charges OCCRI with biennial assessment of the state of climate change science, including biological, physical, and social science, as it relates to Oregon and the likely effects of climate change on the state.

The Oregon Climate Assessments reflect the generous contributions and expertise of OCCRI's extensive network of university, public, and private partners. Content is peer-reviewed, and often serves as technical input to the quadrennial National Climate Assessments.

Oregon Climate Assessments were released in 2010, 2013, 2017, 2019, 2021, and 2023. DOIs for the assessments are pending.

ODOT Climate Action Plan 2021 - 2026

The Oregon Department of Transportation's work to address the impacts of climate change is continually evolving, and the Climate Action Plan will be updated as needed to reflect advancements and changes.
Oregon Climate - News Updates
'The next great casualty of climate change' could be global fishing stocks

11.23.2021. Yahoo News

"That grim reality has brought the urgency of global warming home for even conservative residents of his home state, Sen. Jeff Merkley, D-Ore., told Yahoo News earlier this month at the U.N. Climate Change Conference in Glasgow, Scotland. 

"Fifteen years ago in rural parts of the state, people would say, 'Oh, this is just some Ivy League invention,'" Merkley said. Today those same constituents, many of whom are fishermen, understand that "the trout streams were warmer and smaller, and it affects them."

Newly passed legislative bill funds actions to support Oregon fisheries, fishing industries, coastal communities in face of changing ocean conditions

7.19.2021, ODFW News Release

House Bill 2021, 100% Clean Energy for All, Passes Oregon Legislature

6.26.2021

House Bill 2021, which commits Oregon to 100% clean, carbon-free energy by 2040, was just passed by the state legislature! The Governor has committed to signing it so Oregon will now have the most ambitious 100% clean law in the country.
Oregon Climate Action Initiatives (non-tourism)
Oregon Department of Forestry Climate Action Plan

Purpose: Make forestry in Oregon a leader in climate change mitigation and adaptation. The Oregon Department of Forestry will be a leader in promoting climate-smart forest policies and actions that achieve our vison by operationalizing goals, implementing actions, and measuring progress to achieving climate goals.

Department of Environmental Quality - Climate Protection Program

The Climate Protection Program, a new regulatory program starting in 2022, will dramatically reduce greenhouse gas emissions in Oregon over the next thirty years. The Climate Protection Program sets a declining limit, or cap, on greenhouse gas emissions from fossil fuels used throughout Oregon, including diesel, gasoline, natural gas and propane, used in transportation, residential, commercial and industrial settings. The program also regulates site-specific greenhouse gas emissions at manufacturing facilities, such as emissions from industrial processes, with a best available emissions reductions approach.
PILOT PROJECT: GIVE BACK DONATION SYSTEM
The Oregon Coast Visitors Association is now accepting applications for a new coastal tourism-generated funding stream.
Nonprofit organizations offering environmental stewardship programming on the Oregon Coast are invited to apply to receive funding. Through visitor-facing donation systems, the Oregon Coast Visitors Association will allow visitors to support organizations actively working to protect and restore the coastal environment.
Strong applicants will demonstrate a commitment to:
Conserving and/or restoring Oregon Coast ecosystems in accordance with accredited science-based best practices
Programming that aligns with local social and ecological contexts on the coast
Transparent measurement and accounting practices of the impact of funded programming (including measuring greenhouse gas emissions and/or sequestration)
A commitment to empowering local people, including those from historically disadvantaged groups
Organizations that have weighed uncertainty, potential negative impacts, unintended consequences, and foreseeable risks of intended or ongoing programming
To be considered eligible, an applicant must be:
A 501c(3) nonprofit organization
Working on the Oregon Coast
Working to implement policies and practices that will benefit wildlife, nature, or the global climate
To apply to be considered as the funding recipient for these new programs, please fill out the application form.
Contact Info
For more information contact:
Arica Sears, Deputy Director Oregon Coast Visitors Association
Strategy, Tourism Industry Contact, Outreach, Planning
icom@thepeoplescoast.com
Patty Martin, Climate Scientist
Research, Resource and Energy Agencies Contact, Solutions
patty@thepeoplescoast.com
Finn Johnson, Coastal Tourism Resiliency Coordinator
EV Charging, Coastal Tourism Business Networking, North Coast Transit Plan, Donation System for Visitors
resiliency@thepeoplescoast.com