Amenities for Greater Access
The Oregon Coast Visitors Association and coastal cities, organizations and destinations all along the coast are working to improve "travelability," which simply means the ability for our accessibility community to travel on the coast. While accessibility is not a one-size-fits-all descriptor, here are a few destinations offering accessibility amenities to check out on your next trip to the beach.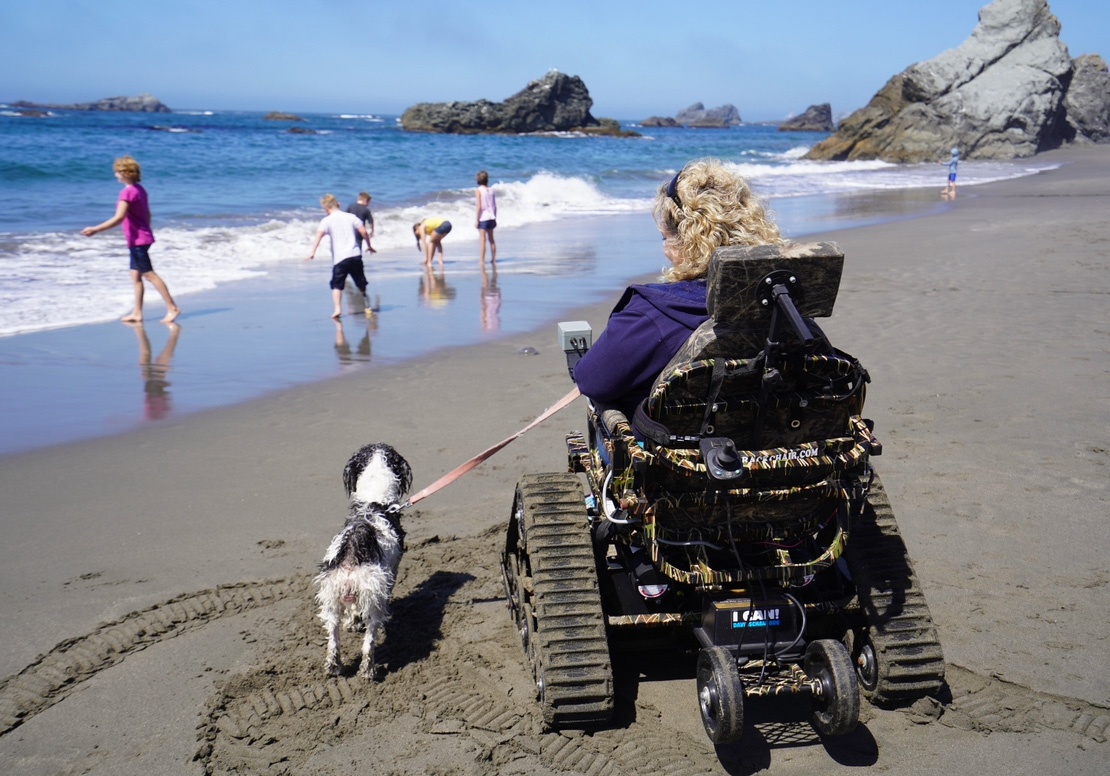 Accessible Coast – David's Chair
Anyone with mobility disabilities, such as those who use wheelchairs, scooters, walkers, canes or crutches, can reserve an electric all-terrain Track Chair free of charge. David's Chair and Oregon Parks Forever have partnered to make these chairs available along the Oregon Coast, providing freedom for visitors to get onto the beach and into nature.
Chairs are currently available at the following Oregon Coast locations (see map):
Seaside
Manzanita
Netarts
Pacific City
Newport
Florence
Coos Bay – available early 2024
Gold Beach
Reservations for free use must be made at least three days in advance at: davidschair.org.
David's Chair also hosts events along the Oregon Coast for users to experience the track chairs for themselves. Check the David's Chair website for dates and locations.

Accessible Fishing Piers
Oregon Department of Fish and Wildlife shares many accessible fishing sites on the coast (and elsewhere around the state) with this Disabled Angler Access Map. Sites include:
Astoria 6th St. Viewing Platform
This accessible wooden fishing dock on the Columbia River is located in Astoria right off the Astoria Riverwalk. Paved parking is available across the street. Fish for sturgeon, salmon, and steelhead
Tillamook Tidewater Pier
This ADA accessible fishing and viewing platform for wintering waterfowl and sea birds sits at the confluence of the Tillamook and Trask Rivers. Fish for steelhead and salmon at this site which also includes four paved ADA parking spaces and ADA restrooms.
Bandon Marina
Opened in 2022, an ADA-accessible fishing pier on the western side of the Bandon Marina riverwalk was designed for people of all disabilities and ages to have a safe place to catch marine fish from the shore. Funders included the Oregon Department of Fish and Wildlife's Restoration and Enhancement Program, the Port of Bandon, the Wild Rivers Coast Alliance, Oregon State Parks, the Ford Family Foundation and the City of Bandon.
Brookings Harbor Marina
Located at the mouth of the Chetco River, the Brookings Harbor Marina provides year-round slips for sport fisherman. With an extremely safe bar to cross, it is possible to try your hand for lingcod, halibut and snapper almost year-round. The harbor dock can accommodate 6-8 people comfortably and the crab dock can accommodate up to 25 people. The harbor offers many amenities and has ample paved parking, public restrooms and a fish cleaning station. Common species caught off both docks include salmon, rockfish, crab. Amenities include public restrooms, paved parking, fish cleaning station, boat ramp.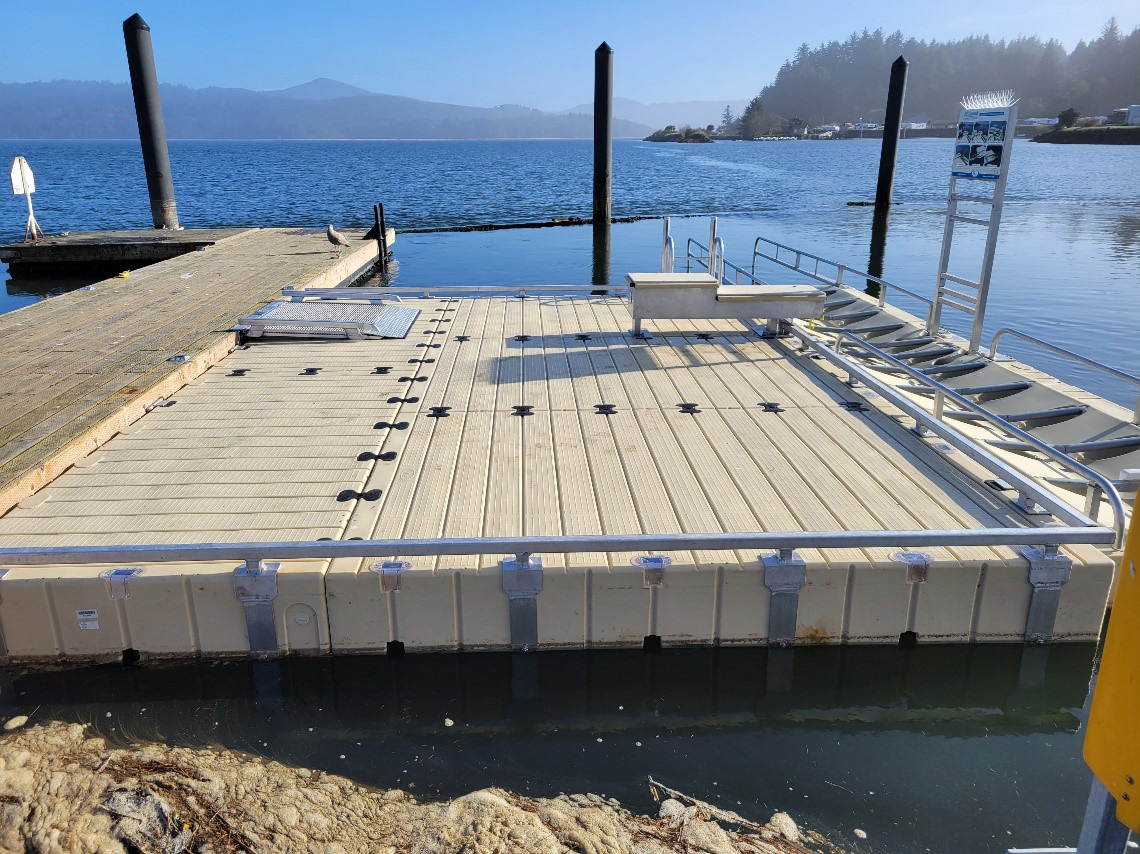 Accessible Kayak Launches
Broadway Park in Seaside
Broadway Park in Seaside is a popular place to gain boat access to the Necanicum River. In March 2015, a joint project funded by ODFW, Necanicum Watershed Council, City of Seaside, Oregon and the Sunset Empire Park & Recreation District enabled the installation of an ADA accessible watercraft launch at this site. The launch is located at Broadway Park in Seaside, Oregon and is open to the public.
Elmore Park in Tillamook
Sue H. Elmore Park in Tillamook is outfitted with a kayak launcher into Stillwell Slough.
Wheeler Marina
In the community of Wheeler at the public boat dock, paddlers will find a kayak launcher into Nehalem Bay.
Port of Garibaldi
The Port of Garibaldi Marina has a kayak launcher into Tillamook Bay.
Port of Alsea in Waldport
An ADA-accessible kayak dock was installed in 2021 at the Port of Alsea Marina. While designed specifically for those with disabilities, the dock also provides water access for those who recreate in kayaks, canoes, and paddle boards.
Port of Toledo
While not officially ADA-compliant, this kayak launch at the Port of Toledo has accessibility features. The area provides a launch ramp, docks, parking for vehicles with trailers, restrooms, a picnic area, and a fish cleaning station.
Port of Siuslaw in Florence
In 2022 the Port of Siuslaw added a new kayak launch point on the E dock, near the boat launch area by Bridgeport Market. The launch is designed to stabilize kayakers when entering the river, with a bar to hold on to, a place to tie the raft and entry points on either side.
Tahkenitch Landing Boat Ramp
Between Florence and Reedsport, the Tahkenitch Landing Boat Ramp is accessible to wheelchair users for both boat access and fishing.
Eel Lake Boat Ramp at Tugman State Park
An ADA-accessible kayak launch was installed at Eel Lake Boat Ramp at Tugman State Park in 2021. The kayak launch was made possible through a partnership with the Oregon State Parks, The Oregon Coast Visitors Association, Travel Oregon, Tenmile Lakes' Basin Partnership, Family Ford Foundation, and Travel Southern Oregon Coast.
John Topits Park, Coos Bay on Empire Lakes
Coming Soon!
Port of Gold Beach on the Rogue River
Coming Soon!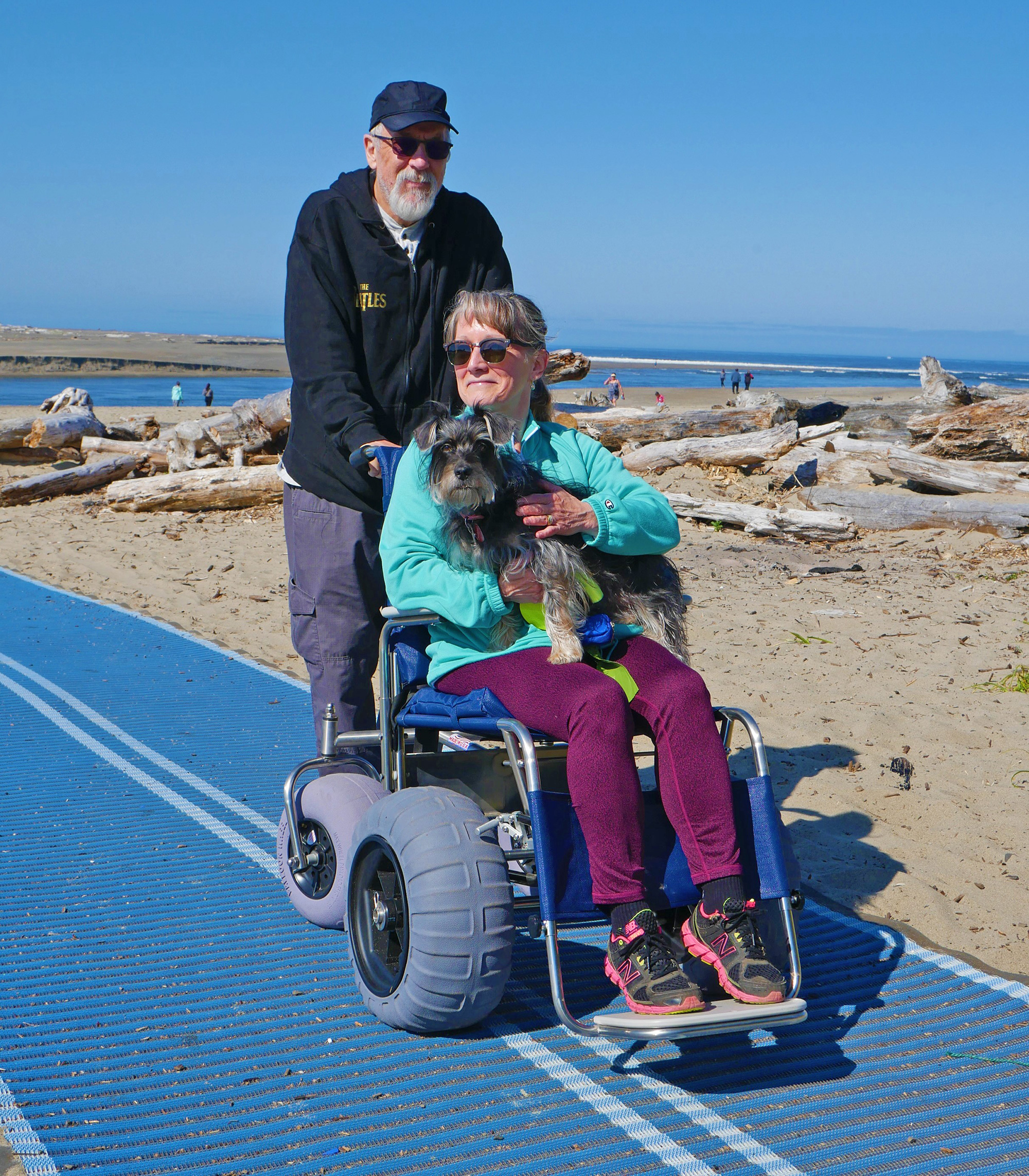 Accessible Beach – MOBI Mats
The Oregon Coast beach sand is beautiful, but it isn't always easy to walk on. MOBI mats are non-slip, roll-up beach access mats that are helpful for people with disabilities, pedestrians and elderly visitors or parents with strollers. Be aware that installation is seasonal.
Lincoln City
The City of Lincoln City purchased 450 feet of six-and-a-half foot wide, ocean blue mobility mats, which are installed seasonally at three points at SW 34th Street, the D-River Wayside, and SW 51st Street.
Beverly Beach State Park
At Beverly Beach State Park, Mobi Mats are rolled over the sand to provide beach access to people who use wheelchairs. They can be reserved by calling the registration booth, 541-265-9278, and are otherwise available on a first-come, first-served basis. The State Park also includes three campsites and six yurts accessible to campers with disabilities.
More locations
Coming Soon!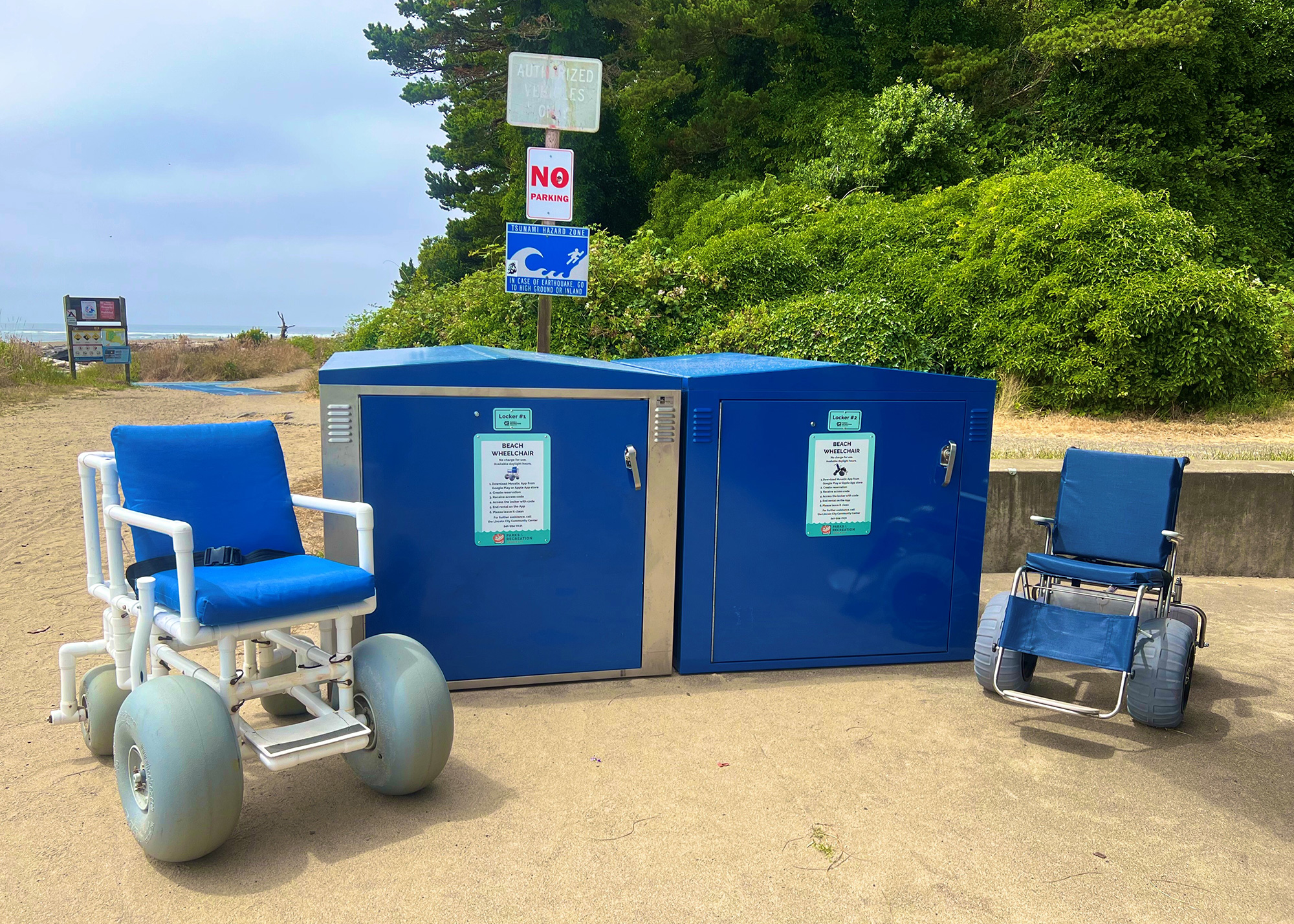 Beach Wheelchairs for Loan
Seaside
Seaside offers three beach wheelchairs for free rental. Call the Sunset Empire Park & Recreation District at 503-738-3311 to reserve in advance.
Manzanita
Manzanita Visitors Center offers three beach wheelchairs (two adult, one child) available at no cost, seven days a week. Call (503) 812-5510 to make a reservation (recommended).
Pacific City
Tillamook County Visitors Association has wheelchairs for use in the town of Pacific City plus in nearby Rockaway Beach, Nehalem Bay State Park, Barview Jetty County Campground and Cape Lookout State Park.
Lincoln City
Lincoln City has beach wheelchairs stored in a locked blue storage container at the beach access on the west end of SW 51st Street. The chair is available for check out at no charge, seven (7) days a week from 8am-4pm October through April and 8am-7pm May through September. Rentals are available on a first-come, first-serve basis.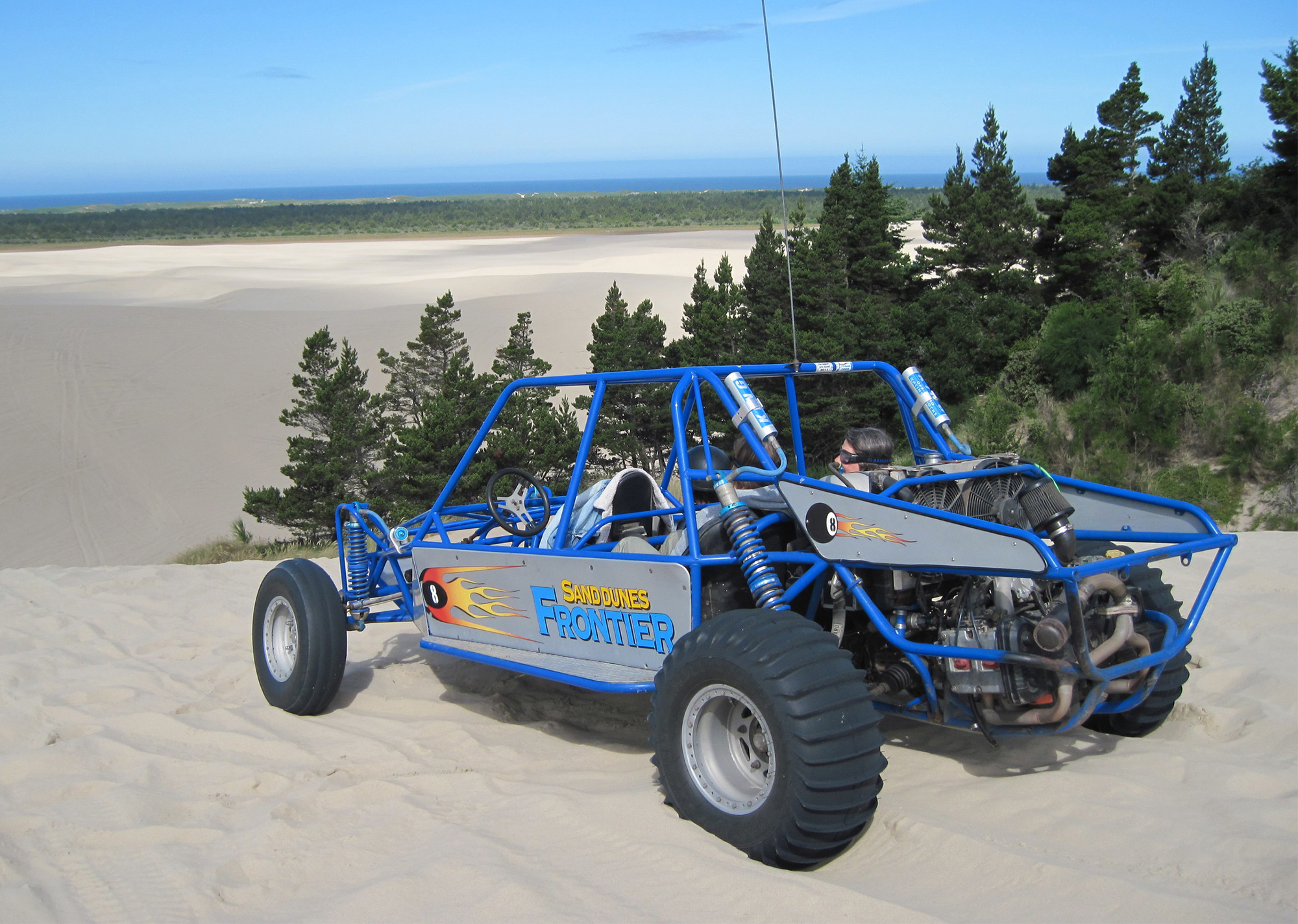 Attractions with Accessibility Amenities
Astoria
Seaside
Newport
Florence
Siuslaw Pioneer Museum – ADA ramp and lift.
Both of the dune buggy companies south of Florence can accommodate wheelchair users in their vehicles. It is best to call ahead to confirm availability and discuss any other concerns about the high speed and rough motion of the vehicle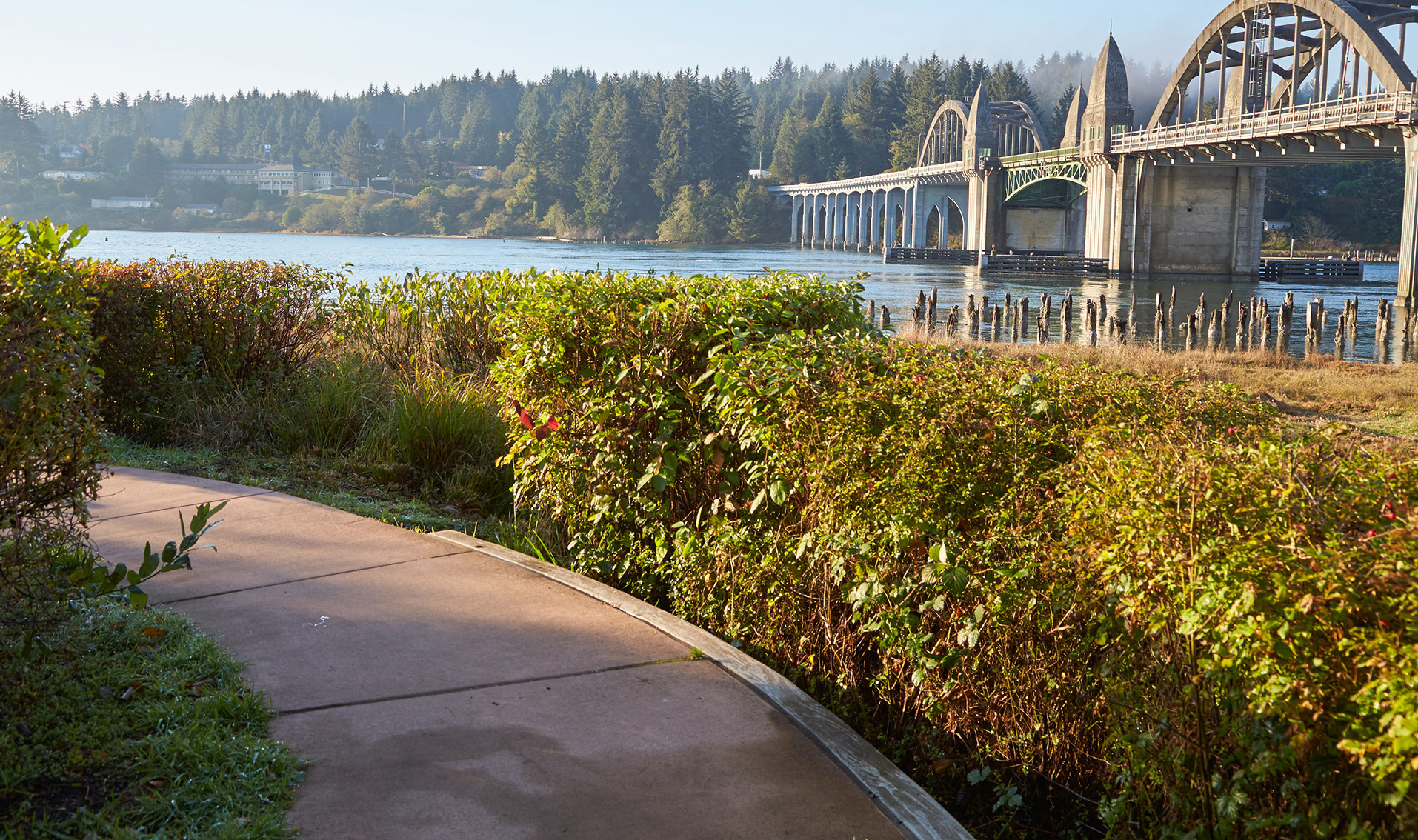 Accessible Scenic Overlooks and Trails
Depoe Bay Whale Watch Center: This is a facility operated by Oregon State Parks that is one of the best whale watching locations year-round with both indoor and outdoor viewing areas. State Parks personnel are on hand to help visitors spot whales.
Yaquina Head Outstanding Natural Area: Paved paths offer great views and circle a scenic lighthouse. There's also a wheelchair accessible intertidal area at Quarry Cove. Seabirds, seals and whales are common sightings.
Cape Perpetua Scenic Area: Variety of paved paths offer views from atop the cape and along a scenic stretch of oceanfront at Cook's Chasm for views of Spouting Horn and Thor's Well. A nearby paved overlook offers views of Devil's Churn. The Visitor Center offers a good whale watching viewpoint.
Heceta Head Lighthouse Highway Viewpoints: Just south of Sea Lion Caves are two small highway-side viewpoints that offer wonderfully scenic views of the beautiful Heceta Head Lighthouse.
Oregon Dunes Day Use Area: Just south of Florence, this dunes overlook offers access to wheelchair accessible viewing areas of the Oregon Dunes.
Shore Acres State Park: A must-stop with paved trails along a cliffside famous for great wave action, seals, sea lions and whales. The formal gardens of a one-time historic estate can also be toured. Nearby, the Simpson Reef overlook is one of the best places to watch seal lions on the entire Oregon Coast. Nearby Cape Arago State Park also offers paved paths and overlooks good for whale watching.
Coquille Point in Bandon: A beautiful overlook of the many rock formations along Bandon's beautiful beach and a network of paved paths. The nearby Face Rock viewpoint offers more great views and a short paved pathway.
Battle Rock Park in Port Orford: Beautiful view of coastline to the south.
Arch Rock & Spruce Islands Viewpoint: The Samuel H. Boardman State Scenic Corridor offers a few nice wheelchair accessible stops, but this is my favorite. A few paved paths (some a little rough) offer great views of a scenic stretch of coastline.
Harris Beach State Park: Paved paths at the day use area of the park offers nice views of the rock strewn shoreline.
Beaver Creek State Natural Area in Seal Rock: The wide, paved boat ramp slopes gently to the water, which makes for a safe and accessible launch. An accessible vault toilet is large enough to accommodate just about any manual chair.
Guides and Resources
Oregon State Parks also partners with Adventures Without Limits, which provides custom recreation experiences for people of all abilities, including accessible kayak events and overnight camping trips.