The Oregon Coast's Best Catch
Explore the many reasons to love sustainable local seafood
For many visitors to the Oregon Coast, dining on a delicious seafood meal is at the top of the vacation list. Chinook salmon, Pacific halibut, Dungeness crab and more species are all native to Pacific Ocean waters, seasonally and sustainably caught by regional fishers, and delivered to the kitchens of local chefs. Dining on local seafare is a delicious way to participate in a longstanding tradition and not-to-be-missed highlight for Oregon Coast visits.
Read on to learn what seafood is local, when it's in season, how to find it, why you should, and other ways to experience the local fishers, chefs and seafare-based communities of the Oregon Coast.
What seafood is local to Oregon?
From Astoria to Brookings, Oregon Coast seafood is freshly caught and available in friendly fish markets, farmers market stalls and restaurants. Some types of Oregon seafood are commercially caught all year-round, and others are in season at certain times of the year. Learn what's local to Oregon and when it's in season to ensure you're getting the freshest, most local seafood around. We like the term "Oregon Landed" seafood, which means it was delivered to a port in Oregon. When in doubt, ask your chef or grocer—what's fresh and local today?
Seafood species landed in Oregon, and their seasons
Dungeness Crab
Dungeness crab is commercially harvested from roughly December to August. This delicious product is in high demand.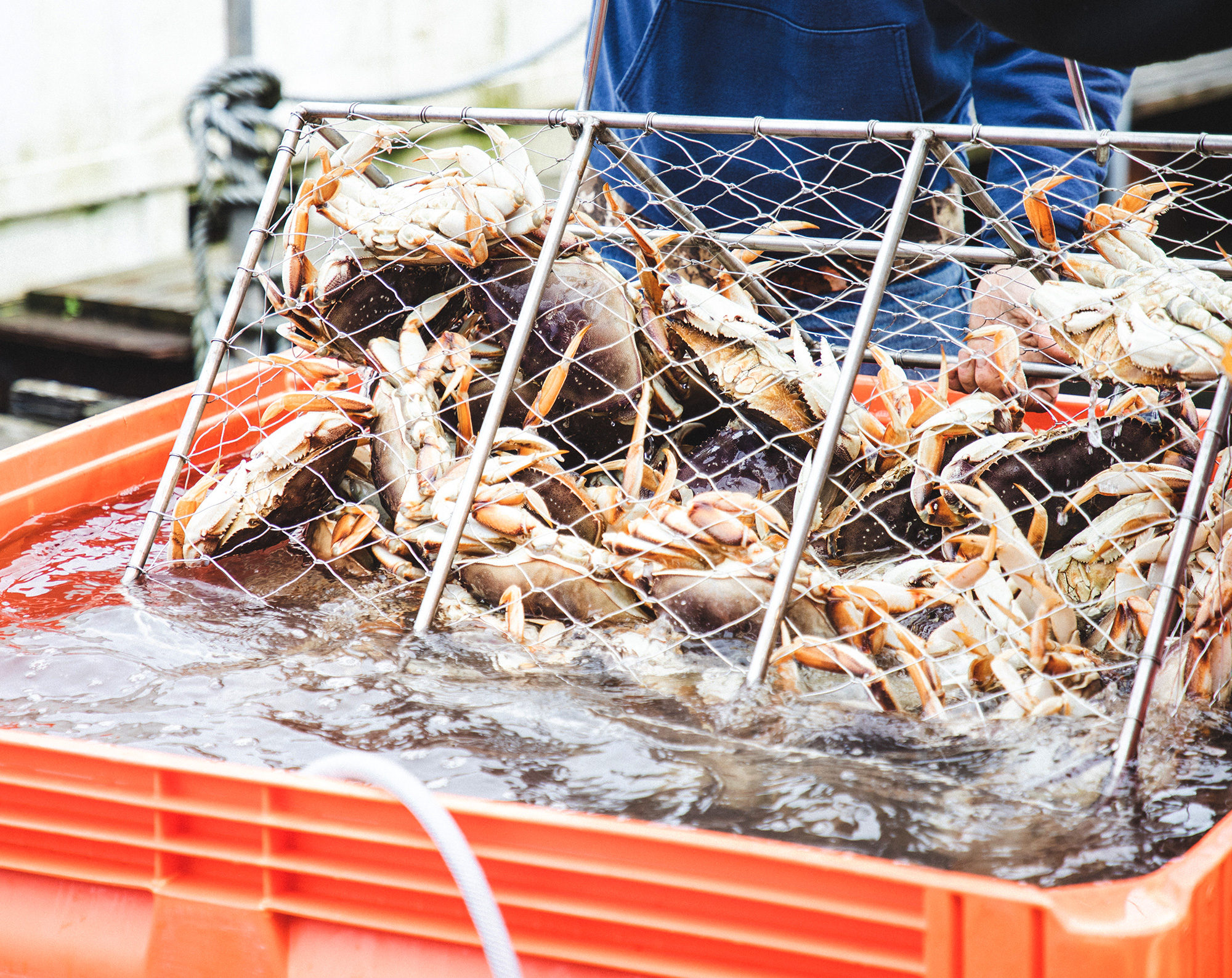 Pacific Halibut
Fresh halibut has a limited season, generally at the height of the summer in June or July. If you see it, buy it!
Pink Shrimp
Oregon's tiny pink shrimp are harvested April through October but are almost always fresh-frozen and readily available even after the season is over.
Albacore Tuna
Look for this delicious fish to appear on menus and in fish markets late June to late September. Albacore is a terrific alternative to ahi and other tunas, deemed healthier both for a higher quantity of omega-3 fatty acids as well as a lower quantity of mercury.
Salmon
Salmon has different seasons depending on the species; fresh chinook can generally be found April to October, and coho July to September. Long sacred to Native American diet and belief, salmon is arguably the fish that most defines Oregon seafood. Be aware that some particular salmon runs have been completely closed due to low returns to rivers. Alaskan Salmon are often the most sustainable.
Lingcod, Rockfish, Sole, Flounder, and Blackcod (groundfish species)
The large family of fish with flaky, mild, white flesh known as groundfish are fished all year on the Oregon Coast. These include rockfish, lingcod, black cod (sablefish), flounder (petrale) and Dover sole. Any one of these makes terrific grilled-fish tacos and other meals.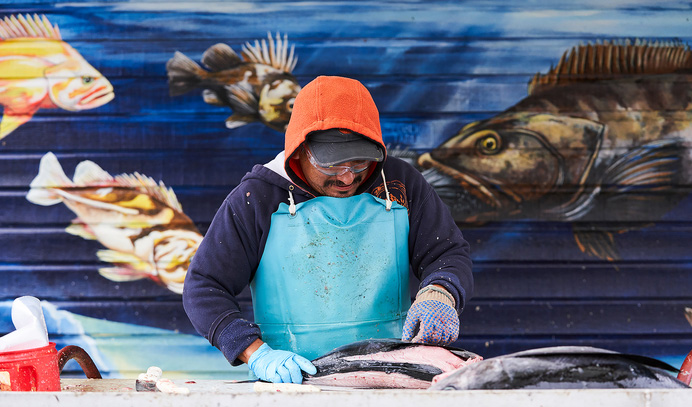 Oysters
The Pacific oyster is sustainably commercially farmed and harvested year-round at many locations on the Oregon Coast.
Clams
Razor clams have a strong and devoted food grade market, while bay clams such as cockles and butter clams are predominantly harvested recreationally in season throughout the year.
Sea Vegetables
Seaweed is on the rise as an aquaculture (agricultural) specialty crop in Oregon. Look for locally farmed dulse (red seaweed) on restaurant menus and in local markets.
Hake and Whiting
Hake, whiting, and hagfish are all also harvested in Oregon, but don't really have a market here and so are mostly exported to Asia and other destinations.
For more information:
Read this story about understanding what defines local and sustainable seafood.
Where can I find local seafood?
It's a bit like a treasure hunt—once you start to look, local seafood is all around you on the Oregon Coast. The trick is to ask questions! Ask your chef, fishmonger, hotelier, and the folks you run into on the docks and around town—what's fresh today and where do I find it? Here are some ideas to get you started.
Grocery Stores and Seafood Markets
Your nearest grocery store or seafood market could easily be the very best place to find local seafood. Ask your fishmonger for recommendations and information or look for labels that indicate where the seafood was caught. The freezer case and canned seafood aisle also have great options. The Oregon Coast's fresh seafood markets sometimes offer dine-in options, which typically provide a fun, casual atmosphere with especially delicious, fresh offerings.
For more information:
Check out Oregon Sea Grant's resource for where to buy Oregon seafood
This video from Oregon Sea Grant shows how to select high-quality fish in retail markets.
Restaurants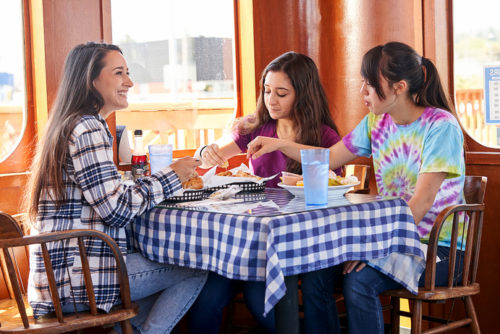 Many restaurants on the Oregon Coast strive to offer fresh local seafoods on their menu. What that looks like can vary significantly given specific place and season. Don't be shy—ask questions. Ask your chef, your fishmonger, your grocer or your server what's fresh and local today.
For more information:
See Positively Groundfish's suggestions for markets and restaurants that are sources for local seafood
Fishermen
Oregonians are proud of their fishing fleets and love to connect directly with visitors to share their catch. Purchasing seafood directly from fishermen might sound intimidating, but it isn't difficult once you try it. Call ahead to the port to ask what boats are in and what they might be selling or wander down yourself to look for the hand-posted signs fishers post at their moorings. Your chances are best for finding a direct sale at the dock in summertime, when albacore tuna, Chinook salmon, and Dungeness crab are in season and fishers know that plenty of visitors are at the Coast. Buying at the docks is a fun adventure to add to your vacation!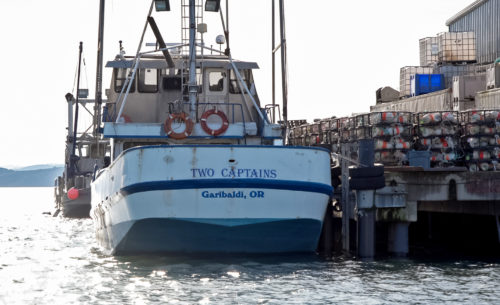 For more information:
In this video, Oregon Sea Grant demonstrates how to buy fish directly from fishers at the dock.
More info from Oregon Sea Grant on how to buy fish at the docks.
The Fleet Is In lists vessels that sell tuna off the docks in the summer.
Oregon Taste is a resource for finding local seafood as well as other regional producers.
Order Online
Many Oregon Coast seafood companies will now deliver seafood right to your doorstep or allow you to order online for pick up. Some offer fresh seafood, and many offer flash-frozen, vacuum-packed seafood that is easy to store at home and convenient to cook on your timeline. Research from Oregon State University demonstrates the advantages of frozen seafood, which is often frozen just after it's caught and tastes just as good as fresh. That's good news for those of us who want excellent quality Oregon seafood any month of the year.
Where can I experience the local seafood scene?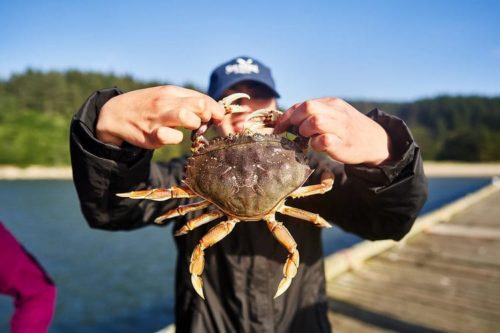 Several ports with active commercial fishing fleets – including Port Orford, Newport, Garibaldi and Warrenton – offer a front row view of working marinas and ports. Many even sell certain kinds of fish right off the dock. For a great view of a working fishing harbor, visit the Charleston Marine Life Center, where large windows provide views of fishing boats loading gear and unloading their catch.
Events like 'Shop at the Dock' tour in Garibaldi or Newport and Oregon Seafood Festivals including the Astoria Crabfest and Charleston Seafood Festival, and Rockfish Day at the Oregon Aquarium offer visitors an interactive experience and learning opportunity about Oregon seafood. Visitors are welcome at the Blessing of the Fleet in Newport in May
Where can I learn more about Oregon Coast fishing heritage and culture?
Fishing has been a crucial part of Oregon's history since the first Indigenous peoples followed the "Kelp Highway" to arrive on Oregon's shores as our region's earliest residents. Learn more at museums and interpretive centers around the region. The Garibaldi Maritime Museum in Garibaldi, The Pacific Maritime Center in Newport, the Coos History Museum in Coos Bay and the Columbia River Maritime Museum in Astoria are all excellent places to learn more about the past, present and future of the Oregon fishing communities and industries.
Why should I choose local seafood?
So many reasons! Choosing local seafood is more sustainable, healthier and better for local communities.
Eating a delicious seafood meal is a bucket list item for many visitors to the Oregon Coast. It would be natural to assume that any seafood meal served here was caught or harvested here. But visitors are often surprised to learn how much seafood served on the Oregon Coast is from somewhere else—somewhere perhaps very, very far away. In fact, 90% of the seafood purchased here is sourced from outside of Oregon. Meanwhile, Oregon's commercial fishing industry exports over 30% of its precious local catch to markets outside the United States.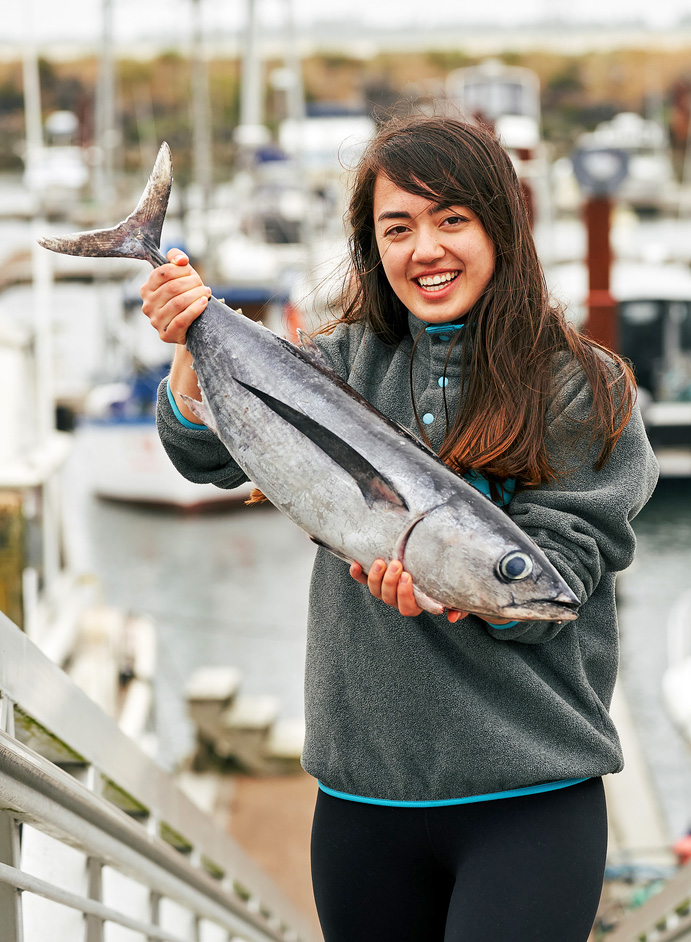 Simultaneously, national awareness is on the rise about the benefits of eating local. There are many reasons that choosing local foods, from fish to fennel, is a better choice for both people and place.
First off, choosing local foods is good for the environment. Local food doesn't have to travel as far to arrive on your plate, so it helps reduce greenhouse gas emissions and contributes to improving our carbon footprint. Buying local often tastes better, too, as the buyer gets first access to seasonal seafood at its freshness peak.
Buying local fish benefits the local economy, including supporting local fishers and other producers who are committed to a sustainable fishery in their home waters. Oregon's fleet consists of independent, family businesses that have chosen fishing as a way of life. Many have set out on Oregon's coastal waters for generations. They work closely with scientists and managers to make sure the fishery is sustainable for generations to come.
Finally, local seafood is healthier. Most of the fish that is imported from overseas is farm-raised in the growing aquaculture industry. While farming seafood seems like a good idea, the uncertainty lies in the regulations for raising aquatic produce in foreign nations. Some have lower standards of health for their fish, while others employ the use of drugs that are banned in the U.S.
Buying local seafood in season can be as easy as simply asking questions of your chef or fishmonger—what was landed in Oregon, and when? You, the environment and the community will be glad you did.
How else can I support local and sustainable seafood efforts?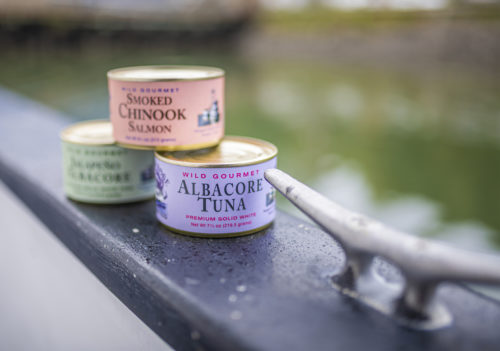 Wherever you travel, don't be afraid to ask questions and learn more about local food systems. Ask your chef! Ask your grocer! Where does your seafood come from? Get educated, eat better and help local communities and the earth. Spread the word and together we can work towards keeping local seafood local.
For more research, information and ways to get involved, see www.oregonseafare.com.