Marcus Hinz
Executive Director
Oceanside, Oregon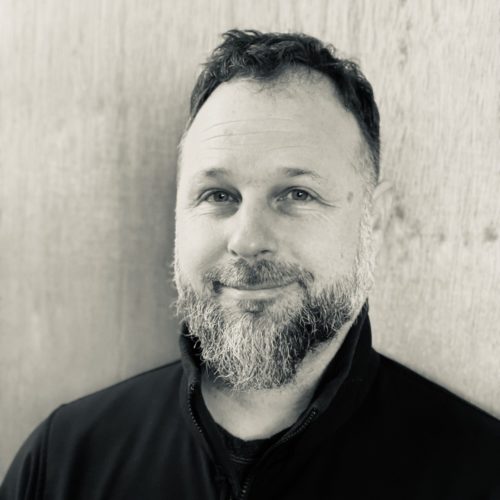 Read Bio
Marcus Hinz brings a passion for the outdoors and creative, systems thinking to his role as executive director. Originally from Green Bay, Wisconsin, Marcus moved to Oregon in 1996 to attend Portland State University, where he earned a graduate degree in public administration and completed 65 hours of graduate level conflict resolution training. Soon after graduating, he accepted the position of director of continuing and community education at Tillamook Bay Community College.
During his tenure there, he launched the Watershed Activities To Estuary Recreation (WATER) program to educate locals and visitors about Tillamook County's abundance of waterways and scenic beauty. The successful program garnered the 2005 Gene Leo Memorial Award at the Oregon Governor's Conference on Tourism.
Today, as executive director of OCVA, Marcus is responsible for meeting the objectives outlined in the Regional Tourism Plan. He continues to build OCVA's host of business and marketing services for tourism operations, helping people more effectively participate in the tourism economy and align their efforts with state and regional tourism priorities. Marcus is known for his ability to bring people from diverse backgrounds together to meet common goals. This is best exemplified by the annual People's Coast Summit, which convenes stakeholders from the entire 363-mile long Coast.
Marcus currently lives in Oceanside. When not working, you'll likely spot him wandering through Oregon's forests, paddling our coastal estuaries or just staring into a fire at the beach.
Email
(director[at]thepeoplescoast[dot]com)
Arica Sears
Deputy Director
Tierra Del Mar, Oregon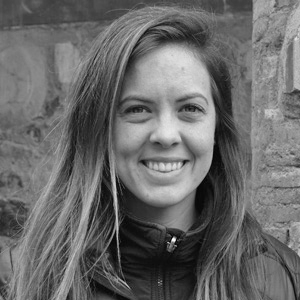 Read Bio
Raised in the small community of Tierra Del Mar just north of Pacific City, Arica Sears is a sixth generation Oregonian. She went to college at the University of Oregon, where she completed a Bachelor of Arts in International Studies with a focus on rural communities making decisions around natural resources. She has completed research in the Peruvian Amazon, worked on by catch issues on the coast of Ecuador, and worked in the tourism realm in Mallorca, Spain.
"This position is responsible for convening dialogs, sometimes around contentious issues, and it's important we as an agency don't walk into them blind," says OCVA Executive Director Marcus Hinz. As OCVA's Deputy Director, Arica's main concerns include the Strategic Investment Fund, People's Coast Summit, Strategic Advisory Group, Public Art Trail, stakeholder communications and generally helping communicate the value of tourism to visitors, stakeholders and media.
Arica lives in Tierra del Mar with her chocolate lab Huckleberry. When she's not working up and down the coast she enjoys running with her pup, going out for breakfast, and traveling internationally.
Email
(deputy[at]thepeoplescoast[dot]com)
Finn Johnson
North Coast Destination Management Coordinator
Astoria, Oregon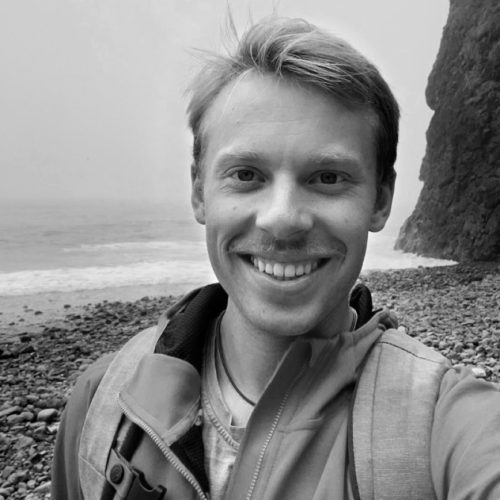 Read Bio
While not a native Oregonian, Finn is working on his transplant credentials. Finn's roots are in a small town in Washington, and he grew up exploring the Pacific Northwest. He received his Bachelor of Arts in Philosophy and Political Science from St. Olaf College in Minnesota.
During his undergraduate studies, he spent a semester near Ashland, Oregon, studying sustainability and community. That semester coincided with the Talent and Phoenix fires, and cemented for Finn the proximity and reality of climate change, particularly in the West. Having come from a tourist destination in Washington, he also grew up watching the complex but important relationship between tourism and rural communities.
Finn spent a year working with OCVA via the Americorp RARE program, directing his efforts toward resiliency projects like EV charging infrastructure, business networking, and engaging visitors in sustainable actions. In his current role, Finn focuses on destination management projects in Tillamook and Clatsop counties, facilitating initiatives like transportation solutions, sustainable tourism programming, responsible outdoor recreation, and supporting local communities and businesses.
After work you can find him surfing, biking, hiking or reading a book along the 363 miles of the beautiful Oregon coast.
Email
(resiliency[at]thepeoplescoast[dot]com)
Jesse Dolin
Central Coast Destination Coordinator
Yachats, Oregon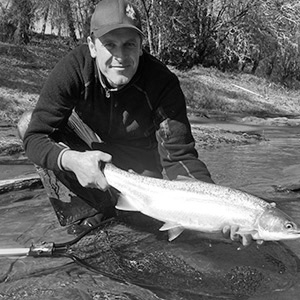 Read Bio
Jesse Dolin is the Destination Developer for the Central Coast region, where his family has lived for multiple generations. He formerly served as the Economic Development Catalyst for the City of Florence, where he worked to bring economic opportunities to the Florence community. He is looking forward to expanding upon that work and building upon those relationships in his new role at OCVA, while at the same time working on initiatives that preserve and conserve the natural environment.
An avid outdoorsman and fisherman, Jesse is excited to support projects that connect people with nature and the paradise that is the Oregon Coast. When not working, Jesse can be found fishing, crabbing, clamming, or foraging for something to add to the dinner table and share with friends.
Email
(ddcentral[at]thepeoplescoast[dot]com)
Dave Lacey
South Coast Destination Coordinator
Gold Beach, Oregon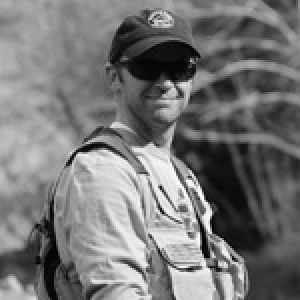 Read Bio
Born and raised in Poughkeepsie, New York, Dave Lacey is a seaman at heart. A fisherman, kayaker, snorkeler and amatuer naturalist, Dave has lived in Gold Beach, Oregon since 1995, where he's done everything from commercial fishing to carpentry. In 2012, he founded South Coast Tours as a way to share his love of the outdoors with others. The company employs four guides who lead people on kayaking, fishing and stand-up paddle board trips and teach surfing lessons.
Dave joined OCVA in 2016 as destination coordinator. He assists businesses and organizations located between Reedsport to Brookings creating world-class visitor experiences. Dave is supporting the development of many new recreational trails systems such as the new mountain bike trail system in Coos County and creating marketing tools for the Coast fat biking industry. He is the visionary behind the proposed Coquille River Water Trail. And he's creating fun events as a way to attract people to explore new outdoor recreation opportunities along the Coast.
Destination development requires a strong ability to cultivate relationships — something Dave does with ease. "Dave is supernaturally likeable," says Marcus Hinz, OCVA executive director. "He's sincere, dependable and follows through."
Dave currently lives in Gold Beach with his wife and two kids where he coaches soccer and fly fishes as much as possible when he's not sneaking away to his favorite surfing spot.
Email
(dave[at]thepeoplescoast[dot]com)
Karen Olson
Communications Director
Lincoln City, Oregon
Read Bio
Karen fell in love with the Oregon Coast on her first salty visit to D Sands beach in Lincoln City at age 1. She enjoys telling the stories of Oregon's people and places, and helping communities and organizations embody their values.
Karen's past projects with OCVA include developing the Oregon Coast Public Art Trail and Tillamook Bay Heritage Route. She formerly served as manager of the North Coast Tourism Management Network, collaborating with diverse partners on destination management priorities in Tillamook and Clatsop Counties. She'll happily talk with anyone and everyone about public restrooms, car-free travel, coastal stewardship, and creative solutions to help the coast become more sustainable and accessible for all its residents and visitors.
Karen is delighted to help connect and strengthen coastal communities and tell the story of the Oregon coast's tourism industry. When she's not at work celebrating the People's Coast, Karen and her family love exploring the Pacific Northwest's epic hikes, quirky downtowns and local food.
Email
(communications[at]thepeoplescoast[dot]com)
Stacey Reynolds
Marketing Coordinator
Brookings, Oregon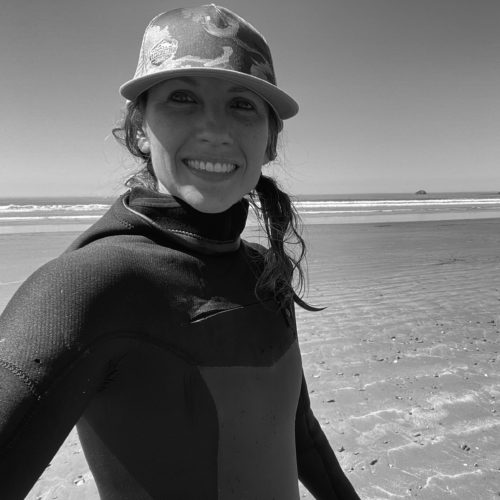 Read Bio
Born in Portland, Oregon but raised in North Dakota, Stacey knew from an early age she'd return to Oregon. The Oregon Coast captured her twelve-year-old heart while on a family vacation during a stormy Thanksgiving, and she vowed to move here someday. Now, as a 15-year resident of the coast, her love for The People's Coast still runs deep.
Stacey attended Minnesota State University Moorhead, where she studied graphic communications with an art minor. Stacey has used her graphic design skills to market companies of all sizes, including her own small business on the Oregon Coast. Through this experience, she found a passion for building and promoting small community-oriented businesses. She is deeply excited to bring her passion and skills to the OCVA team. Her past projects with OCVA include developing the Oregon Coast Public Art Trail and designing communication pieces for the Oregon Ocean Cluster Initiative.
Stacey lives in Brookings with her son and enjoys hiking the Samuel H. Boardman Scenic Corridor, surfing, swimming, and exploring the local rivers. She always jumps at a chance to travel anywhere in Oregon and is still in awe of this beautiful state.
Email
(marketing[at]thepeoplescoast[dot]com)
Lynnee Jacks
Industry Communications Coordinator
Nehalem, Oregon
Read Bio
Lynnee Jacks brings a diverse background spanning continents and industries to her role as Industry Communications Coordinator.
Before returning to the West Coast, Lynnee lived in Iceland, where she pursued her master's degree in community development. During her time there, she created the Westfjords Way Challenge, an ultra-endurance cycling race that served as a regional development tool, and worked on various other initiatives to promote cycling tourism in the coastal region of the Westfjords.
Lynnee is excited to contribute her creativity, development skills, and communications expertise to OCVA. She is especially passionate about identifying and working with communities' opportunities to expand coastal economies sustainably. When she's not at work, you can find her outdoors, exploring the coast by bike or snowboarding in the mountains.
Email
(industry[at]thepeoplescoast[dot]com)
Patty Martin
Climate Scientist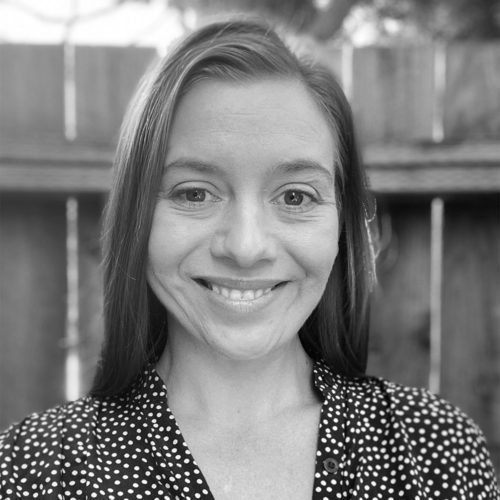 Read Bio
Patty Martin is a climate scientist, writer, and social entrepreneur. Relentlessly connecting new dots and bridging knowledge gaps, she uses her PhD, analytical, leadership, and creative skills to solve problems impacting the world.  At the end of the day Patty believes success happens when people connect to their creativity, dreams, and community.  To this end, she spends part of her time emboldening students, scientists, community leaders, and advocates to develop and communicate impactful, visionary science.  Currently working with the Oregon Coast Visitors Association, Patty is on a mission to leverage her expertise to help support Oregon's path of climate stewardship and sustainability.
Email
(patty[at]thepeoplescoast[dot]com)
Nathan Kahler
Director
South
Bandon Dunes Golf Resort
Email
(nkahler[at]bandondunesgolf[dot]com)
Janice Langlinais
Director
South
Coos Bay-North Bend-Charleston VCB
Email
(janice[at]oregonsadventurecoast[dot]com)
Jeremy Burke
Director
Central
Oregon Coast Aquarium
Email
(jeremy[dot]burke[at]aquarium[dot]org)
Drew Roslund
Board Treasurer
Central
Overleaf Lodge & Spa
Email
(drew[at]overleaflodge[dot]com)
Jeremy Strober
Board Secretary
North
Heartfelt Hospitality Management
Email
(jeremy[at]heartfelthospitality[dot]com)
Justin Aufdermauer
Board Chair
North
Tillamook Area Chamber of Commerce
Email
(justin[at]tillamookchamber[dot]com)
Taylor Neitzke
Director At-Large
SOLVE
Email
(taylor[at]solveoregon[dot]org)
Yelena Nowak
Director At-Large
Oregon Trawl Commission
Email
(yelena[at]ortrawl[dot]org)
Miles Phillips
Director At-Large
OSU Extension
Email
(miles[dot]phillips[at]oregonstate[dot]edu)
We use cookies to ensure that we give you the best experience on our website. If you continue to use this site we will assume that you are happy with it.