All About Clams
Oregon's coastal bays contain at least five major clam species: gaper, cockle, littleneck, butter and softshell. Certain stretches of sandy beachfront on the Oregon Coast are home to the succulent razor clam. Bay clams such as cockles and butter clams are predominantly harvested recreationally in season throughout the year, while razor clams have a strong and devoted food grade market.
The Pacific razor clam is found all along the Pacific West Coast of North America, inhabiting sandy beaches in the intertidal zone down to a water depth of about 30 feet. The long, thin bivalve shellfish earned its name by resemblance to old fashioned straight-edge razors, used for shaving. And for their sharpness—while razor clams are soft-shelled and rather delicate, the edges of their shells can be sharp enough to slice your hands and feet.
Commercially, razor clams are harvested in Oregon by licensed intertidal harvesters in a commercial fishery that dates back to the late 1800s. Today, commercial activity accounts for an estimated 15% of the total razor clam harvest, while the remaining harvest is recreational.
The northernmost 18 miles of the Oregon Coast is known as Clatsop Beaches, stretching from Tillamook Head near Seaside to the Columbia River bar. This is the only area certified by the Oregon Department of Agriculture (ODA) to harvest and sell razor clams for human consumption. That's partly because this location is where most of Oregon's clams are found. The razor clam population in this area is much denser than any other area in the state. Razor clams like the sand type here, and the fact that the beaches have been very stable since the construction of the Columbia's jetties during the late 1800s and early 1900s. (Similar razor clam populations are located north of the Columbia in Washington on the Long Beach Peninsula.) A great majority of the razor clam commercial harvest in Oregon happens on those 18 miles of beach, which can produce an estimated two million clams per year.
Bay clams are harvested by licensed intertidal commercial harvesters, and by permitted subtidal divers. Harvest focuses on cockles and gapers, though butter, littlenecks, and softshells are also landed.
Recreationally, clams are harvested on sandy beaches up and down the coast, as well as in bays.
When are clams in season?
Commercially and recreationally, clam digging is open much of the year, with the major exclusion of the summer season on the Clatsop Beaches. That section of coast is closed from July 15 to September 30 to protect young clams. The majority of commercial clamming harvest occurs April through July.
The remainder of Oregon beaches south of Tillamook Head are open year-round under annual razor clamming rules. However, even within regular seasons, the Oregon Department of Fish and Wildlife and the Oregon Department of Agriculture occasionally enact temporary clamming closures. These short-term closures are most often due to marine biotoxins, primarily naturally occurring domoic acid that can build up temporarily in clam meat and pose a health risk.
Commercial harvesters must have licenses with the Oregon Department of Agriculture, while recreational diggers obtain licenses from Oregon Department of Fish and Wildlife. Diggers who are at least 12 years old must have a shellfish license. For youths ages 12 to 17, there is a combined angling, hunting and shellfish tag. Adult diggers need an annual shellfish tag.
Check for closures before you head out for a clam dig.
Where can I find clams for purchase or consumption?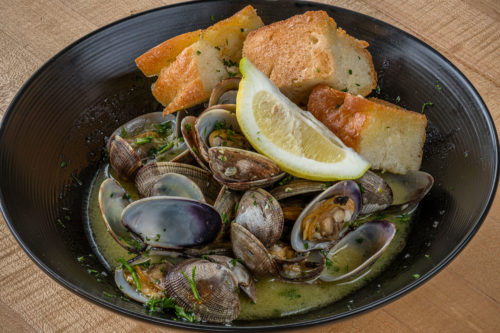 Clams can be found on menus and in markets all over the Oregon Coast, year-round. Clam chowder is one of the most popular meals made with clams, but clams are also offered fried, grilled, roasted, broiled, steamed, and raw. Pick your pleasure!
Bell Buoy of Seaside harvests many of the commercial clams you'll find in Oregon. The only licensed wholesale dealer of razor clams in the State of Oregon has been in business since 1946, and their diggers are busy during the season harvesting, processing and selling clams to restaurants and individual buyers from their storefront in Seaside.
Many restaurants claim to have the best clam chowder on the Oregon Coast, and visitors should do their best to try them all and decide for themselves! Some favorites include (from north to south) the Old Oregon Smokehouse in Rockaway Beach, Kyllo's in Lincoln City, Gracie's Sea Hag in Depoe Bay, the Chowder Bowl in Newport, Luna Sea in Yachats, SharkBites in Coos Bay, Fish and Chips Chowder House in Bandon, and Tony's Crab Shack in Bandon. For a real chowder institution, don't miss Mo's Seafood and Chowder in Newport and Otter Rock.
Clams are also on offer at grocers and fishmongers.
Where can I experience clamming?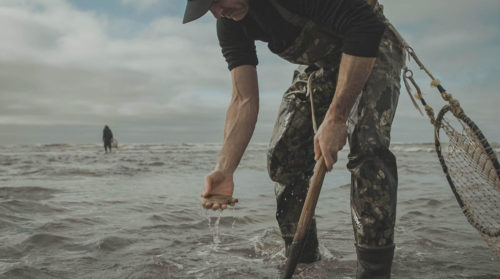 During the busy season, visitors will see commercial and recreational clam diggers on the sandy beaches of the Oregon Coast, most notably on the 18 mile stretch of Clatsop Beaches that accounts for 95% of Oregon's razor clam harvest. If you see someone standing in the surf in tall rubber boots, bearing a shovel or a clam gun and with a net hanging from their belt, there's a good chance they're clam digging.
Other areas that have razor clams in Oregon include Indian Beach (Cannon Beach); Cannon Beach; Short Sands (North of Manzanita); Cape Meares Beach (Tillamook); Agate Beach (North of Newport); North Beach and South Beach (Newport); Waldport Beach; North Umpqua Spit (Winchester Bay); Bastendorff Beach and North Spit (Coos Bay); Whiskey Run (Bandon); and Meyers Creek Beach (Gold Beach).
Fun facts about clams
In a good year, the long stretch of sand in Clatsop County known as Clatsop Beaches can produce more than two million clams.
Razor clams have the ability of digging up to a foot per minute and have been found more than four feet deep in the sand.
When a razor clam extends its neck near the surface of the beach it produces a distinct "show." Shows are revealed most commonly by one of two methods: Looking for small round dimples in dry sand or pounding a shovel handle in receding surf.
Razor clams have a very thin shell that can be easily broken by a digging shovel. This is why diggers are required to keep the first 15 clams you dig.
Razor clam larvae typically set down in the sand in late summer, which is why the most popular Oregon beach clamming locations are closed to harvest for much of the summer, to protect the young.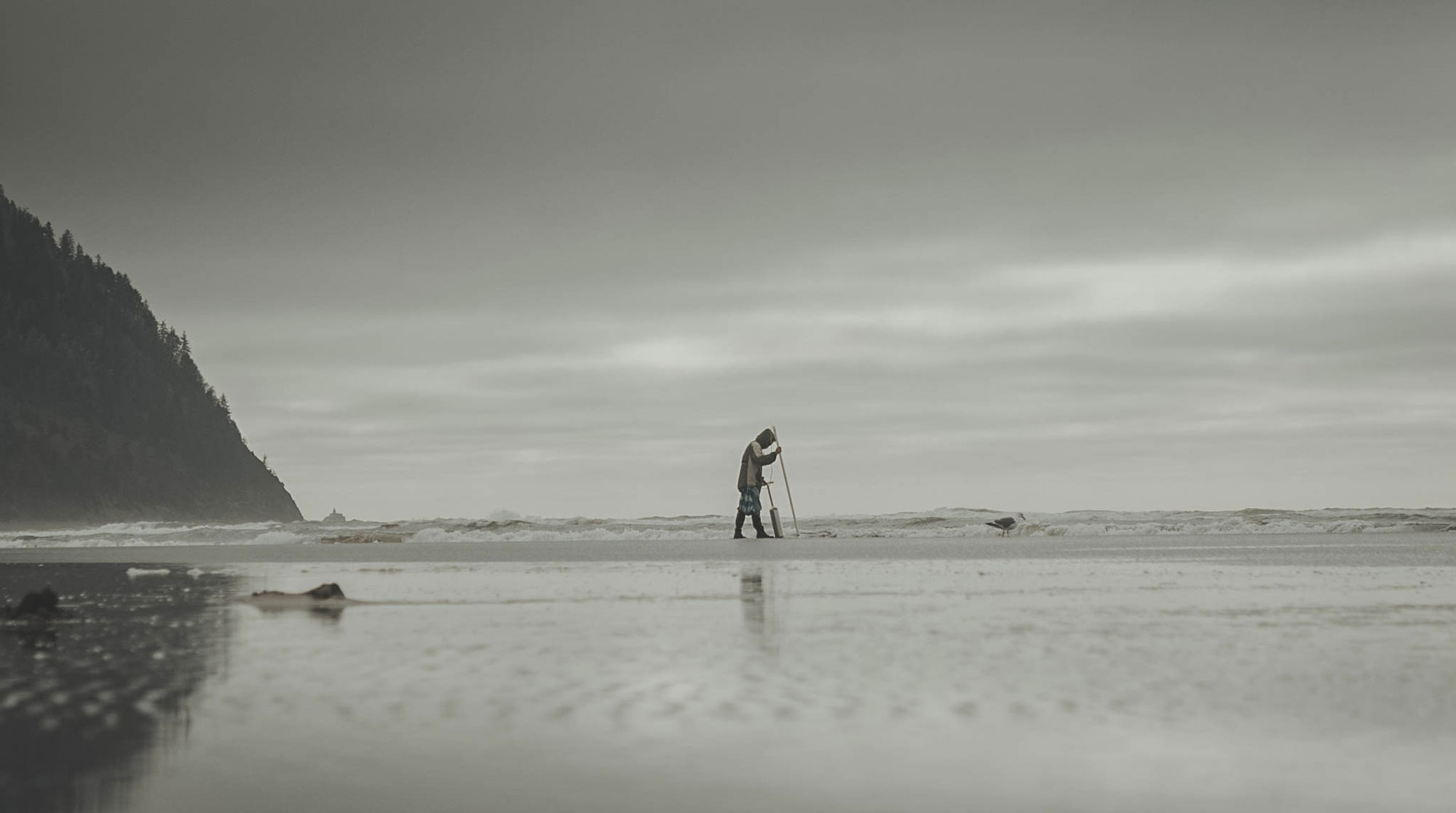 More to know