All about Pacific dulse seaweed
*Coming February 2023 – Winter Waters PNW – a series of events celebrating seaweed as a culinary ingredient*
They call it the bacon of the sea. Does an extremely nutritious vegetable with no impact on the earth that can taste like bacon sound too good to be true? Meet Pacific dulse seaweed, a burgeoning food trend with roots right here in Oregon.
Pacific dulse (rhymes with pulse) seaweed is one species of a large category of edible saltwater algae that also includes species such as nori and kelp. Dulse, which resembles leafy, red lettuce, provides a wealth of fiber and protein, and is also rich in vitamins, trace minerals, healthy fatty acids, and antioxidants. Farming dulse is a regenerative practice, meaning it can even have restorative effects on the ecosystem.
Dulse grows wild on the northern Atlantic and Pacific coasts and has long been part of diets in places like Ireland, Scotland and Maine, where it is typically harvested during low tide from early summer to early fall.
Oregon State University professor emeritus Chris Langdon spent decades cultivating and studying a strain of dulse that later obtained a food patent. Owners of Oregon Seaweed, Chuck Toombs and Jason Busch, worked with Langdon to bring cultivation on a commercial scale. Oregon Seaweed farms dulse in a land-based system that can grow the seaweed year-round, independent of tides and dependent only on sunlight and seawater. With just those two elements, land-based farming produces a delicious and highly nutritious protein source that can actually have positive effects on the environment.
So, what was it we said about bacon? Fresh, raw dulse has a nice minerality and tastes like the ocean. But when you pan-fry it, it takes on smoky and savory characteristics that are similar to bacon. No matter how you eat it, Pacific dulse is a low impact, high nutrient, alternative source of protein.
How does growing seaweed positively affect the environment?
Seaweeds, like dulse and kelp, naturally absorb and sequester massive amounts of carbon from our oceans. By performing photosynthesis, they remove carbon dioxide from the water and release oxygen. In areas where oceans are becoming more acidic, due to an increase in oceanic carbon, seaweed has been known to absorb the excess carbon and lower these effects of acidification.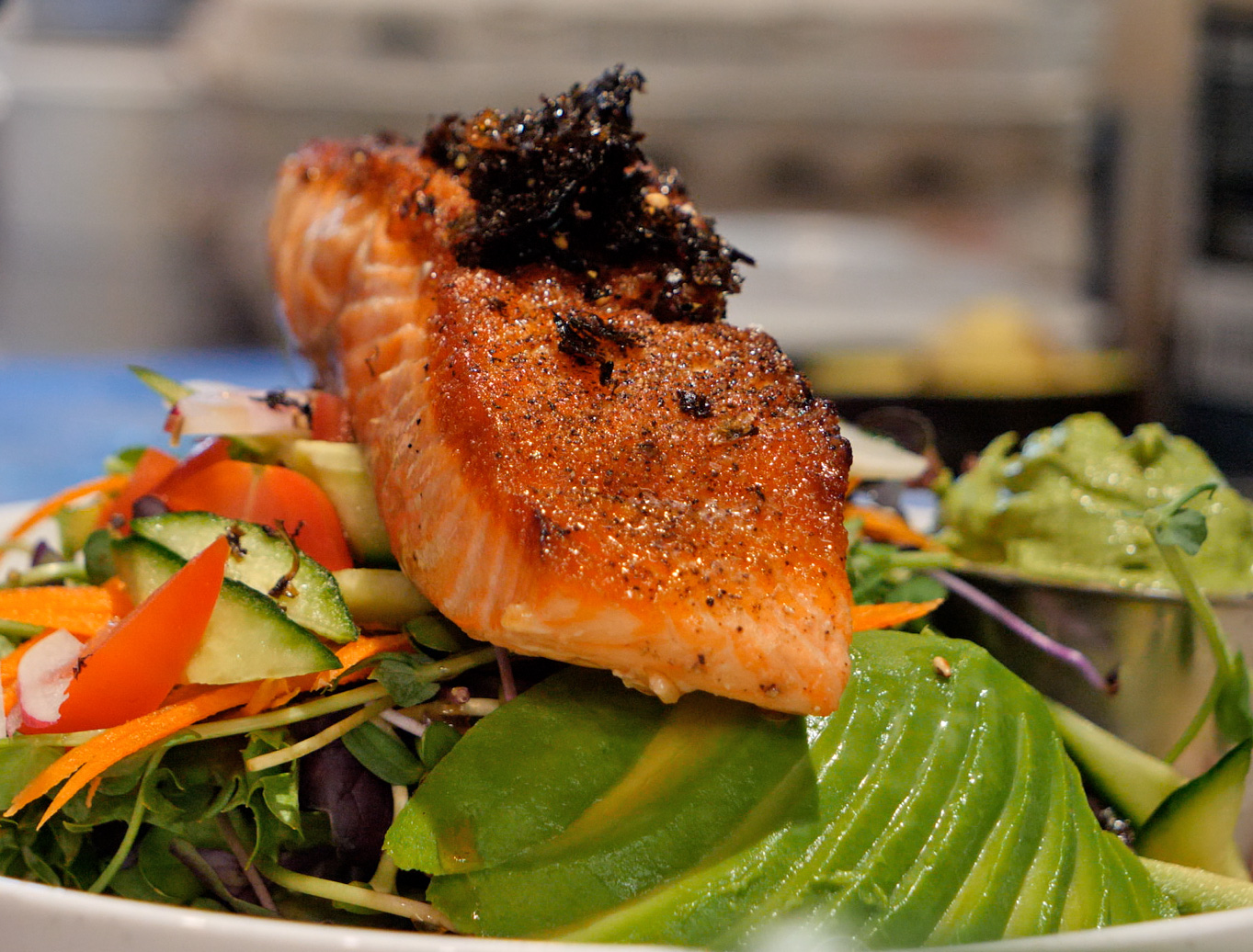 Where can I find Pacific dulse seaweed?
You can find dried and packaged dulse, including whole-leaf and flaked dulse, dulse powder, and seasoning, in well-stocked grocery stores and fish markets up and down the coast as well as in Portland.
Oregon Seaweed sells the product fresh all around the state and via mail order. Request a shipment of 1/2 pound to 10 pounds of Pacific Dulse Seaweed (fresh, live dulse) express to your door, kitchen or restaurant.
Grocery stores and markets in Oregon that carry fresh dulse include Gathered, Astoria Co-op and Mess Hall Market in Astoria; Wild Grocery & Cafe in Manzanita; Wild Coast Goods in Nehalem, Fish People Seafood in Garibaldi, Food Roots Online Marketplace in Tillamook, and Local Oceans Dock Box in Newport, as well as Flying Fish Seafood Market and Providore Fine Foods in Portland
Restaurants in Oregon that include Pacific dulse on their menus include Busu Astoria, Buttercup Ice Creams & Chowders in Nehalem, Pacific Restaurant in Tillamook, Oar House in Lincoln City and Local Ocean in Newport.
Where can I experience Pacific dulse seaweed farming?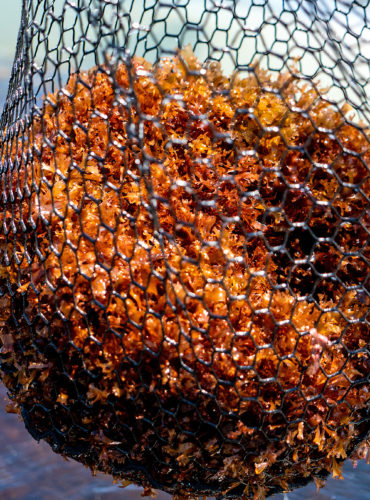 Oregon Seaweed has two land-based farms in Oregon, the ten-tank farm in Bandon, Oregon, and the twenty-tank farm in Garibaldi, Oregon. Both farm locations are based on access to fresh seawater and the sun's energy—the only two factors dulse seaweed needs to grow.
The facilities are viewable from the Port of Bandon and the Port of Garibaldi, respectively, but access onto the property is not permitted unless someone is there and able to assist you. Watch this video to learn more about Oregon Seaweed's land-based Pacific dulse farming.
This February, experience Oregon dulse seaweed at Winter Waters, an event series celebrating showcased seaweeds, local ingredients and regenerative and sustainable seafare in PDX, Oregon Coast, and Willamette Valley.
Fun facts about Pacific dulse seaweed
Pacific dulse seaweed needs only fresh seawater and sunshine to thrive.
Dulse seaweed is carbon-negative: for every four-pounds of seaweed grown, one-pound of carbon is sequestered.
Pacific dulse seaweed holds every essential amino acid, making it a complete protein.
Pacific dulse seaweed is one of the fastest growing complete proteins on the planet. It's also a great source of several vitamins and minerals, including potassium, iodine, calcium, iron, vitamins A and C, as well as fiber and omega-3 fatty acids.
Dulse's nutritional value doesn't degrade after it's converted into powder or flakes—eat it any way you like it for equal nutritional value!
With thirty tanks under production, Oregon Seaweed is the largest land-based seaweed farm in the United States.
More to know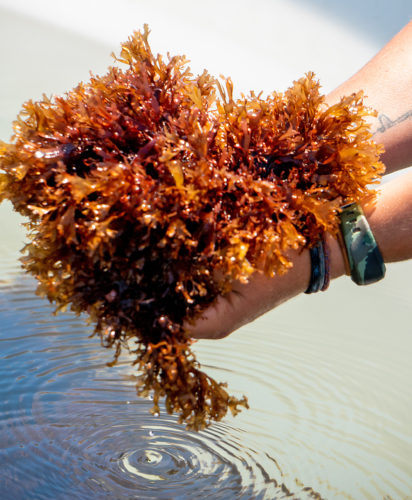 Seaweed can combat climate change. The more we can replace high-carbon food sources with low (negative) carbon seaweed, the better we can feed our growing population nutrient rich foods while also combating climate change. Farming seaweed is also very low impact. No pesticides, fresh water, fuels, or other harmful practices are needed to grow Pacific dulse seaweed. Land based dulse seaweed farming can reduce carbon footprint, provide sustainable food, and has obvious value for the future of food production.
Ready to start cooking with Pacific dulse seaweed? Find some recipes here.