All About Oysters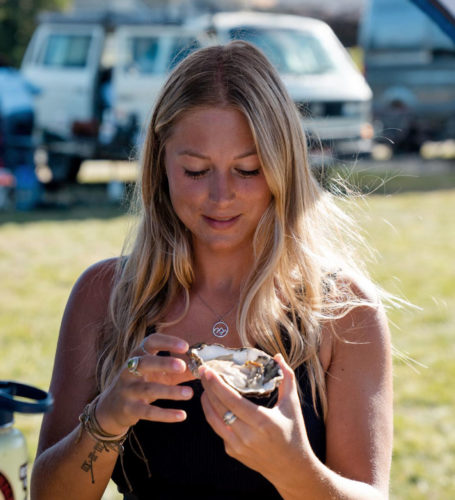 Oysters are a bit of an outlier in the Oregon-landed seafood lineup, as the oysters harvested and consumed here are all commercially grown. Aquaculture means breeding, raising and harvesting fish, shellfish and aquatic plants—basically, it's farming in water. The commercial shellfish industry in Oregon is small, with fewer than 20 operations, and almost entirely comprised of oyster farming. Still, the annual sales value for shellfish aquaculture in Oregon averages around $20 million.
Native Olympia oysters were once abundant in Netarts, Coos and Yaquina Bays, however, they were heavily fished and depleted in the late 1800s. While now considered functionally extinct, the good news is that populations of Olympia oysters in these three bays are currently recovering, thanks to restoration and education efforts made by communities to their estuaries in recent years.
Pacific oysters are the main species production-farmed in Oregon. Introduced from Japan in the early 1900s, the Pacific oyster's high value, ease of growing, and minimal environmental impact makes them a good choice for aquaculture. Pacific oysters are grown in many of Oregon's estuaries, including Coos, Yaquina, Tillamook and Netarts. The cold waters of the Pacific here make it unlikely that the oysters can spawn on their own, so farms are seeded from hatchery stock. Whiskey Creek Shellfish Hatchery in Netarts is one of the largest shellfish hatcheries on the U.S. West Coast.
Neither Pacific nor Olympia oyster species are legal for recreational harvest. Native oyster populations are protected to encourage their recovery; since Pacific oysters are only commercially grown, they are private property.
When are oysters in season?
Because they are farmed, oysters are harvested year-round (except immediately after spawning) and available pretty much always in markets and on menus. Oysters are sold whole to be eaten "on the half shell" and also shucked and packaged with the meat only.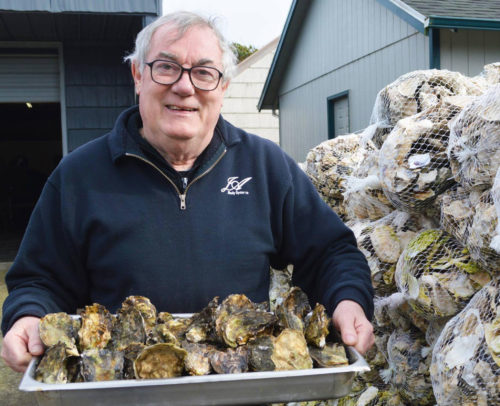 Certain shellfish plats in estuaries are approved for oyster farming, managed by leases by the Oregon Department of Agriculture. Oyster aquaculture requires zero inputs for feed and generally takes place on unstructured habitat, resulting in low impact, and possibly even benefit, to the surrounding environment. Oysters filter feed and improve water quality and oyster clusters and aquaculture gear can provide complex habitat in which other small marine animals can live.
In Oregon, Pacific oysters are most often "ground cultured," meaning they are grown directly on the substrate rather than racks or hanging culture used in other states. Oysters adhere to rocks, shells, and other hard substrates, building up the reef over time. Oyster beds provide excellent estuarine habitat structure for other fish and invertebrates.
Oysters are typically harvested by hand in two- to four-year intervals, at which time they are ideal market size.
Where can I find oysters for purchase or consumption?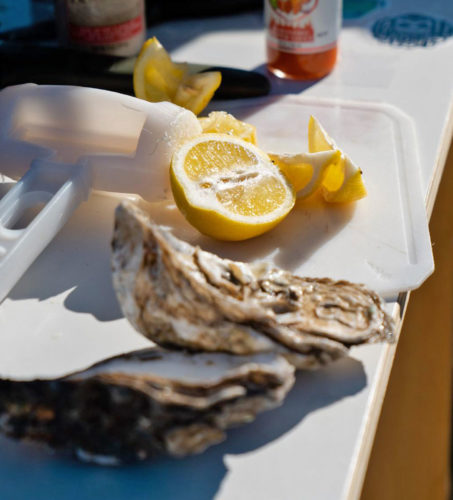 Oysters are often on the menu all over the Oregon Coast, as well as in fish markets. Here are a few ideas.
Harbor Light in Reedsport has deep fried oysters and oyster shooters, 7 Devils Waterfront Ale House has local Coos Bay oysters with Devil's sauce, Big Wave Café in Manzanita has oyster shooters, and the The Schooner in Netarts Bay delivers oysters on the half shell, Side Door Café in Gleneden and Local Ocean in Newport both offer pan-fried oysters.
Bandon Fish Market in Bandon and Barnacle Bill's in Lincoln City both have shucked oysters for sale.
Ask your server or chef what Oregon-landed seafare is local and sustainable today.
Fun Facts about Oysters
Oysters are sessile bivalves that typically live in the intertidal or subtidal zone of estuaries.
Oyster larvae will attach to shells of dead or live oysters or other clean, hard substrate and grow in a cluster.
Oysters are filter feeders that eat particulate matter, such as phytoplankton, in the surrounding water.
Pacific oysters are protandrous hermaphrodites, meaning they change sex from male to female.
Pacific oysters reach market size in 2-6 years and can live up to 40 years. Pacific oysters will continue to grow as long as they live.
In aquaculture, oyster shells can be recycled and reused. After harvesting the meat, shells are cleaned and dried in the sun until pathogens are eliminated. The shells are then placed in a tank for new oyster larvae to attach and grow.
More to Know
In Oregon, shellfish research and outreach is conducted all along the coast. The Oregon State University Molluscan Broodstock Program (MBP) has operated out of the Hatfield Marine Science Center in Newport since 1996. MBP has been producing and selecting Pacific oyster families, working in partnership with the West Coast oyster industry to improve the performance of Pacific oysters through selection. Consult Oregon Sea Grant for more information.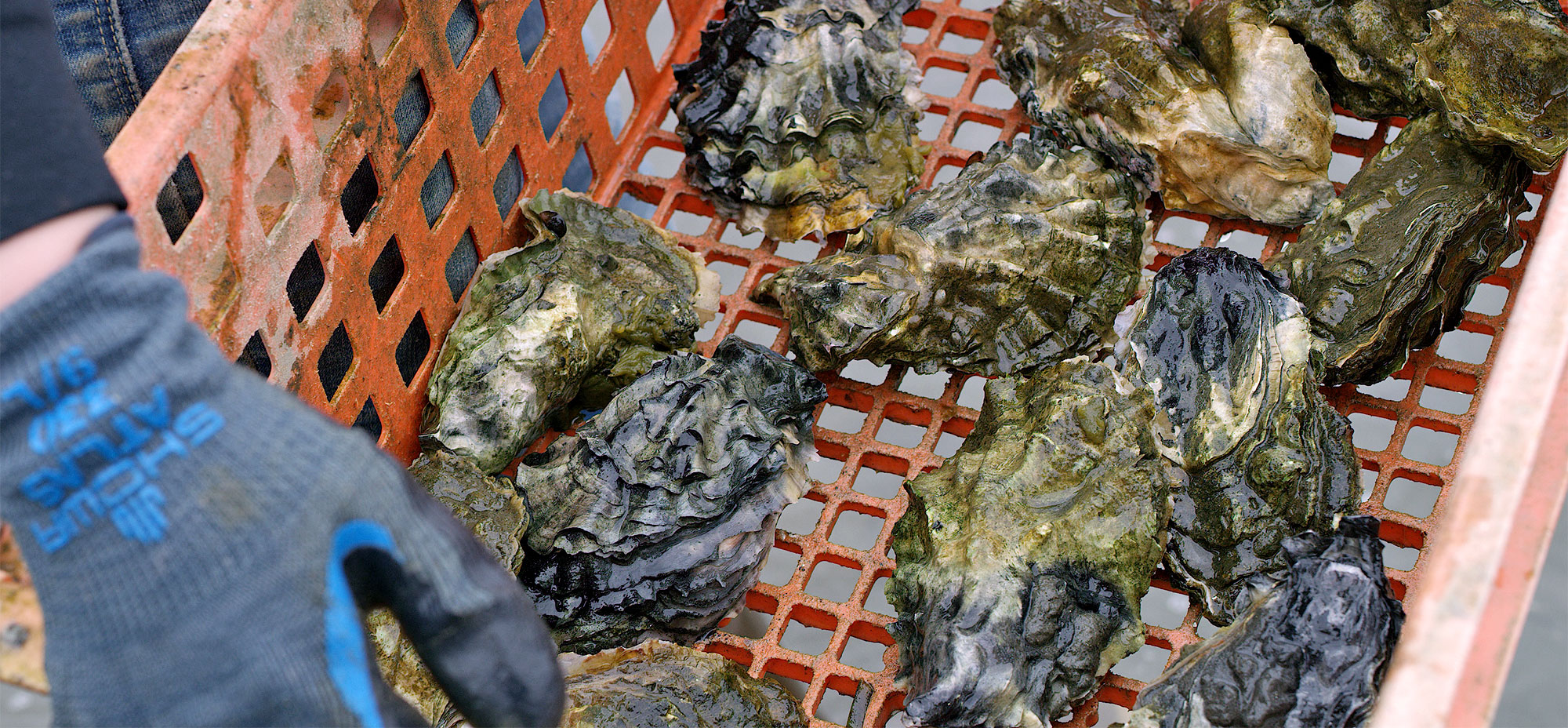 The South Slough National Estuarine Research Reserve (South Slough NERR) is a site dedicated to scientific investigations that have direct applications toward improvements in regional coastal zone management. The Research Program aims to understand patterns and processes that contribute to healthy coastal and estuarine ecosystems in the Lower Columbia biogeographic regions. Over the past 15 years, South Slough NERR has studied the effects of oyster mariculture, restoration and recovery of native Olympia oysters, as well as eelgrass, invasive species, and the ecological consequences of changing ocean conditions. See NOAA for more information.
Try this recipe for Dressed Oysters with Cucumber Pico de Gallo from Oregon Sea Grant