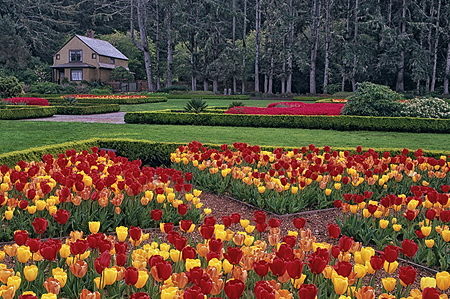 The Oregon Coast's rugged beauty is part of what makes it so alluring. That might make you think it's difficult to navigate for those with mobility issues. And it's true, many stunning hikes and secluded beaches can be challenging for experienced hikers without careful planning. But don't fret: the People's Coast welcomes everyone, regardless of physical ability or mobility concerns. We've pulled together a list of nine ADA-accessible adventures along the Coast — beautiful shores and activities that can be enjoyed by one and all.
Kayaking the Necanicum River (Seaside)
Seaside's new ADA-accessible kayak launch in Broadway Park means the peaceful Necanicum River paddling trail, which glides beneath Seaside's bridges and through the heart of downtown, is now open to all. Rentals are available at Wheel Fun Rentals and Claeanline Surf Shop.
Kilchis Point Reserve (Bay City)
Located on the beautiful Tillamook Bay and named for Tillamook Chief Kilchis, Kilchis Point Reserve features a paved Trailhead Loop with abundant native plants and interpretive signage highlighting pioneer history, flora and fauna, and Native American heritage at Kilchis Point. Croaking frogs and singing birds provide a soothing soundtrack for exploring. Numerous benches are also situated along the way.
Siuslaw River Bridge Interpretive Center & Boardwalk (Florence)
This meandering paved trail, with benches and educational signage, skirts the Siuslaw River and offers fabulous views of Florence's landmark Art Deco bridge. At the east end of the trail is the Port of Siuslaw Boardwalk, where fishing and sailboats are moored, as well as a three-masted tall ship replica. The nearby seasonal outdoor market is easy to navigate, as well.
Yaquina Head Outstanding Natural Area (Newport)
With its towering lighthouse (the tallest on the Coast), fantastic views, abundant wildlife and comprehensive education center, Yaquina Head is one of the Coast's indisputable gems; it's also largely ADA-accessible. Start with the numerous exhibits at the Yaquina Head Interpretive Center, where a gated parking area is reserved for disabled access (a ranger will open the gate). Head to Quarry Cove at high tide to see seals frolicking in the surf. (Ask for the clicker to open the gate to the accessible parking area.) While the lighthouse is only accessible by stairs, you can catch a good view of it from the adjacent asphalt trail. An accessible boardwalk and ocean viewing platform behind the lighthouse provides views of seals, puffins, murres, cormorants and whales in the surf. A paved trail (10-percent grade) links the Interpretive Center and the lighthouse.
Oregon Dunes (Reedsport)
The 40 miles of shifting sand and wind-sculpted dunes in the Oregon Dunes National Recreation Area makes for an adventurous off-highway vehicle-riding destination — but the park isn't just for dune buggies. The Oregon Dunes Day Use area is also accessible to those with limited mobility. You'll find the entrance to the day-use area 11 miles north of Reedsport on Highway 101. Near the parking lot, an accessible viewing platform offers sweeping, panoramic views and shows you how the ever-changing dunes take shape. From here, you can take a half-mile paved trail to another viewing area and several wheelchair-friendly picnic tables set beneath towering spruce trees.
Shore Acres State Park (Coos Bay)
Perched on dramatic cliffs overlooking the ocean, Shore Acres State Park was once the grand estate of a pioneer timber baron. Today its magnificently lush gardens are open to nearly everyone, and no matter when you visit, you'll likely find something in bloom. Stop by and explore a formal garden, two rose gardens and even a serene Japanese-style garden with a lily pond. Best of all, the majority of this blossoming spectacle includes ADA-accessible trails. During the holiday season, from November through December, the park twinkles with hundreds of thousands of Christmas lights — certainly one of the most festive displays in the state.
Yurt Camping
Enjoy a wild night in the great outdoors with one of the dozens of ADA-accessible yurts in the Coast's state parks. These circular, domed wooden cabins are furnished with the basics, sleep up to five people, and include plywood floors, framed doors, furniture, beds, electricity and skylights. Bring camping items like bedding and kitchenware — essentially everything but the tent — and be sure to make advance reservations, as the accessible yurts are in high demand.
Astoria Riverwalk Trail (Astoria)
The downtown Astoria Riverwalk stretches along part of the Astoria and Columbia River Railroad, providing a lively tour of the waterfront. Along the way, you'll pass old cannery buildings that have been reinvented as museums, cafes, shops and breweries, as well as interpretive signage providing insight into local history. The western trailhead is at the Port of Astoria — the perfect spot for watching massive ships on the river. The route swings under the 4.1-mile Astoria-Megler Bridge, the longest continuous three-span through-truss bridge in North America.
Whale Watching & Chartered Fishing (Depoe Bay)
Head out to sea for a glimpse of a majestic grey whale or to drop a line for halibut, tuna or salmon. Several charter companies in Depoe Bay, including Dockside Charters, use ADA-accessible vessels, allowing customers to roll their wheelchairs right onto the boats for whale watching and fishing.
Photo by Larry Geddis