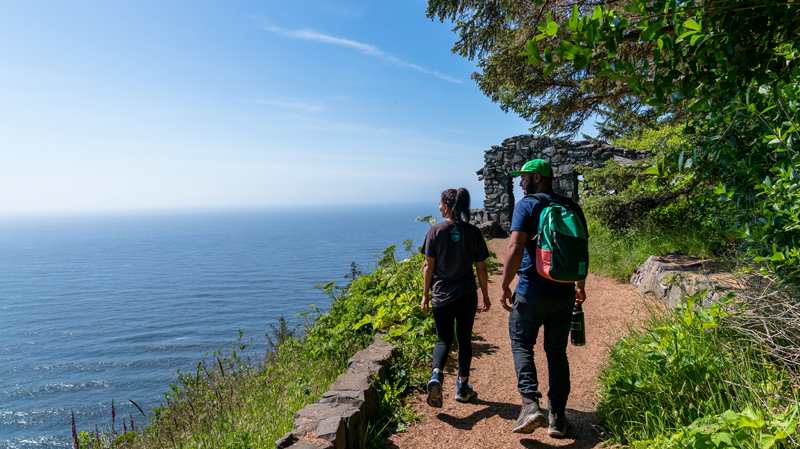 If you've been dreaming of wide-open beaches, old-growth trails and magnificent sunsets lately, you're not alone. Oregon's coastal communities are slowly reopening to visitors, but in order for everyone to stay safe and healthy, visitors are asked to follow all guidance from Gov. Kate Brown when traveling, including wearing masks in public indoor spaces. Here's how to enjoy the outdoors safely on the Oregon Coast.
Beaches
Beach-access points are now open at most of Oregon's 363 miles of coastline, but check for the latest reopenings before you go. If you plan to lounge on the sand, make sure you and your children are more than 6 feet apart from the next party (and bring a face covering for areas where physical distancing isn't possible). Enjoy takeout from local eateries, make sandcastles and don't forget the sunscreen! If you plan to walk or run along the beach, keep the 6-foot distance rule too, and be respectful of all users including local wildlife; find snowy plover restrictions here. Fly a kite, look for sand dollars and agates at low tide, and admire the sea life in the sensitive tide pools if it's safe to do so without a crowd. (Lincoln City's famous glass floats are still on temporary hold, but in the meantime you can play the home edition.)
Trails
Hiking on the Coast is a summer rite of passage, with azure-blue skies and wildflowers for miles around. Before heading out on a trek, make sure it's one that lets you stay socially distanced; in other words, if the parking area is full when you arrive, turn around and find an alternative. While on the trail, maintain standard trail etiquette and allow uphill hikers the right of way. Don't linger at trailheads, viewpoints or in the parking lot. Most importantly, come prepared — bring your 10 Essentials, including proper gear for the conditions and a map that you can read. It's best to hike with only those in your household, and bring a face covering to wear around others. Check with Oregon State Parks for the latest reopenings.
Restaurants and Shops
Whether you've been craving clam chowder, fish 'n chips, saltwater taffy or fresh-scooped ice cream, most of your favorite coastal food and drink establishments have reopened in some capacity for visitors, with social-distancing measures in place. Eateries are now following new state mandates with tables spaced at least 6 feet apart, staff wearing face coverings, an extra emphasis on clean, and a curfew of midnight (except for Lincoln City, which has a 10 p.m. curfew). With limited capacity, some establishments may now require reservations or ask visitors to wait outside until there is space available. Be patient, kind and appreciative of the coastal businesses doing their best to serve you at this time (and show your support with an extra tip when appropriate). Know that businesses like galleries, book shops and boutiques may have different protocols in place to keep everyone safe.
Attractions and Guided Trips
Many large attractions and adventure guides are open to visitors again, with added hygiene and safety protocols. On the North Coast, check out Seaside's brand-new High Life Adventure Park or take a guided paddle trip with Kayak Tillamook, offering small-group and family-only tours with extra cleaning of kayaks. On the Central Coast, take a ride with Newport Oregon Fishing Charters or take a self-guided tour of the photo-worthy landmarks here including the Heceta Head Lighthouse, one of the most photographed in the world. On the Southern Coast, catch thrills with Spinreel Dune Buggy & ATV Rental in North Bend or take in the rugged beauty from your own vantagepoint with a small, personalized trip with South Coast Tours.
Before you go:
Bring everything you need with you when traveling, to avoid taking over limited inventory in local shops.
Make sure to map out restroom facilities and any extra hand-sanitizing stations at your destination, knowing that they may be limited. Bring your own hand sanitizer and your face covering to wear if around others. Maintaining good hygiene is essential.
Map out your parking options, knowing that they might be limited. Be respectful of private property.
Be ready for the unexpected: It may be awkward having encounters with fellow visitors and adjusting to the new normal, but we're in it together!
– Jen Anderson
Photo by Josiah Roe