Plan your Car-Free Pacific City Trip!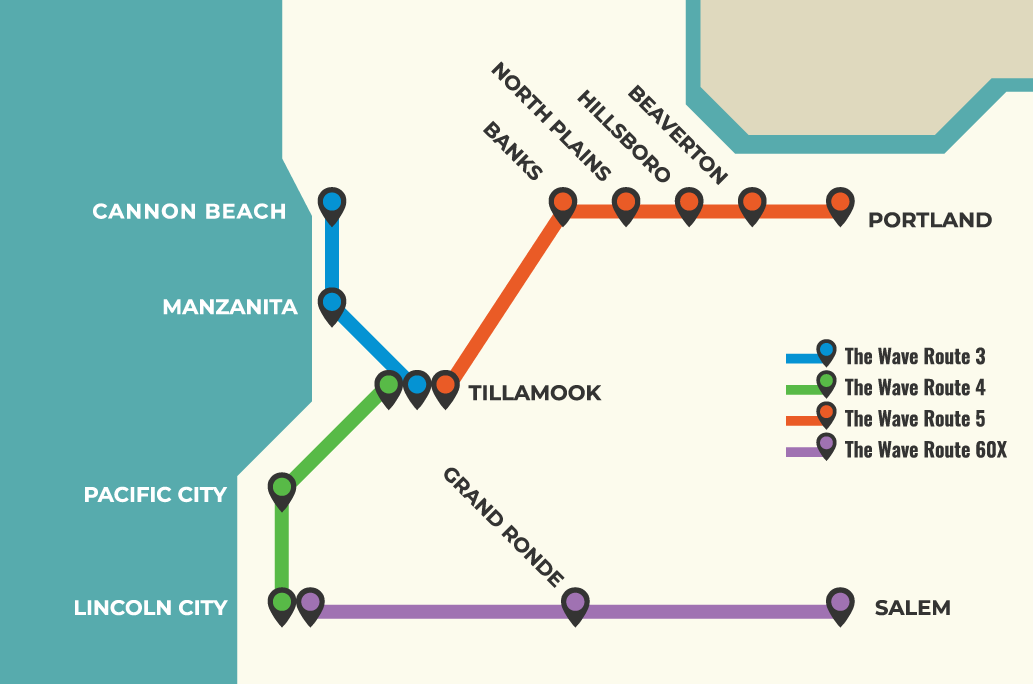 NW Connector offers public transportation in northwest Oregon. Try their route mapping tools as you plan your trip.
The NW Connector (through The Wave) intercity bus routes connect Pacific City to Portland and Salem and allow you to explore other cities up and down the North Coast!
From Portland (Union Station)
Take the NW Connector (The Wave Route 5): Portland to Tillamook, then connect to Route 4
From Salem (Downtown Transit Center)
Take the NW Connector (The Wave Route 60X): Salem to Lincoln City, then connect to Route 4
Pelican Brewing Bus Stop
The Pelican Brewing Bus Stop is located at Cape Kiwanda Drive and Alder Street and provides routes to Lincoln City and Tillamook, with connections to Portland and Salem.
During a busy summer, here's how you can get around and beat the crowds! Park once and explore Pacific City on foot or by shuttle:
By Foot
You can get a full weekend away at the beach just by walking around. Pacific City's many restaurants, wineries, breweries, grocery stores, and trails are just a walk away.
By Trolley Bus
The Wave's Pacific City Free Shuttle operates on Friday, Saturday, and Sunday from Memorial Day weekend to Labor Day weekend. The trolley shuttle provides transportation to destinations throughout Pacific City and surrounding areas, including parks, natural areas, and the boat launch.
By Taxi
Taxi and Uber services are now available in Tillamook County.
Beach Access for Everyone
Beach wheelchairs are available for visitors with mobility challenges so everyone can access our beautiful beaches. To reserve, visit innatcapekiwanda.com/beach-wheelchairs.
While you're here on the coast, it's easy to visit Tillamook, Lincoln City, and Oceanside!
Take the NW Connector (SETD Route 4): Northbound to Tillamook or southbound to Lincoln City
For routes, schedules, and updates, visit:
Want to bring your bike with you? All buses on the NW Connector route are equipped with bike racks.
You can access real-time data and schedules for buses through your mobile phone.
Call or text 971-803-3557 and enter the stop code (find these on the timetables)
Download the Transit app
Visit our Facebook page for updates