First published on TravelOregon.com by Juliet Grable
Few places are as enchanting as Oregon's South Coast, with its fog-shrouded forests, winding rivers, haystack rocks, and ever-changing palette of cloud and color. But what visitors may not realize is that these beautiful and dramatic landscapes have been home to ancestors of the Coquille Indian Tribe for millennia.
"This entire area is Indian country," says Kassandra Rippee, tribal historic preservation officer for the Coquille Indian Tribe. "There's not a single beach or forest that's not culturally important to the tribe."
The Coquille are one of several Native peoples who inhabited southwestern Oregon before European trappers arrived. The Coquille's ancestors enjoyed a bountiful lifestyle shaped by a generous environment. The ebbing tide revealed a banquet of shellfish and other riches. The rivers hosted prodigious salmon runs; the forests and meadows, game and plant foods and an abundance of building and basketry materials.
Trappers brought foreign diseases that decimated Native populations, so that by the time gold miners and other settlers arrived in the 1850s, the Coquille (pronounced "ko-kwell," likely derived from "scoquel," a Native name for lamprey) had dwindled to just a few hundred individuals.
After a series of bloody skirmishes, the Coquille signed treaties in 1851 and 1855 that would have ceded more than 1 million acres of their ancestral homeland in the lower Coos Bay and the Coquille River watershed to the federal government. Like many other Indians on the Southern Oregon Coast, they were forced to march north and start new lives on the Siletz Reservation.
But not all went, and some escaped and returned. "Many Coquille were never removed to a reservation and were able to stay on their traditional lands throughout the contact period," says Rippee.
In 1954 Congress passed Public Law 588, also known as the Western Oregon Indian Termination Act, which severed the trust relationship between the U.S. government and 61 named Tribes of Indians west of the Cascade Mountains. "Termination significantly impacted how we managed land, and how the tribe interacted with the federal government and state agencies," Rippee adds.
Restoration and Celebration
The Coquille Indian Tribe was the last tribe to be restored in Oregon, on June 28, 1989 — a joyous day that the tribe celebrates annually. After restoration, the Coquille tribal government formed and began providing services including health care, housing, education, elder care and law enforcement to its members. Tribal members began reviving their traditions, relearning their language and teaching oral histories. But because the treaties the Coquille signed with the federal government were never ratified, the tribe was not granted a reservation in the traditional sense, says Rippee.
"It's important for folks to understand that we don't have that big, contiguous land base," she explains. Because visitors don't drive through a reservation, they may be less aware of the tribe's presence.
After restoration the Coquille Indian Tribe began to reacquire some of their lands and manage them in a way that reflects tribal values. In 1996 the tribe began managing the 5,600-acre Coquille Tribal Forest< for timber and wildlife, leaving large "snag" trees and open patches that host deer and a herd of resident elk. The forest is certified by the Forest Stewardship Council, which sets criteria for the sustainable management of forests, and the tribe's practices have earned national recognition from agencies and nonprofits. The forest is a major employer of the tribe, and the revenues from timber harvesting go into the tribe's general fund, where they help pay for education and health care services. The tribe also manages Sek-wet-se, a forested area flanking the Sixes River.
Since 2001 the Coquille Tribal Council has been giving back to the surrounding community through the Coquille Tribal Community Fund. In 2021 the fund granted more than $250,000 to 60 organizations in five counties, specifically targeting groups affected by COVID-19.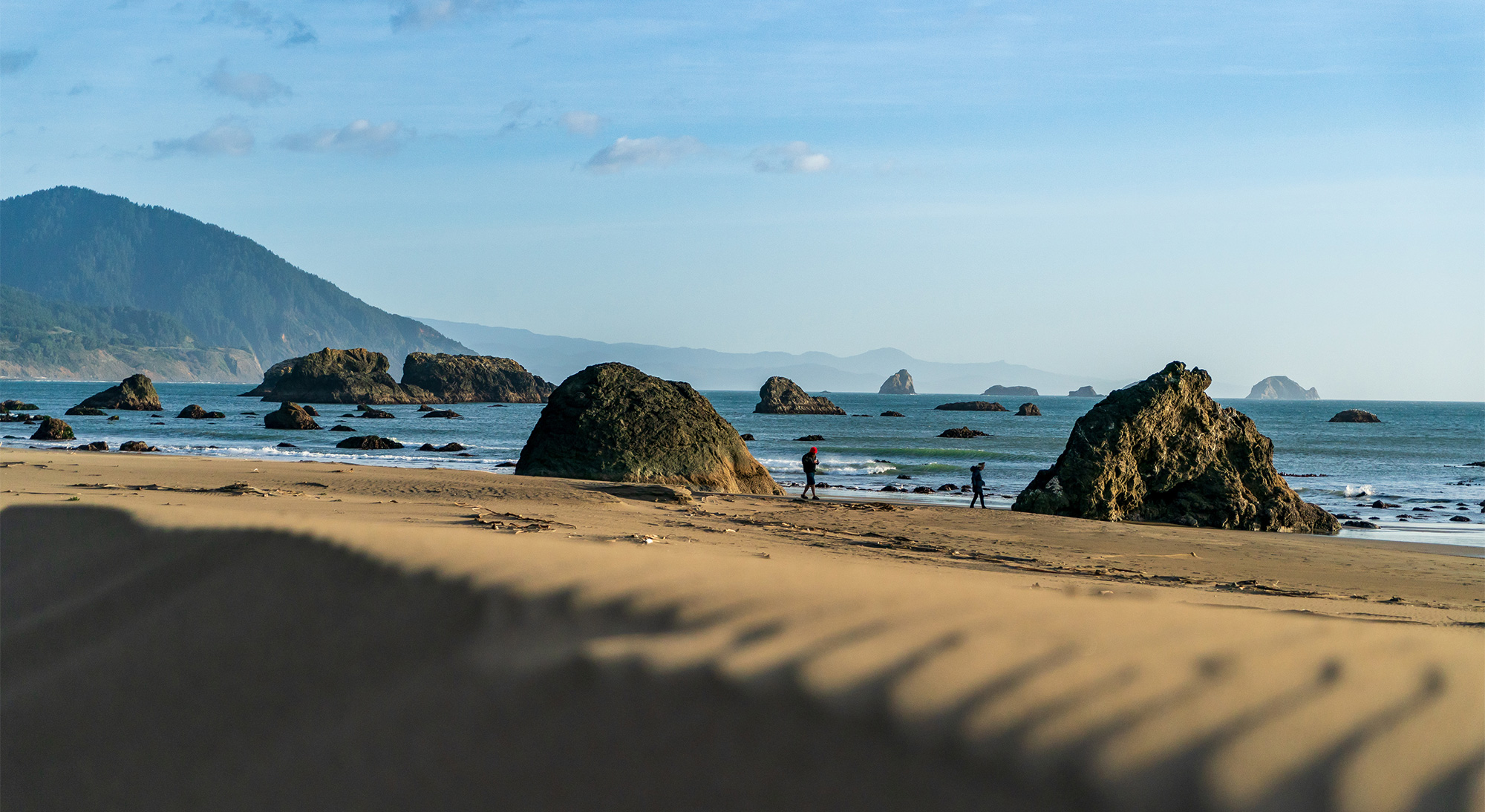 Stewards of the Land
Today the Coquille Indian Tribe has recovered about 10,000 acres of land — a fraction of their former homeland. Nevertheless, "the tribe continues to be stewards of their entire ancestral territory, whether they own the land or not," says Rippee. The parcels they own are scattered throughout five counties and surrounded by private and public land. The patchwork of private, public and tribal lands has prompted the Coquille Indian Tribe to work closely with federal, state and local agencies and private landowners, and they have become a leader in collaborative partnerships.
One of the Coquille Indian Tribe's partners is Oregon Parks and Recreation, which manages the string of state parks, campgrounds, beaches and viewpoints along the Southern Oregon Coast. "A lot of the places that are really important to the Coquille Indian Tribe are on state-park lands," says Rippee. "They're really nice places to visit with abundant resources."
Here are some of those top sights. At some of these, visitors can read Coquille stories and learn how the environment has shaped Coquille culture.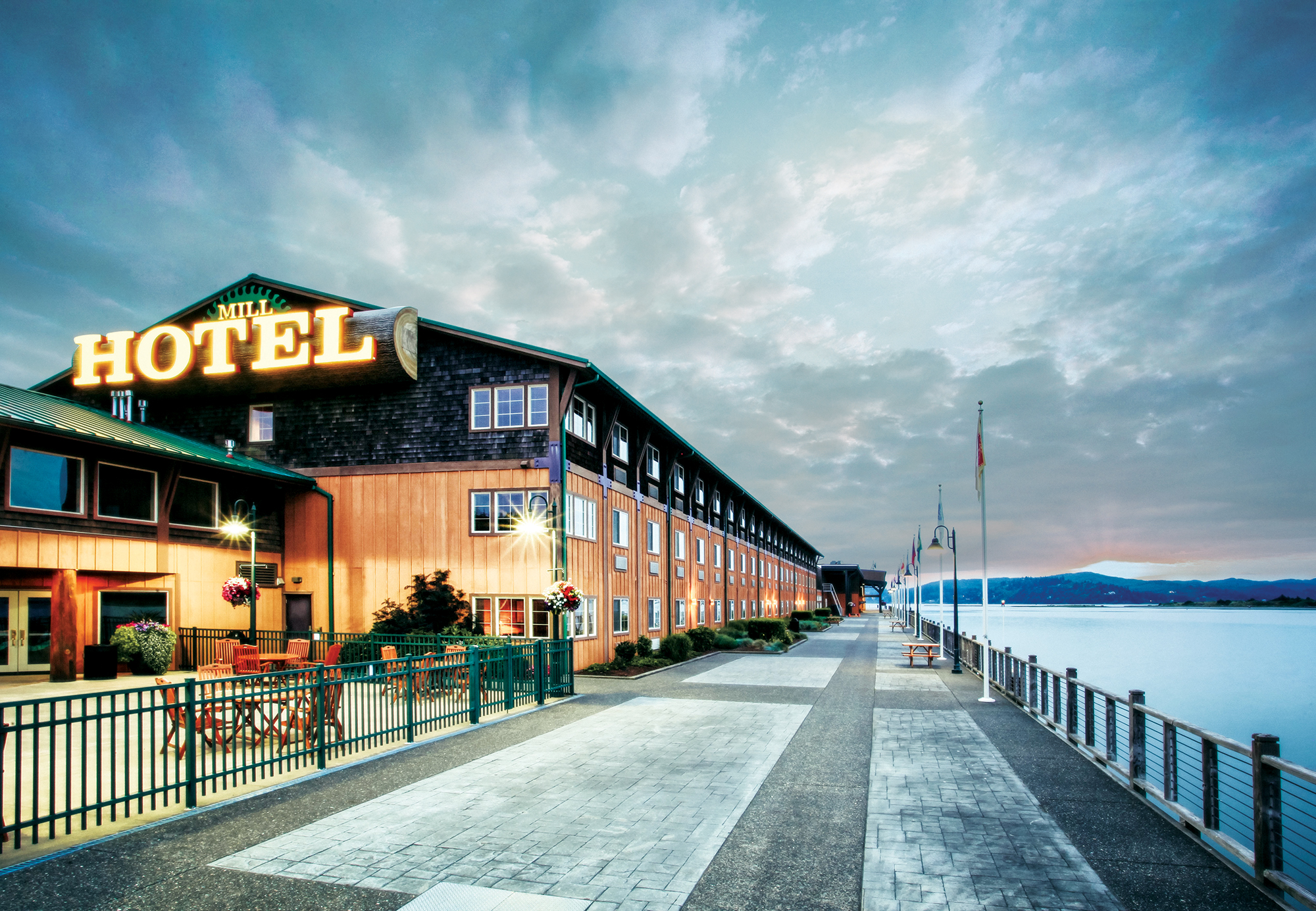 The Mill Casino
The Mill Casino, which the Coquille Indian Tribe owns, offers a world-class casino, dining, lodging and entertainment. Before you go, Rippee invites visitors to learn about the culture and history of Native people who still call this captivating region home.
Road-trippers can find more than 200 waterfront rooms, including kitchenettes and luxurious suites, some with jetted tubs and balconies. Some rooms are pet-friendly, too. The casino's RV Park includes five varieties of extra-wide sites, all of which are paved. Each site includes water, sewer, electrical hookups, cable TV and Wi-Fi. There are ample options for dining and entertainment.
The Mill's several restaurants include casual waterfront dining at the Plank House; a lively sports bar called Warehouse 101; and Whitecaps, which offers a cozy lounge atmosphere. Even if you're not keen to try your luck at the casino, you can still take advantage of the Mill's series of events and concerts all year long.
The casino is one of the region's biggest economic drivers; in fact, the tribe is Coos County's second-largest employer. The complex of facilities is located on Highway 101 in North Bend, overlooking Coos Bay. Gamers can find Vegas-style slot machines and a variety of table games. It's also the state's only sports-betting casino.
Museums
The beautiful Coos History Museum, on Coos Bay's waterfront, hosts a First Tuesday Talks lecture series that has featured Coquille Indian Tribe members. Elsewhere, the Coquille Valley Museum (about 18 miles south in the town of Coquille) and the Bandon Historical Society Museum in Bandon also host information on Native history. Just south of Bandon, the nonprofit Cape Blanco Heritage Society provides interpretive and educational services for three historic properties located in Oregon state parks: the Cape Blanco Light Station, the historic Hughes Ranch and the Port Orford Lifeboat Station. All are open to visitors.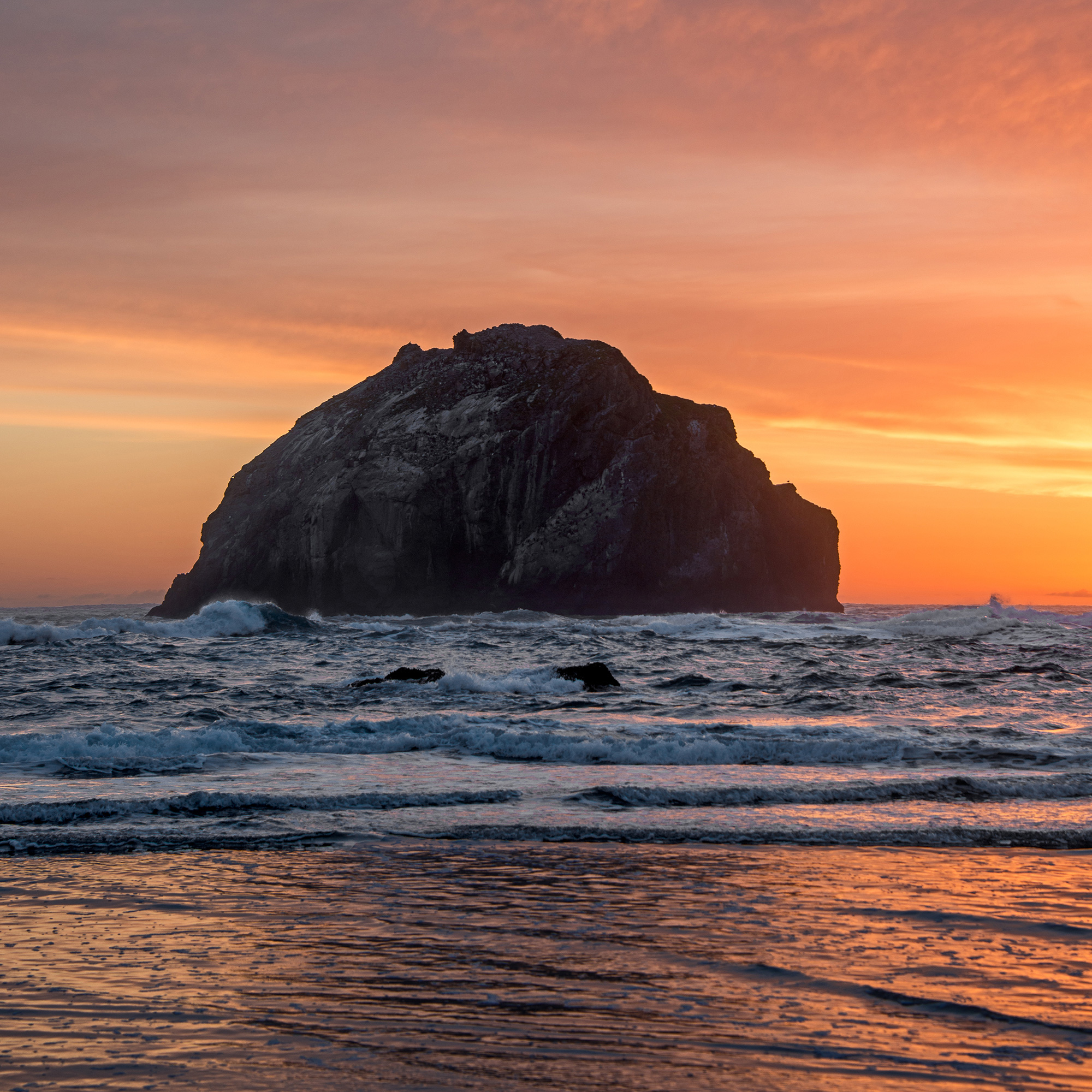 At this scenic landmark in Bandon, interpretive signage presents the story of Ewauna, an adventurous Indian princess who wandered too far out into the sea. It's not difficult to imagine that the seafoam swirling at the base of the sea stack is actually caressing Ewauna's upturned face.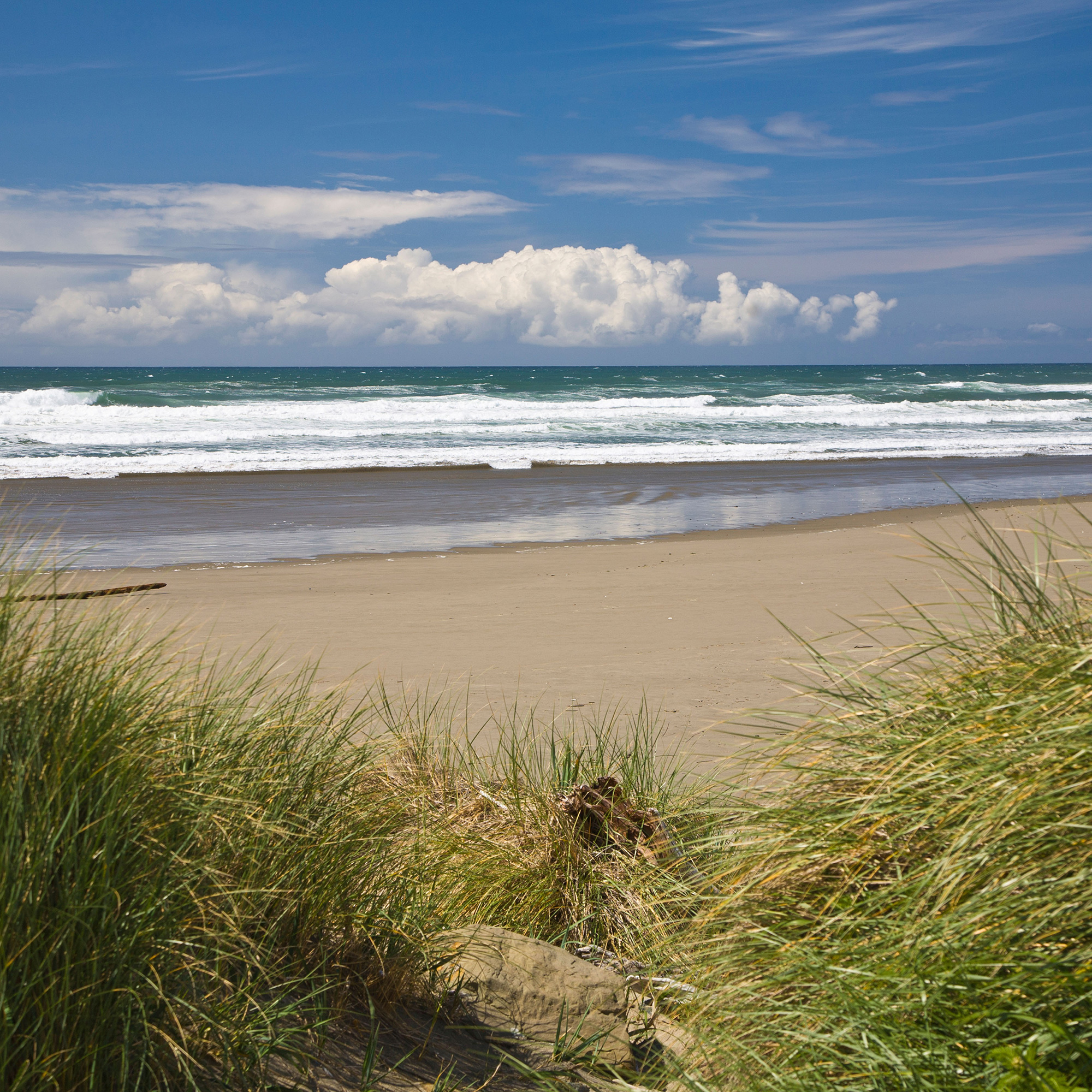 In other cases, the tribe's involvement is less obvious. At this stretch of beach, located 2 miles north of Bandon, the tribe helps manage for wild camas, a culturally significant plant that the tribe harvests for food. Tribal members work with park staff to make sure areas with camas aren't mowed before they can harvest the plants, and to ensure people don't park their vehicles where camas is growing. Yet at Bullards Beach, "there isn't a lot of signage or built structures — something people can look to and say, 'That's culturally significant,'" Rippee explains. "What they don't understand is that it's all around them: The whole place is culturally significant."
The Coquille Indian Tribe also partners with municipalities. They have held preliminary meetings with the city and Port of Bandon on ways to educate the public about tribal culture and history, and they've worked with the city of Port Orford to protect a burial ground atop Battle Rock, a weather-beaten basalt promontory south of Cape Blanco.
The partnership with the park demonstrates the challenges of protecting a sacred site that is publicly accessible and popular with visitors. A short video describes historic-preservation efforts at the park. As the story goes, in 1851 Captain William Tichenor deployed a party of nine white men on the rock, also known as Mah-Neh-Xhey-Sah, with instructions to set up a town. Though accounts vary, during the first bloody confrontation with Tutuni villagers, who are ancestors of the Coquille, Tichenor's men killed at least 20 Indians.
In the following years, Battle Rock became a cemetery. Several Native people were buried on top of the rock, including two men who were hanged and buried in unmarked graves and a family that was reinterred there. The tribe has worked with the city to protect the graves from erosion and damage from visitors, and in 2020, members of the Coquille Indian Tribe repaired the cemetery and erected new stainless steel fencing. Interpretive signs at Battle Rock and Face Rock help visitors immediately comprehend the significance of these places to the Coquille Indian Tribe.
If You Go:
Visitors to tribally significant areas must be mindful that archaeological sites are nonrenewable resources: Once they are damaged or moved, they cannot be replaced. Oregon law prohibits the collection of archaeological objects, though you are welcome to take pictures.
With its network of publicly accessible beaches and campgrounds punctuated by the laid-back towns of Coos Bay, Bandon and Port Orford, the Southern Oregon Coast is rich with attractions, from hiking, fishing, and camping to whale watching, dining and shopping.
For more tribal history that you can see virtually, check out Portland State University's Archaeology Roadshow, which includes several presentations featuring Oregon's Indian tribes.