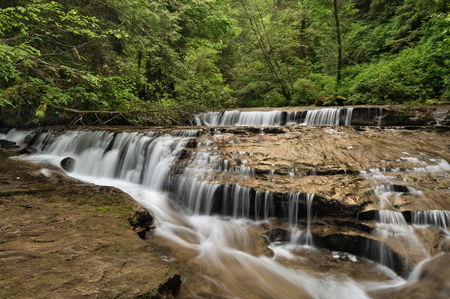 Heading to the Coast from Corvallis or Eugene? There's plenty to do along Highways 20, 34 and 126 to make the journey just as fun as the destination. Check out these inspired stops and have your camera and sense of adventure ready.
Hike the falls
Eleven magical falls await visitors at Sweet Creek Falls in Mapleton, about seven miles off Highway 126, 14 miles east of Florence in the Siuslaw National Forest. Access this hike via four trailheads, which all lead through 3.5 miles of Douglas fir, alder, big-leaf maple trees and mossy rocked waterfalls like something out of a dream.
Snap photos
Along the Yaquina River, stop for a stretch and a photo opp just off Highway 20 at the Chitwood Bridge, 15 miles east of Newport. This 1926 covered bridge (built at the same site of the original 1893 bridge) is still open to cars, and is a window into Oregon's early pioneer days. It used to be the lifeblood of this bustling small town, a passageway for lumber as well as groceries and medicine.
Find rare fungi
If you're a fan of fungi. Rain Forest Mushrooms in Eddyville, 20 miles east of Newport, is a must-visit stop — a great place to find inspiration for your magical mushroom risotto or soup. The family-owned, all-organic shop carries everything from mushroom oils and powders to fresh maitake, shiitake, lion's mane, chestnut, porcini, oyster, chanterelle, butter cap and scallop mushrooms. Come for the mushrooms, stay for the education.
Picnic and play
Look no further for the perfect riverside picnic spot, accessible for wheelchairs and people of all mobilities. Pull into the day use area at Salmonberry Park and Campground in Alsea, 30 miles west of Corvallis on Highway 34. Put in a kayak or paddleboard for a quick float on the Alsea River, where fishing and birding are also popular. In the summer, you can try your luck catching crawdads; in salmon you can see salmon spawning. The campground is open May 15-Oct. 15, with accessible tent sites as well as accessible restrooms and nature trails.
By Jen Anderson
Photo of Sweet Creek Falls by Greg Vaughn