Coos Bay Manor Bed & Breakfast
This historic 8,000 square foot colonial-style house was built in 1912 by two Finnish brothers, the Nerdrums, who worked for the C.A. Smith Lumber Company. There they pioneered the use of salt water from the bay in making pulp, a process that later proved unprofitable. The manor estate is their legacy.
The stately presence of high ceilings and large rooms make this inn warm and inviting. The house has a unique open air balcony that surrounds the second floor, with detailed woodworking throughout. There are five large bedrooms; four rooms with private baths, and one room that shares a bath to make up the Family Suite.
Take time to enjoy the Southern Oregon Coast. Lake, ocean, and river fishing are all within minutes; Oregon beaches, whether visited for beach-combing, whale watching or just enjoying, are sensational. Other local features include botanical gardens, art and historical museums, fine dining, sand dunes, excellent deer, elk and bird watching, unique shops and antique stores.
The Coos Bay Manor Bed & Breakfast Inn is Coos Bay's most elegant bed and breakfast inn. Come share a piece of Coos County's history.
To really appreciate the life and amenities of the Coos Bay area and South Coast, it takes the perspective of people who have made their lives here. Both Coos Bay natives and graduates of Marshfield High School, Coos Bay Manor owners Dave and Madge Osborn are delighted to share their knowledge of the local recreational opportunities and other features that make this community one of a kind.
Entertaining guests and being ambassadors for the community is their greatest passion. They both have plenty of stories to tell that reflect on the traditional Coos Bay experience. Don't forget to ask Dave about his experiences working in the rugged woods of Oregon as a logger for nearly three decades.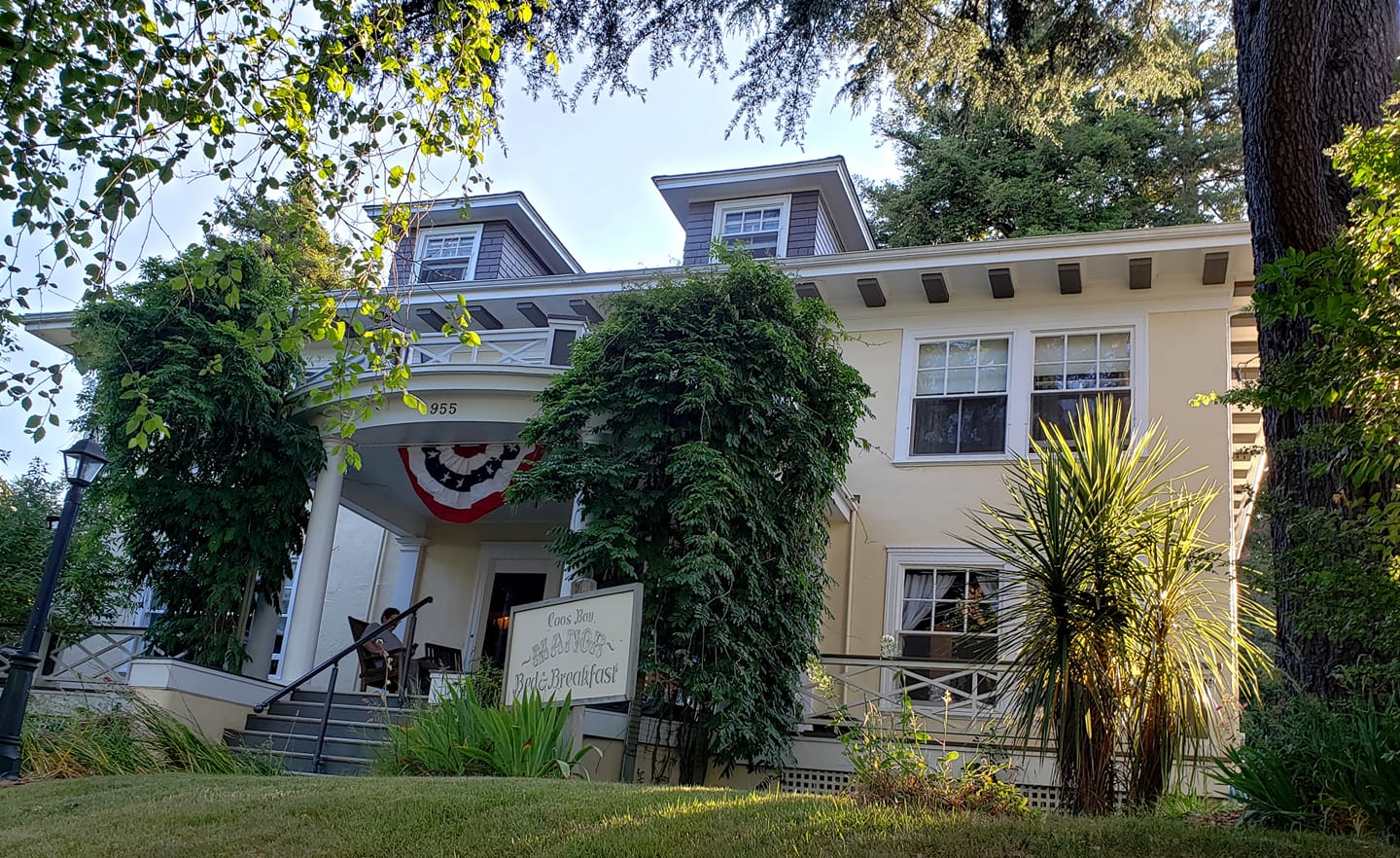 Contact Info
955 S 5th Street
Coos Bay, Oregon 97420
541-808-0009
Amenities
Family Friendly
Complimentary Breakfast
Non-Smoking
Air Conditioning
Fireplace
Internet Access