Seaview Townhouse at Coquille Point Condominiums
The Seaview Townhouse at Coquille Point Condominiums offers visitors to Bandon-by-the-Sea a perfect Oregon Coast getaway. Located on the cliffs above the Oregon Islands National Wildlife Refuge, this vacation rental provides guests with picturesque views of the seastacks and the Pacific Ocean from across the viewing area and Park that runs along the Point.
Coquille Point is one of the most visited viewpoints on the southern Oregon coast. Located just east of the Oregon Islands National Wildlife Refuge viewing area, our beach access to surf and shoreline coves is only a few steps away on well-maintained paths and wide stairs. Sea life and rocky-shore birds abound in this area. The meandering pathways of the Viewing Area afford visitors the opportunity to observe the coastal ecology and the native beauty of the coastal headlands with ease. For the more adventurous, a trip to the beach puts you close up with harbor seals, cormorants, murres and sea gulls. Agate hunters, casual or serious, stroll the tide break looking for the perfect find. The sandy beach will challenge any child's imagination in the construction of a sand castle. Every member of the family can enjoy the fun of kite flying. And of course there is always the sea.
This two-story townhouse features ocean-view accommodations at a spectacular headland. The shingle style architecture blends naturally with the setting, looking just the way you may have imagined a coastal ocean-view home should. Fully furnished and appointed with all the features you will need, it's the vacation home solution for family and friends.
Bandon, with its spectacular beaches, shoreline and offshore islands wildlife, offers something for everyone on a coastal vacation. Bandon-by-the-Sea is in the heart of a Pacific coastal region that offers an almost endless list of activities and attractions for the visitor and vacationer. You'll find the Seaview Townhouse to be the perfect choice for your stay at the seacoast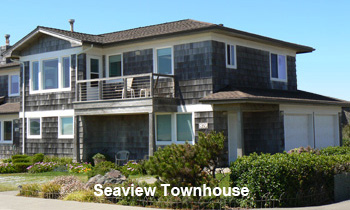 Contact Info
879 Portland Avenue SW
Bandon, Oregon 97411
541-347-1686
Amenities
Fireplace
Mountain or Water View
Non-Smoking
Kitchen