Come for the celestial event of the year and stay for the magic of fall.
When the sun and the moon align for an annular eclipse on the morning of October 14, 2023, Oregon Coast towns from Gleneden Beach on the Central Coast to Langlois south of Bandon will be treated to a show of shadow and fire few will forget.
A total solar eclipse swept across Oregon in 2017, but this time the moon will block out most but not all of the sun, creating a spectacular ring of fire around the dark orb ("annular" means ring-shaped). Meanwhile, a 90-mile-wide shadow will drift east and southward to darken towns like Newport, Florence and Bandon. The heart of the deepest, completest part of that shadow — the path of totality — will stretch roughly from Florence southward to Reedsport. There, peak darkness will last the longest at about 4 and a half minutes.
Once in the path, look southeast — away from the ocean — starting around 8:05 a.m., when the sun will start to darken as the moon nibbles away at its space. At about 9:15 a.m. true totality begins. At its peak, almost 90% of the sun will be obscured.
To watch the show, you'll need to observe basic safety precautions. Be sure to wear protective glasses, currently available for sale at the Oregon Coast Visitors Association online store. You might also pick some up in person for free at all eight Oregon Welcome Centers — including centers in Seaside and Brookings — from Oct. 1 to Oct. 14. Another option is to call ahead to the state park sites you plan to visit — free glasses may also be available around the date of the eclipse.
Plan to arrive early at any beach or viewpoint. Parking is limited, so make sure you have a Plan B in place, and consider car-free possibilities like a bike or walking, if possible.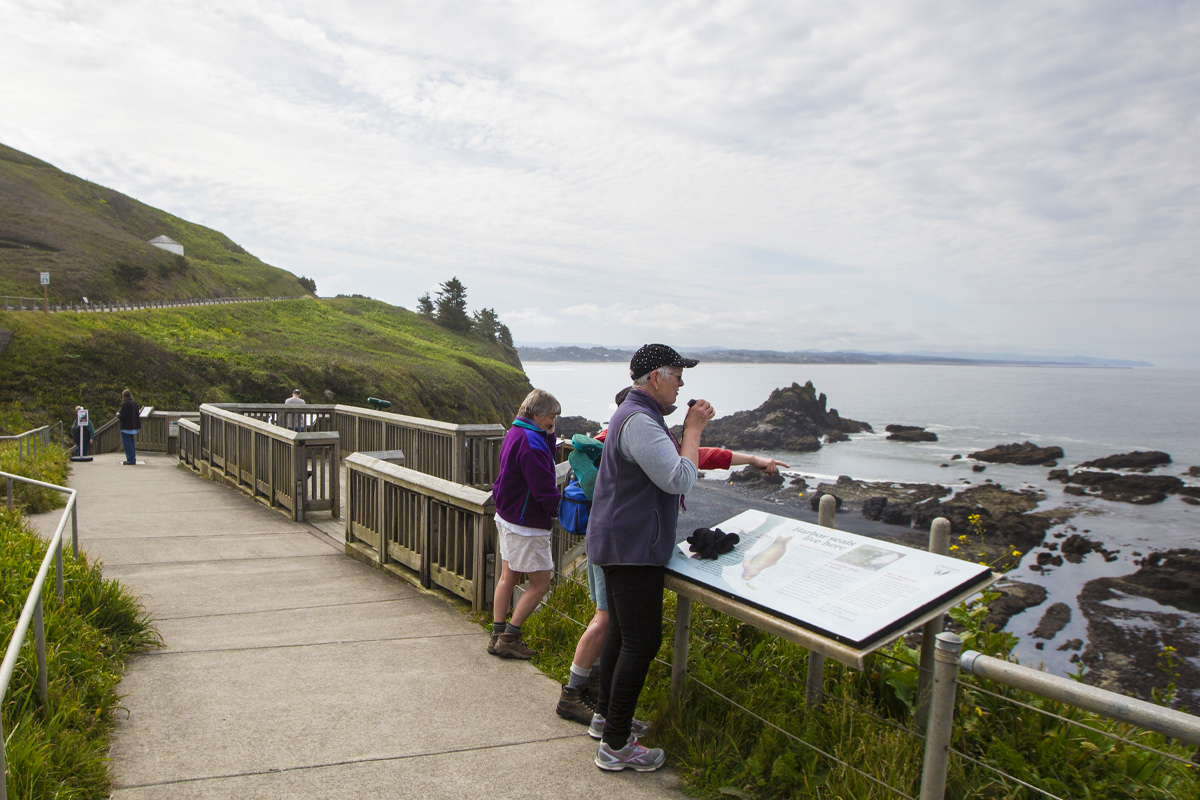 Places to View the Eclipse on the Coast
If this is your first eclipse — or you have viewed many — you can find other enthusiasts at a watch party in Bandon. The gathering begins around 7:30 a.m. at Bullards Beach, a wide-open sandy stretch of state park just north of the Coquille River, with totality peaking around 9:17 a.m. Once again, be sure to arrive early as parking is limited. No matter where you go, you'll want unobstructed views to the southeast.
How long totality lasts depends on where you are: from about 90 seconds in Langlois at the far south and Gleneden Beach at the far north to the longest range of about 4.5 minutes as you near the center of the path in Dunes City. To take in the longest view, consider a hike at the Oregon Dunes Day-Use Area — a trail takes you down to the beach for views about a mile away, for a 2-mile round-trip hike.
In and around Newport, the sun will be at its darkest for about 3 minutes, starting at 9:16 a.m. and peaking at 9:18 a.m. before slowly brightening. The area around the Yaquina Head Lighthouse has awesome views to the southeast. The Cobble Beach Loop Trail runs for about half a mile through a windswept habitat atwitter with birds. Taft Waterfront Park in Siletz Bay also has unobstructed views.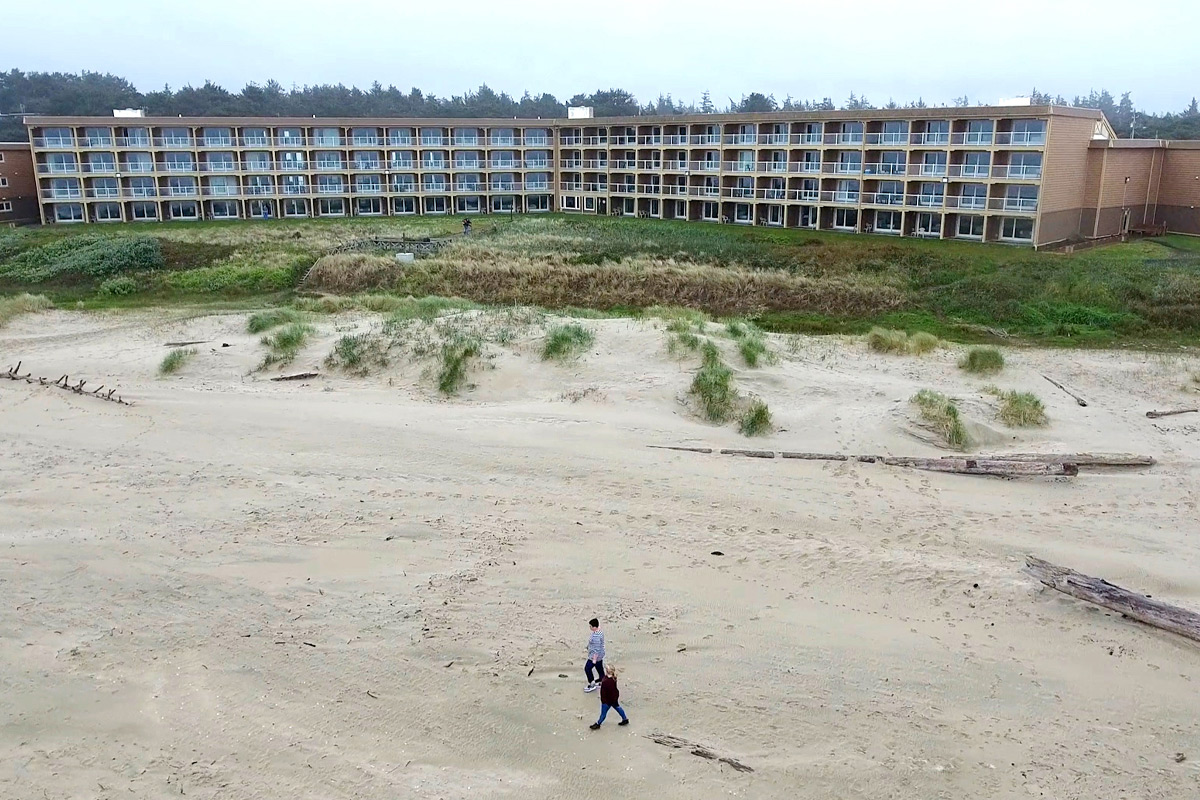 Places to Stay and Play
You'll definitely want to book early if you're planning to stay for the eclipse. Near Siletz Bay, lodging includes Looking Glass Inn, across the street from the waterfront park in Lincoln City's Taft district. In Florence the North Jetty Beach parking area has full-sky views. Stay at the Driftwood Shores Resort for wonderful sunsets and walks, pretty much right from your room.
The sky isn't home to the only show as the Coast's maple trees are turning golden and red around this time of year, too. Shore Acres State Park — home to magnificent gardens — has flowers like dahlias blooming often into mid-October. The Friends of Shore Acres often post online about what's happening.
While you're there, check out Cape Arago State Park, south of Coos Bay, which has headland walks, or drive out to Horsfall Beach north of Coos Bay for coastline strolls. There among the dunes (and the dune buggies), you'll find great views to the southeast, making it a choice spot for the eclipse. Bay Point Landing near Charleston also has southeasterly views, as well as thoughtfully designed cabins and spaces for recreational vehicles and hook-ups.
For more lodging options, check out our handy accommodations guide. No matter where you go, find great places to eat using this guide, or check out stops along the Central Coast Food Trail and the Wild Rivers Coast Food Trail.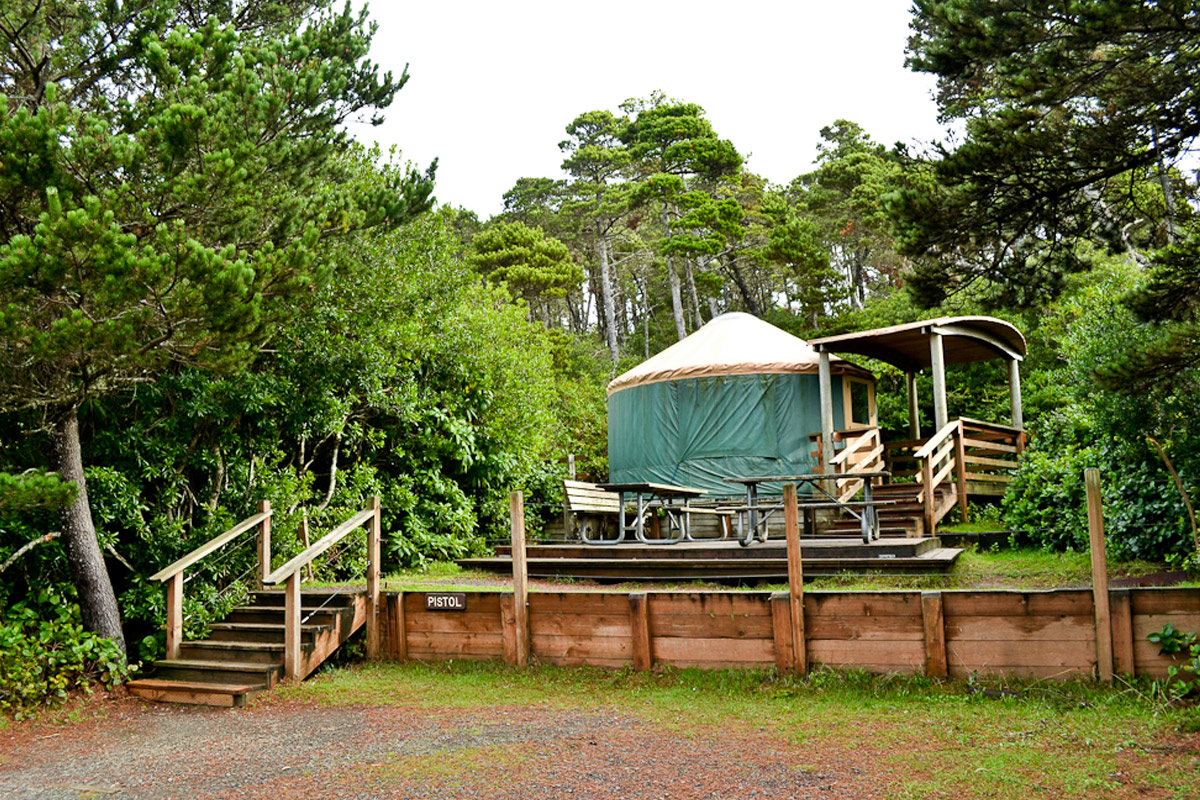 Camping During the Eclipse
Campgrounds and RV parks line the Oregon Coast. South Beach State Park south of the Yaquina Bay Bridge in Newport has year-round camping and over two dozen yurts for overnight stays, most of which are accessible for campers with disabilities. Bring a bike and pedal on the Jetty Trail or wander on 5 miles of trails at the nearby Brian Booth–Beaver Creek State Park.
Carl G. Washburne Memorial State Park, near Florence and Cape Perpetua, also has a couple of yurts (one that's pet friendly) plus over 50 campsites and over 40 full hook-ups for RVs. Check out Darlings Marina & RV Resort, where you can park your rig with views of Siltcoos Lake. On calm days, launch a canoe or a kayak to ply the backwaters before returning to the resort for craft beers and house-smoked meats.
​​Boice Cope Park in Langlois has a campground with nearly 50 sites on Floras Lake that offer great stargazing. Nearly half of the spots come with full RV hook-ups.
Other Eclipse Celebrations
– By Tim Neville