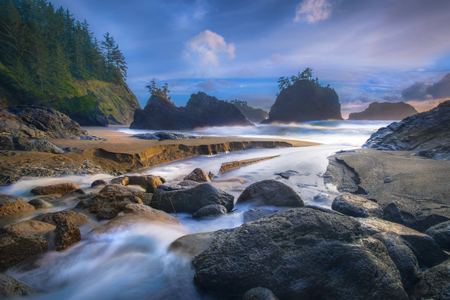 Southern Oregon's sea-stacked coastline will beguile you. Its beaches are never crowded. And as the tide recedes, dimpled patterns left in the sand invite you to wrinkle them up with your toes. The river mouths and estuaries play host to favorite pastimes, and the trails that work their way across the varied landscapes will rejuvenate your soul. Read on for these top ways to sift through the culture, history and ecology of the region — while practicing social distancing.
1. Enjoy the Uncrowded Beaches
Enjoy the monster driftwood and transcendent fall-light photography amidst the sea stacks at pristine Ophir Beach, midway between Gold Beach and Port Orford. While solitude on the beaches is good for the soul, it's important to be mindful of the force of Mother Nature. While you're playing on the beach, never stand on logs or turn your back to the ocean — always beware of sneaker waves that can come out without warning.
Just off Highway 101 along the Samuel H. Boardman State Scenic Corridor in Brookings, make a worthy detour at Secret Beach, which requires a semi-arduous downhill scramble over large rocks. Sea caves, starfish and spruce trees will welcome you to a hidden pocket beach. Only accessible at low tide and never crowded in the summer, it will likely be yours alone now.
2. Take a Kayak Tour
For talented beginners to intermediate paddlers, the 5-mile downriver Wild & Scenic Rogue River paddle trip with South Coast Tours introduces a more docile side of the river. Class II rapids provide just the right amount of challenge, and interspersed with still-flowing sections, the warmer water makes it a perfect fall adventure.
Explore the Bandon Marsh National Wildlife Refuge with a Bandon Coquille River Tour on the Coquille River, led by the guides at South Coast Tours. Journey through time as you explore historic high docks, shipwrecks and Native American fishing weirs. The 5-mile flatwater estuary paddle, suitable for beginners, will reveal local culture and migrating shorebirds.
3. Visit Less-Crowded Inland Areas
Head 24 miles northeast of Coos Bay for a day trip to Golden and Silver Falls State Natural Area. Set in dense coastal forest, a 1.4-mile trail will take you to the top of Golden Falls. Experience the old-growth firs and cedars from a different perspective. Photographers might like to catch the autumn colors at the base of each waterfall.
Discover something new on a day trip inland from Reedsport along the Umpqua River Scenic Byway to Elkton, a sweet community with five wine-tasting rooms within 5 miles. Fog rolling in from the ocean just 36 miles west and a steady breeze off the Umpqua River create a cooler climate where pinot noir, pinot gris, gewurztraminer and Riesling thrive. Discover the golden colors and wines of the local vineyards, and enjoy them from one of the outdoor patios. Visit nearby Fort Umpqua to stretch your legs as you tour the historic sites, or stroll the Elkton Community Education Center's 4.5-acre native plant park.
4. Picnic in the Park
Get picky with a sweet or savory selection of fresh-baked croissants, doughnuts, rolls or breads at Bakery by the Sea in Brookings. Come early to beat the lines and bring a blanket to enjoy your baked delights 3 miles north at Harris Beach State Park.
Every day of the year, a flower species is in bloom at the beautiful Shore Acres State Park. Collect your choice of seafood at Chuck's Seafood market in nearby Charleston — whether fish 'n chips, oysters, salmon or shrimp — before taking the short drive to the park. Enjoy the gardens and a short walk to nearby Simpson Beach, from where you might be able to watch thundering Pacific rollers beating at the sandstone cliffs after an early winter storm.
5. Hike a Quiet Trail
Park your car at the Redwood Nature Trailhead and hike an easy 1.2-mile loop to view one of the only stands of Redwoods in Oregon. (Note that nearby Alfred A. Loeb State Park is currently closed.) Trees now tall are estimated to have been seedlings 800 years ago. The park also borders the Wild and Scenic Chetco River, which has a stunning myrtlewood grove. Its autumn colors assume varied hues of orange and red each year.
The New River runs alongside the Pacific Ocean for 9 miles, and thanks to its exposed location, the wind whistles through the area. Known as one of the last truly wild remaining places on the Oregon Coast, a visit here offers the chance to watch migrating shorebirds and find rare native plants. About 10 miles south of Bandon, the New River Loop incorporates a few trails to make up around 3.25 miles, with a mix of muddy, sandy and paved sections. To savor the diverse coastal habitat more intimately, don't forget to bring a pair of binoculars.
By Ian Vorster
Photo of Secret Beach at Samuel H. Boardman State Park