Traveling Coos Bay, North Bend, & Charleston areas with mobility impairments? Here's our amputee family's experience with beaches, cliffs, history, dining & more.
Accessibility needs cover a long, broad, diverse spectrum. Some travelers need to understand a destination in terms of wheelchair access, whereas another visitor may work with a vision impairment. For our globetrotting family of four, Jodie is an amputee who uses a prosthetic leg. She loves to visit the Southern Oregon Coast with husband Anthony, 11-year-old son Connor, and 8-year-old daughter Aster.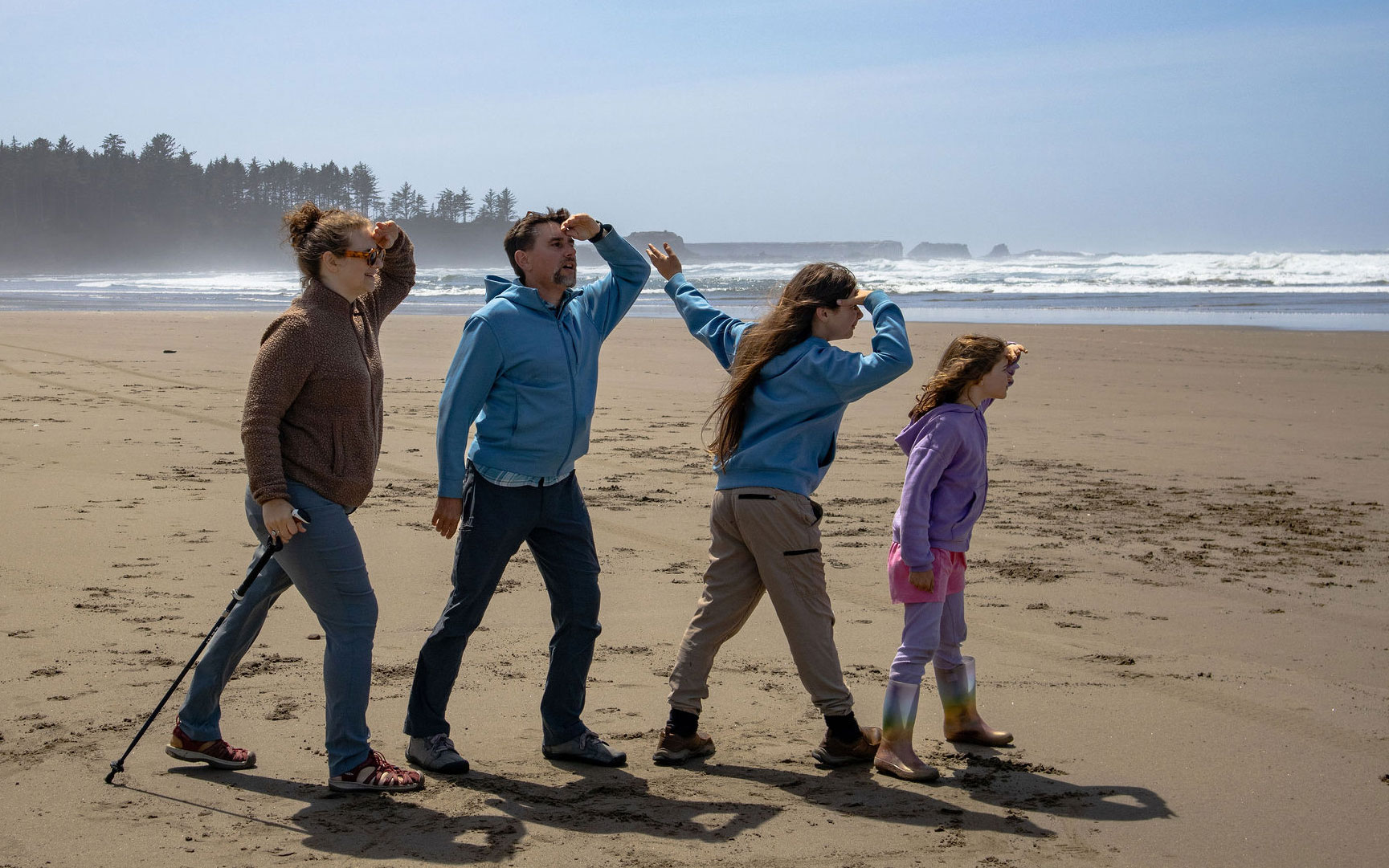 Our discussion and experience around accessibility focuses on walking mobility, adaptations, and ease of access, such as for an amputee with a prosthetic leg, an older adult with back conditions, or even a new parent with a stroller or baby carrier. We were especially excited to return to the Coos Bay area after learning about how the area is working to increase its accessibility features for travelers with disabilities or mobility impairments.
Accessibility is always a work in progress, and progress continues on the Oregon Coast
The Coast presents challenges for travelers with mobility impairments and conditions. However, from private and non-profit attractions to public lands at the local, county, state, and federal levels, ongoing work is making more of the coast accessible to visitors. Whether improved wheelchair access, wider paved paths, or simply a stretch of sandy beach that's easy to get to, this section of the Oregon Coast is trying to welcome more travelers, and help them have easier access to the places and features they want to experience and enjoy.
Communities throughout the Oregon Coast are working to improve accessibility for a broader range of visitors
Starting in 2023, 8 communities are receiving grants from Travel Oregon and assistance from accessible travel resource Wheel the World to improve accessibility: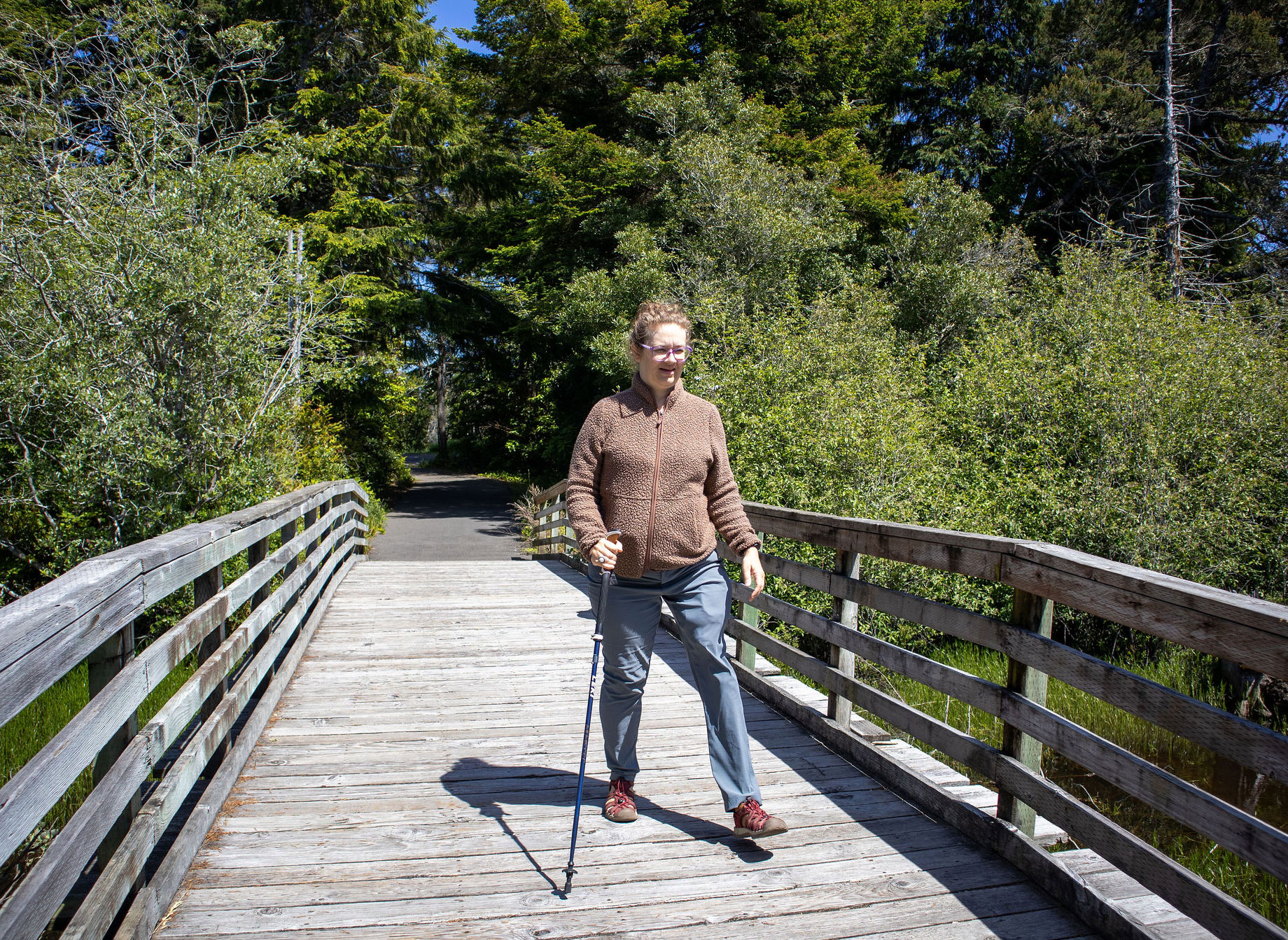 Astoria-Warrenton
Coos Bay-North Bend-Charleston
Depoe Bay
Florence
Lincoln City
Newport
Waldport
Yachats
Wheel the World is coordinating with local people and organizations to assess attractions such as parks, restaurants, and accommodation. Their assessments help decision makers understand what accessible features they currently have and where they can make further improvements and investments. From there, these communities can appeal to more and more of the traveling public, who can visit the Oregon Coast with greater confidence that they can have the trip they want, and enjoy more access to this unique part of the world.
Yes, you can enjoy an accessible Southern Oregon Coast while traveling with a disability or mobility impairments
The Coos Bay, North Bend, and Charleston areas of the Southern Oregon Coast have renown the world over for their rugged beauty, crashing seas, free public beaches, and vibrant indigenous and settler history. The area also is working to make more parts of the coastal region accessible to a greater range of visitors who have mobility impairments or disabilities.
During our own visit to the CBNBC area, our family of four beachcombed, camped, took in a clifftop sunset, absorbed the area's history, and enjoyed some incredible meals. Here are some highlights of our thoughts on accessible travel on this part of the Oregon Coast. We hope it helps you make your own memories in this amazing part of the world!
Accessible travel at state and county parks near Charleston
Wherever you stay in the Coos Bay, North Bend, and Charleston area, you're never far from some of the area's top public lands. Along the Cape Arago Highway near Charleston, these parks are a highlight of every visit we make to the CBNBC area. Here's why.
Bastendorff Beach County Park and its beaches
The Oregon Coast's renown for its free public beaches includes the wide, long beaches (and sizable parking areas) along the Bastendorff area, just beyond Charleston.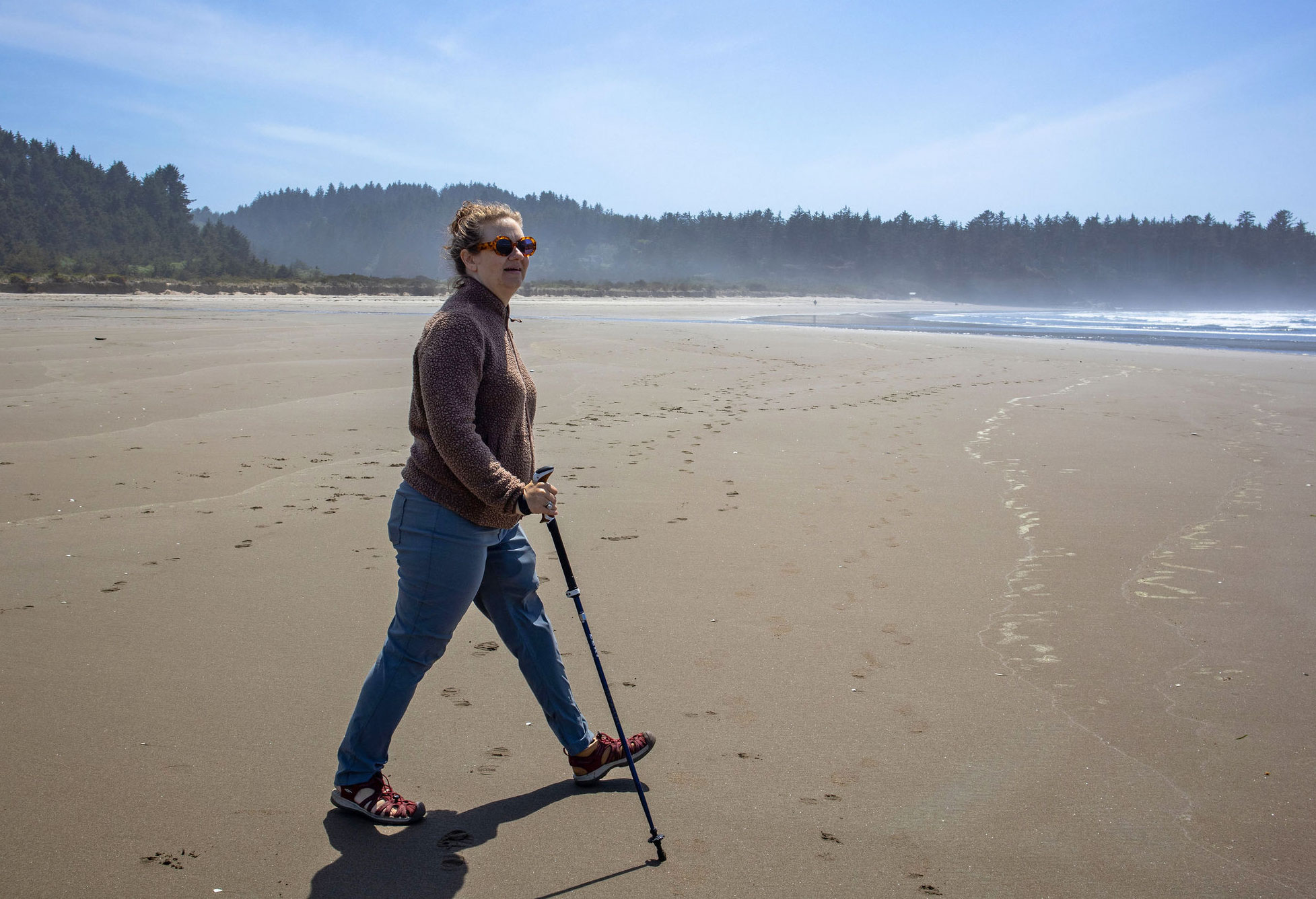 Bastendorff Beach County Park itself lies atop tall cliffs with a broad ocean view. The park also includes a county campground, but we visit mainly for the parking lot at the edge of the cliff, where we can look out over the sea.
Down below, a range of beaches offers multiple options for stopping off. Bastendorff Beach itself has a long parking lot, though getting through barriers to the beach itself can be tricky in spots. The main sandy area is broad in many places, and that can make it hard to access the beach when in a wheelchair or when your mobility includes walking impairments. Jodie walks and hikes in areas like this with the aid of one, and sometimes two, collapsible trekking poles.
And the effort is worth it. Once on the other side of the soft dry sand, the four of us stood on a stretch of Oregon coastline that seemed to run as far as we could see, even though we knew perfectly well that we weren't far from where the peninsula curved north and east back toward Charleston and its deep marina. We suggest checking tide tables to time your visit: Easier, more walkable sand tends to come with low tide.
Connor and Aster immediately dug into the sand, creating castles, farms, and battlements. We parents liked that they could be far enough up the beach where we could enjoy the surf without needing to worry about getting soaked. That's all the more peace of mind for Jodie, given the computerized knee that aids mobility in her prosthesis.
Sunset Bay State Park
For getting mobility friendly access to a beautiful, scenic beach, Sunset Bay State Park may be untoppable.
High, tree-covered cliffs close around the mouth of the bay like a thumb and index finger pinching toward each other. Combined with the haystack rock at the entrance, the dramatic scene and calm water have made Sunset Bay one of our favorite areas to visit (and photograph) on the entire Oregon Coast.
The day use area's long parking lot offers ample room and is right off the Cape Arago Highway, just before the park's campground. Even better, though, is that the parking lot butts up right at the back edge of the beach and is the most accessible approach. There is soft sand here, and a slight downward slope, but the sea is as close or as far as you want it. Low tide exposes subsurface rocks close to shore and farther out along the mouth of the bay. Jodie could wander the beach, or we could relax and watch our kids explore how deep they could dig into the sand.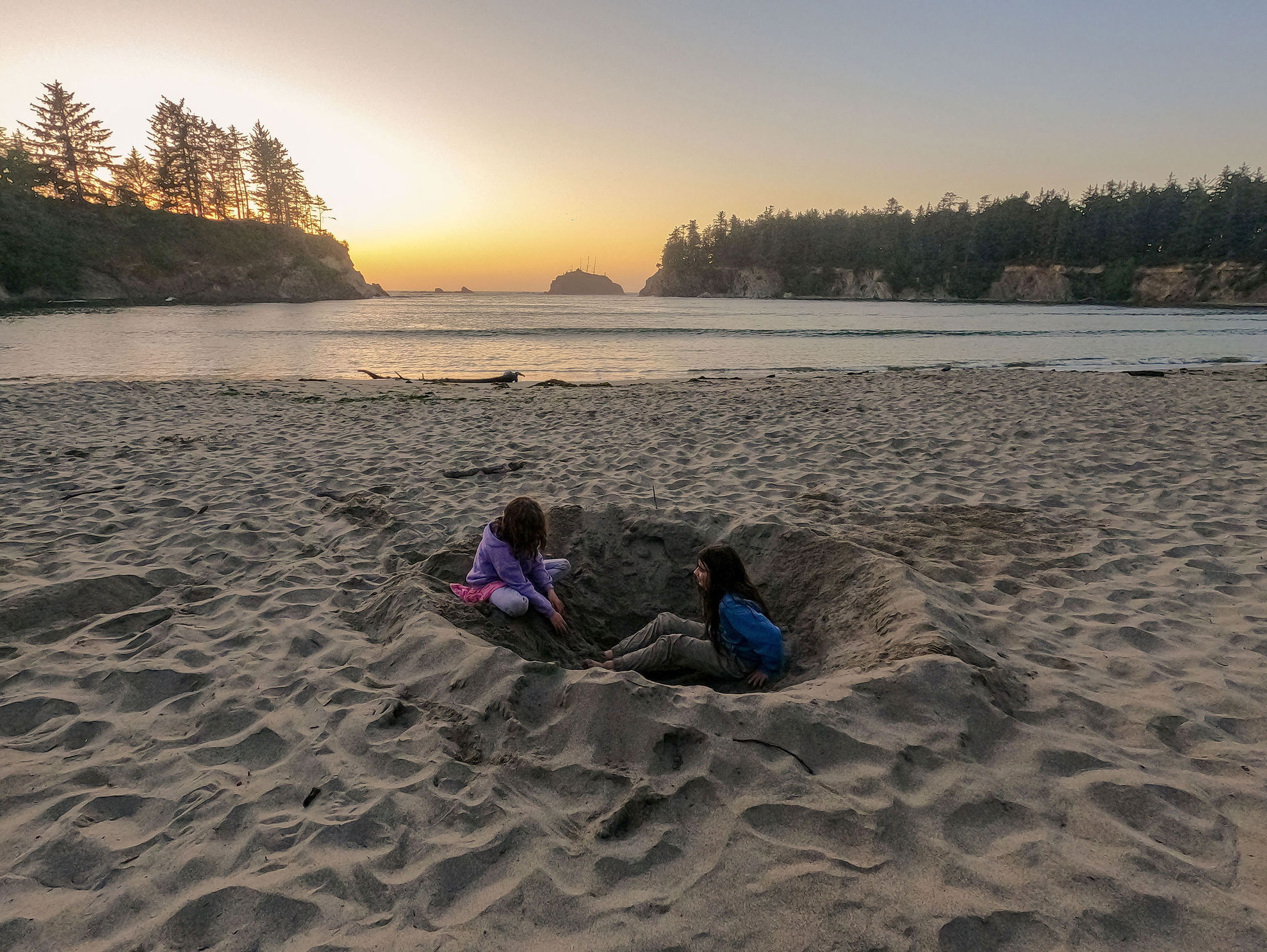 The cliff and rock combo calms the waters and keeps waves small. During a morning low tide, the surf can be calm enough that flocks of pelicans hang out in the water. During our evening visits, we often found a sea lion weaving through the shallows.
Campers can also access the beach from a trail
The park's 138-space campground offers wide, paved paths and roads. Some showers and restrooms have been redesigned for better accessibility. From the campground itself, the Sunset Bay beach area is reachable by following a pedestrian path that goes under the road.
For the under-road trail, we followed a round corrugated tunnel. The surface can be a little tricky, and at the end of the pipe there's a sharp left turn to continue the path. Keep these in mind as you consider how accessible this path is to you, but in Jodie's experience, the pipe and turn were fairly easy to navigate.
Shore Acres State Park
While Sunset Bay gives a shoreline perspective and easy beach access to travelers with mobility impairments, a completely different coastal experience awaits just a few minutes farther down the Cape Arago Highway.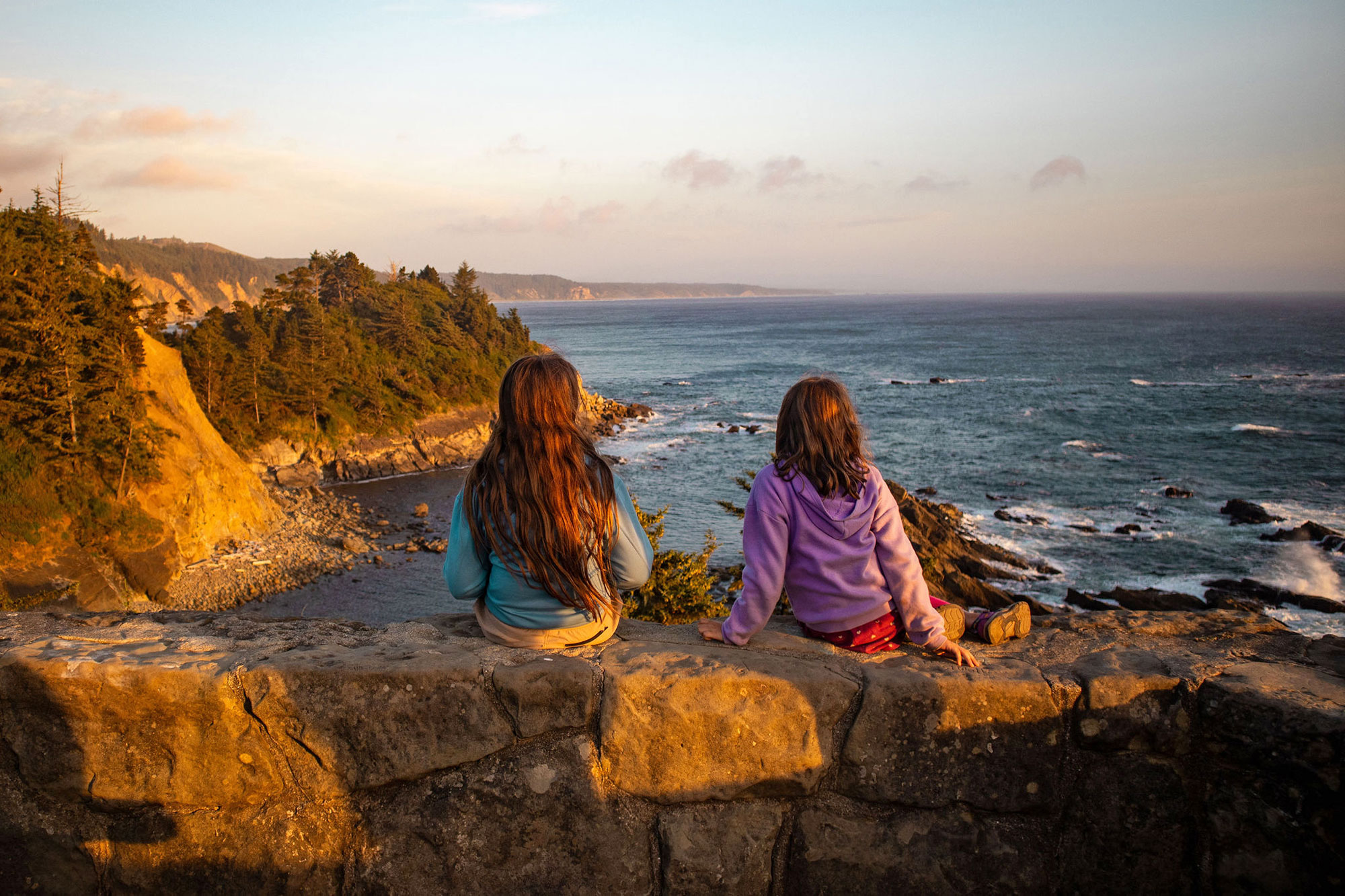 Once the mansion and grounds of an area timber baron, today the 7-acre Shore Acres State Park combines a restored English-style garden, paved paths and dramatic clifftop overlooks. Lumber ramps and wide paved paths combine to give better accessibility to travelers with a range of walking or wheeled mobility. Side paths immediately outside the garden can have tree roots and rougher going, but many paved paths offer accessible, alternate routes throughout the park.
While the mansion is no more, the extensive gardens gave us moments of calm togetherness, whether marveling at the colors and aromas of the old-style roses, or sitting by the pond watching newts swim. At the edge of the park, a network of paved paths took us to a walled overlook. We stood there for many quiet minutes. Below, waves dashed themselves along the many jagged rocks, sending white spray high into the air.
Cape Arago State Park
At the end of the road, Cape Arago State Park offers a range of trails toward beaches, but many of them have steep starts down natural surface tracks. However, we were there for the easy access to the stone overlook's sunset view.
In the evening, we suggest arriving well before sunset to make sure you can get a suitable parking space. The paved path goes from the edge of the parking lot to the overlook. There, with viewpoints over the shore to the south and to Simpson's Reef just north, the Oregon Coast brought together cliff, beach, forest, and sea. It was an amazing spot to take in the sunset and snag a family selfie, all from an accessible vantage.
How to enjoy Coos Bay, North Bend, and Charleston when traveling with mobility impairments
Mingus Park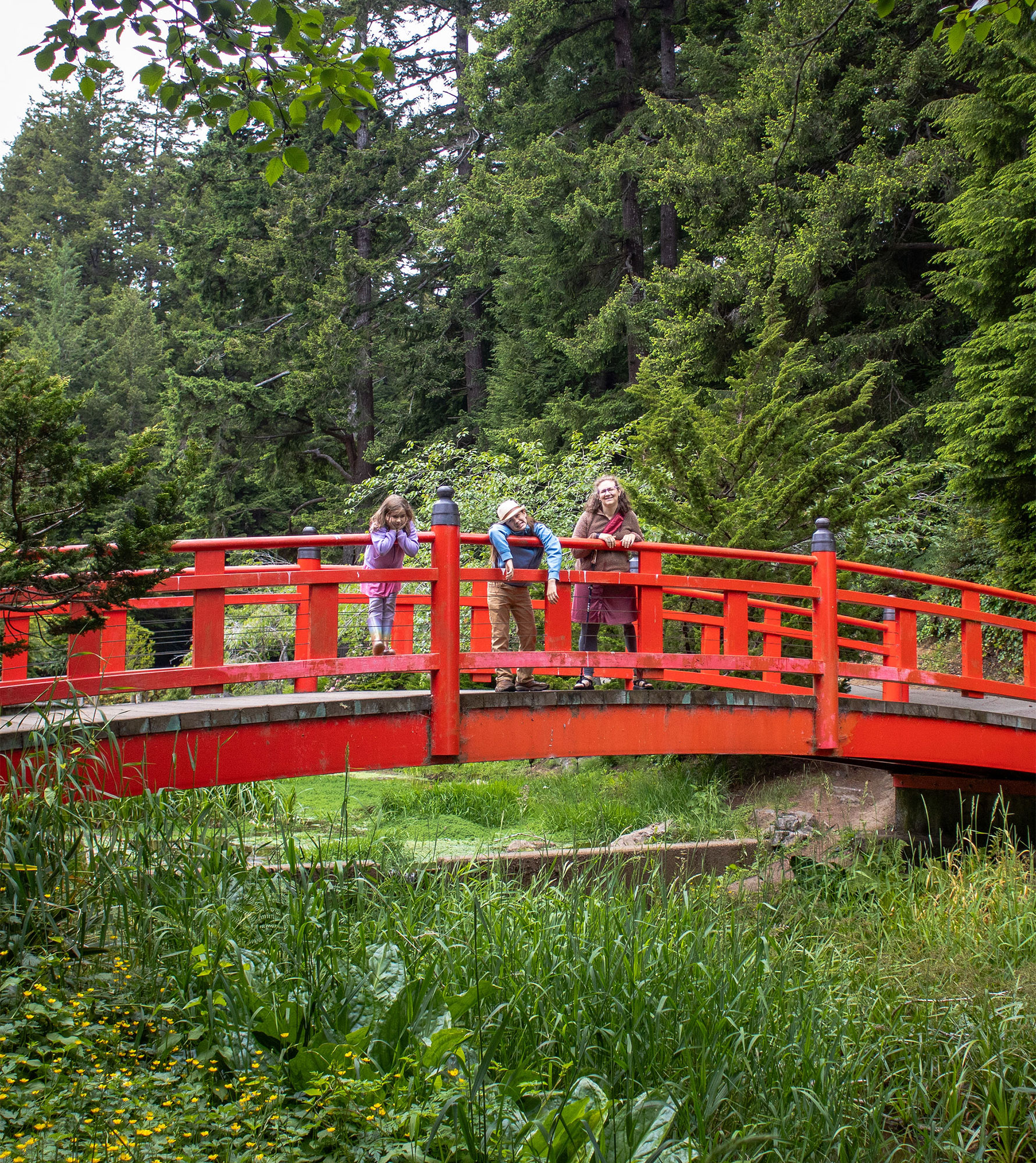 Ponds, playground, and gardens: besides traveling with accessibility in mind, our family always seeks pleasant parks. Tucked inside a quiet Coos Bay neighborhood, Mingus Park is only about an acre, yet includes an excellent playground and scenic ponds full of lily pads paralleled by broad paved paths. Toward the back of the park, a calming Japanese-style garden beckons.
We found Mingus Park to be a quiet, in-town respite. Near the back of the park, past the graceful, curved orange bridge, the Japanese-style garden has a range of paths. Some are wooden, narrow, and perhaps tricky to navigate. But others were paved and broad as they wound along stands of bamboo, rhododendron, and Japanese maples.
Coos History Museum
Settler and Indigenous history come together in this two-story local museum. While there's an elevator to exhibits on the second floor, most exhibits and collections lie throughout the first floor.
Some areas have tight corners and the occasional narrow passage. The Coos History Museum is mainly oriented toward the adult visitor, with a focus on observational exhibits, ranging from Indigenous languages to period artifacts from the medical and timber industries. For the history buff curious about how people have lived in this region, along with the history of American settlers throughout the 1800s and 1900s, the Coos History Museum gave us insight into life back then.
Charleston Marine Life Center
Aquarium, hands-on science, and intriguing insight into the area's waters come together at the Charleston Marine Life Center. Part of the University of Oregon, the two-story MLC offers viewing tanks on the ground floor, as well as sea life exhibits and multiple kid-focused science observation stations. While a wheelchair is available from the office, there is not an elevator in the building, so second-floor access requires walking mobility.
As the kids wandered along the downstairs touch tanks, they giggled as urchins wrapped spines around their fingertips. Upstairs, we examined samples under a microscope and a video microscope. From the second-floor windows, we could also look out over the bustling Charleston marina, including seeing the MLC's research craft, docked right below the building.
This small, interactive museum packed in a lot of hands-on science for adults and kids. While only the ground floor is accessible, the MLC still provided intriguing insight into the research being done on the vibrant, vital waters and sea life in the area.
Coos Bay Boardwalk
Just off Highway 101, the Coos Bay Boardwalk runs between, and parallel to, the water and the road. If walking, a central staircase under the boardwalk sign is the most common starting point. Wheeled access is available from the parking area near the northern end of the boardwalk.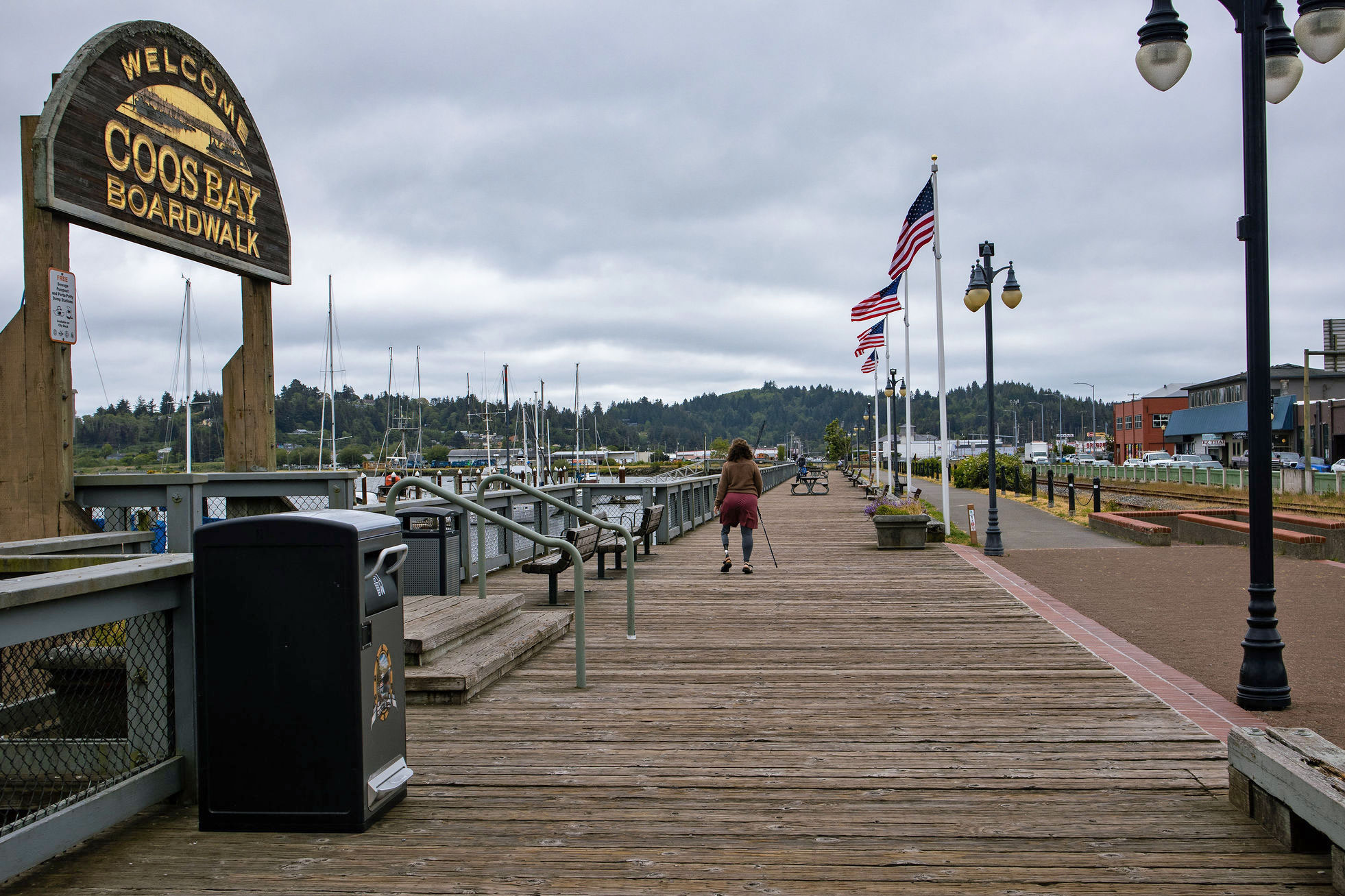 Along the boardwalk, we pondered all the different names and styles of the various boats docked nearby. Off in the distance, a massive cargo ship offloaded its deliveries. Toward the southern end of the boardwalk, there's ample space to settle in at one of the many picnic tables.
John Topits Park: Hiking and boating at the area's most accessible park?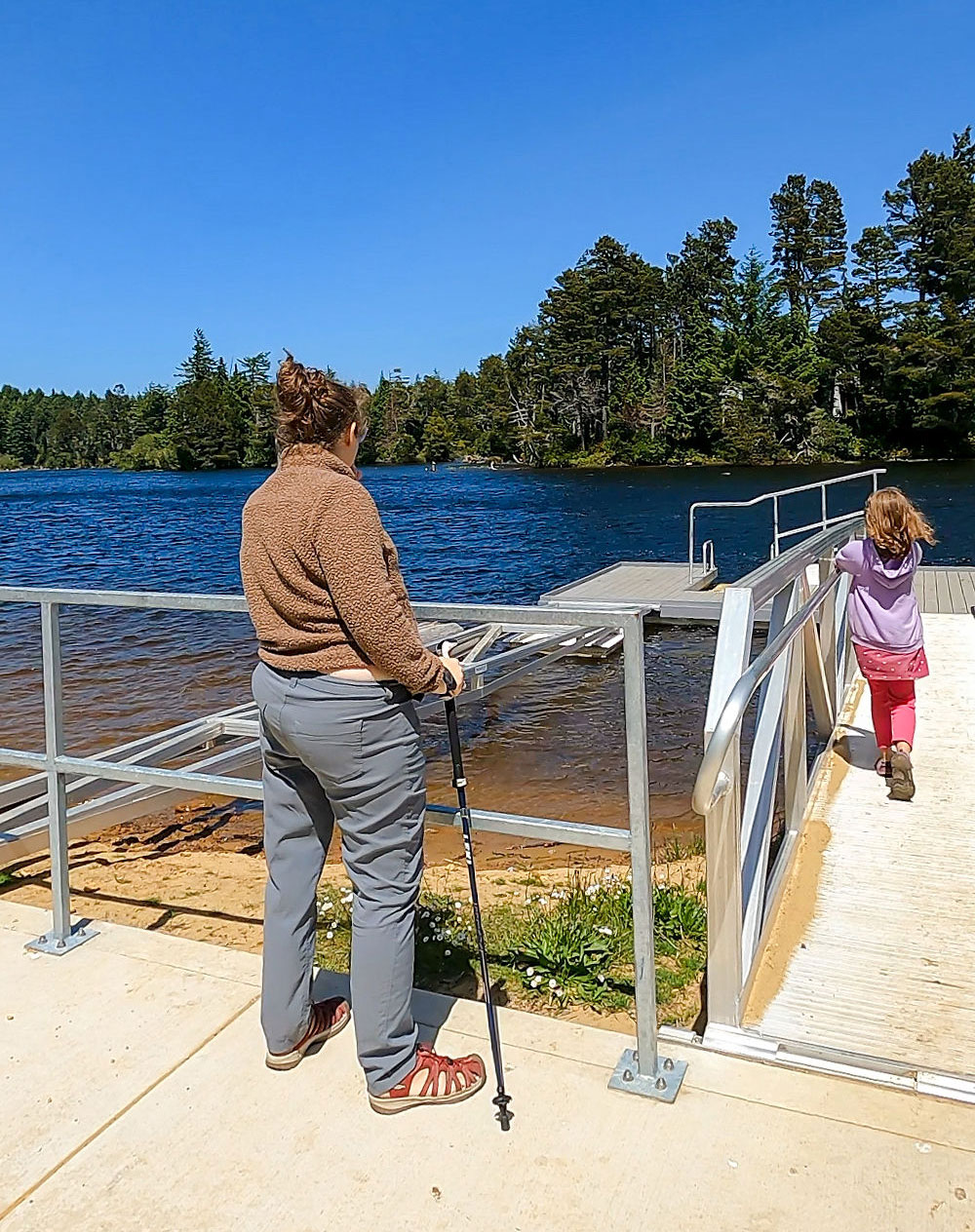 For all the natural and cultural offerings of the CBNBC area, we especially wanted to call out John Topits Park. Just north of Highway 540 in between North Bend and Empire, Topits does not just offer green space woven through with some of the most accessible trails we've ever seen, while encompassing not one, not two, but three lakes within the boundaries of its 120 acres. Playgrounds and other recreation spots are just the beginning of the park's accessible features.
For the visitor who has mobility impairments but also loves to wander the water via paddle craft, John Topits Park is home to an ADA boat launch (as well as a nearby gravel launch), installed and opened to the public in 2023. Follow Hull Street to reach the parking lot and launch.
While the weather prevented us from getting our kayaks out for a paddle on Middle Empire Lake and Upper Empire Lake, we instead enjoyed the nearby hiking trail. Paved, 6-8 feet wide, and mostly level and flat, this peaceful, accessible trail helped Jodie focus simply on enjoying the hike and being in the moment.
Numbered posts throughout the park aid navigation and orientation, and there's a reference map on a board near the boat launch. (We took a photo on Anthony's phone for quick reference as we went). Off the parking lot where the ADA ramp is housed, a forested trail followed the causeway that bisects the Empire Lakes and separates Lower Empire Lake to the west. The smooth, flat, level path made for a worry-free wander.
Other attractions to consider
No matter how often we visit this part of the Oregon Coast, there is always more to do! Here are other attractions and activities to consider. Accessibility options vary, and we'd suggest getting in touch before visiting:
Accessible dining and lodging options in the Coos Bay, North Bend, and Charleston area
The CBNBC area prides itself on a range of dining options. More and more places are designing or redesigning their spaces as well to offer better access to customers with mobility impairments. Here are some places we enjoyed: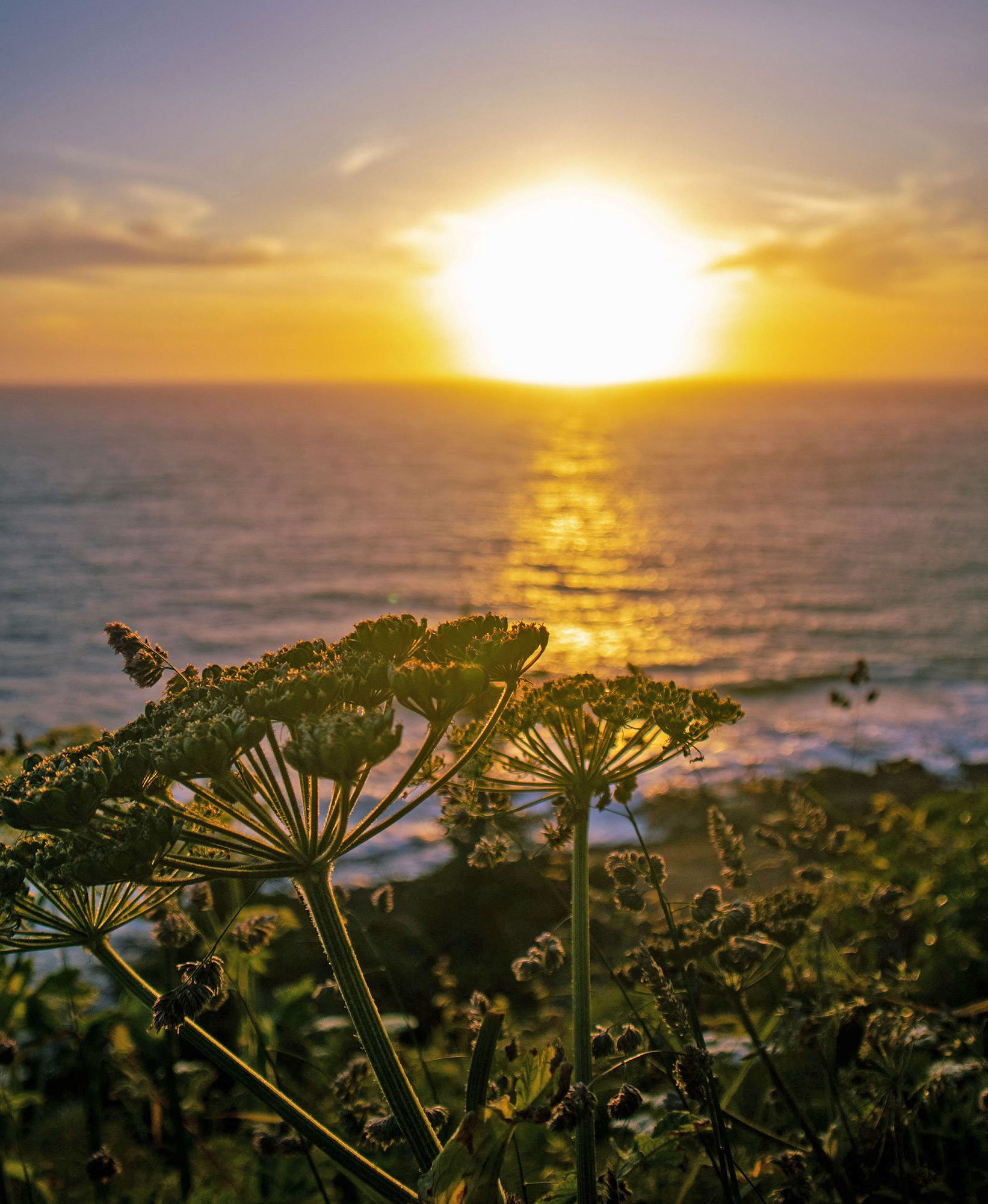 Front Street Food Trucks
Waffles, barbecue, cheese fries, and burritos are just the beginning. Stick-to-your-ribs goodness abounds from the beloved food cart courtyard known as the Front Street Food Trucks. The outdoor seating and near-downtown location also make it easy to continue your journeys throughout Coos Bay and North Bend.
Miller's on the Cove
Miller's on the Cove is a natural stop for lunch or dinner when visiting the Charleston Marina or the Marine Life Center. From the steps or ramp, the converted church has an extensive, primarily seafood-focused menu. While the New Mexican-style green chile stew caught our eye, what took our notice even more was how every table was laden with platters of cod, halibut, or snapper fish and chips. Who are we to argue with local expertise, especially when paired with a bowl of chowder?
Scoops
The North Bend original Scoops showcases its homemade flavors in this bright, fun location. Crispy waffle cones hold family budget friendly yet ample servings of 60 flavors, such as the fudgsicle-style chocolate, marionberry, or passionfruit lime sorbet.
Ciccarelli's Restaurant and Coffee Shop
With an Italian restaurant on one side and a coffee shop and gelateria on the other, Ciccarelli's in downtown Coos Bay has on-street parking and a public lot with accessible spaces beside it. Doorways and the side aisle can be narrow, but seating in front and outside may be easier to use. With excellent espresso drinks, a sumptuous dessert case, and Aster-approved spumoni gelato, we found it an accessible and delicious way to relax and recharge.
7 Devils Water Front Alehouse
Just off Highway 101 and tucked behind the new Coos Bay Village retail center, the 7 Devils Water Front Alehouse makes a great stop before or after your visit to the Coos History Museum. The space is next to a concrete waterfront pedestrian area, and a railed ramp makes it easier for anyone to access some time near the water before tucking into lunch, dinner, and a brew or two.
Other dining ideas
While many CBNBC restaurants occupy older buildings, they are also working to accommodate more visitors. Here are some other eateries and restaurants to consider:
Accommodation
Best Western
Located right off Highway 101 near downtown Coos Bay, this well-appointed Best Western not only has a hot complimentary breakfast and a lovely pool (albeit a small fitness center), but a ground-level ADA room with covered parking.
The Mill Casino
Opened in 1995, The Mill was designed with a range of mobility needs in mind. Inquire about ADA-compliant Lodge rooms.
Sunset Bay State Park Campground
Oregon State Parks is in the midst of a multi-year campaign to update accessibility facilities at its park properties statewide, from parking lots to restrooms, and much more. Sunset Bay's C Loop may be the better option for more accessible restrooms. The campground also has 3 accessible campsites.
Accessible Oregon Coast adventures await in Coos Bay, North Bend, and Charleston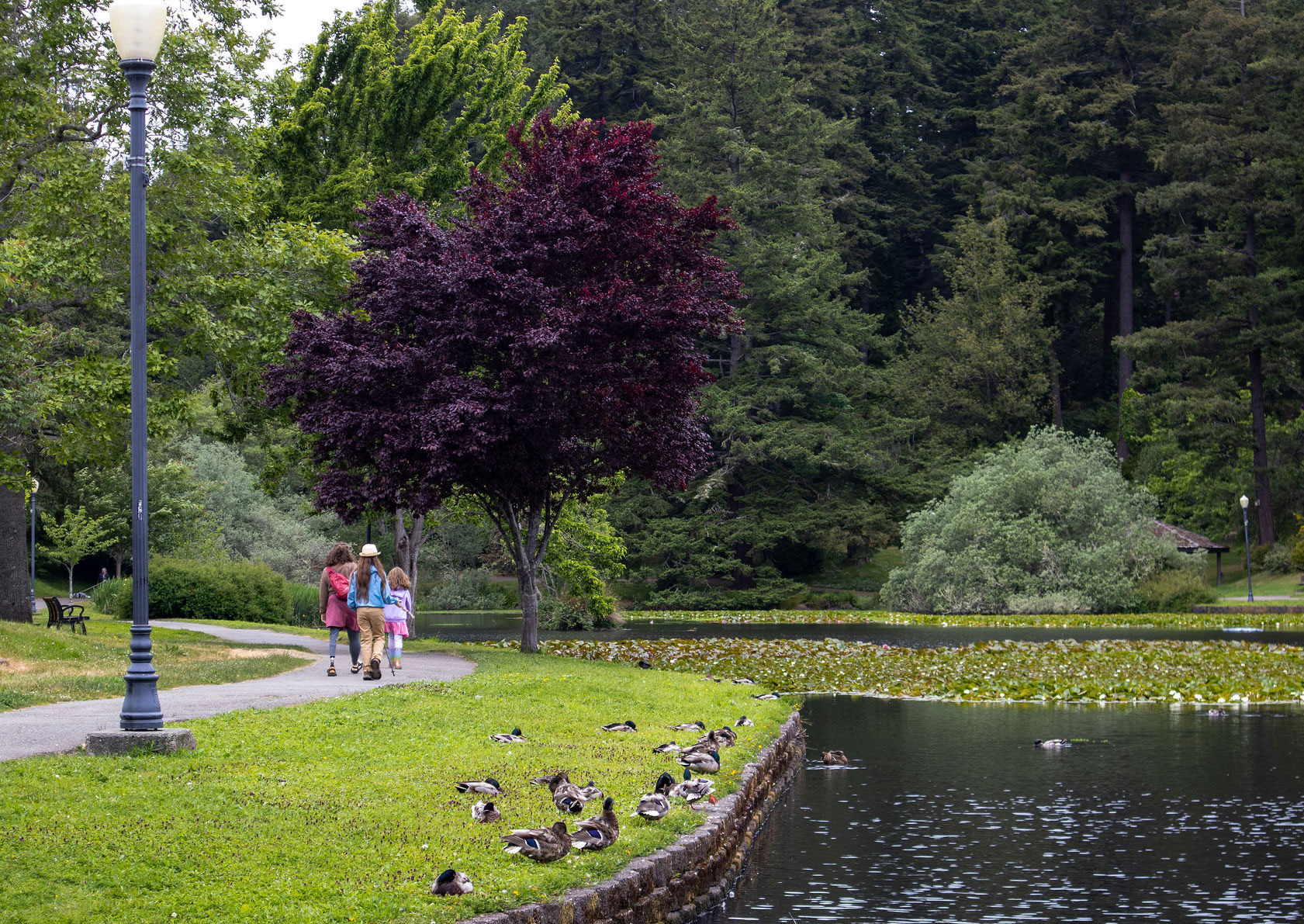 Making tourist attractions accessible to more visitors is an ongoing process. But in the CBNBC area, we saw the work being put in. More recent developments are taking accessibility into account, and renovated spaces can be easier to navigate for people with mobility impairments.
Throughout the CBNBC area, from the beaches to the in-town dining, we found so many places where Jodie could easily get around—and get the most out of a trip to the Oregon Coast with her family. We hope our experience helps you do the same.
Start planning your Oregon Coast adventure
From one of Anthony and Jodie's early date getaways to many of our children's fondest travel memories, the Oregon Coast has always been one of our favorite places to visit. Whatever your mobility, you can start making memories on the Oregon Coast too. Request a FREE guide to plan your visit to the Oregon Coast.
–By Learners and Makers
About the author: Some people say that when you have kids, you put your dreams on hold. We decided that having kids meant helping them learn how you make your dreams come true, big and small, every day. We are Learners and Makers: Jodie, Anthony, Connor, and Aster. Follow our full-time family global travels at LearnersandMakers.com. We want to thank the Oregon Coast Visitors Association (OCVA) for sponsoring our visit. However, this article reflects our own personal opinions and experiences.