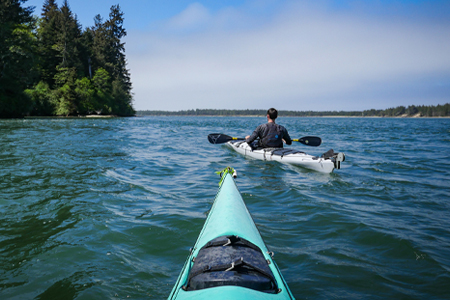 Whether it's cruising through hidden coves in the ocean or paddling around a tranquil lake or estuary, you'll get a chance to see wildlife and natural scenery that you just can't find on land. Before you set out to navigate Oregon's coastal waterways, it's important to read up on and follow these top water-safety guidelines so you and fellow paddlers get the most out of your adventure.
Know Your PFD
Always wear a life vest or personal flotation device (PFD), making sure to adjust the straps so that it's snug but not too tight. If you're wearing a belt PFD, which fits around the waist like a fanny pack, a simple tug on the cord will inflate the PFD, which you'll then pull over your head.
Dress for Success
Don't be fooled by balmy 75-degree weather — dress for water temperature, not air temperature. "People should always expect to be immersed in cold water, so they should be wearing proper attire," says Dave Lacey, owner and guide of South Coast Tours. Tour companies can provide wetsuits, booties and PFDs, but be sure to bring gloves to protect your hands from blisters, and wear bright clothing, especially if paddling at night.
Stay Dry
Pack a dry bag with extra dry clothes, including a splash jacket, which has closures around the wrists and neck for added water protection. Besides keeping warm if the weather changes, a dry bag is necessary if you accidentally fall into the water and need a quick change of clothes. A waterproof phone case or heavy-duty Ziploc-type bag is recommended to protect your phone from moisture. Or, of course, you can leave the phone safely locked up on shore.
Bring the Essentials
Besides food and water bottles, bring your own sunscreen, insect repellent and hand sanitizer. Communication is key, so have a whistle or air horn handy in case of a water-based emergency, as well as a VHF radio, if you should ever get separated from your group. Also, be prepared with a first-aid kit, a waterway map, a waterproof GPS if available, and a spare paddle with reflective tape on the blades in case you lose or break one.
Have a Navigation Plan
It's important to familiarize yourself with the waterways, tide charts and weather patterns before setting off. "Some of our rivers have wicked tide changes. Make sure you're going with the tide, not against it," advises Lacey. Also, leave your paddle plan with a family member or friend so they know your route in case you lose your way.
Share the Waterways
Similar to roadways, waterways have traffic, so be prepared to share the waterways with boaters. When traveling in a no-wake zone — where boats must follow a posted minimum speed — you must still be aware of boats and their wakes. The best way to keep control when handling boat wakes is to point your kayak or board into the oncoming waves and continue paddling as you pass over them. If you see a motorboat quickly approaching, hold the paddle vertically in order to make yourself visible. In other words, always assume boaters can't see you. This goes for stand-up paddlers, too.
If You Go:
To ensure a safe experience for everyone, local guides are following COVID-19 guidelines, so inquire about each company's protocols. If you're looking for guided paddle tours, South Coast Tours, based in Gold Beach, offers boat tours for families as well as guided kayak and SUP tours around the South Coast (paddlers must remain 6 feet apart). Kayak Tillamook and Safari Town Surf Shop offer kayak tours in and around the North Coast and Lincoln City, respectively. Both are currently offering private tours and are not mixing unrelated groups at this time. For more safety guidelines, visit the Oregon State Marine Board.
By Michelle Harris
Photo of Winchester Bay