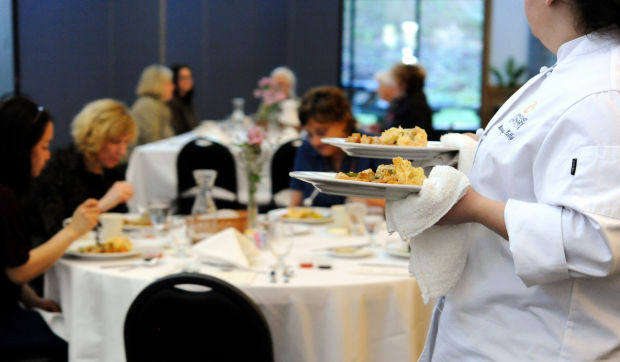 Jacob Brasher, Carolina Ahumada and Melissa Simms have already completed their course work at Oregon Coast Culinary Institute. They've spent hours in the kitchens perfecting their craft. Now, the only thing that stands between them and their careers as chefs is what the school calls an 'externship.'
These externships can take place anywhere in the country — hotels, resorts, restaurants and some participate in a nine-month program at OCCI called Chef's Table.
Brasher, Ahumada and Simms are this year's Chef's Table externs. They create the menus and the meals and gain real-world experience under the guidance of Chef Wendi Ginther, the new program manager.
Chef Ginther herself is a graduate of the culinary program at OCCI, class of 2011. She then did her externship as a teacher's aide.
"My year as a teacher's aide was the best year I ever had," Ginther said. "It's good to work that closely with people who share the same passion as you do."
She now shares that passion with the team at Chef's Table.
"Here they get that much more experience working in a restaurant-type situation," she said. "A new student going and getting a position at a restaurant, would probably be a line cook or a prep cook. Here, they get a little more experience working with food they want to serve, instead of what the restaurant already serves."
The chefs aren't the only beneficiaries of Chef's Table. The dining public (you and me) can try out their latest creations three times a week. They serve dinner and lunch on Fridays and brunch on Sundays.
"It's a great way to bring the community out to the college to see what the program is like," Ginther said.
Oh, yeah. Then there's the food.
"I've heard from some of our customers that it's the best meal they've ever had," Ginther said.
There's one meal coming up that Ginther said she's looking forward to most of all.
"Valentine's dinner is going to be special," Ginther said, not giving away any of the details. "We're just going to try to make it a little extra special."
To read the entire story on The World.com, click here.
Story by Ron Jackimowicz, Cuisine editor for The World Photo by Alysha Beck, The World Photo caption: Jan. 17, 2014 Marlene Youravish serves guests the main course at the Chef's Table lunch