I've only taken two Oregon Coast Press Trips. In my limited experience with press trips, however, I do know this; the last day is a downer. It's like the moment on Christmas morning when you realize that the last gift has been opened. The magic is over and it's time to come back to reality. On this morning though, there was one big gift still hiding behind the tree.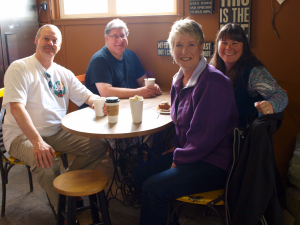 We had breakfast and checked out of the Best Western Plus Pier Point Inn, and headed back into to Old Town Florence for some coffee. We went to the Siuslaw River Coffee Roasters where despite already having had breakfast, I convinced myself that a pastry with my coffee was a good idea. We enjoyed the morning sun, conversation, and lattes, and then left for the Oregon Dunes National Recreation Area.  We met Chuck Chapman, owner of the Sand Dunes Frontier. We were there to take a dune buggy, or Sand Rail tour. This, as it turns out, was the big hidden gift behind the tree.
We were initially going to be taking one of the larger buggies in order to accommodate the size of our group. When a few members of us opted out of the ride due to physical limitations, they decided to take the smaller group in a decidedly smaller and more agile buggy. Sure, why not? Prior to this little voyage, I had never been in a dune buggy. They looked like fun though, and I was eagerly anticipating the ride. Look at this picture.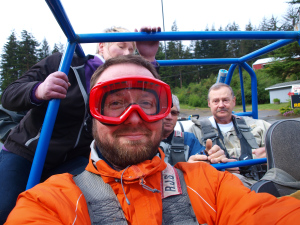 That's me up front with a semi-relaxed and confident grin. See that guy behind my left shoulder? That's Roy. Life experience has apparently taught Roy that this situation is going to be a little more intense than my current facial expression would indicate. He was correct.
I was seated up front next to our driver, Ward. The buggy ride started at a nice easy pace as we made our way through a pleasant forest-scape towards open sand. As we turned a corner, Ward proclaimed "Welcome to my office!", and we accelerated as if shot out of a cannon, into the dunes. The expression that instantly washed over my face was one of uncomfortable excitement. I wasn't expecting to go that fast, but I quickly adapted and my countenance transformed into a broad smile. "This is fun", I remember thinking.
We serpentined along open stretches and flew gracefully over small, ramp-like dunes. Then we turned and started accelerating towards a massive, imposing dune. This was a pile of sand that arced straight up into the sky, perhaps 80 feet high or taller. At the top was a sheer cliff-like precipice. I'm not a math major and I'm not overly knowledgeable about physics and the like. But I do know that my gut told me what we were doing wasn't going to end well…..Massive facial expression shift. We went straight up the dune, turned hard to the right, and then just as we were about to roll over, barrel roll dune-death style, we turned hard again to the right and aimed directly downhill. We once again accelerated, this time towards a large blue freshwater lake where our wheels kissed the water and a bald eagle came out of nowhere and flew directly over us. You have got to be kidding me. That moment was as close to death and simultaneously the most alive and elated I have ever felt. It was also the moment where I suffered a bout of what some might call sudden dune buggy-induced incontinence, figuratively speaking of course.
We rode around defying the laws of physics, stopping for pictures, and taking in the dramatic landscape for another half hour or so. When the ride was over and we came back in, Roy and I had such an incredible adrenaline kick going that we both wanted to take our shirts off and wrestle bears. We were also both eager to confirm that the other person was moved to incontinence, which was in fact the case. And with that, the final gift of the trip had been opened and played with.
We all loaded back into the van where unfortunately for the rest of the group, they had to listen to Roy and I spout off for a half hour or so. It was also time to head for home. The weather was so nice that we decided to stop at the Heceta Head Lighthouse State Scenic Viewpoint to enjoy the beach for awhile. We walked around, played in the sand and took photos for probably an hour.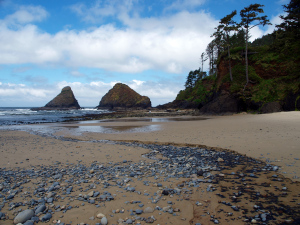 We dropped off Lucy in Newport and made a quick detour to visit Dick Cutler at the Flying Dutchman Winery in Otter Rock. You might remember Dick from Day 2 of this trip. He wanted us to swing by and check out his winery on our way back up to Portland. We were all more than happy to do this. We toured the grounds, were all given a bottle of wine of our choosing, and then ate lunch with Dick at the Mo's next door to the winery. How's this for a winery view?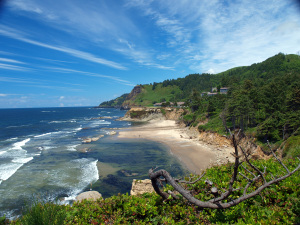 Ok, this was the final present. We said our goodbyes, I asked Dick to be my dad, and we piled into the van one last time, next stop Portland.
I've been busy since the conclusion of this press trip. What I have seen and done on the Oregon Coast this year has given me damn near a lifetime of things to write about. And I haven't even made it to the South Coast yet! Thanks again to the Central Oregon Coast Association, Lucy Gibson, Tracie Driver from NorthWest EcoExcursions, Roy Stevenson, and of course, Press Trip Poobah, Allen Cox from Northwest Travel Magazine. You folks provided me with yet another trip of a lifetime.