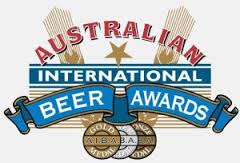 Pacific City, Ore.- G'Day Mates!  Hot on the wire is news from the 22nd Australian International Beer Awards – We are proud to announce that Pelican Brewing Company won 8 awards:
The Governor, Other European Lager (Best European Style Lager), Silver
Kiwanda Cream Ale, English Summer (Best British Style Ale), Silver
MacPelican's Wee Heavy, Other Scotch Ale/Barley Wine (Best Scotch Ale/Barley Wine), Silver
MacPelican's Ale, Other British Style Ale (best British Style Ale), Bronze
Doryman's Ale, American Style Brown (Best Amber/Dark Ale), Bronze
Tsunami Stout, Other Stout (Best Stout), Bronze
Stormwatcher's Winterfest, Other Scotch Ale/Barley Wine (Best Scotch Ale/Barley Wine) Bronze
Mother of All Storms, Wood Aged (Best Specialty Beer), Bronze
The most notable win is the first Silver medal for The Governor, a Maibock-Style Lager, conceived and brewed to honor past Oregon governor Tom McCall.  During his time as governor in the late sixties and early seventies, McCall played an instrumental role in the passing of the Oregon Beach Bill which protected Oregon's beaches and dedicated them to public access forever. The Governor is a strong golden lager brewed in the Maibock style.  With a generous malt bill providing body and depth, and Oregon-grown Sterling hops giving a subtle floral hop character, The Governor finishes both bold and balanced.
The Australian International Beer Awards are presented annually by the Royal Agricultural Society (RASV) in partnership with Federation University Australia.  The Australian International Beer Awards (AIBA) is the largest competition of its kind in the Asia Pacific region and is renowned for celebrating beer and brewing excellence in Australia and around the world.  The AIBA provides brewers with an opportunity to benchmark their beers against international industry standards and aims to create greater consumer awareness of the quality and diversity of beer styles available in Australia and internationally. This year, the AIBA received a record 1,560 entries from more than 294 brewers in 31 countries.  A diverse range of styles were assessed by an expert panel of 40 judges from Australia, Norway, Belgium, United States, United Kingdom, Japan and New Zealand, over a week of judging at Melbourne Showgrounds.
The Pelican Brewing Co., now has two locations:
The Pelican Pub & Brewery in Pacific City is located 22 miles south of Tillamook on the majestic Oregon Coast and has become a Northwest landmark for craft beer and fine food enthusiasts. The oceanfront facility includes an outdoor patio and banquet room with unobstructed views of Cape Kiwanda and Haystack Rock.  The Brewpub is open 7 days a week for breakfast, lunch & dinner.  503-965-7007.
The Pelican Brewery & Tap Room in Tillamook is located at the corner of 1st and Stillwell in downtown Tillamook. Recently opened in the fall of 2013, this facility now produces and packages the majority of the Pelican's distributed beer in Oregon and Washington. The Tap Room is open 7 days a week for lunch & dinner, featuring some unique offerings like incredible Fried Tillamook Cheese Curds and a fabulous Elk Burger.  503-842-7007.
Celebrating its 18th year in operation, the Pelican has won over 270 medals and awards for their beers, including back to back Champion Brewery & Brewmaster wins at the World Beer Cup® in 2010 and 2012 (this event is held every other year) as well as multiple Small and Large BrewPub of the year wins at the Great American Beer Festival over the years.
The Pelican Brewing Team has created some very special beers such as Kiwanda Cream Ale, which was named to DRAFT Magazine's Top 25 Beers in the World in 2008, 2009, and 2010. Other award-winning brews include Imperial Pelican Ale, MacPelican's Ale, Tsunami Stout, Doryman's Ale, and Stormwatcher's Winterfest.
For more information:
Mary J. Jones, President           or         Darron Welch, Brewmaster
Pelican Brewing Co.                                 Pelican Brewing Co.
Cell phone: 503-550-7194                      503-842-7007
Story and image courtesy of Pelican Pub Brewing Co.