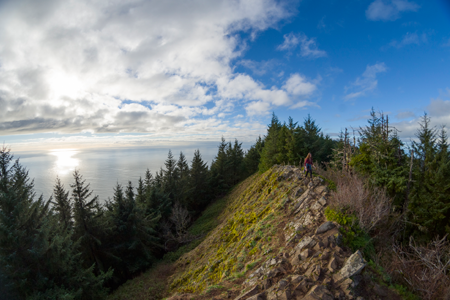 Whether you're exploring this blissful beach town with a crew of adventure-seeking teen trekkers or simply aiming to get out onto some gentler trails, you'll find a variety of stunning hikes in and around Cannon Beach. Here are five of our favorite trails in the area — all within a 30-minute drive of town, and a couple within walking distance.
Before setting out, be sure to grab local picnic grub from longtime favorite Mariner Market or the new Provisions 124 — what better way to break up a gorgeous hike than by snacking on gourmet sandwiches and chocolate chip cookies from the peak of a coastal mountain or blanket on the beach?
Ecola State Park–Crescent Beach to Indian Beach and Ecola Point Trail
Best for: tweens, families with pets, picnicking
Wind your way along this 2-mile track that passes through a dense stretch of Sitka spruce and red cedar rainforest punctuated by panoramic overlooks from dramatic sea cliffs — most days you'll catch glimpses of surfers taking on the crashing waves below. Family members of all ages enjoy the diverse scenery, and the occasional ups and downs are only moderately challenging. Dogs love to race across Indian Beach, which you can easily access from the north end of the hike. Editor's note: Due to heavy rains during the winter of 2015-16, landslides damaged a few trails in this region; call ahead to a local visitor center or check with a park ranger before heading out.
Oswald West State Park–Neahkahnie Mountain
Best for: teens and experienced trekkers, eye-popping aerial views, rugged adventurers
For the adventurous family, a hike up Neahkahnie is a must. With scenery including evergreen forests, fern groves, wildflower fields and views down the Coast, there's plenty to keep adults and ambitious youngsters motivated to complete the climb to this 1,680-foot peak. The view from the top does not disappoint, either — a mesmerizing vantage point looking south over Manzanita, Nehalem Bay State Park and as far as the hills around Tillamook in the distance. It's possible to hike this from the park's main parking lot, by way of Short Sands Beach (see below), but doing so adds 3.6 miles to what is only a 4-mile round-trip hike if you park at the well-signed crossing on U.S. 101 and hike to the summit from there (see the helpful map at the state park website for details).
Ecola State Park–Tillamook Head National Recreation Trail
Best for: spotting bird life and whales, tweens and teens
For a shady, verdant hike with a satisfying payoff, the 3.6-mile Tillamook Head loop trail takes you up a steady climb through fern-covered forest to reach a series of dramatic coastal vantage points, including a view of "Terrible Tilly," the deactivated Tillamook Rock lighthouse. Perhaps best of all, the cliff-side vistas offer great opportunities for whale watching during the mid-winter and spring migrations. Note that it's possible to extend this hike all the way to the southern end of Seaside — this entails continuing another 4.5 miles beyond the Terrible Tilly overlook to the Tillamook Head Trailhead. Editor's Note: Check ahead with a local visitor center or a park ranger if you go this route, as heavy rains in winter 2015-2016 resulted in landslides that caused damage to this trail, which is currently under repair.
Best for: sunshine (it's sometimes sunny on Saddle Mountain when the Coast is foggy), big vistas, fans of vertical hikes
A quintessential Oregon hike for its views both back toward the Coast and east toward the Cascade Range, the 5-mile round-trip Saddle Mountain Trail is accessible April through November and is a top pick for enthusiastic hikers of around ages 7 and up (or younger if they're active and relatively experienced). The trail offers several opportunities to take in the panoramas and eat lunch at a picnic table among the wildflowers. On a clear day, you're treated to views of the rugged coastline, the Columbia River basin and the iconic peaks of the region, including Mt. Hood and Mt. Rainier. Note this Saddle Mountain is about 20 miles inland from Cannon Beach, so about a 35- to 40-minute drive each way.
Oswald West State Park–Short Sands Beach Trail
Best for: toddlers and novice hikers, beachcombers, picnicking
Bring your tykes, parents and even grandparents through this easily accessible, quarter-mile stretch of old-growth forest to one of the most beloved and photographed beaches in the state. The gentle path includes a footbridge that takes you over Short Sands Creek and includes plenty of encounters with lush plant life and small critters. And for those wanting to continue onward, the walk leads to some additional easy trails across Necarney Creek to the south or north to Cape Falcon for whale-watching opportunities. But you could also spend the day frolicking on the beach.
Photo by Thomas Shahan