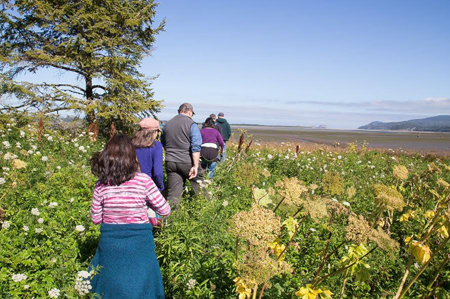 How much do you know about Oregon's state animal, the industrious beaver?
On International Beaver Day (April 7, 2018), you can head to Tillamook County on the North Coast to tour sites where active beavers are working, see other sites that can be restored for better habitat, and then wrap up your day with a evening documentary about these fascinating critters.
Free and open to the public, the guided tour is hosted by the Lower Nehalem Watershed Council, one of eight nonprofits in Tillamook County that are part of a visitor collaborative called Explore Nature.
The Beaver Trail Tour is one of more than 60 public events Explore Nature will host this year, between March and November. Most of them are two to three hours long, free (donations appreciated) and open to all, with an age minimum only for the kayak tour.
Some events are pet friendly. Many fill up quickly, so be sure to register for the events promptly. So far they've been popular with both nature and wildlife-loving Oregon residents and visitors alike.
Whether it's joining in a beach cleanup, touring an oyster farm or taking part in a fall mushroom walk, the events are a way to try something brand new — and dive deep into the history, geography and culture of the subject at the same time.
"Explore Nature links the restoration work we do to the recreation people enjoy along Tillamook Coast," says Kristi Foster, education and outreach coordinator for Tillamook Estuaries Partnership. "It's a great way to learn more about the places you visit."
Explore Nature is now in its third year, having launched with just 16 events two years ago.
While past years' lineups have mostly focused on recreation, this year they're adding a stewardship focus — such as seed collection and potting party for a native plant nursery, invasive species removals and sustainable gardening workshops; bird counts; and trail and habitat restoration projects.
For budding ecologists, one tour will visit upgraded stream culverts that removed barriers for salmon passage; another will showcase a large, woody debris placement project that creates habitat for juvenile salmon. Kids and grown-ups alike will be inspired by the tidepool discovery day, dune ecology hike, salt marsh tour, dragonfly exploration, rainforest walk and two kayak trips (age 16 and up) in Netarts Bay, for both novices and intermediate-level paddlers.
The other groups involved include: Friends of Cape Falcon Marine Reserve; Friends of Netarts Bay Estuaries, Beach and Sea; Lower Nehalem Community Trust; Nestucca, Neskowin & Sand Lake Watersheds Council; North Coast Land Conservancy; and Tillamook Bay Watershed Council.
Funding for the Explore Nature's programs are supported by Visit Tillamook Coast and Tillamook People's Utility District.
By Jen Anderson
Photo courtesy of Explore Nature