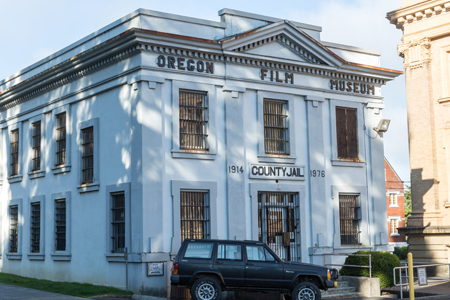 With the call to stay home during the COVID-19 outbreak, you may find yourself missing the Oregon Coast's salt-licked air and windswept vistas. You've also likely found yourself with a shrinking watch list as you catch up on TV shows and movies. Fortunately, directors have been drawn to these shores for years and have featured the Oregon Coast on the big and small screen.
Here are 7 recent series or movies for you to add to your must-see list that showcase the Oregon Coast. Hopefully, they'll help with your coastal withdrawal and inspire a trip here soon when it's safe to travel.
The OA (2019): This science-fiction thriller is in its second season on Netflix. Filmed in Pacific City and Portland, it follows a young woman who returns home after having vanished for seven years. With newfound abilities, she recruits five strangers for a secret mission.
Seaside (2018): Starring Tony Award nominee Ariana DeBose in her feature film debut, this revenge thriller tells the story of a young woman who moves to the Oregon Coast with her boyfriend who's recently inherited his family's beach house. Turns out, the boyfriend has been less than honest about his past.
The Watchman's Canoe (2017): Filmed in Coos Bay and Florence, this movie tells the story of Jett, a young girl of Caucasian-Native American descent who struggles to fit in with others on her reservation. After summoning the trees to shield her from bullies, she realizes that she has a special connection with nature. It prompts her to embark on a spiritual journey to discover her own destiny.
Deadliest Catch: Dungeon Cove (2016): Produced for the Discovery Channel, this season of the long-running show marks the trials and tribulations of Newport-based captains harvesting Dungeness crab.
Green Room (2015): A down-on-its-luck punk band gets booked at an isolated club deep in the backwoods of Oregon by a diabolical club owner, played by Star Trek's Patrick Stewart. After witnessing a violent crime, they themselves become the targets of a neo-Nazi skinhead group. Some of this horror movie was shot in Astoria.
Black Road (2016): From Oregon-based filmmaker Gary Lundgren, this movie takes place in 2029 in a lawless coastal town after Oregon secedes from the Union. It's the story of how an ex-military drifter tries to protect a woman from her former boyfriend. Much of the film is shot in Ashland and along the Southern Oregon Coast.
Redwood Highway (2013): Also from director Gary Lundgren, this movie follows an unhappy retiree who decides to leave her retirement community in Southern Oregon and journey 80 miles on foot along the coast to attend her granddaughter's wedding, even though she's estranged from her family. The film stars Golden Globe Winners Shirley Knight and Tom Skerritt.
To find where each series or movie is streaming, download the JustWatch app or search JustWatch online.
Classic Coastal Flicks
If you're looking for even earlier shows or films to watch that showcase the Oregon Coast — like The Goonies (1985) or Kindergarten Cop (1990) — check out this list from the Oregon Governor's Office of Film and Television.
Plan a future trip
Goonies fans should make a pilgrimage to the Oregon Film Museum in Astoria, housed in the old Clatsop County Jail from the film's opening scene. Then follow this itinerary to see other iconic movie locations while in town. Or consider a trip along the Oregon Film Trail that highlights other past movie locations along the Coast.
– Shellie Bailey-Shah
Photo of the Oregon Film Museum by Joni Kabana