WHY:
Visitors to the Oregon Coast don't know what they don't know. What does that mean exactly? It could mean that they are unaware of the vibrant culinary scene, unique lodging opportunities and world class outdoor recreation available to them, which is where inspirational marketing comes in. It could also mean that they don't know about our dramatic tidal exchange, how to prepare for a hike or the magical wildlife that calls the Oregon Coast home, which is where our stewardship messaging comes in.
The summer of 2020 saw a large number of first-time visitors to the Oregon Coast. That newness to our region, wildlife, outdoor recreation and natural landscapes can also mean these next generation explorers behaved inappropriately (went off trail, tried to interact with a seal pup, parked illegally to access a trail, etc.). This behavior begs the question: How can we encourage better visitor behavior? One answer, which we'll explore here, is stewardship messaging.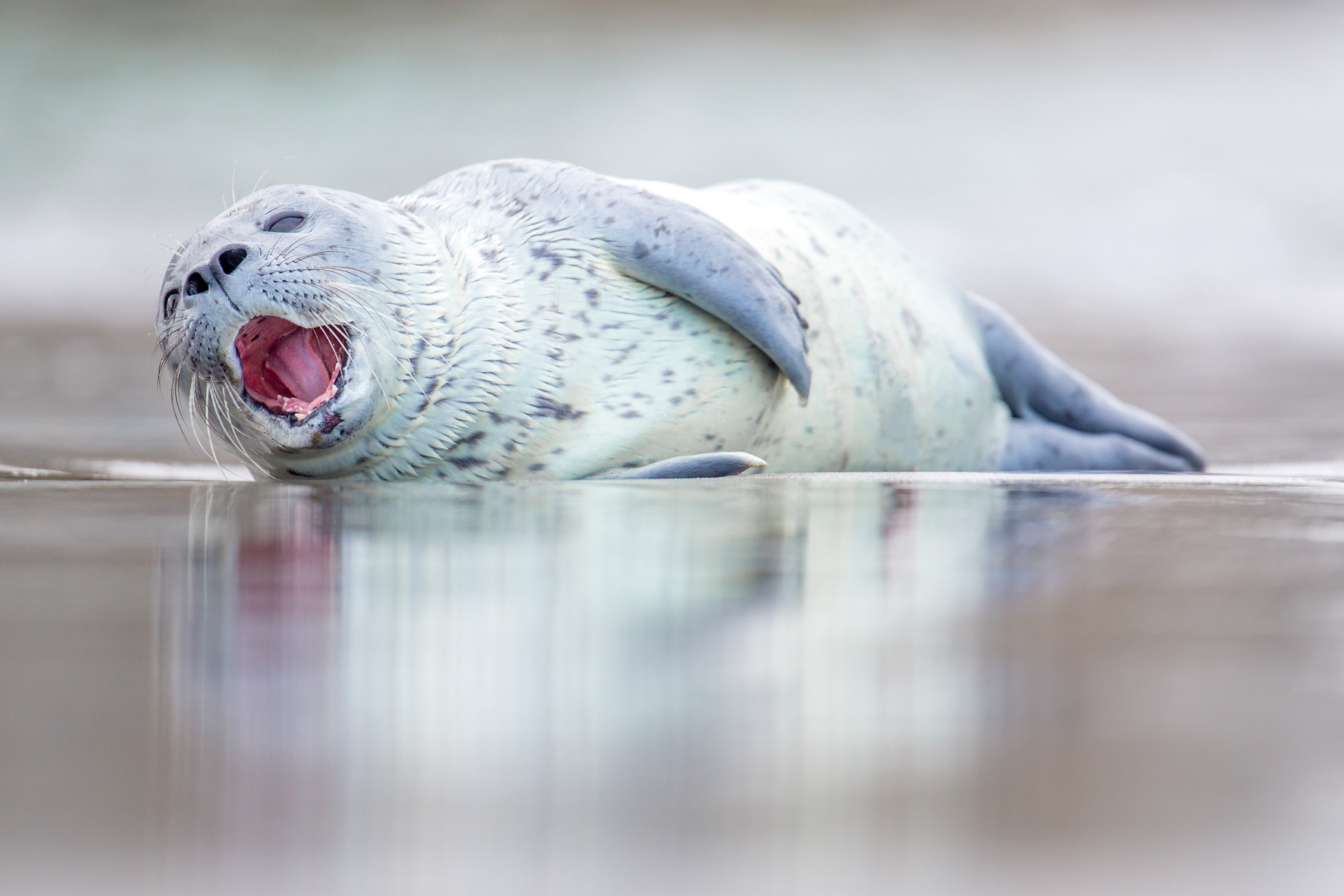 WHAT:
In order to strategically influence positive visitor behavior we have to first look at ongoing negative trends. The Oregon Coast Visitors Association (OCVA) has worked with a Strategic Advisory Group for years which is made up of land management agencies such as US Fish and Wildlife, US Forest Service, Bureau of Land Management, Oregon Department of Transportation, Oregon Department of Fish and Wildlife, and Oregon Department of Forestry. OCVA's partnership with this group encourages interagency collaboration on tourism issues, supports stewardship integration into tourism marketing materials and provides better insight into visitor behaviors experienced by land managers. In order to focus messaging efforts, the Strategic Advisory Group worked diligently to identify visitor impacts based on the following criteria:
Relevant across multiple agencies who are all experiencing similar impacts.
Concrete, documented impacts, not theoretical or potential impacts.
Chronic, long term impacts that can be reasonably expected to occur each season.
Reasonably determined to be caused by visitors and not local residents of the area.
Have immediate and apparent ways of dealing with the impact via strategic messaging.
This criteria showed the Oregon Coast that there are 15 impacts that need strategic messaging. We worked with the PR firm Grady Britton to develop a toolkit that any business, organization or group could use in their own channels to amplify those messages. Check out the full toolkit here. It includes fast facts, the messaging tone to use, the 'why' behind the requested action and optimal timing for each impact.
HOW:
It's important to consider how to talk about these messages with visitors now that we know which impacts need messaging support. A great way to think about this is to use the Visitor Lifecycle.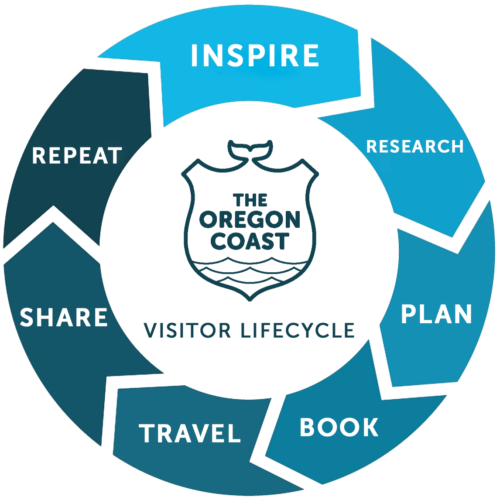 As you can see in the graph above, we interact with tourists at various points of their trip. It can be before they even arrive, like when they are inspired to take a trip or are doing the researching, planning and booking for their stay. We can also reach them while they are on their trip (hello visitor centers, frontline staff, and volunteers!) In that sense, we can begin to take our strategic stewardship messages and format them to best fit each stage.
A great example of localized stewardship messaging can be found from the North Coast Tourism Management Network. Their stewardship action team put together a social media toolkit that businesses and tourism partners can use to talk about visitor impacts in a friendly way. See their toolkit here.
COLLABORATE
If your organization or business would like to share these important messages, feel free to use the resources in this article. If you have any questions or you are also doing this type of work and would like to share, please email Arica Sears at icom@thepeoplescoast.com
Cómo alentar a los visitantes a ser guardianes
de OCVA
POR QUÉ:
Las personas que visitan la Costa de Oregon no saben lo que no saben. ¿Qué es exactamente lo que esto significa? Podría significar que no estén enteradas de la vibrante escena culinaria, las oportunidades únicas de alojamiento y esparcimiento al aire libre de clase mundial a su disposición. Ahí es donde la mercadotecnia de inspiración entra en juego. También podría suponer que no conocen nuestros dramáticos cambios de mareas, cómo prepararse para una caminata por senderos o la vida silvestre que habita en la Costa de Oregon. Ahí es donde entra en juego nuestro mensaje de cómo ser guardianes.
En el verano de 2020 vimos un gran aumento de visitantes que vinieron a la Costa de Oregon por primera vez. Lo novedoso de nuestra región, vida silvestre, esparcimiento al aire libre y paisajes naturales también puede implicar que esta nueva generación de exploradores se comporte de manera inapropiada (salirse de los senderos, tratar de interactuar con un cachorro de foca, estacionarse en lugares ilegales para acceder a algún sendero, etc.) Este comportamiento nos lleva a preguntar: ¿Cómo podemos alentar a que los visitantes se comporten mejor? Una respuesta que exploraremos aquí es el mensaje que podemos ofrecer como guardianes.
QUÉ:
Con el fin de influenciar un comportamiento positivo en las personas que visitan, tenemos primero que ver cuáles son las tendencias negativas actuales. La Asociación de Visitantes de la Costa de Oregon (OCVA, por sus siglas en inglés) ha trabajado por años con un grupo de asesores estratégicos, formado por agencias de gestión de tierras, como Vida Acuática y Vida Silvestre de EUA, el Servicio Forestal de EUA, la Oficina de Gestión de Tierras, el Departamento de Transporte de Oregon, el Departamento de Vida Acuática y Vida Silvestre de Oregon y el Departamento Forestal de Oregon. La colaboración de OCVA con este grupo estimula la cooperación entre agencias en temas de turismo, apoya la integración curatorial en los materiales de mercadotecnia turística y brinda un mayor entendimiento sobre el comportamiento de los visitantes con que los gestores de tierras se están encontrando. Con el fin de enfocarse en la creación de mensajes, el grupo asesor estratégico trabajó diligentemente para identificar los efectos de visitantes con base en los siguientes criterios:
Lo relevante a través de varias agencias que se están encontrando con efectos similares.
Efectos concretos y documentados, no teóricos ni potenciales.
Efectos crónicos y a largo plazo que sea razonable esperar que ocurran en cada temporada.
Efectos que sea razonable determinar que fueron causados por visitantes y no por residentes locales.
Que haya formas inmediatas y evidentes para lidiar con el efecto por medio de mensajes estratégicos.
Estos criterios mostraron que hay 15 efectos en la Costa de Oregon que necesitan de mensajes estratégicos. Trabajamos con la compañía de relaciones públicas Grady Britton para desarrollar una serie de herramientas que cualquier empresa, organización o grupo podría usar dentro de sus propios canales para ampliar dichos mensajes. Revise toda la serie de herramientas aquí. Ésta incluye datos rápidos, el tono para usar en los mensajes, el 'por qué' detrás de la acción solicitada y tiempos óptimos para cada efecto.
CÓMO:
Es importante considerar cómo hablar sobre estos mensajes con los visitantes, ahora que conocemos cuáles efectos necesitan apoyo. Una muy buena forma de pensar esto es usando el Ciclo Vital del Visitante.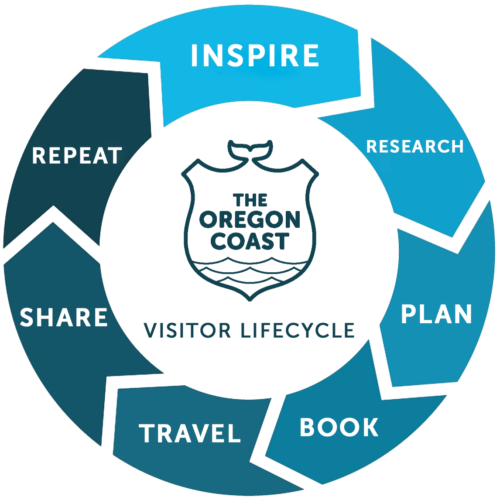 Como se puede ver arriba en la gráfica, interactuamos con turistas en varios momentos de su viaje. Puede ser incluso antes de que lleguen, como cuando sienten la inspiración de viajar o cuando investigan, planean y hacen reservaciones para su estancia. También podemos llegar a ellos mientras ya están viajando (centros de turismo, personal de primera línea y voluntarios). En ese sentido, podemos comenzar a emitir nuestros mensajes como guardianes y darles formación para que encajen lo mejor posible en cada etapa.
Un excelente ejemplo de mensajes localizados para guardianes se puede encontrar a través de la Red de Gestión Turística de la Costa Norte. Su equipo de acción para guardianes armó una serie de herramientas en redes sociales que las empresas y organizaciones turísticas pueden usar para hablar acerca de los efectos de los visitantes de manera amigable. Vea la serie de herramientas aquí. 
COLABORE
Si su organización o empresa desean compartir estos importantes mensajes, no dude en usar los recursos ofrecidos en este artículo. Si tiene alguna duda o si usted también está realizando este mismo tipo de trabajo y quisiera compartirlo, por favor, envíe un correo electrónico a Arica Sears a icom@thepeoplescoast.com