Sometimes the best outings are the simplest ones, and it doesn't get much simpler than a picnic. Here are some of the Southern Oregon Coast's best state parks for a picnic — and where to snag the tastiest farmers market items for your basket. Don't miss the bounty of fresh, local seafood markets along this stretch of coastline as well. Be a courteous guest by packing out all of your food and waste with you. This ensures that the next visitors will have the same great experience you get.
Coos Bay Farmers Market + Shore Acres State Park
The Coos Bay Farmers Market is a great place to find everything you need for the perfect midweek picnic. Beginning in May and lasting through October, the market is open every Wednesday from 9 a.m. to 2 p.m. — perfect timing for grabbing the mac and cheese from Big Bite BBQ or a Polish sausage from Papa's Doggs and a sweet treat from Nana Bakes. Find the perfect spot to chow down while taking in the stunning views from Shores Acres State Park, worth the 25-minute drive from downtown Coos Bay. Post up for lunch at one of the park's many scenic perches, including along the craggy sandstone cliff for oceanfront views, amidst the flowers at the park's formal garden or under a canopy of trees along the hiking trails.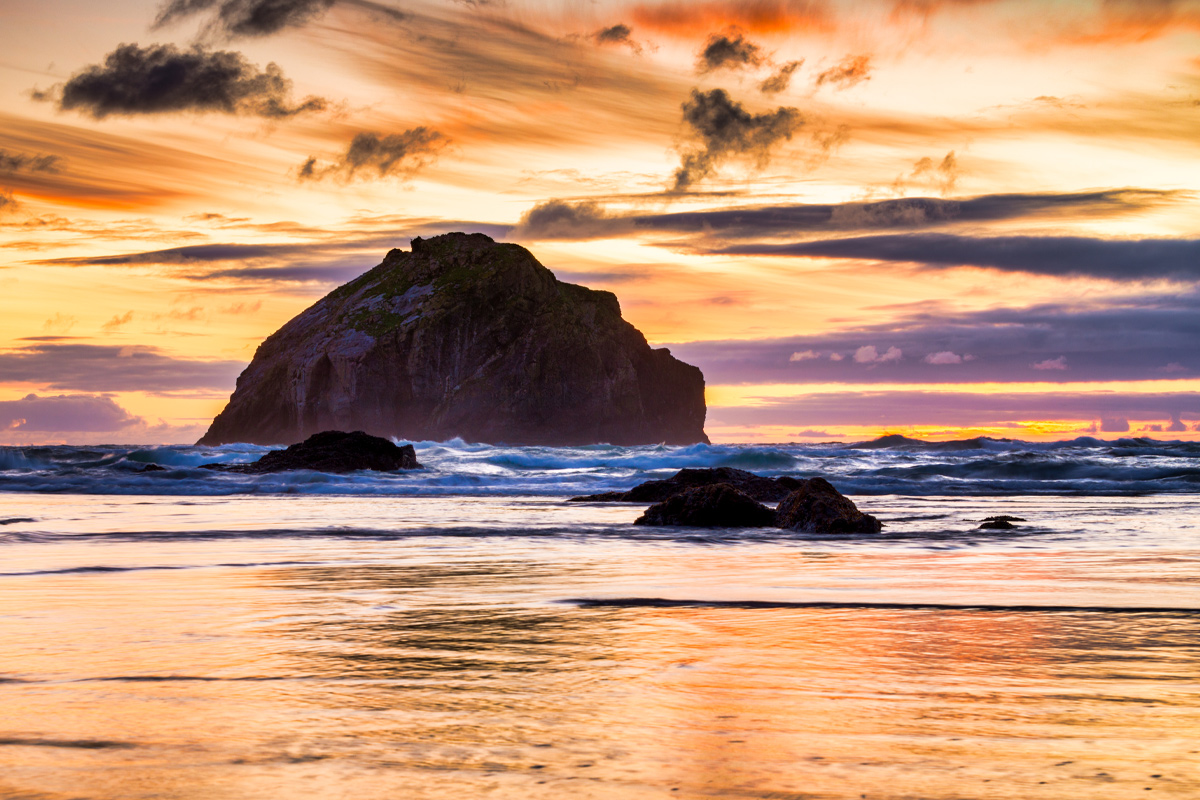 Bandon Farmers Market + Face Rock State Scenic Viewpoint
Buy your produce and artisan treats directly from your local farmers and makers at the Bandon Farmers Market, open from 10 a.m. to 4 p.m. Fridays and Saturdays. You can pick up ready-made foods like tacos and a rotating assortment of baked goods, or try out a savory cheesecake. Drive five minutes to Face Rock State Scenic Viewpoint, where you can try your hand at distinguishing the face in the famed sea stack while you eat, and then spend the afternoon searching for sea stars, mussels and anemones in the tide pools.
Langlois Market + Floras State Natural Area
Don't miss the chance to try the "world-famous hot dog" at Langlois Market, topped with homemade mustard and pickles, or dress it up with cheese or chili. The deli also whips up a long list of sandwiches, as well as burgers, salads and soups. Once the hard task of choosing your meal is done, head south 8 miles to enjoy it at Boice Cope County Park, a dunes lake where you'll have the chance to watch windsurfers if the conditions are ideal. Head to Blacklock Point Trail, a moderate 4.2-mile trail at Floras Lake, where you'll pass by wildflowers on your way to a view of rocky dark-sand beaches.
Port Orford Farmers Market + Port Orford Heads State Park
At the Port Orford Farmers' Market, held every Saturday from 9 a.m. to noon, you can find weekly produce offerings as well as freshly baked farmstead bread, cheese, honey and other locally sourced artisan products. Once you've got your spread, make your way to Port Orford Heads State Park, a four-minute drive, where the epic ocean views pair nicely with three sets of trails that all leave from the historic 1934 Port Orford Lifeboat Station (the building, now a museum, is currently closed). From the trails you can glimpse the Cape Blanco Lighthouse and Humbug Mountain.
Fishermen Direct Seafood + Otter Point State Recreation Site
There's nothing like buying your fish straight from the captain, bait crew and fish processor at Fishermen Direct Seafood in Gold Beach. The store also sells ready-to-eat fish such as smoked-salmon jerky, shucked oysters, steamed clams, and canned tuna and salmon. With your loot in tow, take a seven-minute drive to visit Otter Point State Recreation Site, where you can eat your meal on a bluff while admiring the sweeping views of the Pacific Ocean, the mouth of the Rogue River, and sandstones wonderfully carved by the wind and waves. Afterward, walk off your meal with a meander along the 2-mile shoreline of Bailey Beach. 
By Emily Gillespie
Coos Bay Farmers Market photo by Erik Urdahl