Whether you're the type who makes resolutions or not, the new year is an ideal time to think about goals and plans. To make sure you get your much-needed doses of natural wellness on the Oregon Coast, don't forget to schedule getaways onto your calendar. While you'll want to keep responsible travel in mind, these hidden coastal adventures are sure to keep you inspired all year long.
1. Camp Like a Local
Barview Jetty County Campground near Rockaway is a lesser-known campground popular with coastal residents. These tent and RV sites are located right along the beach, and the spot is a stone's throw from sand dunes, jetty fishing, scuba diving, surfing and bird-watching — enough activities to keep boredom at bay for the entire family.
2. Paddle a Secluded Waterway
About 10 miles south of Newport is a 3-mile stretch of marsh and wetlands at Beaver Creek State Natural Area, part of Brian Booth State Park. The estuary is an idyllic setting to glide atop the flat water on a kayak, canoe or SUP. While you're paddling, look for beavers, nutria, river otters, deer and birds. Visit during the summer and sign up for a guided kayak tour led by a GORP certified Guide.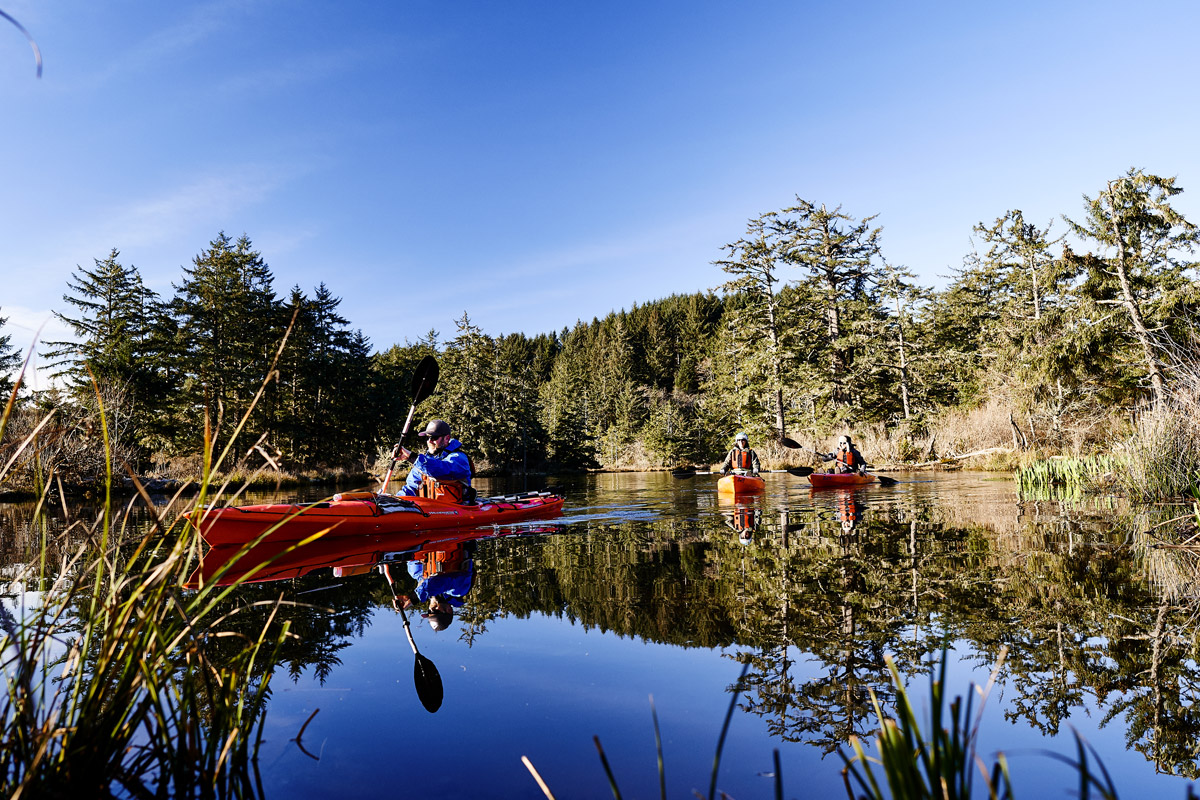 3. Hike the Trails Less Traveled
Hidden hiking trails are hard to come by in a state as outdoorsy as Oregon, but that's what you'll find when visiting Golden and Silver Falls State Natural Area northeast of Coos Bay. The far-flung destination has a dense forest that is home to maple, alder and myrtle trees, and includes a 1.4-mile hike to the top of Golden Falls that rewards hikers with a bird's-eye view of the falls' unique cascades.
4. Experience the Magic of Coastal Mountain Biking
If you talk to an avid mountain biker, they'll tell you there is something special about experiencing the coastal mountain range on two wheels. The Cummins Creek Trail near Yachats is the only trail in the Cape Perpetua region that is open to mountain bikers. The 6-mile loop takes riders over a variety of surfaces as it dips in and out of coastal fog and winds through old-growth forest.
5. Take in the Dunes on Horseback
Visiting the Oregon Dunes National Recreation Area near Florence is one of the highlights of the Oregon Coast Trail, but why not explore the area in a less common manner: from atop a horse. Companies such as C&M Stables offer tours where you can ride through beach grass, gallop along the flat shoreline and climb over the sand formations. It's a relaxing experience to take in the fresh sea breeze and ocean views in the company of such a majestic animal.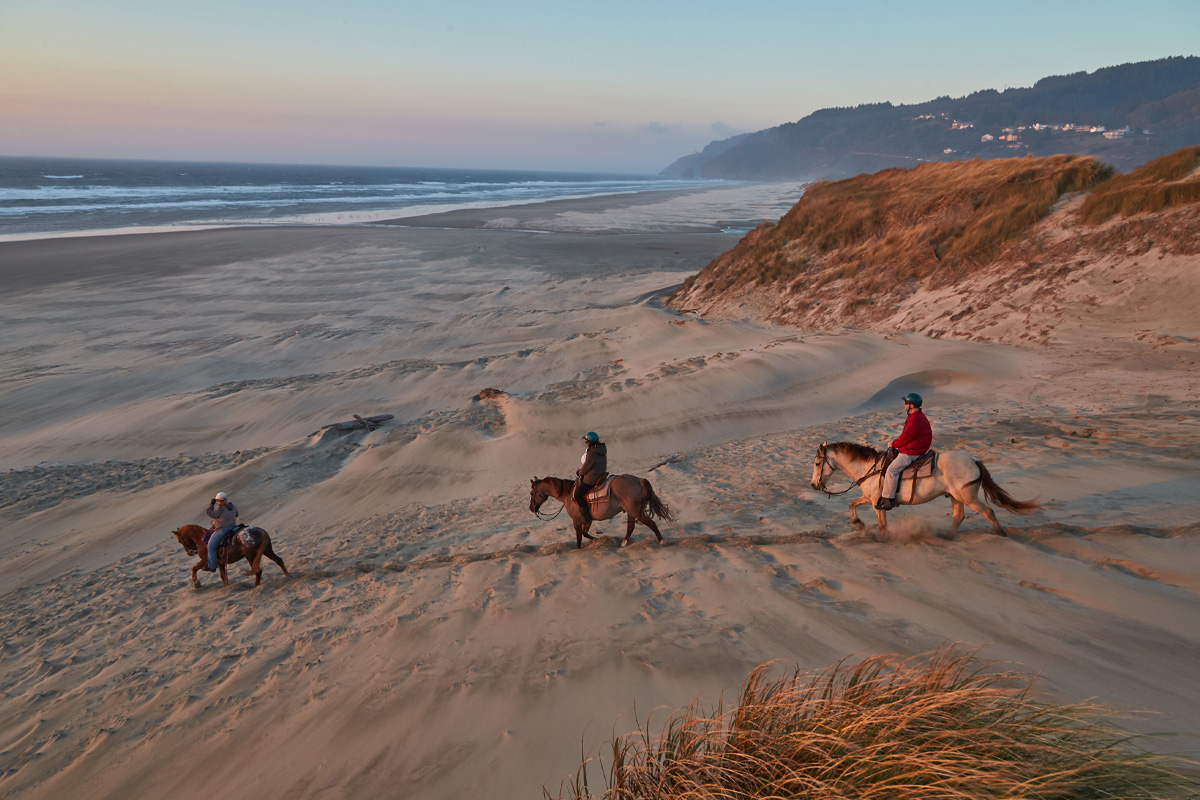 6. Fish at One of Oregon's Hike-In Lakes
Sometimes the most peaceful fishing experiences require a trek. That's the case for Threemile Lake, a secluded freshwater lake located 8 miles north of Reedsport that can only be reached by foot. The shortest way to the lake is the Threemile Lake South Trail, a 1-mile walk that winds through an old conifer forest before ending at the shores of the serene lake. Bring your fishing license and fly-fishing rod, as your chances of catching either perch or cutthroat trout are good.
7. Go Clamming in Alsea Bay
Clamming is one of those quintessential coastal activities that you can enjoy any time of year, and Alsea Bay near Waldport is a truly unique place to revel in the fun. Home to a variety of clams including soft-shell, purple varnish and cockle, the spot isn't exactly undiscovered. However, with a wide variety of locations to explore and with its unique conditions (the tide doesn't have to be negative in order to clam), there's plenty of hidden nooks to scavenge for dinner.
8. Try Out Windsurfing
If you've ever wanted to try out a new activity — one that could be compared to dancing with the wind — then windsurfing at Floras Lake State Park should be on your 2021 adventure list. Located 17 miles south of Bandon, this freshwater lake is known for its midday summer winds, making it an ideal spot for windsurfing or kiteboarding. Floras Lake Kite & Windsurfing offers lessons for all skill levels, so you'll be graduating to the ocean in no time.
9. Soak Up the Night Sky
One of the best places in the state to take in the stars is lying on the sandy shores of Seaside. While this coastal town can become crowded during the day, you'll have the wide beach all to yourself when visitors are sleeping. You can enjoy a bonfire on the beach or take a late-night stroll on the Prom, which turns 100 this year — check for updates on the big Seaside Prom Centennial and sweepstakes. On a clear night, the dark sky can show glimpses of the Milky Way's purple hue. If the weather instead looks stormy, you can watch the action from the comfort of your ocean-view hotel room.
– Emily Gillespie