Discover the wild and wonderful world of Oregon's intertidal zones.
Full of mystery, the intertidal zone on the Oregon Coast is brimming with colorful marine life. During low tide, a captivating cosmos is revealed — guides can help you explore and understand how these creatures live and thrive. As the tide-pool ambassador coordinator for the Cape Perpetua Marine Reserve since its inception in 2021, Jamie Kish introduces visitors to this often hidden world. You can join a tour exploring tide pools at several locations near Yachats from June through early September during very low tides.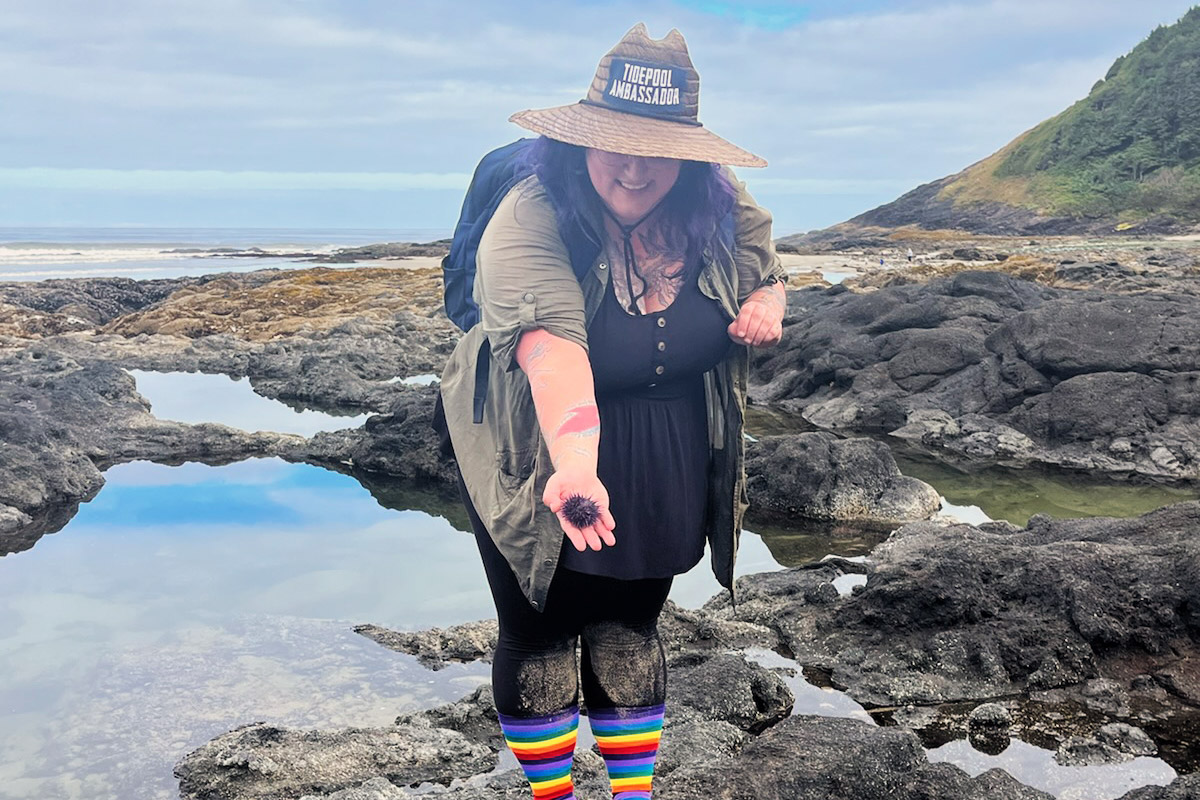 How did your love of the Coast begin?
It was love at first sight as a young kid! My family moved to Oregon from Pennsylvania seeking more connections to nature. We lived near Marys Peak, and the beach was a constant in our life. I started volunteering at the Oregon Coast Aquarium when I was 11, which brought me to the Coast weekly.
What's unique about the Cape Perpetua Marine Reserve?
It's the largest marine reserve in the state of Oregon, covering about 15 miles from Yachats to Heceta Head Lighthouse, as well as 3 nautical miles out to sea. These boundaries provide a safe zone that is protected for intertidal and offshore marine life. The area is also home to some very special non-marine creatures like the silverspot butterfly and marbled murrelet, a tiny diving seabird.
Why does Cape Perpetua have tide pools?
All of the craggy basalt rock around the Cape Perpetua Marine Reserve is perfect habitat for tide pools; the rocky coast in this area formed from a massive volcano that erupted about 50 million years ago. In this unique landscape, our cold-water pools nestled in the rocks give life to so many creatures with mind-blowing adaptations and lots of surprising color variations.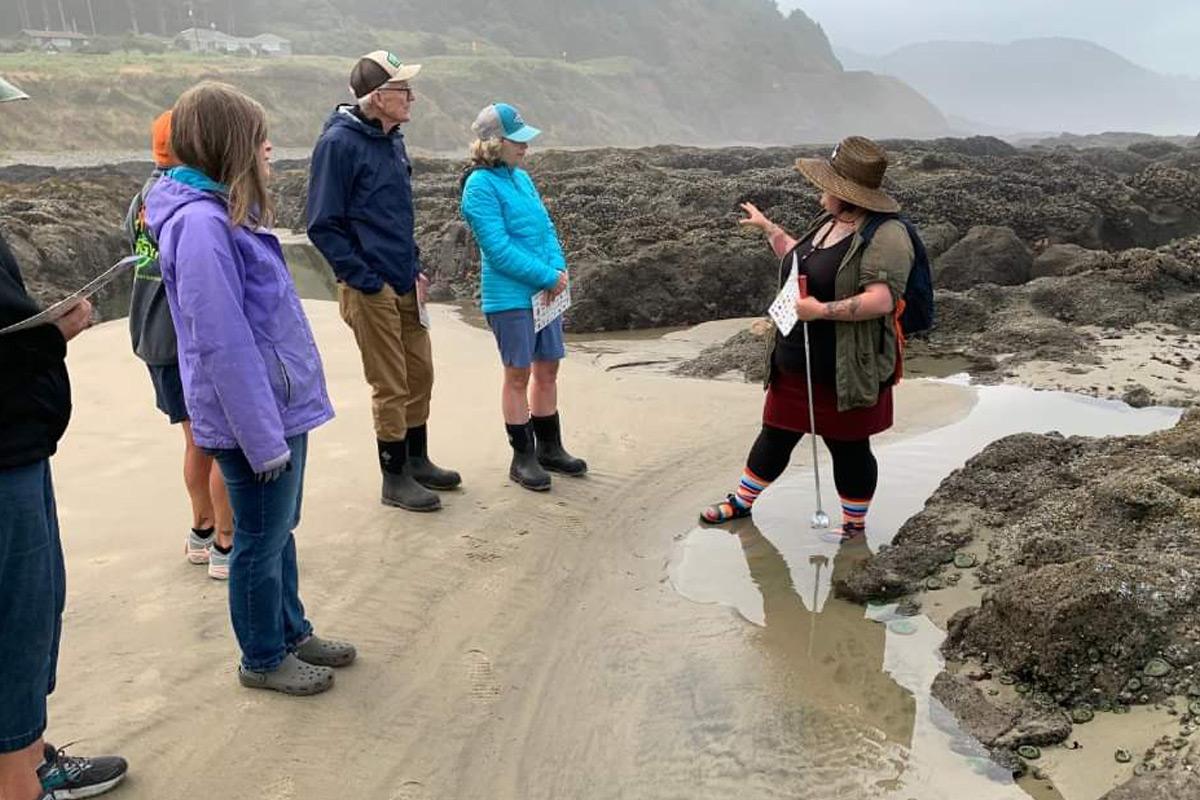 What are some of the sea creatures visitors can expect to see?
The primary species we see on every tour are ochre stars, anemones, mussels, shore crabs and hermit crabs. Our ochre stars boast beautiful hues ranging from deep orange to red to purple, and sometimes you'll even find one that looks like a sunset with many colors. Lots of nudibranch species pop with color too, like bright yellow and fiery orange. We also have colorful crabs — look for the purple claw of a granular claw crab or the bright neon-blue porcelain crab.
What does a typical tour involve?
I always like to start the tours by saying this is a pretty open and fluid experience — think of it like a bunch of friends just going to the beach to explore. Feel free to ask lots of questions and shout if you find something neat so we can all learn about it together.
What should visitors keep in mind when visiting the tide pools?
These are extremely delicate and sensitive environments. I remind visitors that we are unexpected guests in their world and homes during a very stressful time for them, since we visit at minus tides, where the water retreats significantly from the beach. I ask visitors to touch and step gently — avoiding seaweed, mussel beds and barnacles — and never to poke or pull creatures off the rocks. (For more tidepool tips, check out Oregon State Parks' website.)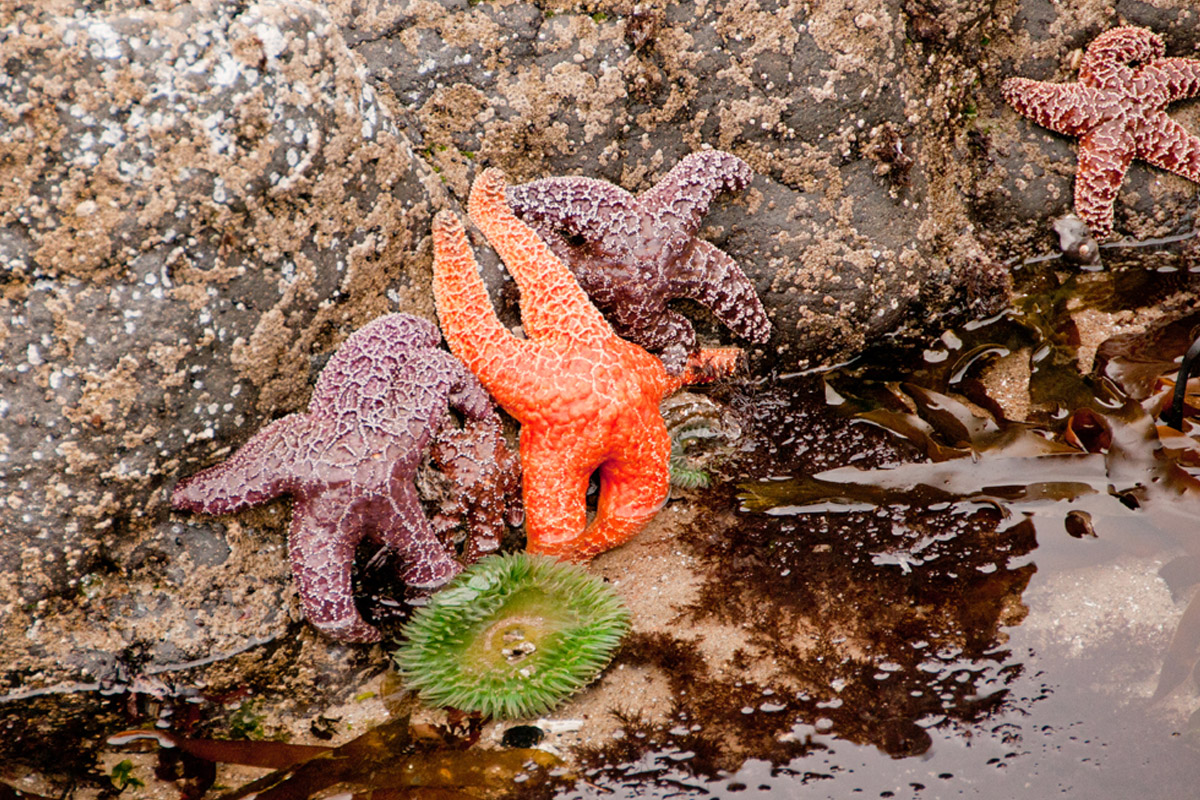 Any tips for what to bring when visiting?
Wear clothes and shoes you don't mind possibly getting wet and sandy, and bring layers because the weather changes quickly. Also, while I am a massive dog lover, dogs can cause a significant amount of damage very quickly in tide pools, so leaving your fur baby at home or keeping it on a leash is the way to go. And always consult a local tide table before going out. These are available for free at many visitor centers and grocery stores all along the Coast.
What are visitors most surprised to discover or learn about?
There's a lot of curiosity around the Sea Star Wasting Disease that hit our coastline starting back in 2013. Thankfully, we are currently seeing a great rebound of the ochre stars within the marine reserve. This year many visitors have wanted to see an octopus, which is my dream too. I haven't seen one in years, but it is possible!
What do you enjoy most about working as a Tidal Ambassador?
I get to share my love and passion for the Coast and all marine life. As more people learn about and fall in love with the tide pools, more people get inspired to protect our sensitive and vital coastline for years to come. It's truly an honor to have this job.
– By Kerry Newberry