Winter on the Oregon Coast is anything but boring. When powerful Pacific winds meet turbulent ocean waters, it's a spectacular sight to witness. Tall waves crash into rocky cliffs and sandy shores, offering an awe-inspiring display by Mother Nature. And there's no better place to storm watch than Oregon's Adventure Coast, a rugged stretch of coastline encompassing Coos Bay, Charleston and North Bend.
One of the most popular storm-watching spots, Shore Acres State Park, is perched high above the ocean on a rugged, 80-foot sandstone cliff near Coos Bay. There, outdoor enthusiasts, locals and first-time storm watchers converge from a safe distance for showstopping views. Lee Ricci, park manager of the Sunset Bay region that includes Shore Acres, shares about the science and safety of storm watching.
King Tide Conditions
When off-shore storms combine with high tides, they create King Tide events – a nonscientific term that refers to the highest winter tides each year. "It's very weather-dependent," Ricci says of storm-watching conditions. "All you can do is predict the tide level and the statistical likelihood of what the weather will be like."
Storm-watching season on the Oregon Coast generally occurs in the winter months, from November through March. King Tides take place in November, December and January. During winter storms, wind gusts can reach more than 50 miles per hour, with waves towering more than 30 feet. "It's an awe-inspiring experience, but also important to think about safety," Ricci says.
Storm Watching Safety
There's always the option to storm watch from the comfort of your Oregon Coast lodging. If you choose to venture outdoors to watch a storm, be sure to pick a safe spot. Wearing warm layers of clothing, a hat and gloves, rain gear, and waterproof boots will help you stay dry and comfortable on your storm-watching adventure. And don't forget your camera or binoculars!
Have fun storm watching, but be smarter than the high seas. Ricci recommends that visitors storm watch from a safe distance and don't let the ocean touch them. Remember to be aware of your surroundings, never turn your back on the ocean, and watch for sneaker waves. Ricci also suggests planning an exit strategy in case of worsening weather conditions.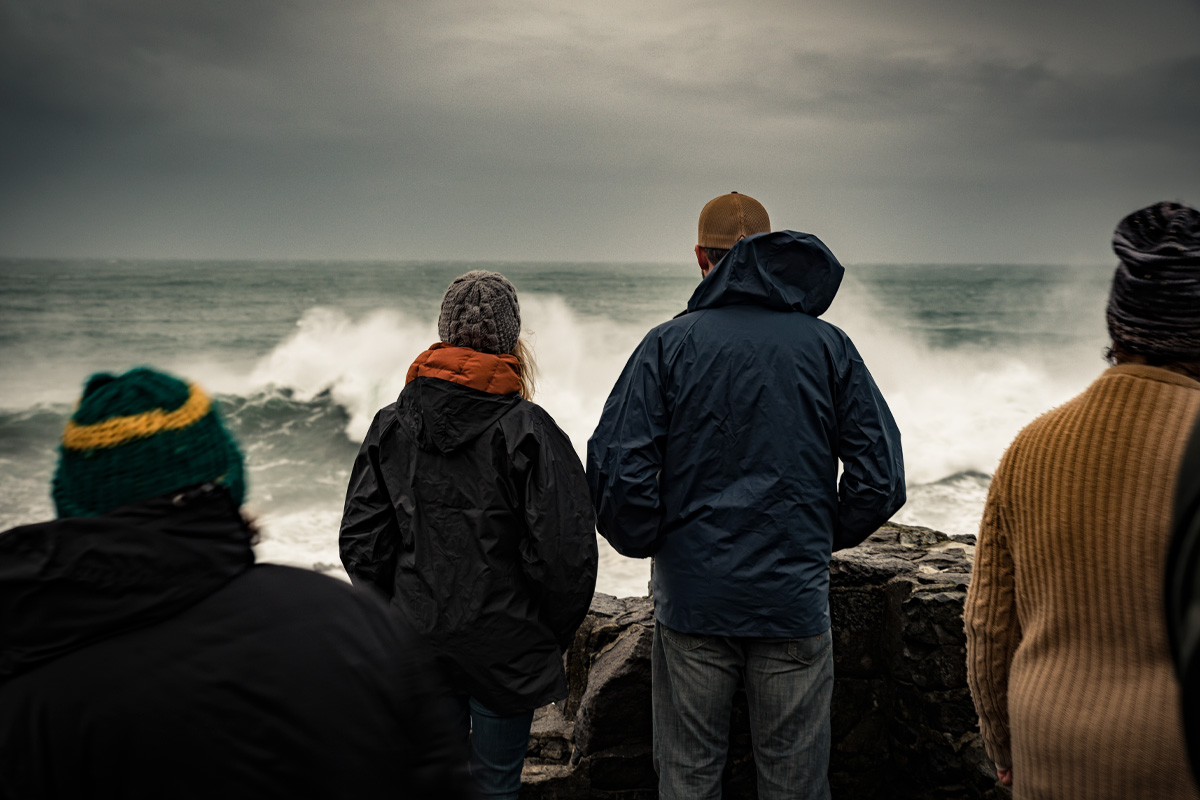 Where to Watch
Located 13 miles southwest of Coos Bay, Shore Acres is home to a formal garden — once part of a palatial estate — and is an idyllic viewpoint for rugged seascapes and furious storm waves. The park boasts a designated storm-watching area on the cliff and a small, indoor whale-watching building to keep you warm and dry.
One mile south of Shore Acres, you'll find Cape Arago State Park. The scenic headland has a storm-watching observation area complete with a gazebo shelter and the Simpson Reef and Shell Island overlook. Another nearby watching spot is Bastendorff Beach County Park (not on the beach or beach parking area), located 2 miles west of Charleston.
Stay Up-To-Date on Storms
To plan a storm-watching trip, look for a forecast of strong winds and high waves. Ricci suggests tracking tide tables on the National Oceanic and Atmospheric Administration website and following the Oregon King Tides Project. She also recommends following weather sites like KGW or the National Weather Service for the most up-to-date forecasts. "Storm watching is a fun and cool experience," Ricci says. "Just remember to be safe!"
By Lisa K. Anderson