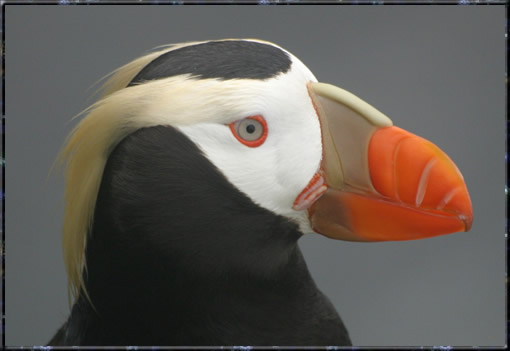 They look like something out of a Dr. Seuss storybook.
They have been clocked flying at 40mph and commonly dive to depths of up to
80 feet in search of food. And in a sure sign that spring is finally here, the first
Tufted Puffin sighting of the year in Cannon Beach took place at 8:13am on
Thursday, April 7.
Over the coming weeks, a colony of approximately 60 pairs of Tufted Puffins,
which return to Cannon Beach each year in early April to nest on the slopes of
iconic Haystack Rock, will continue to arrive and begin building or refurbishing
their nests in long burrows. They will remain in town to hatch and feed their
young before heading back out to the open ocean where they spend the winter
months at sea.
"The return of the Puffins is something that everyone in town looks forward to
with great anticipation," said Nala Cardillo, coordinator of the Haystack Rock
Awareness Program. "People come from all over to visit Haystack Rock, which
now boasts the largest colony of Tufted Puffins on the Oregon coast."
Puffins can be seen on Haystack Rock and flying overhead with the naked eye,
but binoculars, or better yet, a bird spotting scope will give birdwatchers the
best viewing.
People are also reminded that Haystack Rock is one of seven State-protected
Marine Gardens and part of the Oregon Islands National Wildlife Refuge, and it
is illegal to climb on its rocks or slopes, or to disturb the wildlife.
An official "Puffin Welcome Ceremony" will be held on Wednesday, April 13, at
1pm in front of Haystack Rock to kick-off the town's 12 Days of Earth Day
Celebration. The Puffins are celebrated during the Great Cannon Beach Puffin
Watch (July 2-4, part of Cannon Beach's wildlife and pet friendly Fireworks
Free Fourth of July). For more information on Cannon Beach events, visit
www.cannonbeach.org.