Zip down a trail that's right for you on Oregon's South Coast.
Fast, flowy, loamy and fun, the Whiskey Run Trails mountain bike system between Bandon and Coos Bay wows riders of all ages and abilities with the state's only true year-round riding. Whether you're out for a short loop or an epic all-day adventure, this is Oregon's premier spot for rollicking coastal single-track. 
"Conditions are pretty much always perfect," says Eddie Kessler, trails program coordinator for Wild Rivers Coast Mountain Biking Association, who also helped build the network. "It never gets blown out and dusty, and it drains so well that even after a storm, it'll dry up quickly."
The riding is diverse, too, with 64 trails over 32 miles, ranging from short easy loops to difficult downhill riding. Some trails take you up to sweeping views 600 feet over the ocean while others wend through stands of fragrant spruce and Douglas fir. Trailforks, an app and website, has interactive maps that include distances, suggested ways to link trails and elevation profiles. 
No matter which route you choose, there's almost always a shortcut back to the car, making it especially fun for families and anyone worried about biting off more than they can chew. Even if you're just passing through on a Highway 101 road trip, stopping off for a quick ride is entirely feasible, Kessler says.
Unlike many networks built on federal land, Whiskey Run crisscrosses a working, Coos County-owned forest, where the timber and recreational industries are working together to boost the local economy as well as the fun. Coolest of all, plans call for a campground to open in the next few years that will make maximizing ride time easy.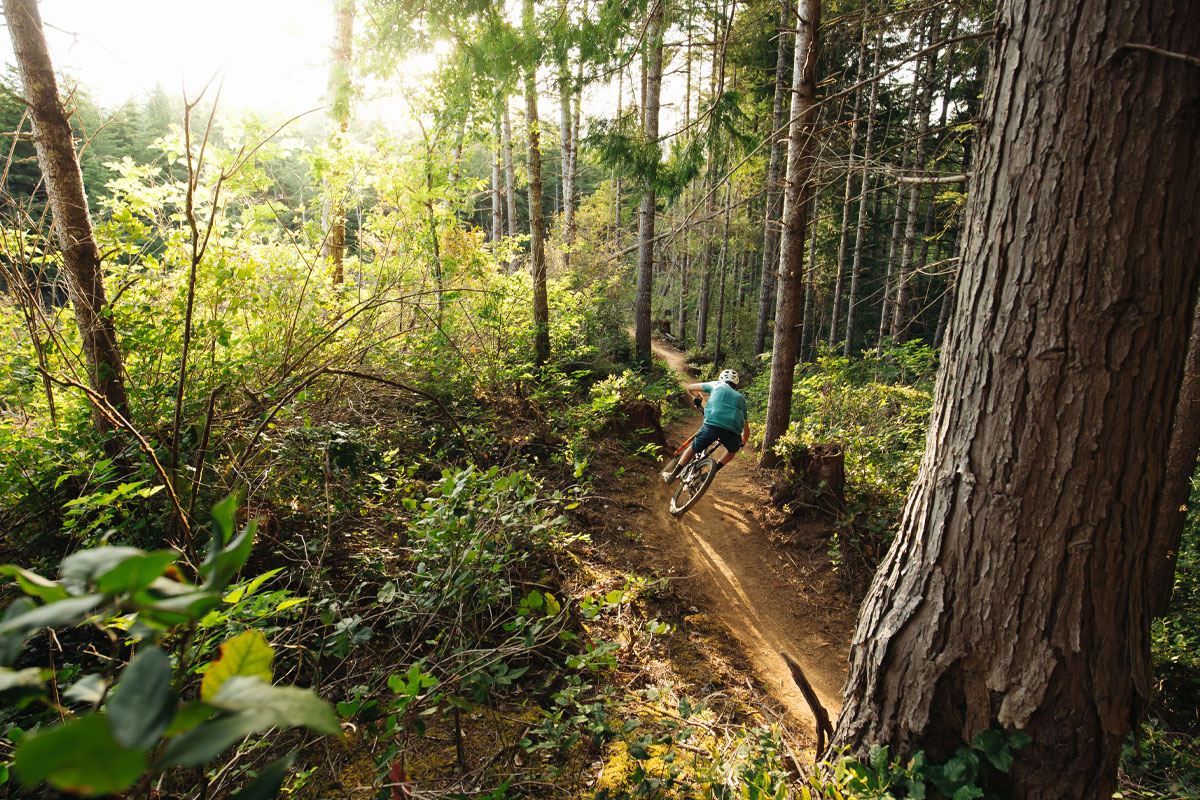 Beginner Boost at Whiskey Run
You may never forget how to ride a bike, but learning to mountain bike can be intimidating. Not so at Whiskey Run, where a sprawling selection of easy trails will leave newcomers hooked. You don't even need your own bike. Whiskey Run Rentals will meet you at the trailhead with the steed you need. They even offer guided tours.
Whiskey Run has three trailheads — lower, middle (or the main lot) and upper — roughly located about 12 miles north of Bandon and 17 miles south of Coos Bay. Each trail comes color-coded for difficulty, much like ski runs, with green for easiest, blue for intermediate and black for difficult.
Head to the lower lot for a good collection of green trails, like a warm-up loop on The Snag, a three-quarter-mile long trail with just 49 feet of climbing south of the parking area. From there head north of the parking area to ride the popular Dirty Dishes and Hollerback trails to the main lot, where a mellow access road will take you back to the car.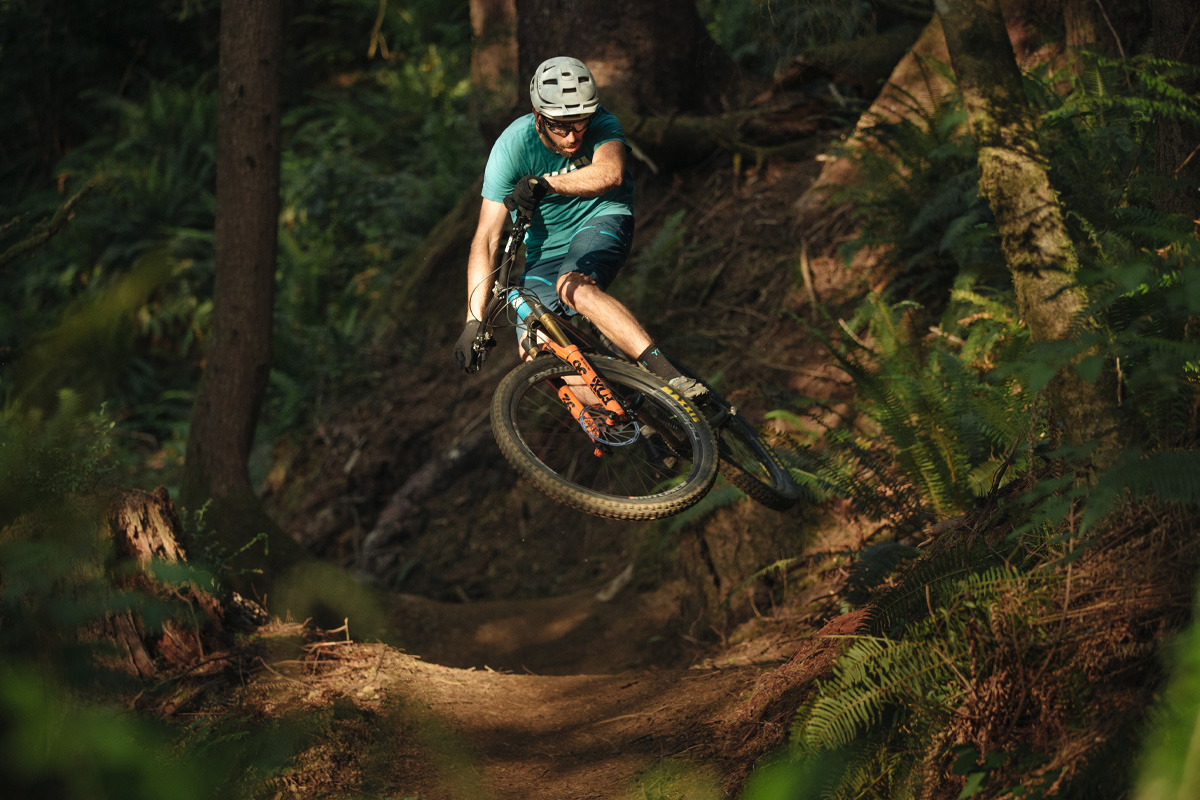 These Blues Make Intermediate Riders Happy
Feel like you're ready for a little bit more? Whiskey Run has you covered with five-star routes like New Bones and Wing and a Prayer — an intermediate level (blue) 2-mile-long ride with stunning views, named after the bald eagles and red-tailed hawks that frequent the area. Trailforks includes suggestions for a combination of trails, dubbed the Intermediate Ride Option 2, that hits them both, along with about a dozen other trails, like Sour Mash, White Lightning and Bootlegger. The route covers about 12 miles with 1,400 feet of climbing and descending. Be sure to check your map and ride the route as described — some trails are one-way only.
Air It Out on a Challenging Black Diamond
Whiskey Run's range of options goes well beyond flowy descents with berms and cross-country endurance fests. They include the steep, technical trails that demand excellent bike-handling skills, power and a good dose of bravery. Park in the main (middle) lot and roll south to find the most challenging routes.
One of those includes Gnome Wrecker, a fast, half-mile shot that drops 325 feet with turns that'll keep your hands tight on the grips. You'll find drops, roots and steep sections that will keep you out of the saddle and focused. Speakeasy keeps the excitement going with more drops and plenty of chances for side hits. If you like your tires in the air as much as on the dirt, then go Down the Hatch, an expert-only double black diamond. Expect mandatory jumps, root balls and very steep sections. For even more challenging fun, Trail Builder's Choice route on Trailforks samples 20 miles of the best of Whiskey Run's more advanced trails with a solid 3,900 vertical feet of climbing.
If You Go:
Find more resources and detailed maps at Trailforks.
What goes up must use brakes, as they say, so make sure yours are good, or swing by South Coast Bicycles in Bandon for a tune-up before you hit the trail. If you need a rental or guide, Whiskey Run Rentals has several options.
For lodging, dining and drinking options, check out the Whiskey Run Trails area guide. Mountain bikers often end up at 7 Devils Brewing — with two locations in Coos Bay — for post-ride beverages, Wilson's Market in Bandon for tasty burritos and the Itty Bitty Inn in North Bend, a bike-friendly place to sleep.
– By Tim Neville