Strength is perhaps the best word to describe her, both in build and in character. She has a tall, stately silhouette, and is much admired by all who gaze upon her. Over the years, she has stood witness to wars, earthquakes, and space walks. She has experienced good times as well as bad. She is Newport's pride and joy, and one could be forgiven for not realizing that this lovely lady is nearing her 77th birthday. Hats off to the Yaquina Bay Bridge!
Under President Roosevelt's Works Progress Administration, many bridges were commissioned to be built. The Coast Highway officially opened for travel when the Isaac Lee Patterson Bridge (Gold Beach) was dedicated in 1932. Five major bridges remained under construction, but by 1936 the Siuslaw River Bridge (Florence), Alsea Bay Bridge (Waldport), Memorial Bridge (Coos Bay), Umpqua River Bridge (Reedsport) and Yaquina Bay Bridge (Newport) finally opened, paving a complete corridor along Oregon's coastline. As the last link of Hwy 101, Yaquina Bay Bridge united all the coastal towns, making our region a gem that Oregon is understandably proud of.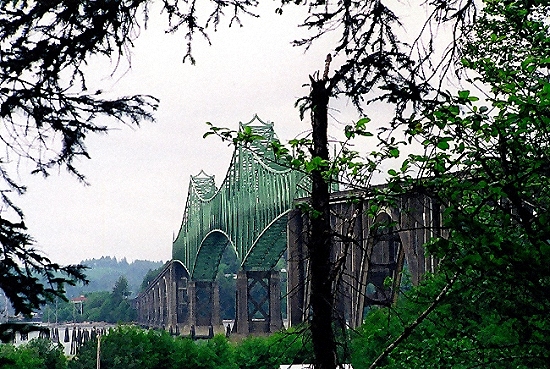 On September 6th, we will mark the 77th year of the Yaquina Bay Bridge. We stand in awe over the amazing works of arts all along the coastline, engineering wonders designed by Conde McCollough! Of the over 600 bridges that he's reputed to help design, our Hwy 101 Oregon bridges… those gracefully crafted, amazing feats of Art Deco whimsy, hold a special place in our hearts.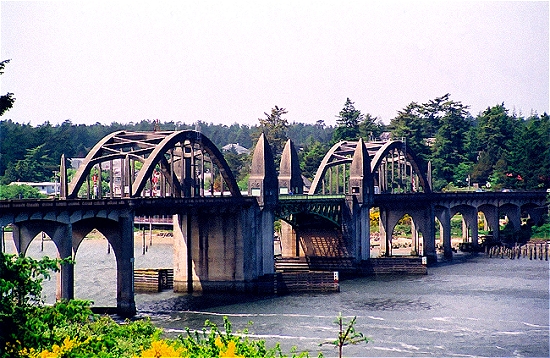 If you have time this year, take a few days and wander up and down the coast. Enjoy all that this section of the state has to offer. In particular, take note of our lovely bridges for they are a piece of our past which dovetails into the tangible evidence of our present. Long may they stand!
Submitted by: Kim Voetberg