If you've ever wanted to experience the underwater world of the Pacific Ocean but prefer to stay onshore, the Oregon Coast's tide pools are a must-see. These rocky pools of seawater along the shoreline — accessible at low tide — are teeming with aquatic life: colorful starfish, spiky sea urchins and otherworldly sea anemones.
"A tide pool in Oregon is one of the most beautiful aquariums that exists," says Charlie Plybon, a member of the Ocean Policy Advisory Council. "They are some of the most biodiverse and resilient habitats and ecosystems in the world."
This spring visitors to two of the Oregon Coast's tide pools are in for a more enriched experience thanks to a new pilot tide pool ambassador program. Starting May 29, 2021, volunteers will rove the tide pools at the Cape Falcon Marine Reserve, including those at Short Sand Beach in Oswald West State Park near Manzanita, and Cape Perpetua Marine Reserve, including those at Smelt Sands State Recreation Site near Yachats. The programs will run through Sept. 7 and Aug. 23 respectively.
Building off of the success of the Trail Ambassadors program, the new program posts volunteers at two of Oregon'stide pool regions to help answer questions, point out cool organisms and offer tips for visiting these fragile ecosystems responsibly.
"Sometimes it's hard to realize that what you're walking on is not rock, it's life," Plybon says. He explains that tide pools are made up of biogenic habitats created by the animals themselves and are often part of the organism, much like coral. "A mussel bed is not just a mussel bed, it's home to porcelain crabs, sea slugs, sea anemones, and octopuses. Tons of other life interfaces within this tiny ecosystem."
While the rest of the Oregon Coast is known for its wide-open beaches that make it easy to keep a safe distance from others, tide pools tend to cause groups to congregate. Because of this, tide pool ambassadors will also be encouraging responsible COVID-19 safety measures.
The volunteers will frequent these tide pools at low and negative tide — so get to know your tide tables. You can find them here for the South Coast (Reedsport to California border), Central Coast (Lincoln City to Florence) and the North Coast (Astoria to Pacific City).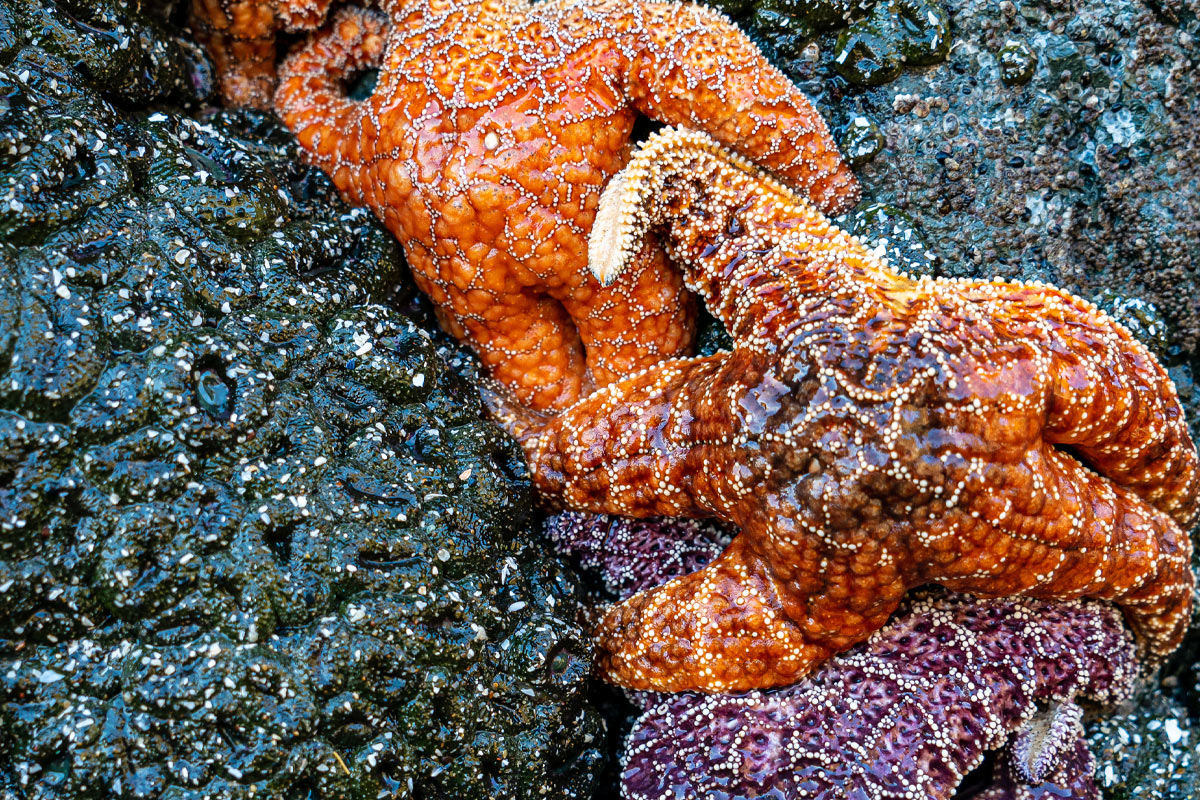 Tips for Visiting:
Should you visit a tide pool when a volunteer is not present, here are some tips for making sure you don't cause unintentional harm to the habitat.
Watch where you step. Walk only on bare rocks and sand to avoid stepping on vulnerable creatures like anemones, mussels and barnacles. If you want to know how something feels, touch it very gently and keep in mind that some things might not be safe to touch. Many animals clamp onto rock to survive heavy waves and predators, so don't pry anything off.
Take only photos. Enjoy watching wildlife in its natural state, and leave things undisturbed for others to discover and enjoy. Don't take anything home. Almost all shells have a living thing in or on them, and "empty" shells are critical habitat for organisms.
Pay close attention. Quietly watching a pool or gently moving seaweed aside will reveal sealife and behavior that would go unnoticed in a rush. Be aware of sneaker waves and the rising tide — keep track of the time and always know your escape route. Keep dogs on leashes and under control.
Consider volunteering. Those interested in becoming tide pool ambassadors at Cape Perpetua near Yachats can get more information by emailing CapePerpetuaCommunications@gmail.com. Those interested in the ambassador program at Cape Falcon near Manzanita should contact CapeFalconMR@gmail.com. Another tide pool education volunteer opportunity is offered through the Haystack Rock Awareness Program, where volunteers educate Cannon Beach visitors on marine and birdlife at Haystack Rock.
– By Emily Gillespie
– Photos by Cort Muller