Pair your next epic adventure with a scoop of locally crafted ice cream.
Ocean vistas appear just around the bend along the rugged Oregon Coast Trail, which spans the mouth of the Columbia River in the north and the state line in the south. Along the way, intrepid backpackers and eager day-trippers spy soaring sea stacks, windswept cliff formations, forested bluffs — and sometimes even a whale or two.
The only thing sweeter than those views might be the first post-hike scoop of ice cream waiting for you after a day of hiking. As you make plans to take on some of the 425-mile trail, we've highlighted a few favorite outings on or near the official route — along with ideas for where to chill with a scoop of Oregon-crafted ice cream afterward.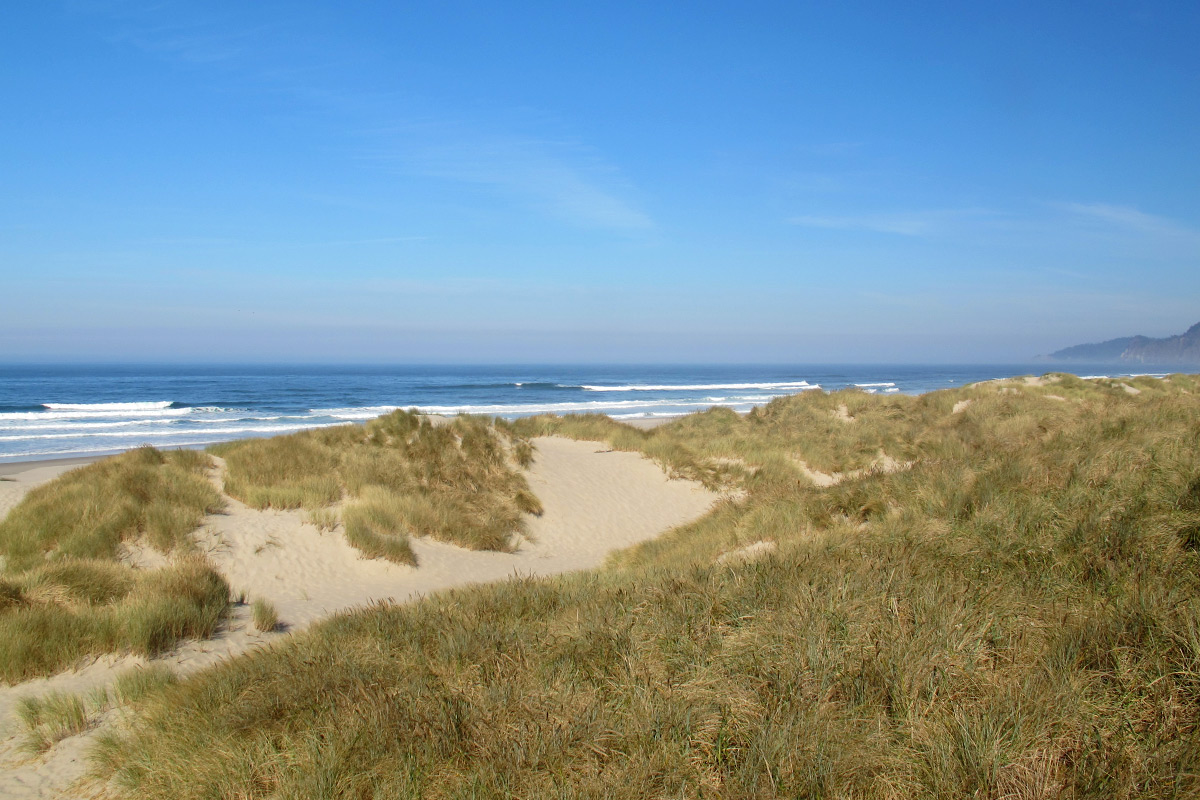 Sandy Strolls and Seasonal Flavors in Nehalem
Enjoy a mostly flat, 5.2-mile (round-trip) jaunt along the Nehalem Spit Loop Hike, which traverses a strip of shoreline that separates the Pacific Ocean from Nehalem Bay. The trail begins in Nehalem Bay State Park before heading south through a variety of coastal ecosystems — including forests of shore pine and Sitka spruce, tidal flats, and sandy shoreline.
Celebrate with a stop at Buttercup Ice Creams & Chowders in nearby Nehalem. The shop specializes in house-made ice cream, with funky flavors that change seasonally. Think peanut butter and jelly ice cream on a brown-butter cone or — during the holidays — a sweet potato cheesecake ice cream on a toasted-pecan cone.
Nehalem Spit is home to the western snowy plover, a federally threatened bird, and restrictions are in place during its nesting season. Between March 15 and Sept. 15, hikers must walk only on the wet-sand portion of the beach — and dogs are not permitted on the coastal portion of the trail.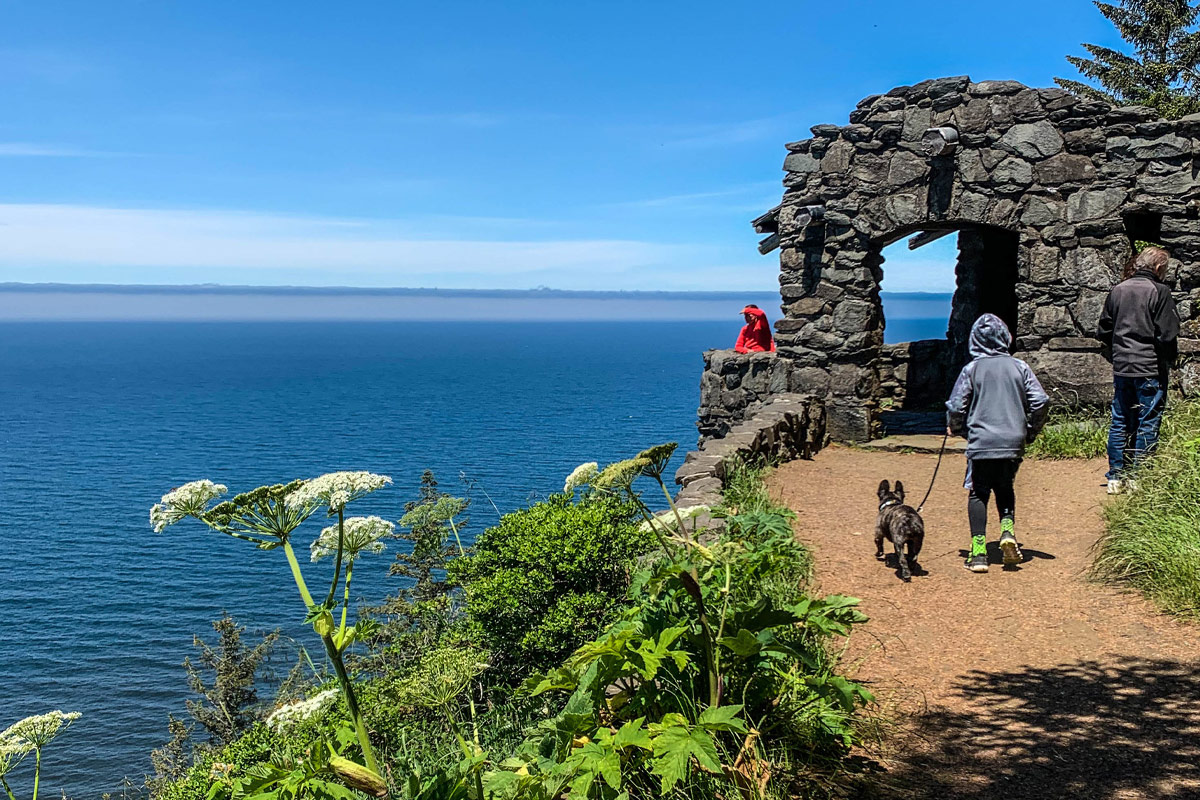 Ocean Vistas and Cool Licks in Yachats
The Cape Perpetua Scenic Area sits amidst some of the most captivating natural scenery anywhere on the Oregon Coast. There may be no better way to soak it all in than from atop the St. Perpetua Trail, just off the Oregon Coast Trail. Departing from the Cape Perpetua visitor center, the 2.8-mile (round-trip) footpath ascends 700 feet through a thicket of Sitka spruce before emerging at a day-use area near the summit of Cape Perpetua. There, wide-open views include forested hillsides, the rocky shoreline and crashing waves below. Save time for a short walk to the West Shelter, a stone structure built by the Civilian Conservation Corps in the 1930s.
After your hike, head to nearby Yachats for Umpqua Dairy ice cream at Toppers Ice Cream & Candy. The old-school shop serves shakes, sundaes and scoops of roughly a dozen flavors from the Oregon-based dairy — including cotton candy and huckleberry cheesecake.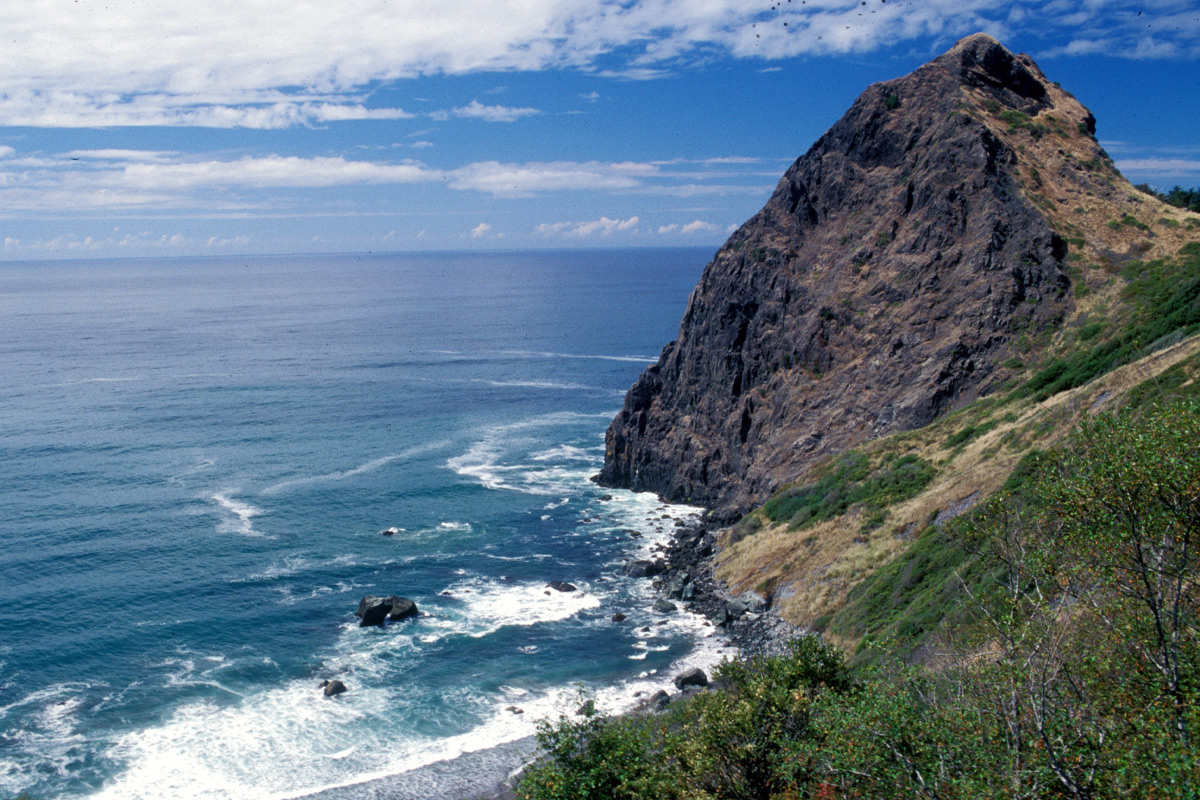 Old-Growth Forests and Coastal Cones Near Port Orford
Just south of Port Orford, Humbug Mountain hosts a few hiking trails that showcase a mix of old-growth forest and open ocean views. Experience it all with the 5.5-mile (round-trip) Humbug Mountain Loop Hike, which veers slightly from the Oregon Coast Trail and heads through stands of myrtle and Douglas fir before emerging at the summit, where south-facing views of the coastline await. The loop gains about 1,750 feet along the way. Note that trails may be closed due to downed trees; consult with a ranger at Humbug Mountain State Park for current conditions and, if necessary, recommendations for an alternate route.
About 6 miles north, kick back with Tillamook ice cream at Golden Harvest Herban Farm in Port Orford. The stately red market and deli is just moments from the beach and dishes its ice cream in cones, sundaes and shakes. Try the ice cream sandwiches crafted from fresh, house-made cookies.
If You Go:
Whether you're more excited about Oregon Coast views or the ice cream that awaits afterward, keep these tips in mind before heading out.
Park only in designated lots to keep yourself and other hikers safe — and to protect the coast's delicate ecosystems. Check ahead of time for any fees or passes needed.
Stay safe by remaining on designated trails and respecting closure notices and restrictions at all times.
Fido is typically welcome on Oregon Coast trails— but be sure you know rules about seasonal closures on beaches with western snowy plovers and the leash laws of the area you're planning to visit. Always plan to pack out waste.
– By Matt Wastradowski