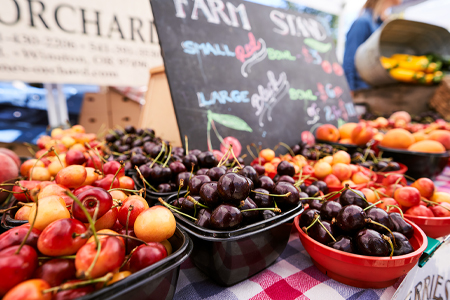 Editor's note: Note that masks are required at farmers markets and in indoor public spaces in Oregon. Check business hours and protocols before visiting.
As the warm season settles in at the Oregon Coast, balmy weather sets the scene for outdoor recreation — and shopping at local farmers markets. Salty sea breeze mixes with enticingly sweet desserts and elegant flowers. Bright-red tomatoes and bushels of sweet corn pop against striking coastal vistas.
This year shoppers have the option of ordering their market goods online before picking them up in person — a lower-contact method designed to keep everyone safe while supporting local farmers, fishers and artisan purveyors.
"There's an abundance of produce, fruit, berries, nuts and fish at outdoor markets in the coastal region," says Melissa Matthewson, coordinator of the effort by the Oregon Farmers Markets Association. "Economic vitality is really important, especially now that we're all adapting; everybody wants to invest in their local community and build around the exchange of goods. Eating fresh and local also benefits overall health and nutrition."
As National Farmers Market Week (Aug. 2-8, 2020) rolls around, wear a mask, maintain 6 feet of distance when possible and buy local. (SNAP benefits are accepted at several locations. Through the Double Up Food Bucks program, some markets will match up to $10 a day of food-stamp money for fruits, vegetables, mushrooms, herbs and nuts.) Most of the farmers markets run through September or October. Here's where to go for the freshest coastal bounty this season.
Farmers Markets
Online Markets
You can now go online throughout the week to order your market goods for pickup in person — everything from locally roasted coffee beans and artisan sea salt to fresh greens, berries, meat, fish and dairy. Here's where to find these convenient online marketplaces on the Coast: Florence Farmers Market, Manzanita Farmers Market, Neskowin Farmers Market and North Coast Food Web. Food Roots — a co-op of the region's farmers, ranchers, fishers and producers — lets shoppers order by Saturday online for pickup at their farm stand in Tillamook on Tuesdays.
North Coast
Seaside Farmers Market is the crown jewel of the city's bustling outdoor shopping experience. Beachgoers can ride their bikes or walk a short distance from the Promenade to the stalls at the Seaside Visitors Bureau, where they'll find superb veggies courtesy of Necanicum Fresh Farm, SeMe Family Foods' baked goods, and snackworthy Bavarian-style bites from Pilgrim's Roasted Nut'Z.
At Manzanita Farmers Market, fans of smoked salmon will drool over NeahKahNie Smoke House's succulent fillets. For more indulgence, bottled libations from Nehalem Bay Winery and Cannon Beach Distillery are available for purchase. Order online Sunday through Wednesday for pickup Friday evening.
Another worthwhile destination on the North Coast Food Trail is the Neskowin Farmers Market. Intriguing signature jams, such as marionberry habanero or strawberry Champagne, await at Gingifer's Kitchen — whose canned pickles go great on sandwiches, too. Nestucca Bay Creamery will be slicing up their artisanal cheeses, while Mama Tee's Farmstead has produce to pair with eggs, andouille sausage, goat or pastured pork for well-rounded, home-cooked meals. Go online Sunday through Friday to place your order for pickup on Saturday.
Central Coast
At the Newport Farmer's Market, where vendors have sold their wares since 1978, Pablo Munoz Farms offers their colorful cartons of blueberries and strawberries, and Old Blue Raw Honey carries on the tradition of honest work (and the intricate art of beekeeping). Plus, small-batch honey is the bee's knees.
LoveJoy Botanicals at Yachats Farmers Market creates herbal medicines and tinctures that can help relieve life's added stress and boost the immune system. Rainforest Mushroom's harvesters cultivate delicious, organic fungi such as shiitake, lion's mane and oyster mushrooms as well as grow-at-home kits. Florence Farmers Market offers the ultimate convenience, inviting shoppers to order online with the option of having their fresh goods delivered or ready for pickup at a nearby location through mid-October. The market is online only.
South Coast
Head to the Wild Rivers Coast Food Trail for some more culinary exploration, featuring more than 15 farms and markets, 16 restaurants and seafood markets, and seven spots to sip a local craft brew or artisan spirit.
Coos Bay Farmers Market, the largest on the Coast, shines in the heart of downtown, where you can also take a self-guided historic walking tour of Coos Bay. Furry friends will enjoy a stop at the market's Paw Paw Boutique and Bakery for natural pet treats. For a pick-me-up, try to resist the fragrant beans of Bridgeview Coffee Roasters, the confections at 303 Fudge Co. and the aroma of kettle corn with fresh-squeezed lemonade from Coos Bay Concessions. Grab a fresh bouquet from Chang's Family Farm to take home to your sweetheart. If you're taking a road trip south to California be sure to stop by the Brookings-Harbor Farmers Market to have local and fresh snacks for the trip.
Fresh Oregon Seafood
Oregon Coast fishers catch a bounty of what's known as groundfish — those caught near the bottom of the ocean, such as lingcod, rockfish, sablefish (black cod), halibut, petrale sole and Dover sole. According to the nonprofit Positively Groundfish — which aims to get more people enjoying these types of fish — the average seafood product consumed in the United States travels more than 5,000 miles before it hits your plate. Eating Oregon Coast groundfish not only reduces your food's carbon footprint but also means it's vastly fresher and sustainably caught, since all commercial West Coast groundfish species have earned certification by the Marine Stewardship Council, considered the gold standard for seafood sustainability.
Available fresh year-round, and their tender, flaky meat can be easily prepared in a variety of ways. Dip pieces of sole in batter and throw them in the deep frier for tasty fish 'n chips. Or make a miso marinade for your sablefish cutlets and put them on the grill. Some may be surprised that a majority of Oregon's groundfish is shipped out of state, but you can keep it local by shopping year-round in person or online at several fresh-fish markets. Here's where to find it.
North Coast
A stone's throw from the Columbia River, South Bay Wild in Astoria follows a triple bottom line. The small storefront at Food Roots FarmTable in Tillamook is a go-to spot for frozen fish as well as other local goods, and the large operation at Bay City Fish Peddler in Bay City is literally on the bay, for ultimate freshness. In Garibaldi, find the catch of the day at Community Supported Fishery, The Garibaldi Cannery and The Spot.
Central Coast
Find black cod and other tasty fish at Barnacle Bill's Seafood Market, an iconic spot in Lincoln City, as well as Krab Kettle in Florence and Luna Sea Fish House in Yachats. Head to Local Ocean Seafoods in Newport for ocean-view dining or fresh fish to go, and try their new fresh-fish meal kit, Dockbox, for no-contact pickup in Newport, Portland or Corvallis. It comes with all of the ingredients and recipes needed to make a meal for two or four people at home; a recent box featured summertime tuna berry salad and grilled fish 'n chips with either lingcod or halibut.
South Coast
Straight-from-the-boat fish abounds on the South Coast, including at Bandon Fish Market, Chuck's Seafood in Charleston, Fishermen's Seafood Market in Coos Bay and Fishermen Direct in Gold Beach. Port Orford Sustainable Seafood provides hauls of fresh fish to multiple locations around Oregon, or you can order online to your doorstep for a convenient dinner option. Here's a recipe for inspiration.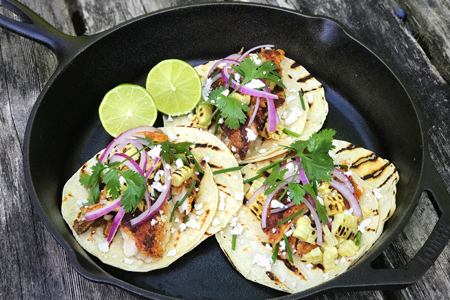 Blackened Lingcod Tacos with Grilled Corn and Cotija Cheese
Courtesy of Katie Wiley of @TheKitchenWild on Instagram
Ingredients:
4 lingcod fillets (about 6 oz. each)
2 tbsp. olive oil (divided) or grapeseed oil
Spice mix:
2 tsp. paprika
1 tsp. onion salt
1 tsp. oregano
1 tsp. salt
1 tsp. pepper
1/2 tsp. cayenne
Directions:
Combine all of the spice ingredients together.
Coat the lingcod fillets with a small amount of oil.
Generously sprinkle the fillets all over with the spice mix.
In a large, heavy-bottomed skillet, heat 1 tablespoon of oil over medium heat. Once hot, add the fillets and cook for about 4-5 minutes, until crispy and blackened. Flip the fish over and cook for an additional 4 minutes (depending on thickness). If the lingcod is browning too quickly, turn down the heat.
For serving:
8 corn tortillas, grilled
2 cobs of grilled corn, kernels cut from cob
Red onions, thinly sliced
Cotija cheese, crumbled
Fresh cilantro, chopped
Fresh lime to taste, squeeze on top
– By Ben McBee
– Photo of the Coos Bay Farmers Market by Erik Urdahl