Feast on global street fare all along Highway 101.
The Oregon Coast is now increasingly known for global street fare thanks to its wealth of food carts in several cities along the Coast, some owned by folks with international backgrounds and others inspired by a fusion of flavors from different countries. Many of these carts are clustered in pods with shared seating, and some of these mobile eateries even head down to Coos Bay in August for a weekend-long food-cart cook off at Mill Casino Hotel & RV Park, where beachgoers can sample from myriad cuisines that the Coast offers. 
Whether you're looking for a quick meal on a Highway 101 road trip or a place to linger with a craft beer and live music, here are food-cart pods — and many other carts worth checking out — on the Oregon Coast.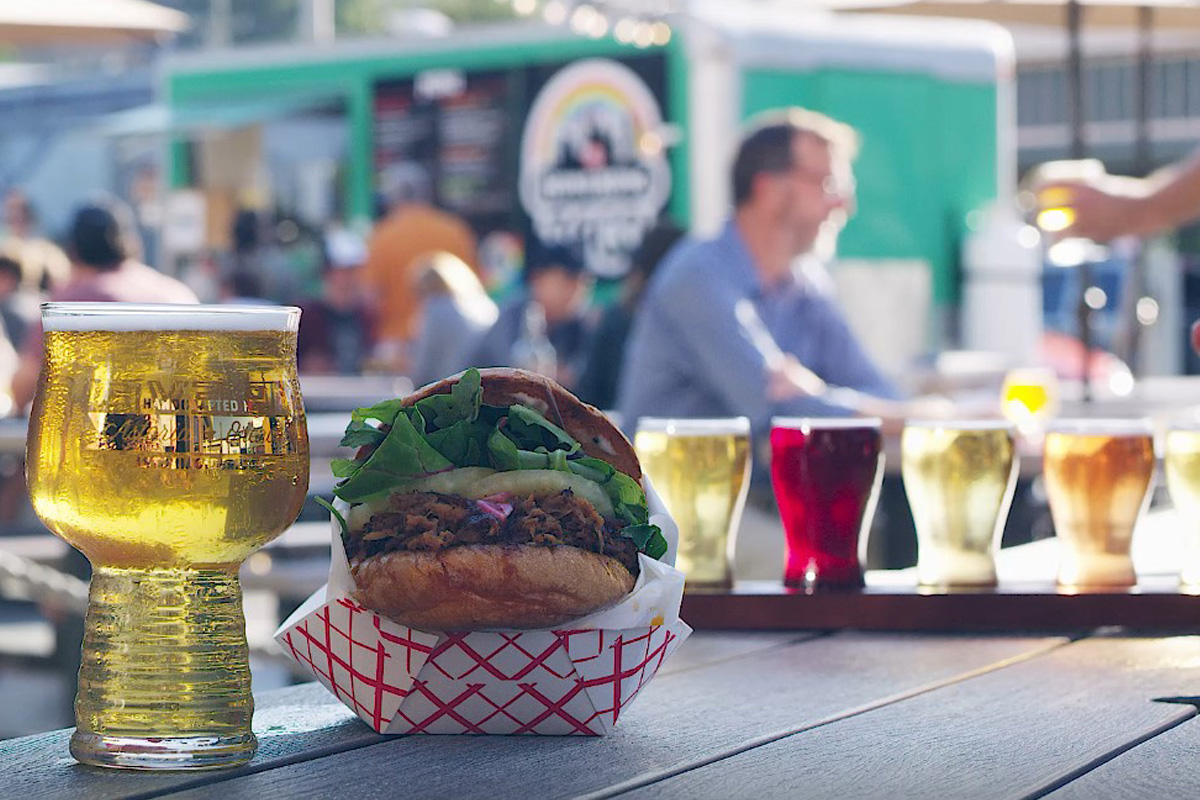 Noshing on the North Coast
Visitors to the historic port city of Astoria may be brewery-hopping, visiting museums, or taking long walks along the Columbia River. When hunger strikes, grab a pint at Reach Break Brewing downtown and hang out for a while on the spacious patio, ringed with food trucks, including Alma's Mexican Cuisine, which offers owner Alma Delia Castelan Hernandez's tamales and sopes from the Hidalgo region, and Coastal Smash, serving juicy smash burgers that come quick and crispy, stacked with toppings or even extra patties.
Just blocks away, The Lot Astoria sports a colorful setting decorated with murals. Choose from an ever-changing menu with items like chorizo/soyrizo fried rice with egg or pork loin with cheesy grits from That Food Cart. The Good Bowl tops rice bowls with beans and locally-sourced vegetables, and Lily Rose Coffee & Crêpes tops its wafer-thin pancakes with fruit, chocolate, cheese and more.
Nehalem has its fair share of food carts too, including the peaceful two-cart pod right on the Nehalem river. Paddle your kayak up to the bank to fuel up at Pacific Roots for coffee and mini-donuts or a fried cod basket at Riverside Fish & Chips.
In Garibaldi, Under the Big G pod keeps the fishermen and whale watchers of this port town satiated with a handful of carts. Munch on an onigiri seaweed sandwich stuffed with spam from Japanese fusion cart Chibi Teriyaki or German-style barbecue sausages from The Brat Brothers.
The Flavors on 1st pod in Tillamook welcomes visitors to a patio of global delights. Stop for lunch on the way to the beach or even grab something to go for a picnic. Nani Papa'a's egg-and-spam musubis are the ideal takeaway treat, while We Be Tacos fills its tacos with Tex Mex-inspired seasoned ground beef and pulled pork.
In Rockaway Beach, you can't go wrong with lamb vindaloo from New Taste of India or saucy pineapple red curry and a wide range of desserts from Sassy Express Thai fusion cart. Both offer patio seating outdoors.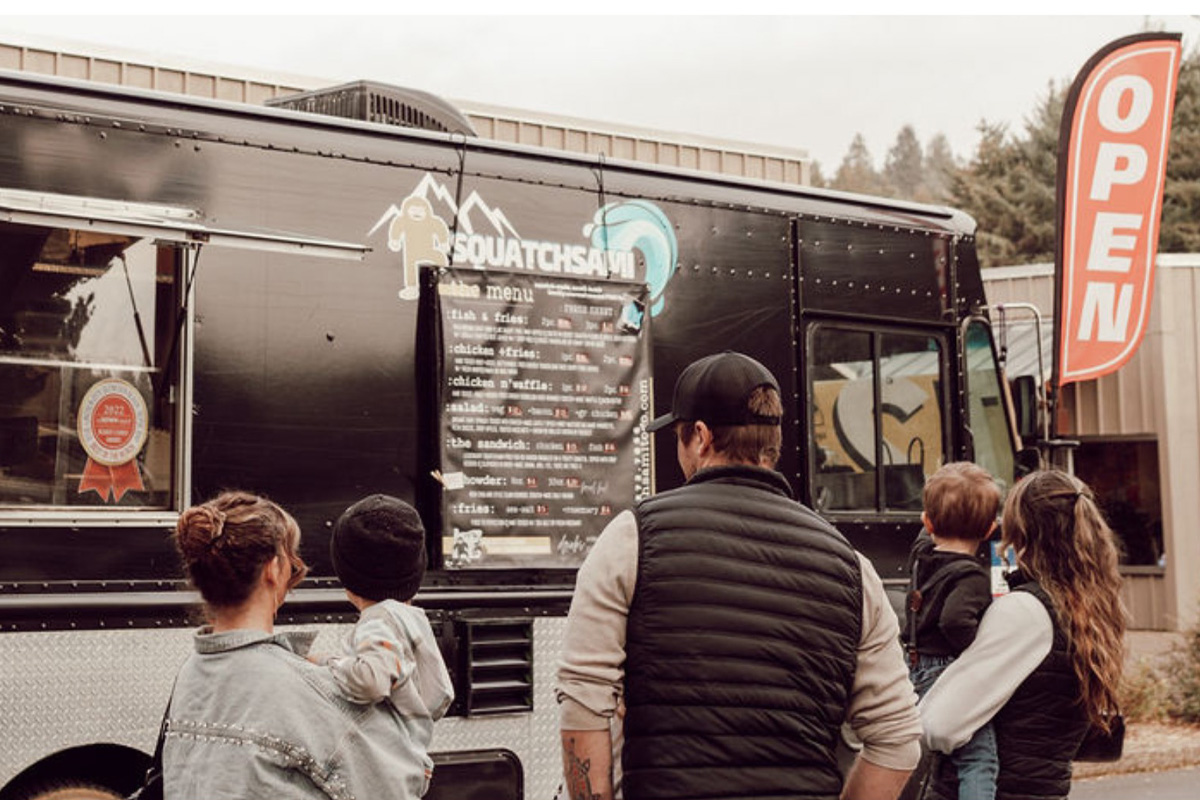 Global Food Carts on the Central Coast
Further down Highway 101 in Lincoln City, The Pines Dine is a lovely contemporary covered food hall with ample indoor-and-outdoor seating and free parking, surrounded by 12 carts that serve everything from Himalayan Momos to gyros, souvlaki and boba tea. Don't miss the fried rice with crab meat at Pattaya or the locally sourced albacore poke bowls at Sha Sha's Poke. For Puerto Rican soul food, stop by La Wawa to fill up on plates of mojo pork belly, citrusy slaw and plantain chips.
In nearby Gleneden Beach, Squatchsami serves upscale comfort food out of its outpost at the Salishan Marketplace; you will love the Oregon-caught lingcod fish and chips and rosemary-seasoned fries. Chicken and waffles are another popular choice.
Further south, Tastee Tiki in Newport brings the flavors of Hawaii to the Pacific Northwest, crafting rice bowls and sandwiches with kalua pork and teriyaki tofu, plus a side of mac salad.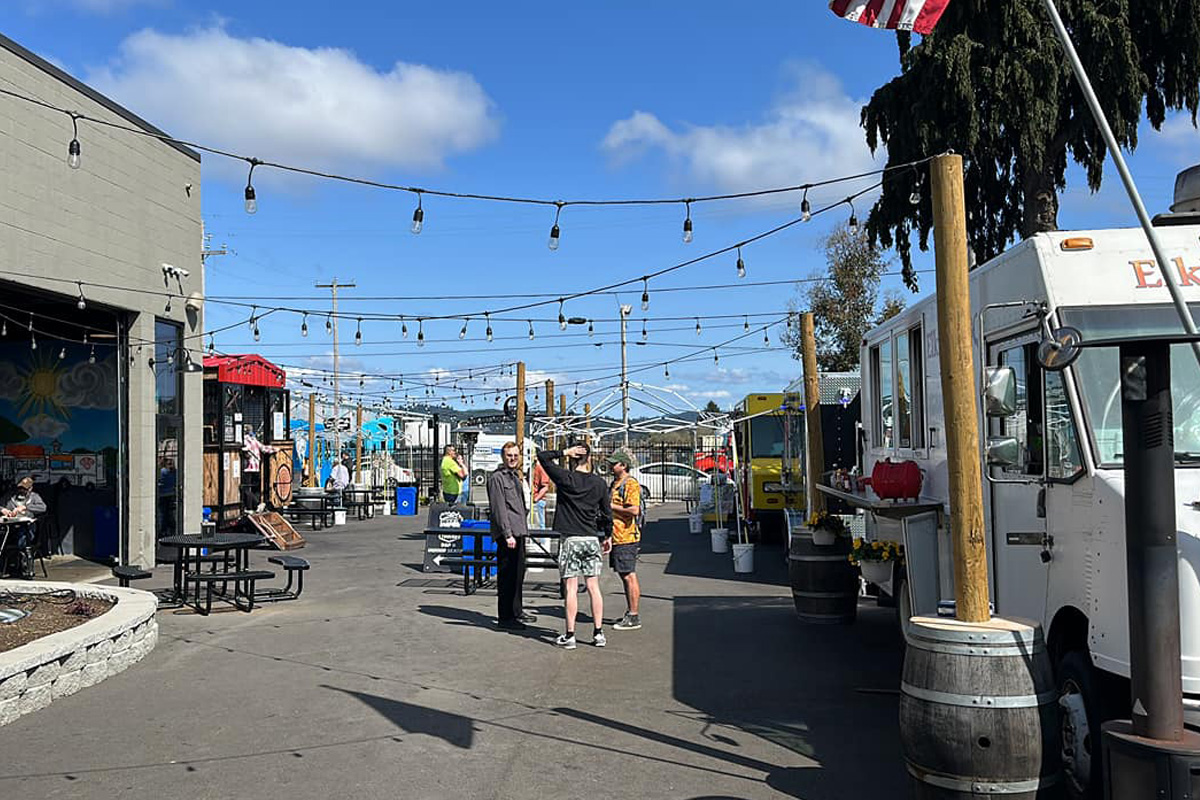 Specialty Carts on the Southern Coast
In Coos Bay, the Front Street Food Trucks pod is the perfect spot to people-watch. Sample the ramen birria — stewed beef in a rich broth — from 101 Taco or tuck into fries topped with pulled pork from Elkhorn BBQ, whose savory, charred aromas from its indoor smoker waft over the neighborhood.
Though not organized into a single pod, you'll also find plenty of carts for a quick bite in Gold Beach and Brookings. Hunger Paynes serves stacked biscuit and waffle sandwiches for brunch in Gold Beach, plus lunch-time burgers and seafood options. Just across the street, Khob Khun delivers Bangkok-style street foods like noodle stir fries and creamy coconut curries. Woggy's is a local favorite for its locally caught rockfish and chips and Baja-style blackened fish tacos.
In Brookings, sitting pretty outside of Chetco Brewing Company, vegan food cart Off The Wagon supplies hungry patrons with homestyle American classics. Order the vegan nachos with silky cashew queso or the enchilada casserole with marinated mushrooms, roasted potatoes and housemade enchilada sauce.
– By Katrina Yentch