Enjoy fresh Oregon-grown berries with historic roots.
With the holiday season just around the corner, you might have cranberries on your mind, especially as cans of cranberry sauce begin to make their annual appearance in grocery-aisle displays. What you may not know is that there's a good chance that the cranberry sauce destined for your Thanksgiving table was made from Oregon-grown cranberries.
Oregon ranks as one of the country's largest cranberry producers, with most of our state's cranberries grown in the South Coast region. While the bulk of these bright-red fruits goes to Ocean Spray's facilities in Bandon for processing, you can still score some of the tangy berries for yourself — it's as easy as hitting up a South Coast farm stand, a cheese shop or even a distillery. Here are some ways to enjoy the season's best. 
Oregon's Historic Cranberries 
Wild cranberries are native to Northwest Oregon — in fact, you can spot (but don't pick) native bog cranberries to this day in wetlands like the Neskowin Marsh Unit of the Nestucca Bay National Wildlife Refuge south of Pacific City. One theory is that their name comes from the delicate birdlike blossom that they produce in the spring — it resembles the head and neck of a crane.
Cranberries have been used by Indigenous people for both food and dye well before white settlers, but it wasn't until the late 19th century that commercial cranberry farming got its start in the state. A Massachusetts prospector named Charles McFarlin moved to Coos County with cranberry clippings from his home state and got to work planting a bog with a variety that he personally developed.
The South Coast cranberry industry thrived over the decades, especially after WWII, when the Ocean Spray cooperative began bringing Oregon growers into its fold. Today Oregon consistently produces upwards of 500,000 barrels per year — around 50 million pounds. To learn more about the history of this stalwart industry, head over to the Coos History Museum in Coos Bay. You'll see old cranberry-farming equipment — including one of the oldest examples of a mechanical picker — and industry-related ephemera on display.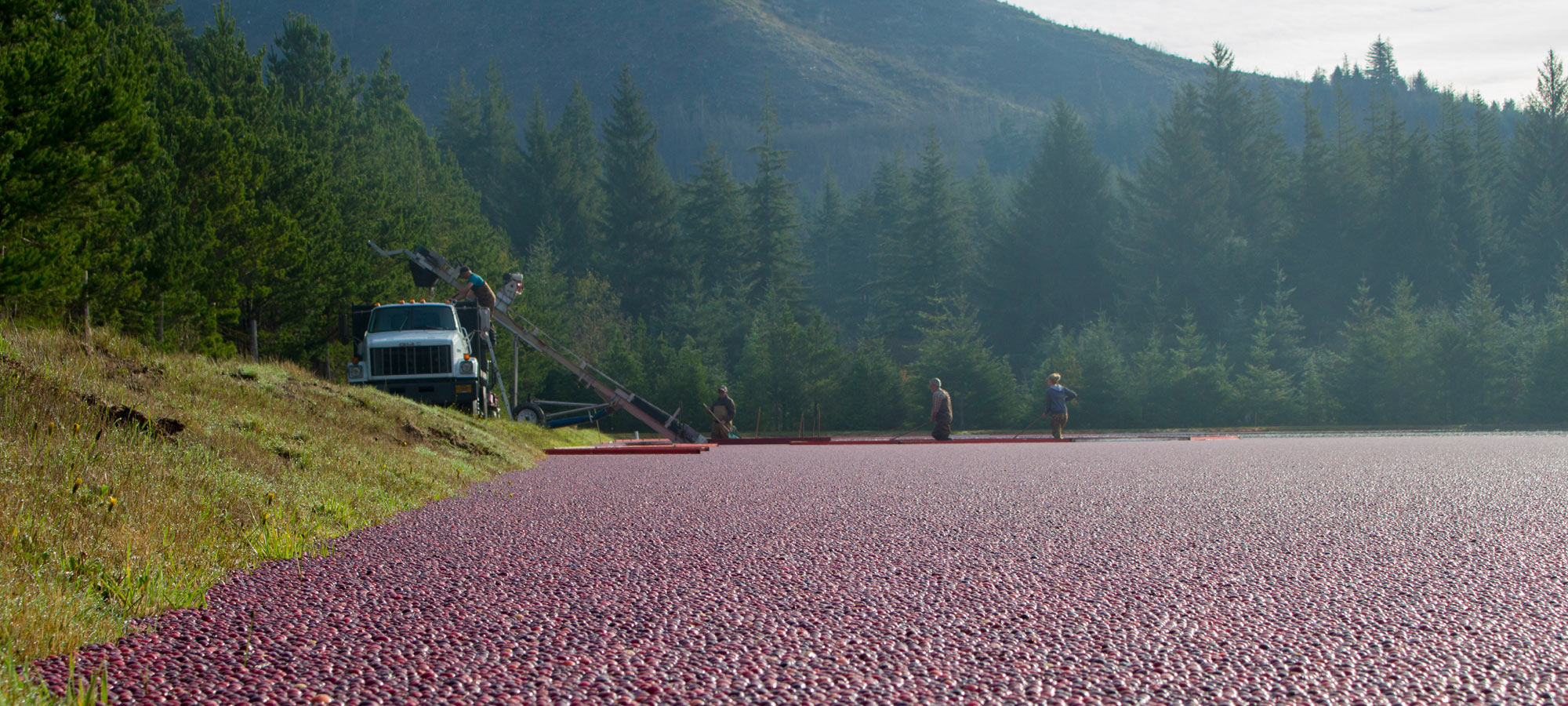 How Do Cranberries Grow?
Cranberries spend most of their growth cycle on dry land, developing on the vine in human-made fields edged with earthen borders known as bogs. The borders allow the bogs to be flooded right before harvest, and ripe berries float to the top. Farmers then use harvesting equipment to knock the berries off their vines and skim them from the bogs.
"Cranberries are a perennial plant," explains Whit Peters, a third-generation cranberry farmer who operates Peters' Cranberries in Sixes — a small community south of Bandon — with his mother, Sara Osborne. "Each winter they go dormant. In Oregon they start waking up in April, bloom in June, set fruit in July and are harvested between October and November."
Because Oregon has relatively mild autumns compared to other major cranberry-producing states, the growing season is a bit longer, as farmers don't need to rush to get their harvesting done before the first freeze. As fans on the Coast will tell you, Oregon-grown berries are both brighter and sweeter than their Midwest and East Coast counterparts.
Buying Cranberries Direct From the Farm
If you want to see a bog in action and stock up on the tart berries yourself, you need only head down to Oregon's South Coast during the annual harvest season. The Berry Byway segment of the longer Wild Rivers Coast Food Trail is a good place to start. This stretch, which runs from Port Orford to Bandon, offers plenty of cranberry-related stops, including Peters' Cranberries farm stand, a great place to pick up fresh cranberries for making your own cranberry juice or sauce. The farm also sells an inventive selection of products from jam and juice to cranberry-infused ketchup and barbecue glaze. Don't leave before taking a peek at the bogs (they're visible right from the stand).
If you'd like to actually tour a bog, simply call Bowman Bogs 6 miles south of Bandon and set up a tour. Be sure to stop at the farm stand for the farm's own Grandpa Jack's cranberry syrup and concentrate, which make refreshing cocktail or alcohol-free soda mixers.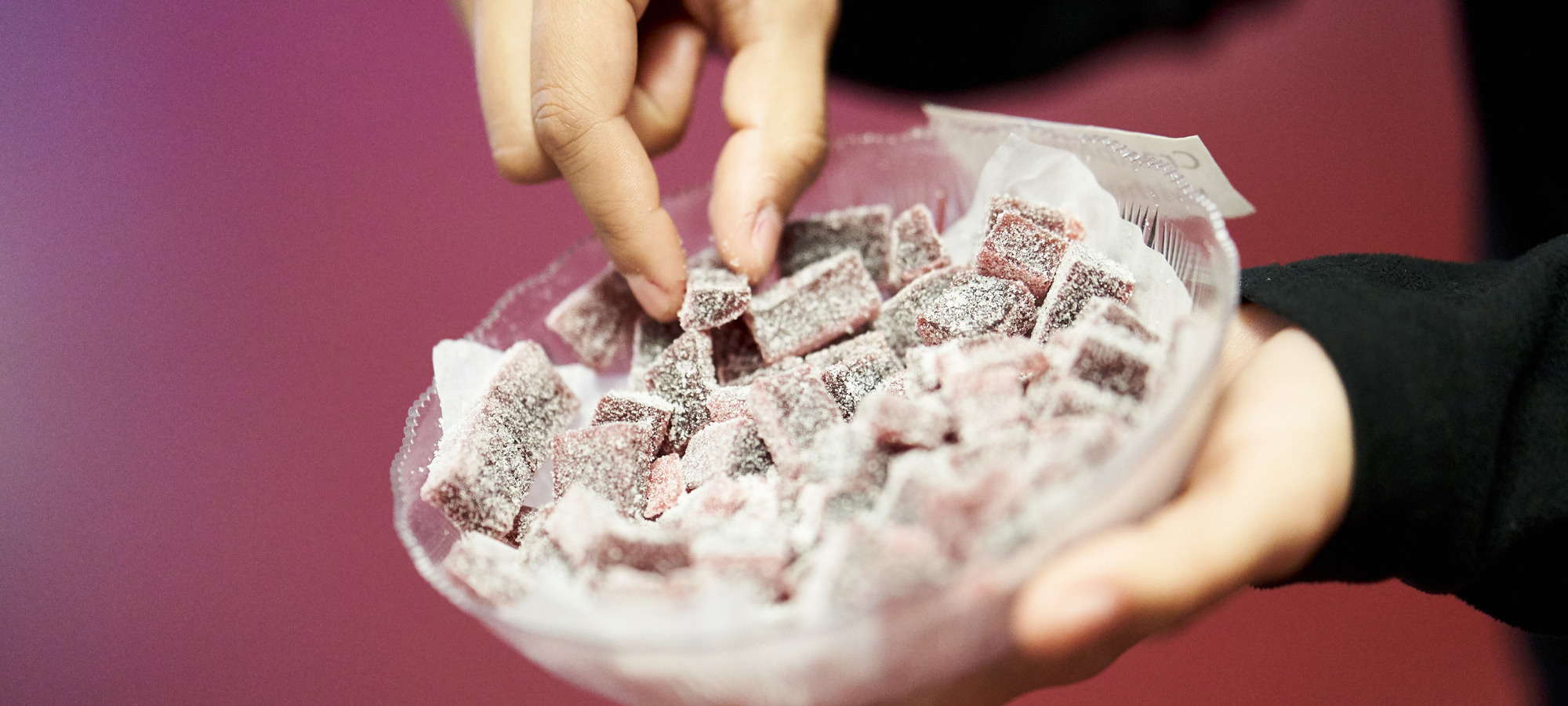 All Things Cranberry in Bandon
Any respectable cranberry road trip on the South Coast must include a stop in Bandon, where you can enjoy several types of cranberry cider at the Bandon Rain taproom or a bracing shot of Devil's Own cranberry rum at Stillwagon Distillery. If you've got a sweet tooth, don't miss the cranberry jelly candies at Cranberry Sweets & More, while those who prefer tangier flavors won't go wrong with a block of Face Rock Creamery's cranberry-walnut cheddar or a tub of cranberry-and-honey fromage blanc.
If you missed it this year, mark your calendar for the next Bandon Cranberry Festival, which takes place each year in September. This celebration of all things cranberry kicks off the harvest season with a parade, live entertainment, food stalls and even a cranberry-eating contest.
– By Margot Bigg