Winter is a prime time to explore the Coast looking for tasty Dungeness.
The Coast in winter offers a tremendous display of salty, natural beauty, but beneath the waves and bluster thrives a world filled with delicious Dungeness crabs. To catch your own seafood feast in winter, all you need is some patience, a trap and ideas on where to go. Authentic seafood markets make sure no one goes home empty-handed. Here's what you need for a true "Coastie" experience.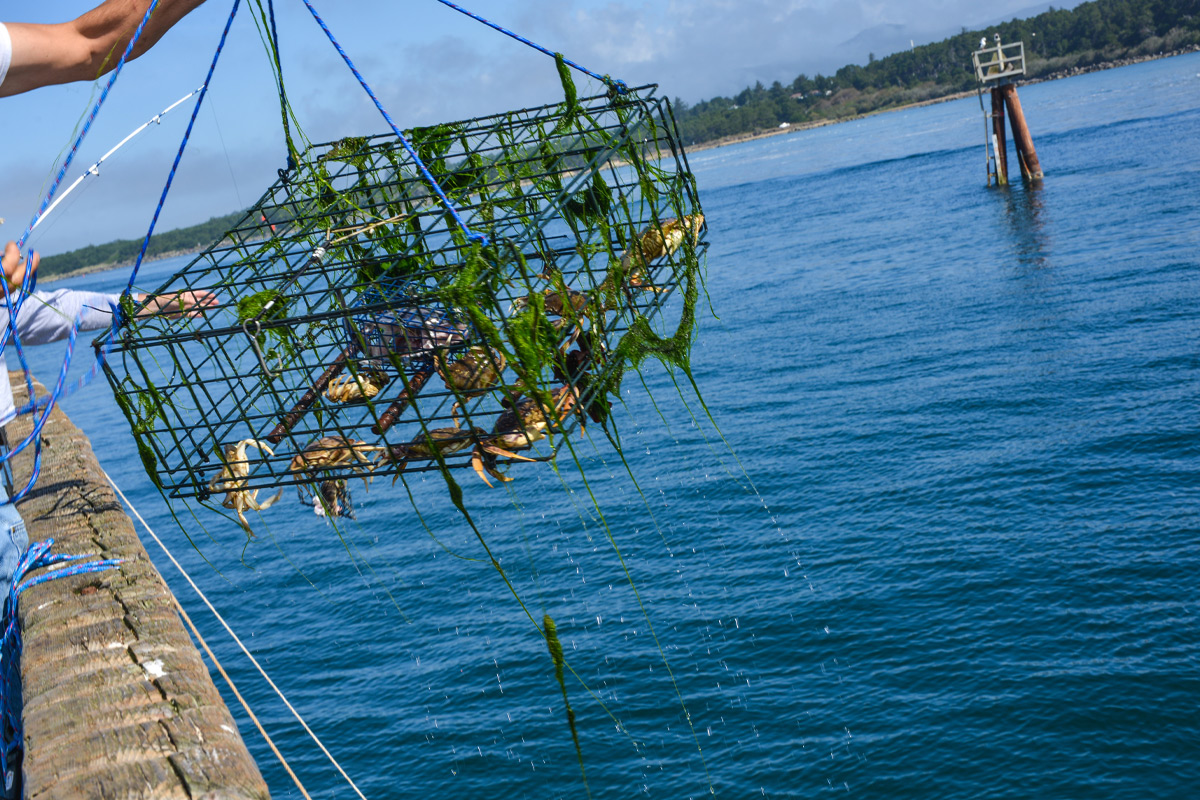 How to Start Crabbing on Your Own
As with any outdoor activity, preparation is key — and that means being legal. Buy a shellfish license and understand the rules. Unlike commercial crabbing, which has set seasons, recreational crabbing is open year-round unless tests show elevated levels of biotoxins like domoic acid. Before setting out, always check the Oregon Health Authority website or call the Shellfish Safety hotline at 800-448-2474​ for closures.
One of the best resources for recreational crabbing in Oregon is found in the Oregon Department of Fish & Wildlife's guide to DIY crabbing. You'll also want to know how to tell the difference between crab species that may end up in your trap, including Dungeness, red-rock crabs and invasive European green crabs. All of these species are edible, but there are different regulations for each one.
The equipment and techniques are otherwise pretty straightforward — toss a baited trap off a dock, wait 30 to 45 minutes, haul it in and see what you've got. It's easy to rent crab rings and crab pots and even buy the bait (think raw chicken or fish heads) from shops near popular crabbing spots. A local visitors center or chamber of commerce can help you find places that rent equipment.
Tips for Crabbing Success
Wherever you go on the Oregon Coast, the best time for crabbing is when the currents are weakest — at what's called slack or peak tide — from about one hour before a high or low tide to one hour after that tide. Late summer through early winter is considered the best time for recreational crabbing in bays and estuaries.
Crabs don't like the influx of winter's freshwater runoff, and wet spells will send them scurrying out in the ocean looking for more salt. On those days, try crabbing in larger bodies of water that are harder to dilute, or as close to the ocean as you can. Don't crab where you see seals, which will willingly eat your bait.
Waterproof outerwear and footwear will go a long way toward keeping you warm and dry on a wet day. Grippy rubber work gloves help protect your hands while handling the traps. If you're crabbing from a dock, take along a camp chair and a cooler with ice for your catch. 
Cooking and cleaning crabs isn't hard, but it requires a large pot, preferably a high-output propane burner, and a sturdy container to discard shells and viscera.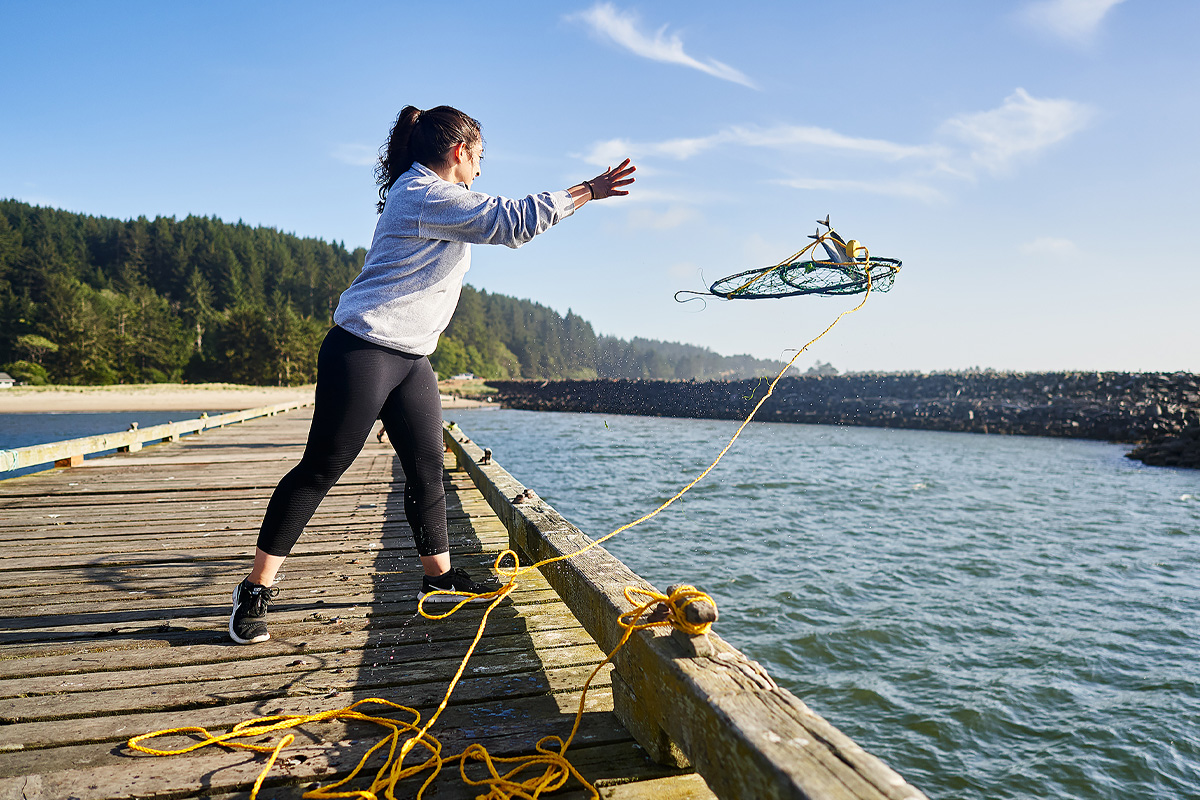 Great Places to Crab on the Coast
For maps and descriptions of crabbing and clamming grounds around the state, the Oregon Department of Fish and Wildlife has you covered. Here are a few of our favorites.
Kelly's Brighton Marina and The Jetty Fishery, both north of Rockaway Beach, offer boat rentals and crabbing pots; they will even cook your catch. If heading out on the water is too daunting, you can drop traps off the marina docks for a small fee.
In Newport drop your traps overboard at any of three free piers on Yaquina Bay: at the city crabbing pier off Bay Street; off another pier on Abby Street; or off a third pier in South Beach. To rent boats or gear, try Siletz Crabbing and Kayak Rentals, about 20 miles north near Lincoln City. From spring to fall, check out Lincoln City's Crabbing Exploriences, where you'll meet a resident expert to take you through the ins and outs of the harvest.
In Winchester Bay, a crabbing and fishing pier juts into the mouth of the Umpqua River, less than a mile from the open ocean, and visitors often have great luck here. Stockade Market & Tackle can set you up with equipment.
Farther south on Coos Bay, the Charleston Marina Complex in Charleston has numerous spots for you to drop your traps. The nearby market, Davey Jones' Locker, also rents them, as does Basin Tackle.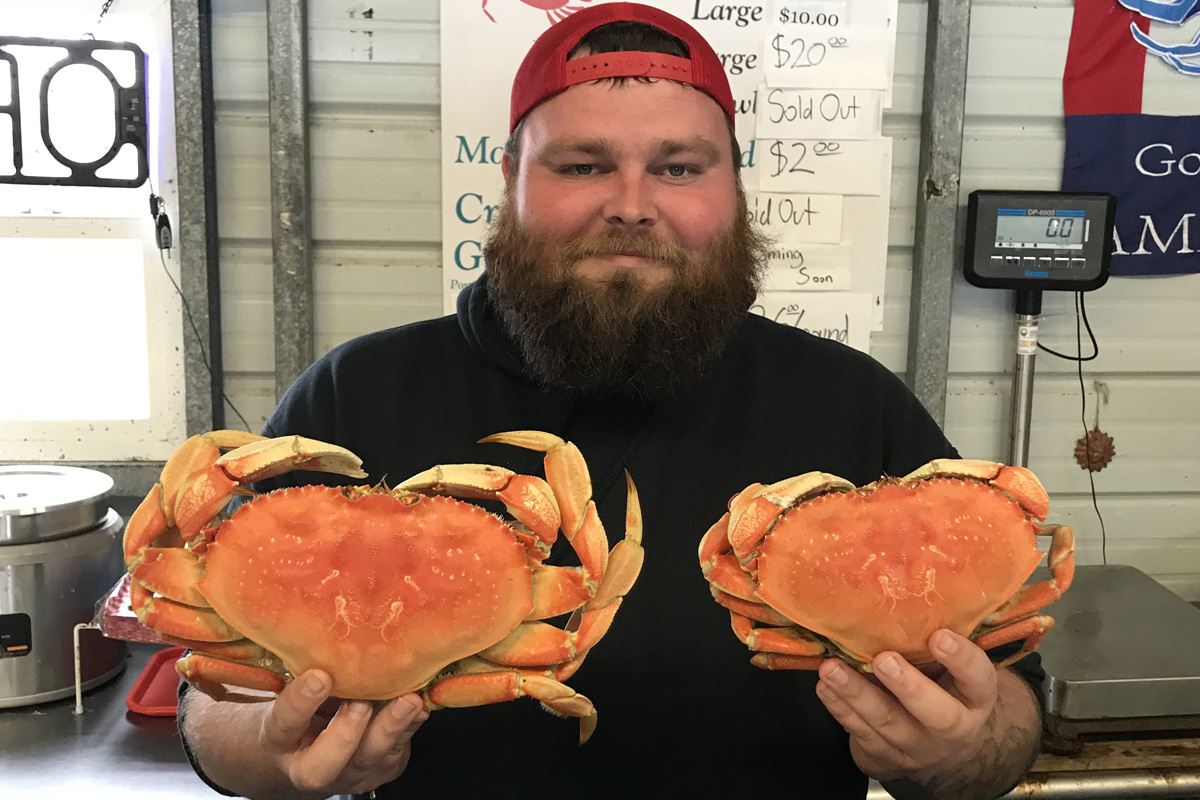 Find Fresh Crab Ready to Eat
Plenty of markets carry fresh crab in season. Fisherman's Wharf Floating Seafood Market in Charleston sells them from its 250 gallon live tank. Novelli's Crab and Seafood in Florence sits over the water off Harbor Street and offers fresh crab — as does nearby Krab Kettle. In Newport Chelsea Rose Seafood stems from a multigenerational fishing-family business that specializes in sustainable seafood. Look for the big crab kettles steaming outside of South Beach Fish Market, just south of town. On the North Coast, you can find fresh Dungeness at Fishpeople Seafood in Garibaldi, at Bell Buoy in Seaside — family-owned since 1946 — and at OleBob's Seafood Market on Astoria's Pier 39.
– By Tim Neville