Caffeinate with Micro Coffee Roasters
Do you ever wonder why the alluring aromas of a coffee shop aren't quite the same as those of your morning brew at home? They're likely using freshly ground coffee. Coffee beans are harvested year-round, and coffee roasters try to use the freshest beans possible. Chances are your cafe just served up a cup that was produced mere weeks ago. When you need a vibrant pick-me-up on a foggy Oregon Coast morning, check out these micro-roasteries. Sourcing beans from countries across the world and roasting them weekly makes for the perfect foamy cappuccino — or take a bag home as a souvenir of your oceanside trip.
Under-Bridge Brews in Astoria
Columbia River Coffee Roaster is across the street from the Astoria Riverwalk under the Astoria-Megler Bridge. Until recently a cafe, the business has since been reimagined as a coffee lab with massive roasting equipment on display, which gives the team the opportunity to truly focus on the quality of your coffee. Each bag purchased online is roasted to order, and the space itself is an expansive retail store in a historic building in the Uniontown district. Select from dozens of fresh roasts, including citrusy single-origin offerings from Colombia and Guatemala or smooth, bold blends like the Thundermuck! and Oregon Breakfast. Don't hesitate to ask for a sample, or grab an iced coffee for a stroll to see pilings in the river that once held fish-cannery buildings aloft.
Caffeine and Haystack Rock in Cannon Beach
A quaint bungalow that's been gracing town for over 30 years, Sleepy Monk Coffee Roasters is a stone's throw away from the shores of Cannon Beach, where you can catch a glimpse of the iconic Haystack Rock. You can find plenty of traditional smoky and chocolaty dark roasts — organic and small batch — by Sleepy Monk at finer markets across the North Coast. Its headquarters, however, is an ideal space to grab a freshly brewed latte and savory breakfast pastry. Weekends are especially lively, but if you're ready to handle the bustle, a break on the sun-filled (or cozy heated) outdoor patio should be extra rewarding.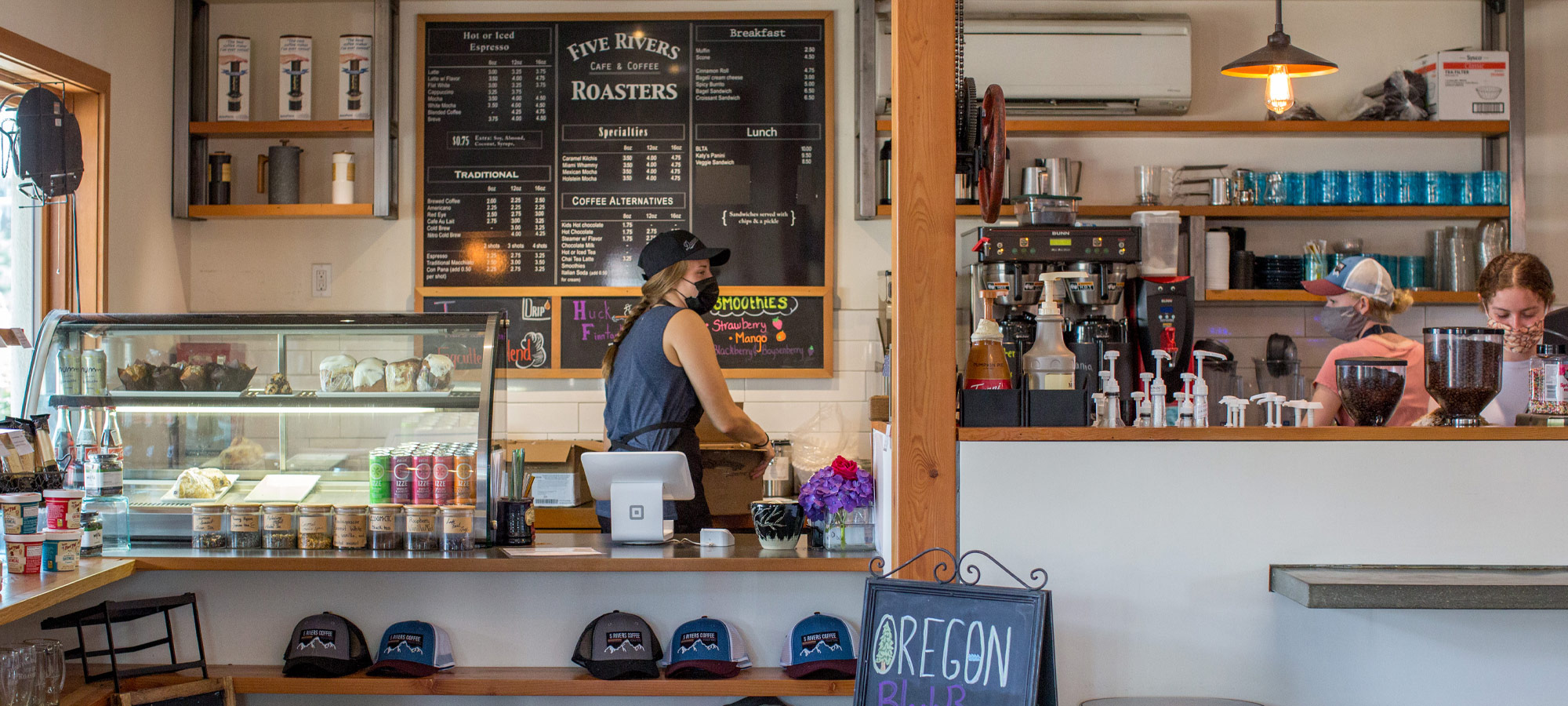 Coffee Before Cheese in Tillamook
Before making your way to the dairy extravaganza at Tillamook Creamery, you may want to warm up your appetite with breakfast and a coffee at Five Rivers Cafe and Coffee Roasters. Just across the street from the cheese factory, the cafe offers a dessert lover's dream of innovative mochas and signature latte drinks. If the Miami Whammy combination of almond, coconut and white chocolate isn't your style, you still have an assortment of rich coffees to choose from. Signature blends like Fog Cutter, Farm and Five Rivers pay homage to the business's surroundings and are roasting on display in the spacious interior. To accompany your beverage, there's also a vast array of paninis and croissant and bagel sandwiches.
Boardwalk Beans in Depoe Bay
Left Coast Coffee Co. offers carefully crafted specialty coffee in a low-key space. Though the cozy shopfront is tucked into the Depoe Bay boardwalk — don't worry, the signage is clear — once inside you'll feel at home and eager to try a cold brew or a drink painted with latte art. Gaze at the array of coffee-brewing gear on the retail shelves or the thoughtfully illustrated sign of the Fogarty Creek shoreline before taking a bag of beans to go. With an array of signature blends and rotating single origins, there's a little something for everyone on the Left Coast.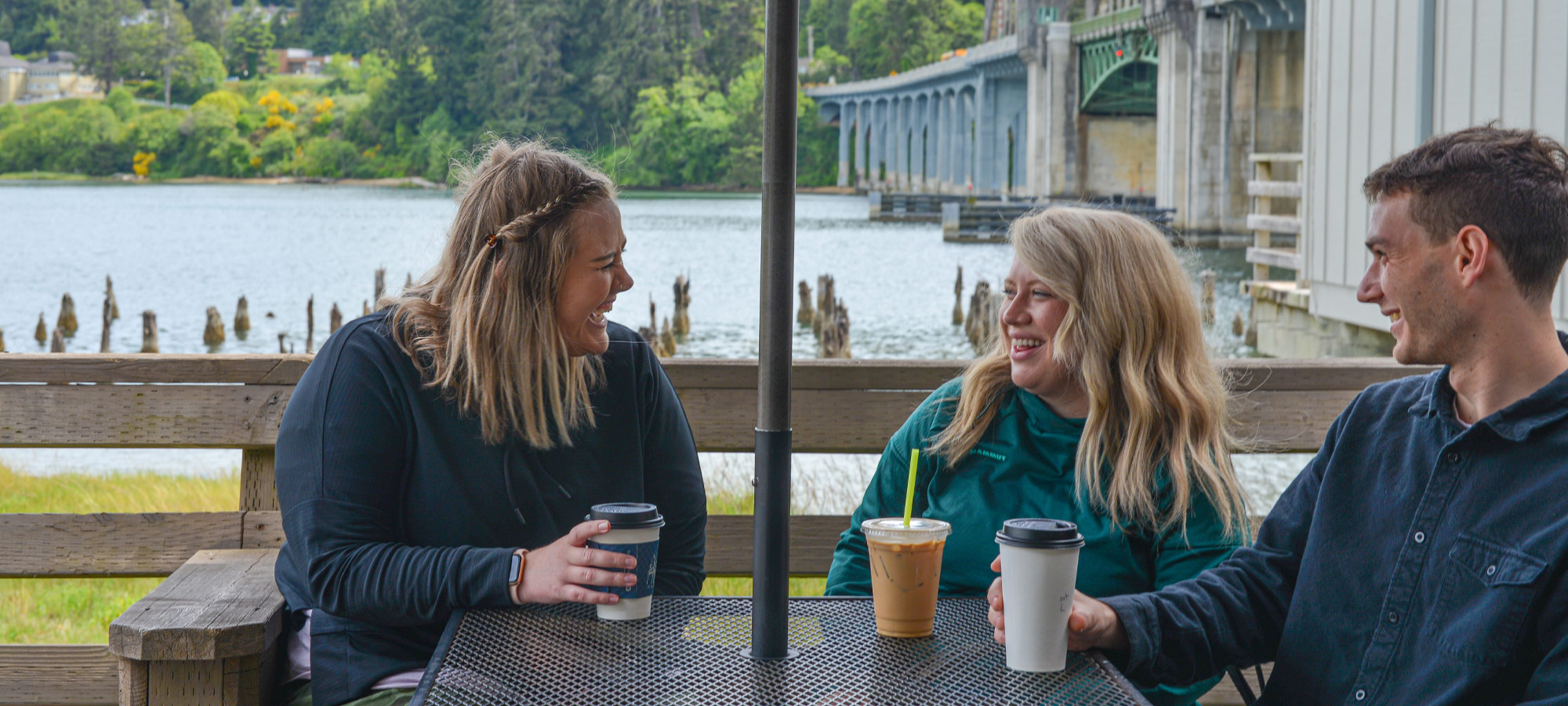 Fireplace and Riverside Views in Florence
A waterfront roastery in the heart of Old Town, River Roasters has views of the Siuslaw Bridge in Florence. Indulge in sweet treats like the Nutella mocha or Kahlua-spiked Blackjack while relaxing on the spacious riverfront patio. The interior, with high beam ceilings and a roaring fireplace, may draw you inside to lounge or explore the extensive retail shelf. Take home a bag of house-roasted coffee and gifts for loved ones, including locally crafted jewelry and housewares like handmade ceramic mugs and woven plant hangers.
Stop for Aspiring Roasters in Bandon
Caffeinating Bandon since 1995, RayJen Coffee offers high-quality organic roasts and custom coffee options sourced directly from origin. They may not have a physical cafe, but if you're local to the area, you've probably seen their booths at farmers markets and foodie events, or bags of their beans at grocery stores throughout Coos and Curry counties. Stock up at RayJen with their 5-pound-bag offerings from Indonesia, Peru and Mexico. And for aspiring roasters, check out their unroasted green coffee options — raw coffee beans waiting for experiments in your own oven.
– Katrina Yentch