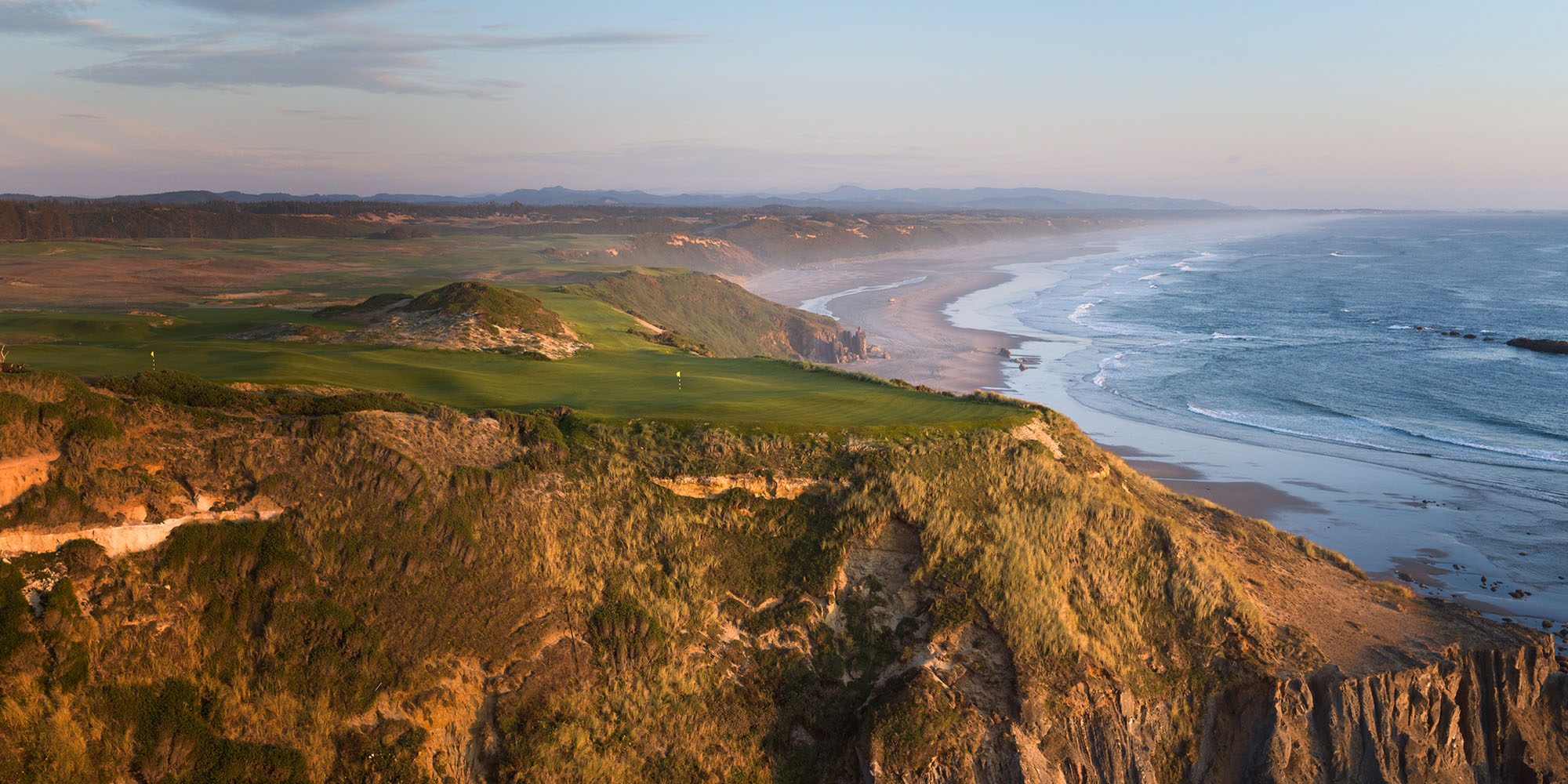 World-renowned Bandon Dunes Golf Resort is Oregon's most-lauded golf experience with authentic Scottish-links-style play, set along a spectacular stretch of Pacific coastline. With its four celebrated 18-hole courses — Bandon Dunes, Bandon Trails, Pacific Dunes and Old Macdonald –– all ranked among Golfweek's 2019 Best Courses You Can Play, you may be shocked to discover that the golf resort has even more to offer. Newly open as of June 1, 2020, Sheep Ranch golf course at Bandon Dunes has been described by golf insiders as "the best of the Bandon bunch." Here's how it came together.
Mysterious Past
Few golf enthusiasts even know that Sheep Ranch has existed as a 13-hole, undeveloped, create-your-own-round course since 2001. Even fewer golfers have snagged an exclusive invite to its windswept dunes. With no formal holes, the course had served as the personal playground of Bandon Dunes creator Mike Keiser and his longtime business partner and co-property owner, Phil Friedmann. But after the completion of Old Macdonald in 2010, thoughts turned to welcoming a reenvisioned Sheep Ranch to the Bandon brotherhood.
Working a Jigsaw Puzzle
To cut a world-class 18-hole course from the jagged, unforgiving coastline, Friedmann turned to course architect Bill Coore and Masters winner Ben Crenshaw. Coore compared the process of designing Sheep Ranch to "doing a puzzle where you aren't quite sure what the picture is." The project presented several challenges, including how to maximize the course's 1-mile stretch of narrow shoreline real estate while not overcrowding the holes. In addition, Coore and Crenshaw wanted to avoid placing the greens strictly parallel to the ocean because of the extreme wind conditions. The solution? They grouped up to three tees in small clusters; the holes then radiated out at different angles. The effect was a smart and unique routing that showcased Bandon's unrivaled landscape.
Special Features
The par-71 course plays 6,785 yards with nine greens perched high above on beachfront cliffs and all 18 holes positioned for awe-inspiring ocean views. Instead of sitting linearly along the Coast, the holes move in and out with the peninsulas, offering golfers an opportunity to play over the cliffs on some tee shots. Also unique to Sheep Ranch? Coore and Crenshaw used the area's grassy hollows to create natural hazards instead of formal bunkers.
No Sheep Here
One thing that you won't find on the course is sheep. Early on, the idea of having sheep on the course was inspired by Brora, a Scottish course where sheep and cows roam freely. In fact, the local Wyatt family farm offered its herd to keep the grass short over the winter. In the end, the only flock that will walk Sheep Ranch are those golfers eager to be among the first to test their mettle on the world's most-talked-about golf course of 2020.
How to Play
To book a tee time, call (855) 220-6710. Reservations for golf-lodging combinations open on Jan. 1 of each year for the following year. If you're looking to book golf only, you'll need to wait to reserve until six months before your desired tee time.
Summer Tournament
In addition to the grand opening of Sheep Ranch this summer, Bandon Dunes is hosting the 120th annual U.S. Amateur Championship (Aug. 9-16, 2020). A total of 312 golfers will play two qualifying rounds on both Bandon Dunes and Bandon Trails. The top 64 qualifiers then will compete in match play on the Bandon Dunes course alone. For ticket information, click here.
Where to Stay and Dine in Bandon
While you're in Bandon, take time to explore Oregon's ruggedly beautiful Southern Coast. Outside of the Bandon Dunes Golf Resort, you'll find an array of lodging options with full amenities. Bandon Cottage is designed for golfers and their families in mind; Windermere on the Beach includes family cottages with full kitchens, decks and ocean views; and Coquille Point Condominiums is perched on a cliff above the Oregon Islands National Wildlife Refuge with views of the shore's sea stacks. Find excellent dining in Bandon at Edgewaters, Foley's Irish Pub and Lord Bennett's.
– Shellie Bailey-Shah