March in Oregon brings spring break for students and teachers — the perfect opportunity to recover from Zoom fatigue and reconnect as a family. There's arguably no better place in the state to relax and recharge than Oregon's Central Coast. With its wide-open beaches, captivating tide pools and hiking trails that promise stellar views, the region offers an ideal getaway to safely play outside in the fresh air. While you'll want to make sure you're visiting responsibly, here are some activities to make your weeklong escape a memorable one.
Forest Hikes in Lincoln City
One of the best launching points to explore the Coast Range forest is Lincoln City, as you don't have to drive very far to become enveloped by trees. West of town is Drift Creek Falls, a 3-mile hike that takes you into the heart of the lush forest. (Always pack your Ten Essentials and wear layers and sturdy shoes, as conditions on the Coast can be unpredictable.) The well-maintained trail includes something for everyone, including an epic waterfall and a huge suspension bridge. Another Lincoln City favorite is Spyglass Ridge, a 1.3-mile hike that takes you under moss-covered tree limbs and past colorful mushrooms — some that are even the size of your hand.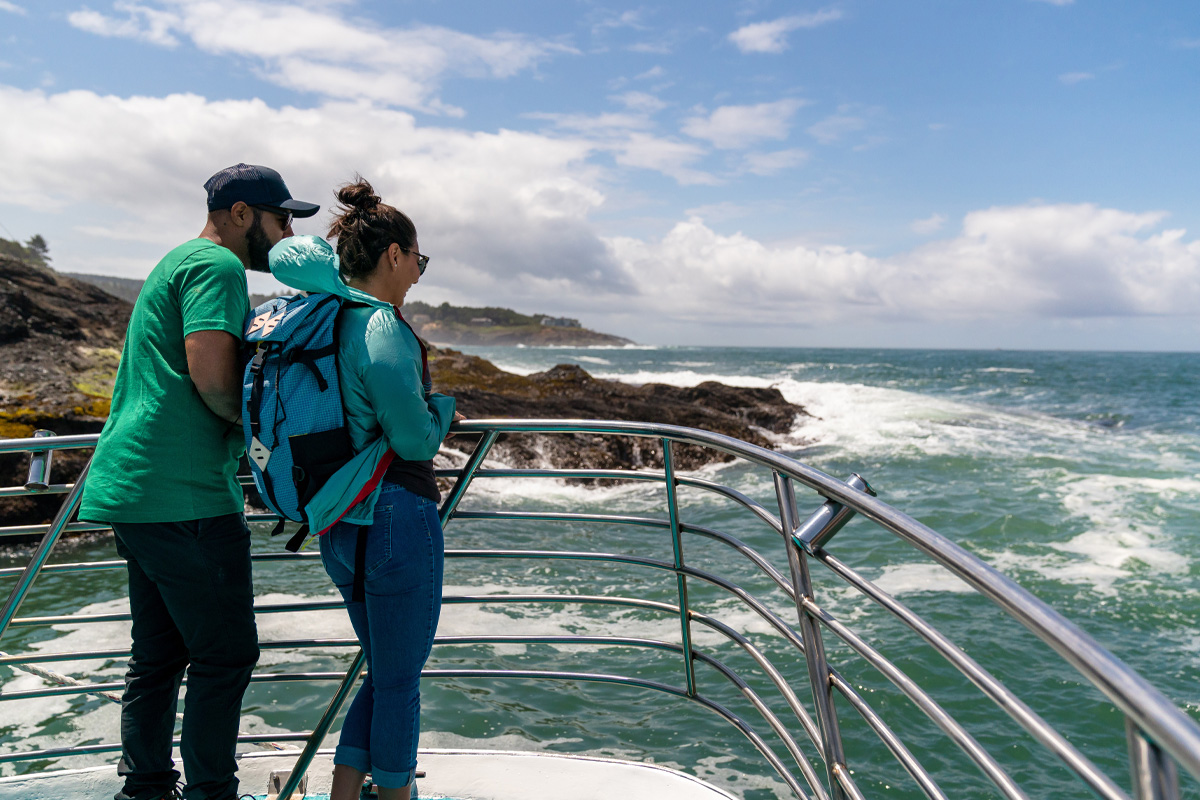 Whale Watching in Depoe Bay
Named the Best U.S. Harbor in 2020, Depoe Bay also has another claim to fame: It's dubbed the "Whale Watching Capital of the Oregon Coast." With opportunities to see the giant creatures year-round, Depoe Bay in March brings the opportunity to glimpse migrating pods of gray whales as they head north to Alaska. Get closer to the magnificent mammals by taking a chartered whale-watching boat tour with an expert guide like The Whale's Tail. Each excursion has a maximum of four passengers to maximize COVID safety. Remember to never turn your back to the ocean, and watch the ocean from a safe place because king tides and sneaker waves can be deadly.
Crabbing in Newport
There is nothing quite like the joy and satisfaction that comes from catching your own dinner. Because there is little freshwater influence, the lower part of Yaquina Bay in Newport presents a "marine dominated" area, meaning there are ample opportunities for shellfishing. You can catch Dungeness and red rock crabs right along the bayfront shore and public pier. For an extra adventure, try your hand at boat crabbing through Yaquina Bay Charters.
Lighthouse Views Near Yachats
Even if you can't tour Oregon's lighthouses due to COVID restrictions, these magnificent coastal beacons are still worth the visit. With a backdrop of dramatic cliffs and the expansive Pacific Ocean, the historic Heceta Head Lighthouse offers visitors a fun outing with a beautiful setting. (Consider booking a luxurious suite in the Heceta Lighthouse B&B and donating to their fundraising campaign to support the private operation, which celebrated 25 years in 2020.) Take the 1-mile out-and-back trail that hugs the ridgeline, presenting photo opportunities every step of the way.
Play in the Sand Dunes in Florence
The Central Oregon Coast is home to an impressive natural wonder that is a favorite adventure spot, especially among families: the Oregon sand dunes. There's something magical about the Oregon Dunes National Recreation Area near Florence, with its shape-shifting mounds of sand and tree islands. Explore the dunes on foot or take an adrenaline-filled dune-buggy tour with local operators such as Sandland Adventures.
– By Emily Gillespie
Top photo: Sandland Adventures courtesy of Eugene, Cascades & Coast