Explore the wild Pacific on seafaring excursions off the Oregon Coast.
Gazing out on the Oregon Coast from an overlook along the cliffs near Shore Acres State Park or Cannon Beach can be thrilling. Experiencing it from out on the ocean waves, among marine creatures and boundless water, can be positively life changing. From whale watching and deep-sea fishing to birding, paddling and — brrrr! — even snorkeling, here's how to experience the Oregon Coast from the deep blue sea.
A Whale of a Trip and Fishing From the Deep
Of all the majesty of the Oregon Coast, there may be nothing more majestic than the migrating gray whales that make their way between Mexico and the Bering Sea every year. The gentle giants — up to 18,000 of them — head south for Baja California, Mexico, from December through January, and they start making the return trip in late March. In the summer and fall, a couple hundred resident grays swim closer to shore to feed.
While you're able to spot these behemoths from Oregon's coastal lookouts, you can also encounter them out on the water. There you can see them breach up close, hear their blowholes blast and maybe even catch a misty spray from a splashing tail. Some outfits — like Whale's Tail Charters in Depoe Bay — use smaller, open-air boats for a close-up encounter, while others, like Newport Tradewinds, have larger boats with cabins that offer shelter from the elements.
Many of the same charter companies that will take you out to see the whales also offer another classic ocean trip: deep-sea fishing. The coastal waters — from rocky coves near the beach to open water miles offshore — teem with a variety of seafood delicacies, including albacore tuna, rockfish, lingcod, black cod and halibut. Tackle Time Bait and Charters in Warrenton specializes in halibut, tuna and salmon; both Garibaldi Charters and Siggi-G Ocean Charters fish for halibut, tuna and groundfish from Garibaldi, as does Newport Tradewinds in Newport. Prime albacore season is July and August, salmon fishing is best in the summer months, and groundfish can be found all year long.
For an unusual — and historic — launch, try a dory fishing charter out of Pacific City with seasoned anglers like Grant Rilette Fishing. Dories are open-hull, flat-bottom boats, which have been part of Oregon's fishing fleet for well over 100 years. Unlike other fishing vessels that launch from a dock, captains launch dories straight off the beach into the surf, which can make for an exhilarating and memorable experience.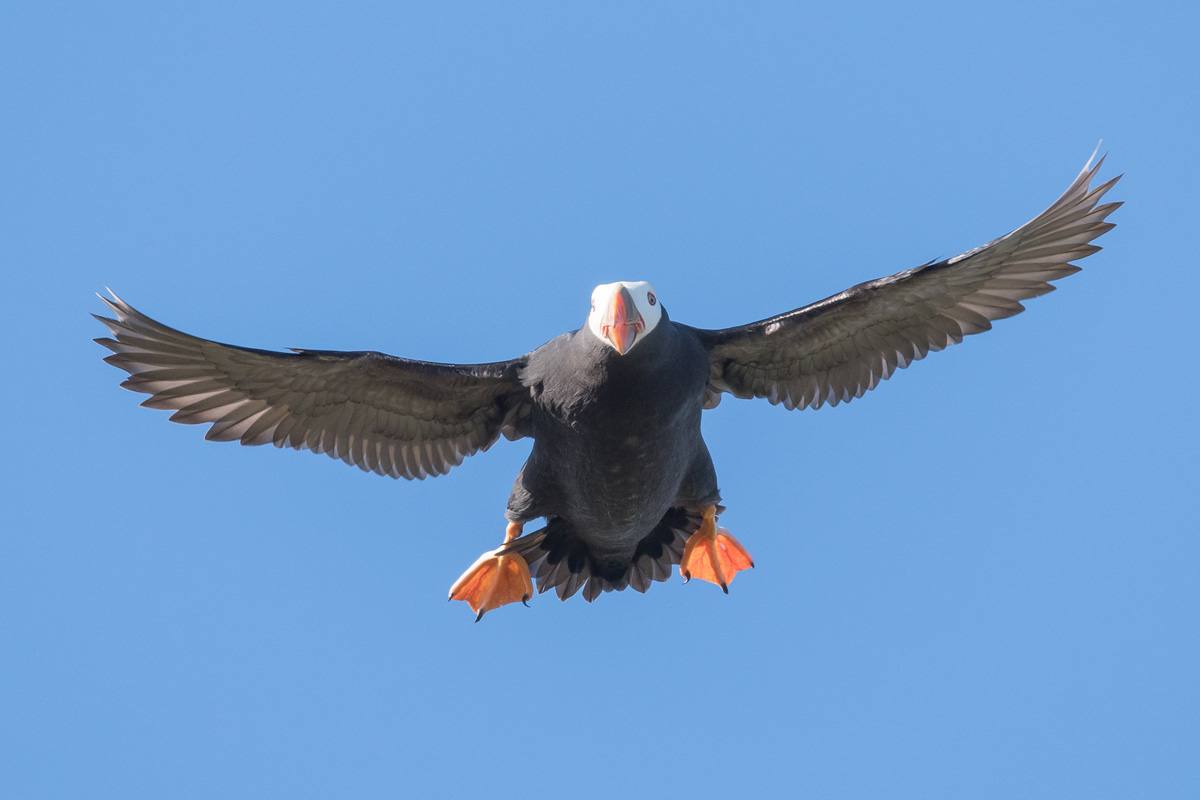 Birding From Charters and Kayaks
From tufted puffins and snowy plovers to albatrosses and long-tailed jaegers, the waters off the Coast are a birder's paradise. That's especially true when it comes to pelagic birds, those that spend much of their lives on the ocean. While many of the Coast's avian residents can be seen from strolls along the beach, being on the water gives birders a unique vantage point.
The most well-known pelagic-birding tours on the Oregon Coast are run by longtime birder Tim Shelmerdine and his Oregon Pelagic Tours, which will offer trips out of both Garibaldi and Newport between August and October in 2023. Those leaving from Newport head out toward Perpetua Bank, an underwater shelf about 20 miles out. Various charters up and down the Coast, including Tradewinds Charters, also tout bird-watching cruises among their excursions.
Another way to take in the Oregon Coast's feathered friends — and get out on the open sea — is with a paddle. Conditions permitting, several scenic spots offer up fresh ocean air, bobbing seas and gorgeous views that are only accessible from the water. South Coast Tours in Port Orford runs a host of ocean-kayak trips starting in late spring through early fall, from a chill Pacific paddle near Chetco Point to an advanced 15-miler among the rocky arches and haystacks of the Oregon Islands National Wildlife Refuge. On their own, skilled paddlers can also explore the many nooks and crannies along the Oregon coastline at rocky outcroppings like Cape Falcon or Cascade Head.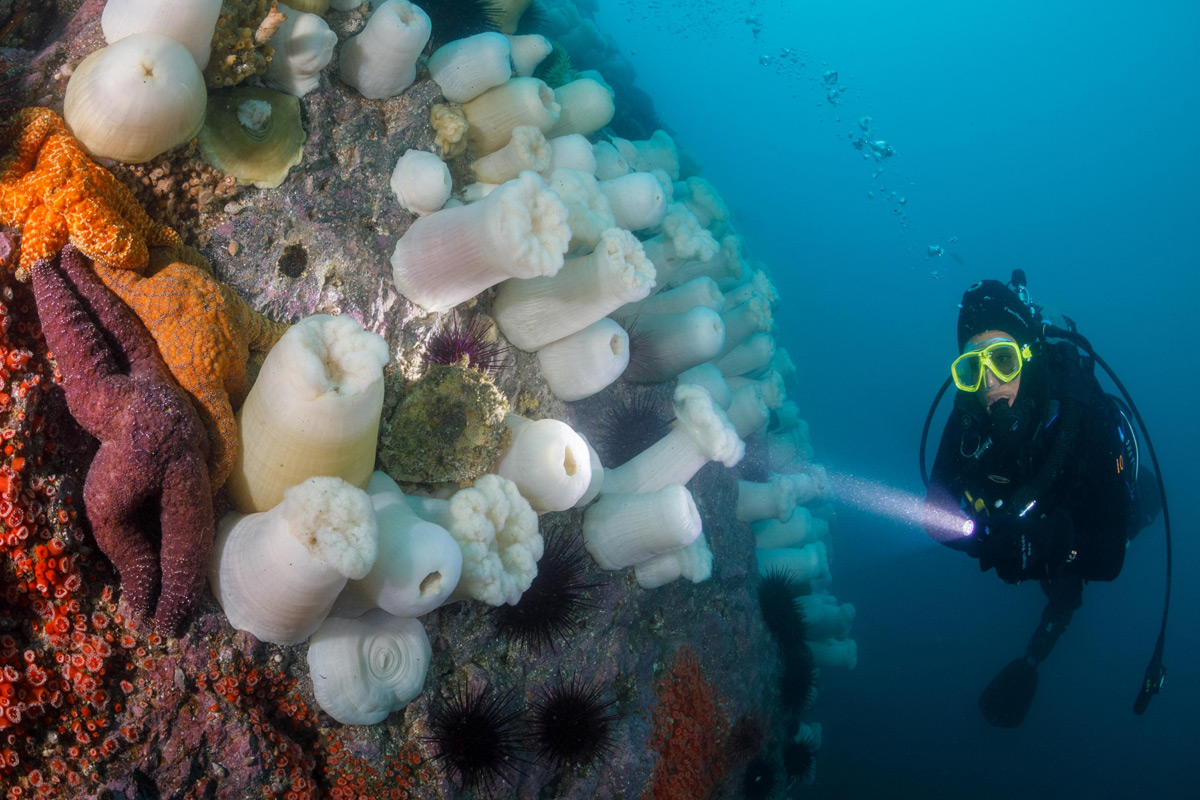 Deep Dives Into the Pacific
Surfing from the shore can be thrilling, but for those who really want to experience the marine life of the Pacific Ocean firsthand, snorkeling and scuba diving are the way to go. The ocean's cold even in the summer months here, so wet or dry suits are imperative, and the visibility isn't quite what you'll find in the South Pacific.
Even so, there's underwater adventure to be had, including Astoria Scuba's wreck dives as well as South Coast Tours' two-tank scuba dives and its kayak and snorkeling trips to the Port Orford Heads along the Southern Oregon Coast. Dives are usually held May through September; plan well ahead to make sure you have the training and equipment needed for diving.
– By Jon Bell