Getting away from it all — even on a summer weekend.
Although Oregon's 363 miles of coast are open to the public and explorable, many visitors tend to congregate at the popular tide pools and sea stacks closest to metro areas where their trips originated. While those beaches are certainly worthy of their headliner status, they're only part of the story.
Getting some peace and quiet in a natural setting will always help to cure what ails you. With plenty of options on the Central and South coasts — and even some hidden pockets on the North Coast — you'll be able to find beaches with spectacular scenery and wildlife watching you with curiosity. Here are some of the special places to enjoy spending time alone with nature and your own fine self, even during the busiest times of the year.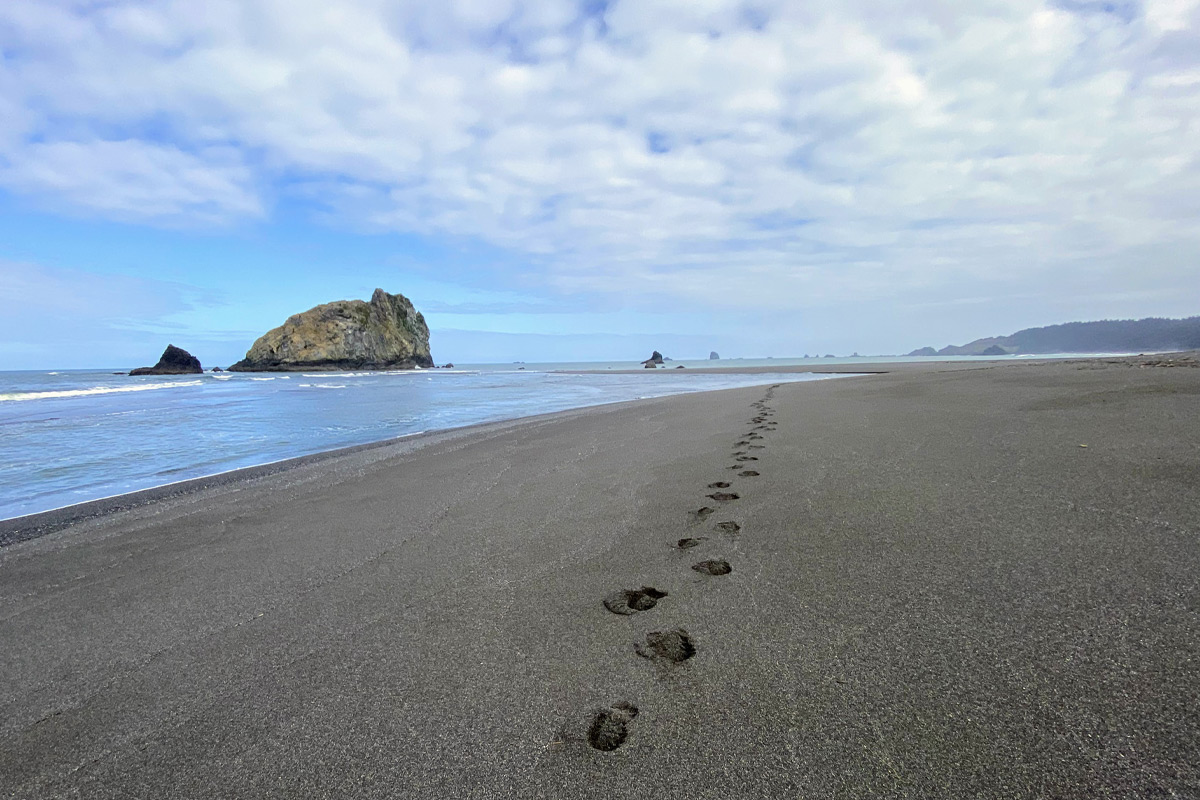 South Coast Solitude
Just north of the town of Gold Beach, Otter Point State Recreation Site's Bailey Beach North is a roughly 3-mile stretch of soft sand and rocky tide pools between the Rogue River to the south and the imposing cliffs of Otter Point to the north. You won't find much about this gorgeous spot and nearby trails online, so here's the scoop. From Highway 101, drive north on Old Coast Road for 1.2 miles to a small pullout with limited parking on the east side of the road. Directly across from the pullout, take a creekside path a short distance down the beach, where you'll find the sign marking Bailey Beach North, curious sandstone rock formations and few people. 
Just under 10 miles north of Port Orford, Cape Blanco State Park itself doesn't necessarily qualify as secluded. Thanks to a distinctive lighthouse, exemplary coastal forest, and cape overlooks that provide views up and down the shore, it's a destination. The 1.5-mile-long Sixes Beach that extends from the base of the cape northward to the mouth of the Sixes River requires a little effort to get to, however, and thus remains largely devoid of visitors. A steeper trail from the top of the cape will get you down to the beach posthaste, or take a longer, lazier meadow stroll from a trailhead down by the Sixes River.
The River Trail starts just down the hill from the Hughes House on the east end of the park. You'll traverse marshy scrubland (wear tall boots if you go in the rainy season, from late October to May) that occasionally serves as grazing land for local cows and walk along the banks of the Sixes to access the beach. Either way you go, once you're there, you'll have the lighthouse high above on the cape to set the mood for selfies. Look for harbor seals fishing for salmon at the Sixes River mouth and any number of marine birds that perch on a pair of towering sea stacks and jutting rocks that stretch the length of the beach.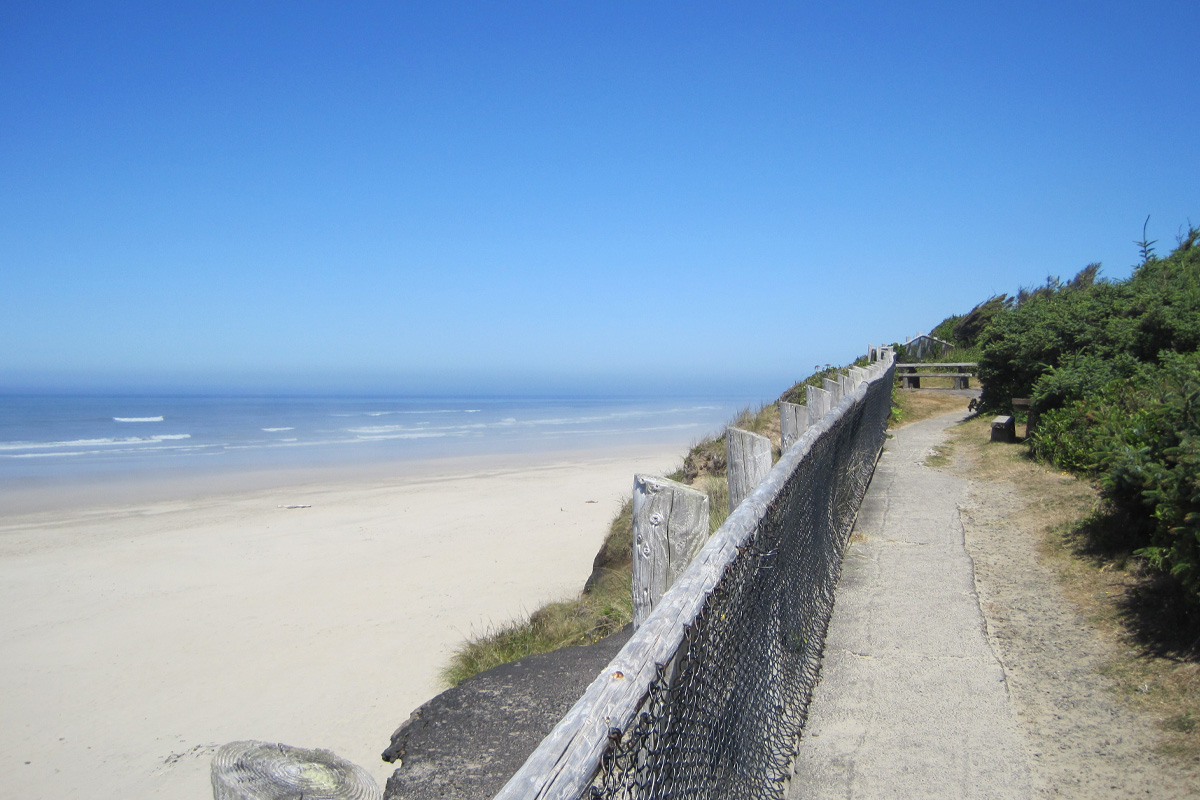 Agates and Converging Waters on the Central Coast
Seven miles south of Yachats, the Stonefield Beach State Recreation Site is a prime pick for rockhounds. Parking at Stonefield is limited, so fewer people can visit at any time. The solitude provides a welcoming environment for agate hunting without worrying your neighbor will beat you to the good stuff. (Need a bag for your beachcombing treasures? Check out the Trezur Bag, invented by Lincoln City artist Riley Hoagland.) If collecting rocks isn't your thing, Stonefield is also where Tenmile Creek empties into the Pacific, where you can wonder at the calming effects of converging waters.
Six miles south of Newport's Yaquina Bay Lighthouse, the stretch of shoreline at Lost Creek State Recreation Site provides the complete package of day-at-the-beach bliss on a relatively small scale. Parking is ample but not overabundant, there are vault toilets on-site and several picnic benches sit beside the wooded path leading down to the beach. The short walk ends where Lost Creek enters the Pacific Ocean. From there saunter along a firm, flat beach with wide-open ocean views a mile in either direction.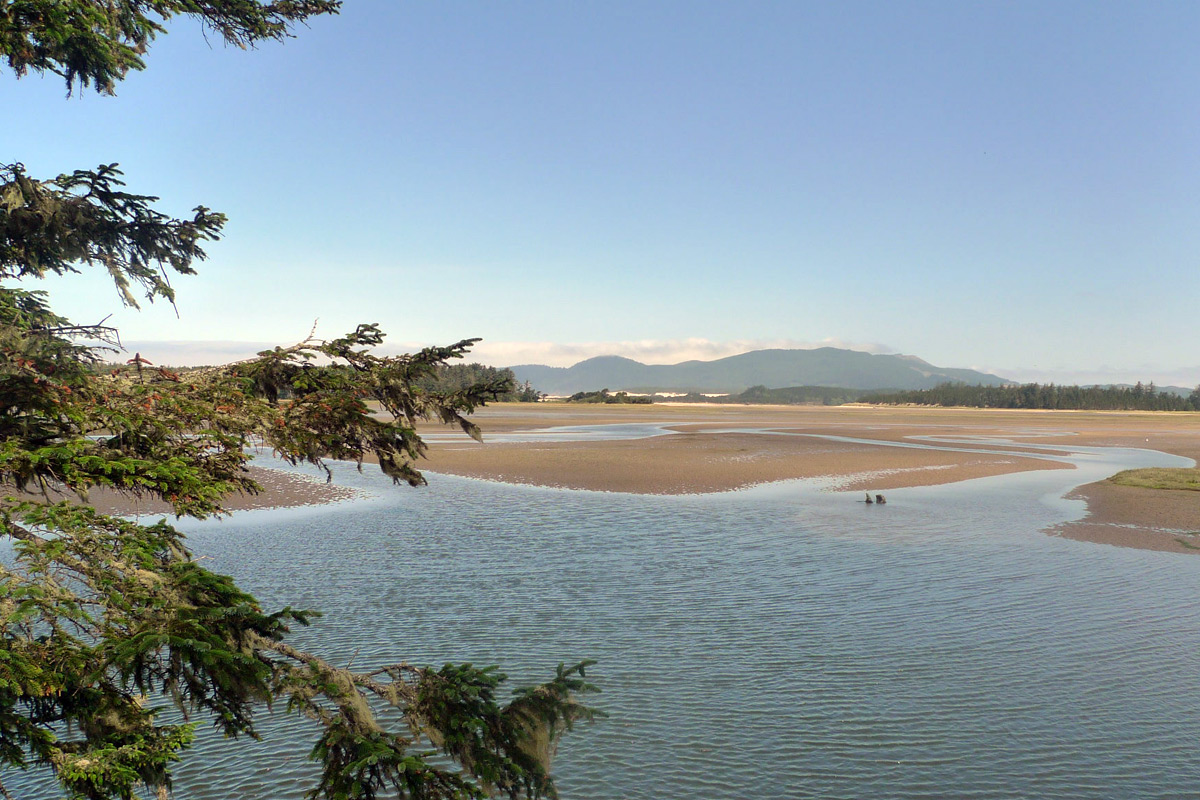 Estuaries and Dunes on the Tillamook Coast
Beach and forest are just the bookends of the Oregon Coast habitat collection. If you know where to look, you'll also discover tidal flats, saltwater marshlands, forested dunes and more. The Sitka Sedge State Natural Area, a 357-acre stretch of land between Cape Kiwanda State Natural Area near Pacific City and Cape Lookout State Park near Netarts showcases them all. Miles of looping trails not only lead to the "other" Haystack Rock and the wildlife-rich Sand Lake Estuary, they allow you to meander through a fairy-tale landscape of dense thickets of dwarf Sitka spruce, shore pine, brightly colored beds of moss and lichen, hidden beaches, and forested tunnel passages.
Also near Cape Kiwanda, Nestucca Spit resides within the Bob Straub State Park about a mile and a half south of the cape. The spit includes a forested inland section that ranges from wetlands to moss-covered Sitka spruce corridors; rolling, grassy dunes; and an unpopulated beach with wildlife viewing aplenty.
If You Go: On secluded beaches, it's especially important to know the basics of beach safety. Check the tides and watch where you're going so you don't get stranded. Always beware of sneaker waves, and stay off rocks and small, enclosed beaches. Respect the sensitive micro-environments, whether it's birds or anenome you encounter. In particular, it's critical for people and pets to avoid areas that are closed due to western snowy plover nesting season, March 15-Sept. 15.
– By Adam Sawyer