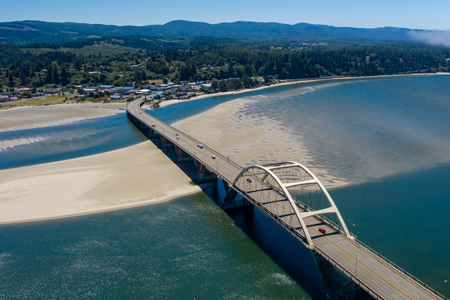 Whenever it's safe to travel, the Oregon Coast's 363 miles of public beaches will be here waiting for you. So will the sunrises and sunsets, the scenic trails and wildlife-filled estuaries. Before you make plans to travel, here are your top tips for a great trip.
Be informed. Check Oregon's updated wildfire map before you head out for any closures and detours, and take extra caution to avoid prevent human-caused fires with resources at Keep Oregon Green. Know what your destination's public health order is, and follow it. In Oregon the governor's phased reopenings show the status of each county. Most of the coastal counties are in Phase 2, which means some recreational sports, movie theaters, bowling alleys, arcades, pools and other indoor spaces are reopened with physical distancing in place. Find these fantastic ways to social distance at these wide-open, less-crowded spaces on the Coast.
(Hint: While Oregon's North Coast typically sees more visitors due to its proximity to Portland, consider adding another hour or more to your drive and escape the crowds by exploring Oregon's beautiful Central and South Coast regions.)
Wear your face covering. To keep coastal communities safe for everyone, wear your mask properly over your nose and mouth. Face coverings are required for ages 5 and up in all indoor public spaces in Oregon, and outdoors when it's not possible to stay 6 feet apart. Also, carry and use hand sanitizer.
Pack it in, pack it out. Pack out everything you bring, including food containers, gloves, face coverings, and bits of food scraps like pistachio shells and orange peels, because it's unsightly as well as harmful to local wildlife. (Never feed wildlife — including seagulls — because it can attract scavengers to the nesting areas of threatened bird species like marbled murrelet and western snowy plover. It could also make wildlife aggressive toward humans.) Local trash receptacles and services are overwhelmed, so do your part to lessen the load and take it home to your own garbage can.
Beach safety is key. Gazing at the Pacific Ocean is a favorite pastime, but while you're on the beach, follow these beach-smart tips: Stay off logs, watch for sneaker waves and never turn your back to the ocean. Be aware of signs noting limited access to designated areas during snowy plover nesting season, March through September.
Go before you go. Know that public restrooms may be limited, so go before or after visiting your destination. If nature calls when there is no bathroom around, walk at least 200 feet (or 70 big steps) from any campsite, trail or body of water. However, the beach is not a great spot.
Park with caution. Be mindful where you park. If you're blocking an emergency access or driveway, you may be towed and face steep fines. Park in designated areas only. If the lot is full, head south and you're sure to find another great site with parking available.
Stay on trails. Keep local ecosystems healthy and pristine for generations to come by staying on designated trails — don't create new ones. Going off trail is also dangerous. Keep pets on trails, too, and obey posted leash laws on the beach and on trails.
Be flexible, patient and kind. Many coastal businesses are small. Your patience and manners are needed as they work hard to keep you and their employees safe. Oregon State Parks ranger staffing is limited and many dedicated volunteers are helping to maintain public spaces. Operations are reduced and closures can happen unexpectedly.
Be prepared. Come with your face covering and hand sanitizer as well as your Ten Essentials, trail maps, plenty of water, snacks and proper gear for whatever adventure you have planned. See our guide to paddling on the Coast if you'll be recreating on the water, and call local shops for rental-gear information. Also, plan your route, tell a friend where you're going and consider talking with an expert or booking a guide for a hassle-free experience.
Try a new season. If you can't visit this season, revel in knowing that the Oregon Coast is a wonderland all year round — from its fall colors and stormy vistas to wildflower meadows and balmy, salty air.
— Jen Anderson