Day 5 began with a memorable stroll along the 804 Trail in front of the Overleaf Lodge & Spa. I ate a quick breakfast, packed up my stuff, and shed a single tear as I was being forced to check out of the Overleaf. Ah but when one door closes……
We were now off to the Cape Perpetua Scenic Area. This made me do an internal happy dance as there was a decent chance that I would get to go hiking. The weather was foggy and occasionally spitting, but I find those to be prime hiking conditions. The official plan was to drive to the top of the Cape for some photo ops and a bit of trail exploration. We did that and then I convinced the rest of the group to let me do some more hiking and meet up with them at a designated spot.
This was one of my favorite moments from the trip. Not just because I'm the "Hiking Guy", but because the trail and the elements were just so damn incredible. It really was a surreal walk through the woods and the mist.
Recharged and inspired I hopped back in the van and we continued down the coast to the Sea Lion Caves. If you haven't heard of the Sea Lion Caves I'll go ahead and save you some research time. If you're passing through Florence, you stop at the Caves. It's the world's largest sea cave for crying out loud. It's a no-brainer. The life-loving Mr. Boomer Wright, General Manager of the Sea Lion Caves, gave us a first rate tour of the facility. The cave itself is as high as a 12 story building and as long as a football field. We took the elevator down to the official cave entrance where as luck would have it, there were a bunch of sea lions strewn across the rocks of the cave.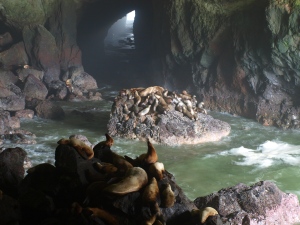 Sure there are interpretive displays and a nice gift shop, and even some viewing areas above ground. But watching sea lions be sea lions in a giant cave is really all I need. It's just cool.
It was now time for lunch, thankfully. Because hiking and watching sea lions loaf on rocks will work up an appetite. We made our way into Old Town Florence for lunch at 1285 Restobar where we enjoyed some wonderful appetizers, artisan pizza, and conversation.
Now it was time to watch other people exercise. We visited Sand Master Park where we met owner and sandboarding innovator, Lon Beale. Now if you don't live near sand dunes, well even if you do, there's a chance you're not all that familiar with the sport of sandboarding. Smirk if you like, but we mock what we do not understand. It turns out that sandboarding is in fact a relatively low cost, safe, and fun activity for just about anyone in the family. We were there on a day that had been raining off and on. But as is the case with most sports, you have specialized equipment for varying conditions. Sandboarding is no exception.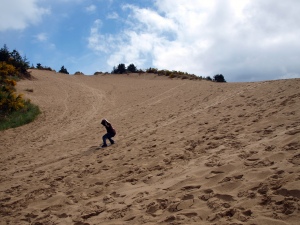 The young and talented Joey Peterson came in to give us a demonstration of sandboarding on a board designed for wet sand. No kidding. We all traveled out to an agreeable looking sand dune and watched Joey do what he does. This is another one of those activities that I'm definitely bringing my daughter back with me to try out.
We went from Sand Master Park over to meet with the fine folks at ApexHeli. If you couldn't gather from the name, ApexHeli offers helicopter rides. Yep, this was shaping up to be an eventful afternoon. Apex Helicopters offers a wide range of services and tours – North Coast, South Coast, Sunset, custom, etc. We took what was essentially a custom 15 minute helicopter tour of the dunes and the city of Florence. That might not sound like a long time, but 15 minutes in a helicopter over the Oregon Coast is a lot of living.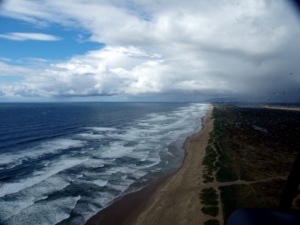 This was my first time in a helicopter and I have to admit to some pre-flight butterflies. Once we were in the air for about 30 seconds, however, all the jitters turned to elation and school girl-like squeals of delight. Look at that picture and tell me you wouldn't squeal too.
High on life and adrenaline, it was time to check into our quarters for the evening. We stayed at the Best Western Plus Pier Point Inn, which offered evening-making views of the Florence bay front and the Siuslaw River. And also cookies! We freshened up
apped and then loaded into the van and drove back across the river for dinner at Spice.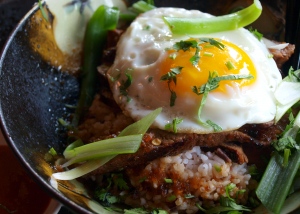 This was certainly one of the epicurean highlights of the trip. We sipped on a variety of specialty cocktails, nibbled on an array of mouthwatering appetizers, dined on inspired entrees, and savored every morsel of house made desserts. Many thanks and compliments go to Executive Chef and Manager, Kathy Costalanga.
Now I was buzzing from everything: hiking, sandboarding, helicopter flying, eating, and imbibing. It was now time to go to my room, watch a sunset, drink a glass (or two) of wine and sleep. Check out the next morning was at 8:45am.
To read more of Adam's Adventures, click here.