Forests, hills and ravines provide challenging fun.
Way back in the early 1990s, North Bend became the first town on the Oregon Coast to offer a disc-golf course with nine holes at Winsor Park. How times have changed.
Today scores of courses pepper Oregon's western flank from Astoria to Brookings, with new offerings slated to come online over the next few years, like a big, tournament-style course that features an old blimp hangar in Tillamook.
The boom makes sense. "It's low impact, inexpensive and anyone can do it," says Jason Nehmer, founder of Pacific Upshot Consulting, a firm specializing in disc-golf courses that has created seven across Oregon.
Here are three courses worth visiting on the Central Coast between Newport and Florence. Be sure to check out the app UDisc, which offers course maps and leaderboards.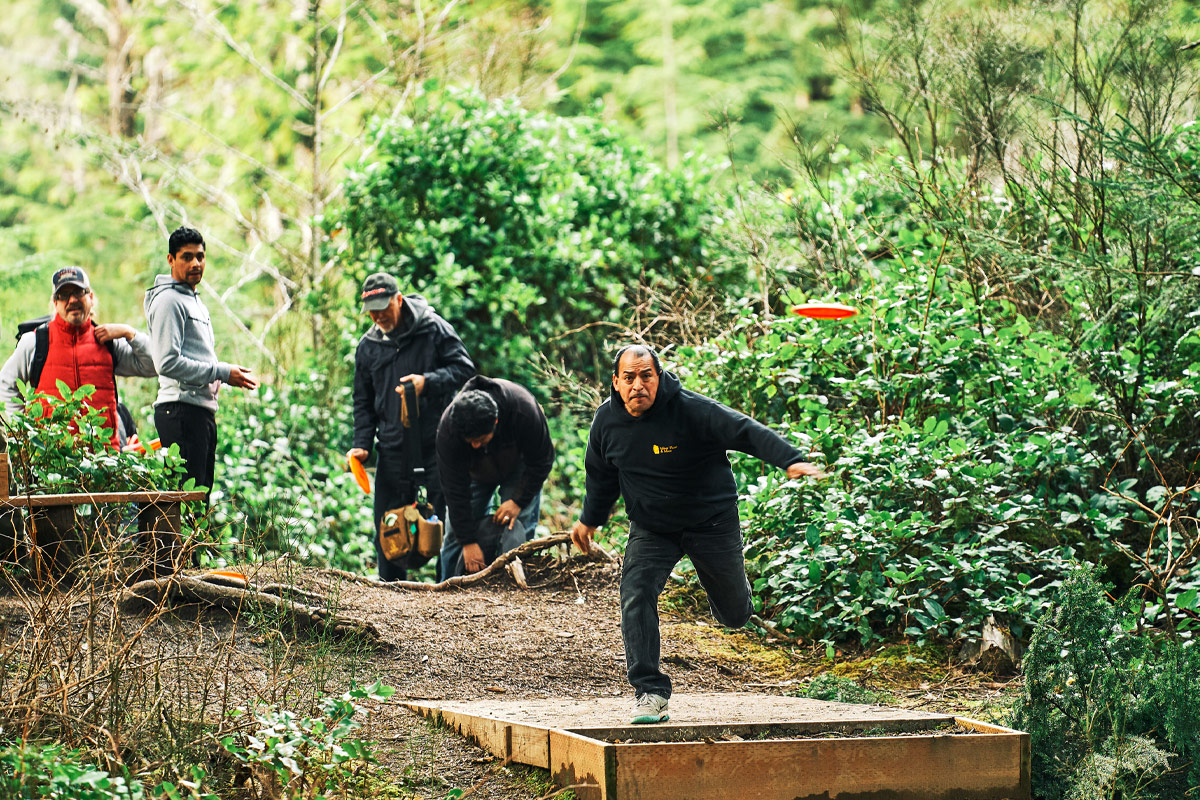 Playing the Wilds of Wilder in Newport
Tucked among stands of coastal pines, hemlocks and fern-flanked Sitka spruces, the Wilder Disc-Golf Course, near Newport's South Beach State Park, is as much an awesome, woodsy hike as it is 19 holes (yup) of challenging, disc-flying fun. It's hilly and technical and "really rewards accuracy and length," says Shannon Skaife, a board member with the Central Oregon Coast Disc Golf Club.
The 61-par course opened in 2018 on the east side of Highway 101 and includes a solid 5,776 feet of fairway with several "mandos," where you must hurl your disc around specific obstacles or face a penalty.
The highlights for your efforts abound. Hole 1 takes you over a ravine while Hole 7 is more technical with a 90-degree dogleg. Hole 9 offers the best chance at an ace with a straight 120-foot shot. "It's not as easy as it sounds," Skaife says.
The course is free, but to play you'll need to email the course your ID ahead of time.
If you're looking for something more mellow, head across the highway to Twisted Pine, one of the most popular disc-golf courses on the Coast thanks to its family-friendly, shorter, flatter design. The 18-hole, 54-par course gets rave reviews for its fun layout and creative shots, including a basket that's hanging in a tree. When you're done, head to Wolf Tree Brewery for spruce-tip beers and a big plate of nachos.
Flying Along the Dunes at Florence's Munsel Creek Greenway
Traditional golfers fawn over Bandon Dunes for its sweeping ocean views. Starting in late June, disc golfers will have a new, top-notch equivalent on the Central Coast at Munsel Creek Greenway Disc-Golf Course in Florence, with holes that take you right up against spectacular wind-sculpted sand-dune country.
"It's really a wonderland," says the Oregon Coast Visitor Association's Jesse Dolin, who helped spearhead the project, the city's first. "You can have beautiful water features, rhododendrons, even bog blueberries. It's hard to believe it's in the middle of Florence."
The 54-par course covers 5,334 feet of fairway, and it takes you through a central wooded area of Douglas fir and coast pines on Hole 1 that leads players out along the rolling dunes. It only gets better; Hole 2 reveals a dramatic landscape with a small creek and more dunes, and a 350-foot shot across a low area that can become a pond in wetter conditions. Hole 13 takes you across a sandy valley to a basket up on a small ridge that tempts you to overshoot it.
Designers kept clearing to a minimum to preserve the organic beauty of the area too. "It's as if nature designed it," Dolin says.
When you feel your energy waning, make your way over to the Homegrown Public House, a stop on the Central Coast Food Trail, for a protein power salad.
Forests and Ridges at Red River in Waldport
Having been a frequent visitor to Waldport's Skatepark, disc-golf course designer Nehmer knew the wooded, rugged area surrounding Crestline Park would make for challenging play. And that's exactly what Red River Disc-Golf Course now offers with 55-par play on a system of ridges and highlands over the town.
"It's challenging with lots of technical aspects, but it's gorgeous, too," Nehmer says. Holes hide behind monster cedars and big, old-growth trees. You must shoot across ravines and plot flight paths that thread between disc-gobbling branches. "You feel like you're in Middle Earth."
Nehmer considers the course a mini version of Wilder, with shorter fairways totaling about 3,397 feet. Hole 9 takes you up a sandstone cliff while Hole 13 offers one of the only par 4s on the course, with a technical shot through the woods. Coolest of all, six of the 18 holes have options for longer shots to second, alternative holes, meaning you could play the course twice and have a very different game.
The Woodland Trail runs through Crestline Park for about 1.3 miles round-trip. The Hilltop Cafe Bistro serves up kimchi dogs and po'boys to keep you going.
– Tim Neville