Wonder and fun beckon for your next family vacations in Oregon
Along a scenic, 158-mile stretch of highway dotted with welcoming towns, a Southern Oregon Coast vacation of a lifetime awaits the entire family. From Reedsport to Brookings, adults and kids alike can enjoy scenic drives past wave-blasted sea stacks, incredible fish and chips, lone lighthouses, get-the-wiggles-out playgrounds, black sand beaches, and more.
The Southern Coast has so much to offer for an Oregon family vacation. Even better? You can drive the beautiful forested corridors and seaside stretches of Oregon's southern stretch of Highway 101 in a couple of hours. Along the way, you can share experiences that bring your family closer and build memories you can always treasure.
Follow this suggested route to the Southern Oregon Coast
If heading to Oregon by road via California, you can drive Highway 101 from California into Brookings, and travel north along the Oregon Coast. Commercial flights arrive at Southwest Oregon Regional Airport in North Bend, about 38 minutes' drive north of Bandon. If your starting point is Portland or Eugene, it's also possible to drive west to Highway 101 and follow this scenic drive all the way down.
For a truly unique scenic drive, follow this suggested route: From Portland or Eugene, take I-5 south to exit 162, where you'll merge onto OR-38 W. Along with meandering through forests and vineyards, your constant companion from Elkton to Reedsport will be the wide, shining Umpqua River.
Just east of Reedsport, stop at the Dean Creek Elk Viewing Area for a glimpse of up to 100 Roosevelt elk. Once you arrive in Reedsport, turn onto Highway 101 south, where your Southern Oregon Coast family vacation awaits.
On the way: 8 activity ideas in Reedsport and Bandon
During your drive, the little Southern Oregon Coast towns and seaside viewpoints dotting Highway 101 give you lots of options for sightseeing, activities, or simply a break from the drive. Here are a few ideas to keep in your back pocket:
Reedsport
Bandon
Take your camera: Face Rock State Scenic Viewpoint looks out over some of the most impressive sea stacks on the West Coast. (Depending on the time of year, also keep an eye out for walkable beach labyrinths by Circles in the Sand.)
Ride horses on the beach (no experience required): Bandon Beach Riding Stables offers hour-long horseback beach rides for ages 6+.
Visit the crabbing dock to see visitors and locals throwing crab pots into the Coquille River. Crabbers are often happy to tell you about how to catch crab—and show you their day's haul of "keepers."
Hungry? Grab fresh popcorn shrimp, a bowl of chowder, or some fish and chips at the Bandon Fish Market's Fish & Chips Chowder House.
See the impact of plastics on the ocean (and get an idea of how much plastic waste winds up in the sea) with a free visit to the sea-trash-turned-art exhibited at Washed Ashore.
Your journey this far has already been full of beautiful views, the powerful sea, and great ideas for stops along the way. Now, as you drive a little farther south and arrive in the small town of Port Orford, your family can start to experience more of the best that the Southern Oregon Coast has to offer.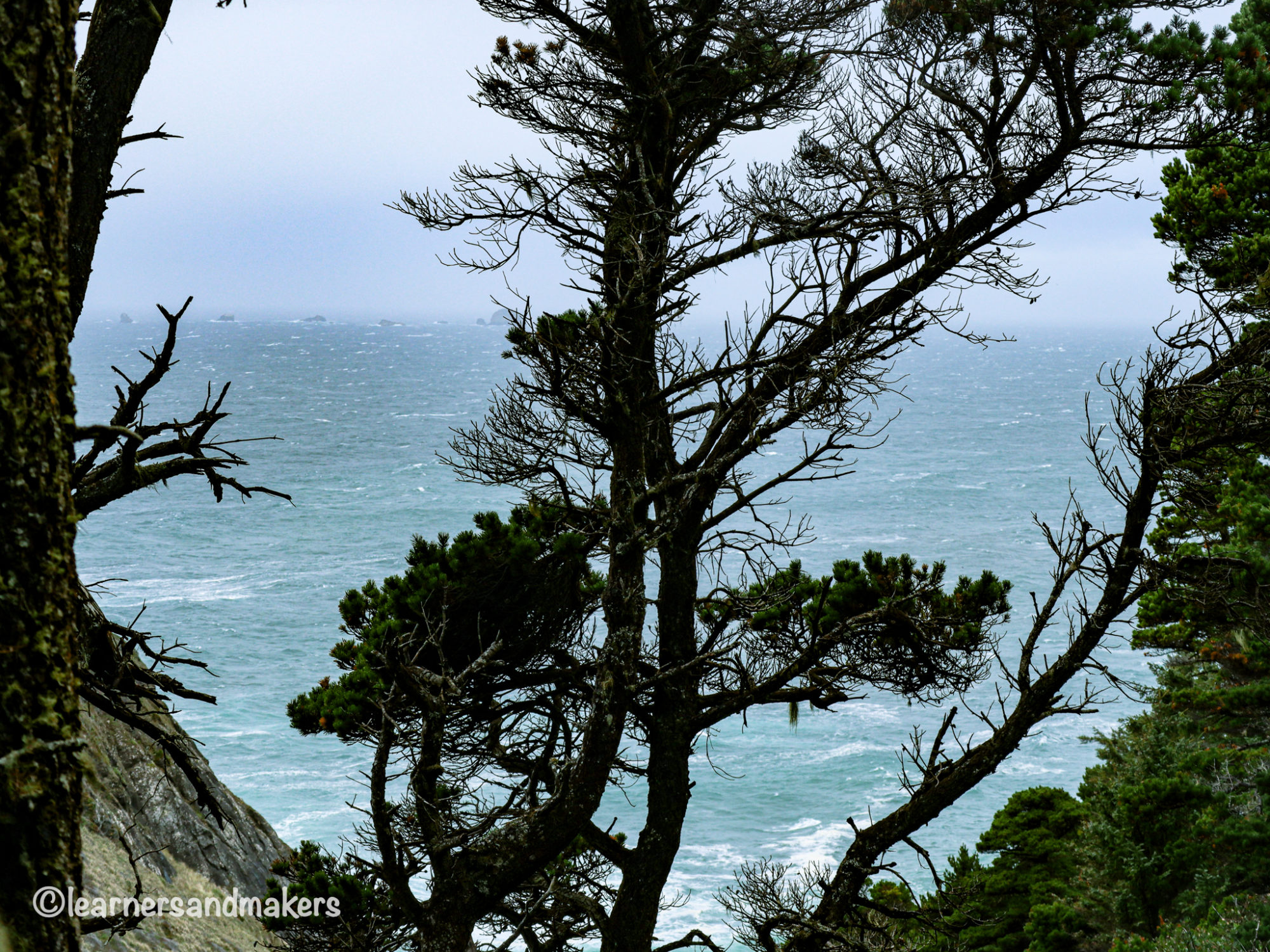 1. Wander the sheltered forest and ocean views of Port Orford Heads State Park
Minutes from Highway 101, at the end of a short drive up Coast Guard Hill Road and the Port Orford Highway, Port Orford Heads State Park takes you to the edge of the sea.
As you move from the parking lot onto one of three trails—Tower, Headland, or Cove—for a moment the ocean can fade away. Three hundred feet above the crashing ocean, you're now inside a forest full of tall sitka spruce and low, wide expanses covered in green ferns. Even on a blustery day, the forest is tall and thick enough to cut the worst of the wind.
Once the path to an observation tower, today Tower Trail is a kid friendly loop. Along the way, spur trails branch out toward other headlands in the park. Every turn reveals incredible views north, south, and of the sea and rocks right around you.
Bonus: From the parking lot you can also see a restored US Coast Guard search and rescue lifeboat, and visit the Port Orford Lifeboat Station Museum. Housed in the former US Coast Guard crew quarters, the museum showcases the challenges faced by the men who once mounted rescue missions in the stormy seas around Port Orford.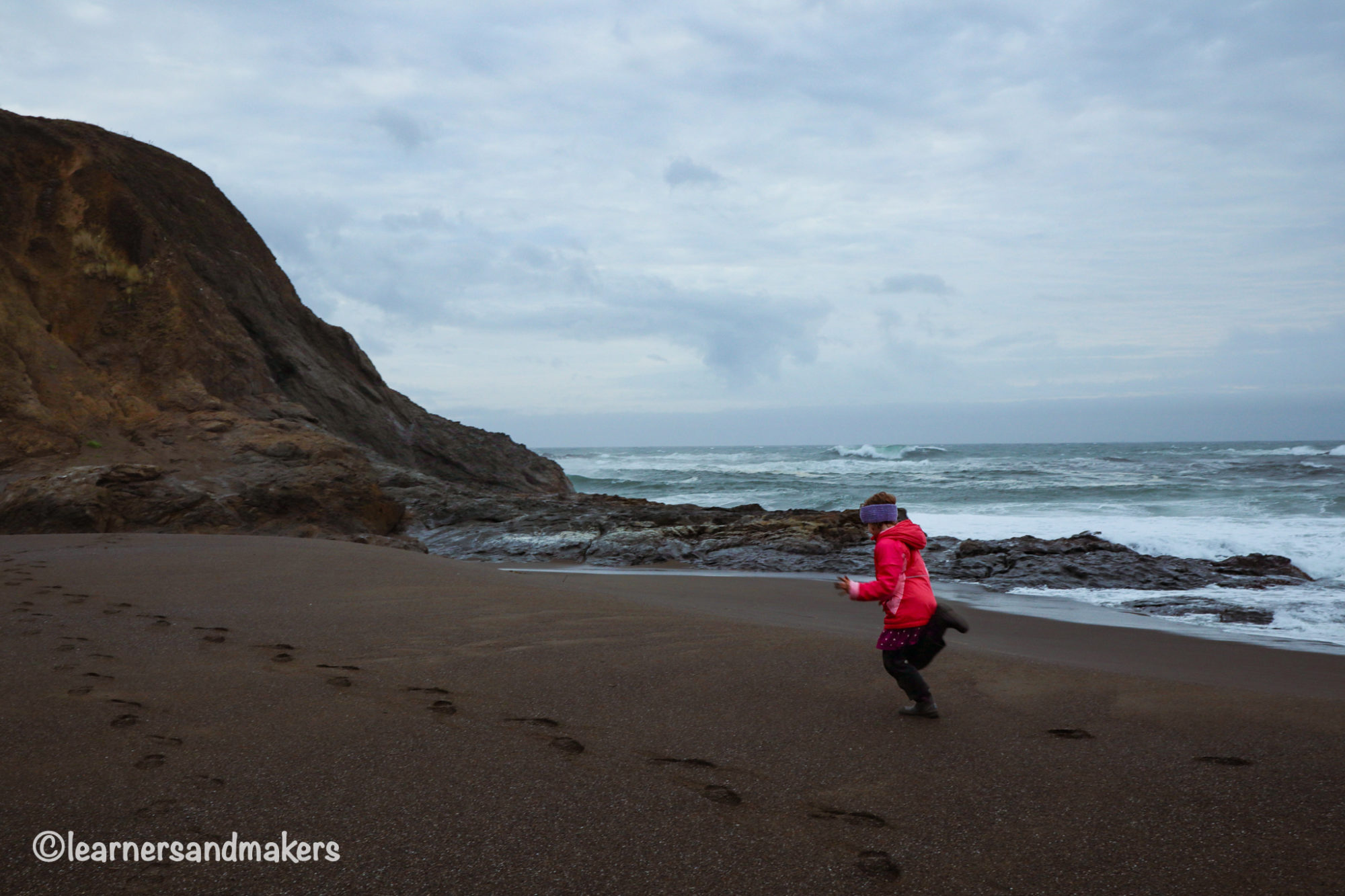 2. Find keepsake treasures on Port Orford's Agate Beach
What's officially known as Tseriadun State Recreation Site is what Port Orford locals call Agate Beach. Turning onto 9th Street from Highway 101, keep right onto Agate Beach Road until it dead-ends at a parking lot (where deer might be foraging). Follow a trail that passes through a stretch of woods, then gives way to dune grasses and sand.
You'll emerge at a wide black sand beach. While keeping an eye on the crashing sea, don't be surprised if you find yourself walking head down, like pretty much everyone else on the beach. Send the kids on a treasure hunt for the bright red, green, or orange pops of colorful agates.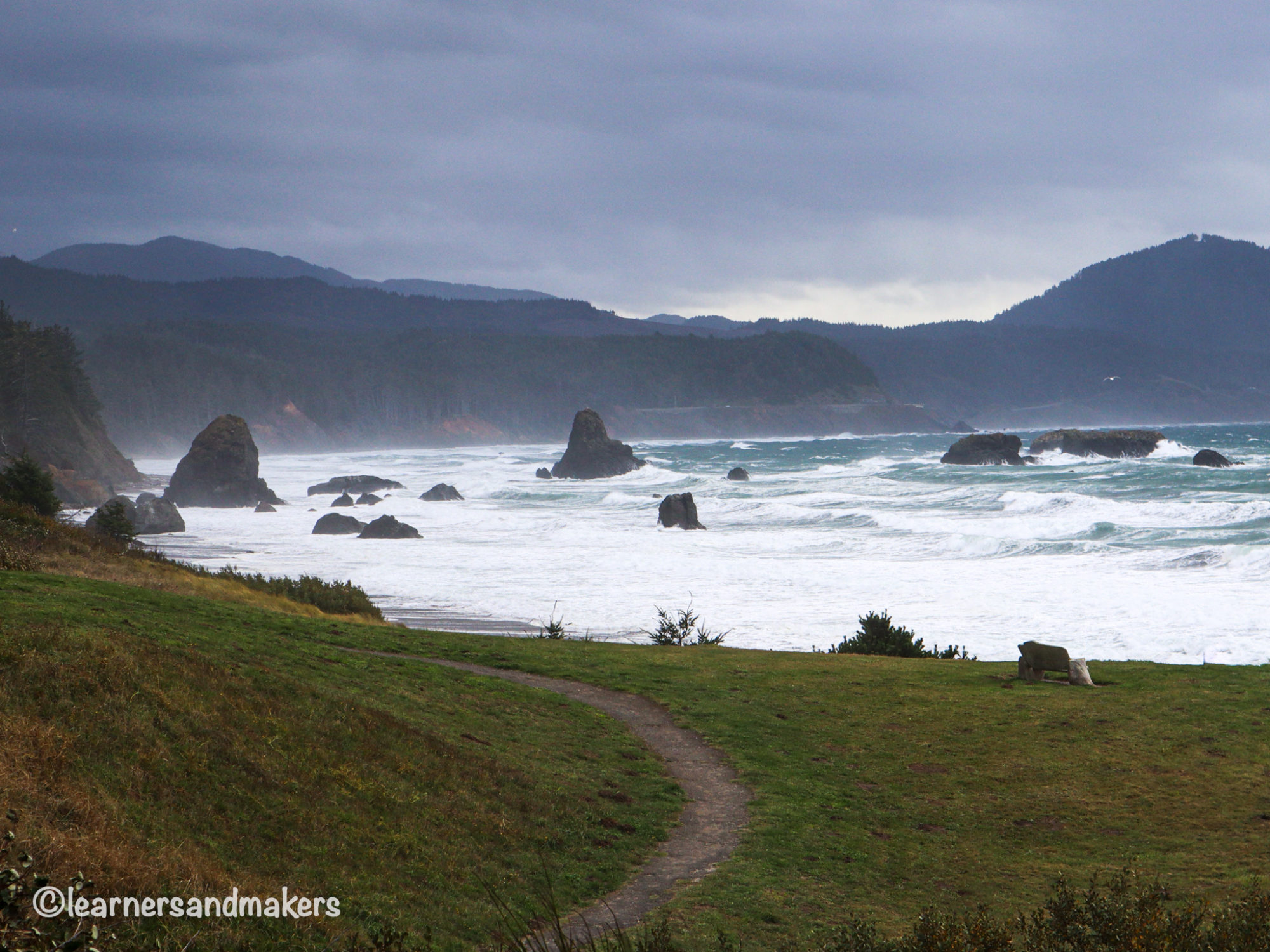 3. Take an ocean break at Humbug Mountain State Park
Just south of Port Orford, Humbug Mountain rises straight out of the ocean to its 1,765-foot summit. The state park is full of thick forests and winding trails that can take you to nearby beaches or up to the summit. Even though Humbug is right on the sea, the mountain is not known for grand ocean vistas. For peaceful coastal rainforest wanders, however, it's hard to top this mountain.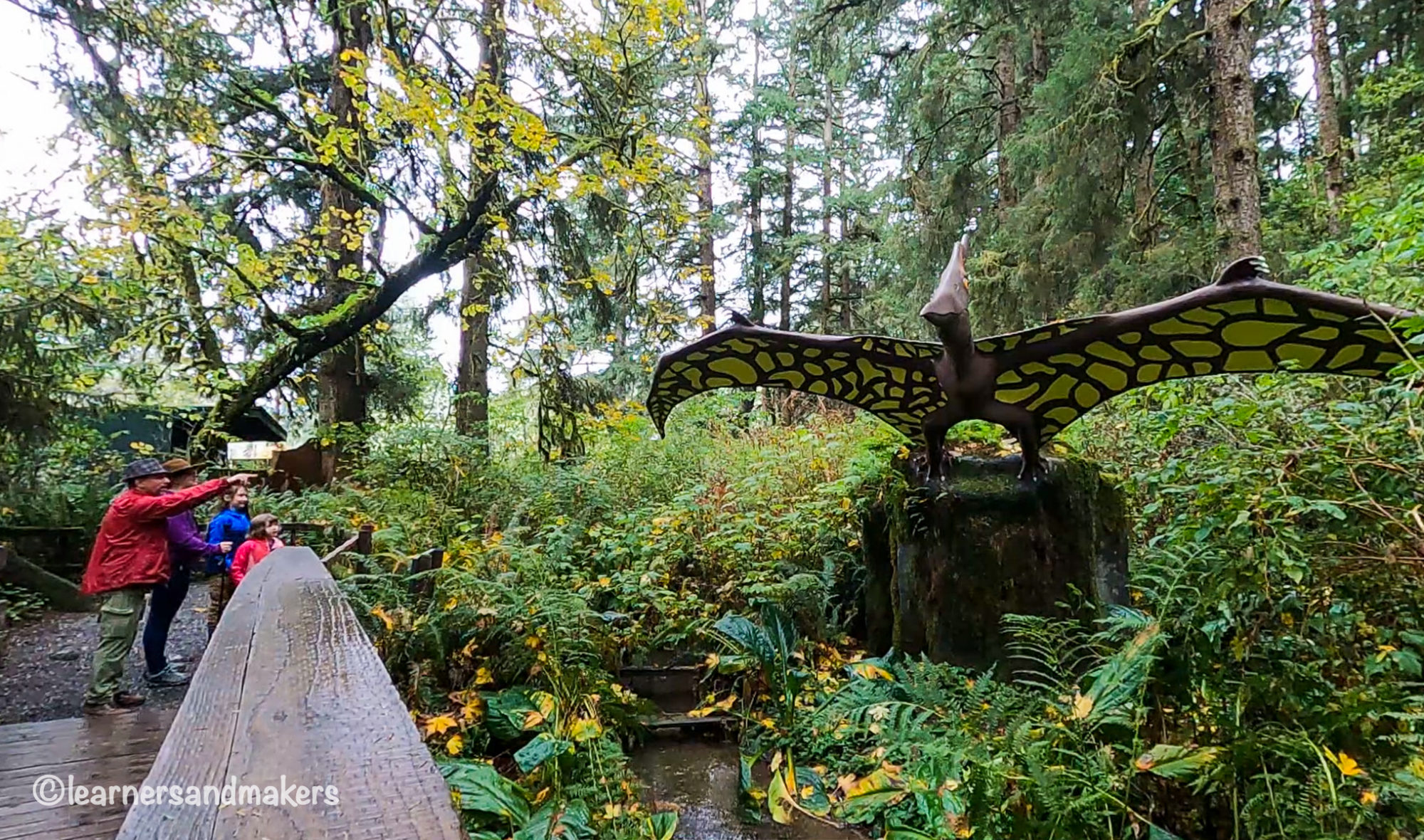 4. Step into a forest full of dinosaurs at the Prehistoric Gardens
Twelve miles south of Port Orford, your road trip down the Southern Oregon Coast becomes a journey back in time.
Just watch out for the Tyrannosaurus Rex at the edge of the road.
Set amidst dazzling conifers and ferns, life-size models of dinosaurs dot the lush coastal rainforest of the Prehistoric Gardens. Pea gravel paths, wooden bridges and claw-print path signs guide you through a Mesozoic menagerie. Informational signs tell you about the dinosaurs, the evolution of plants, and climate then and now. A gurgling stream runs through the Gardens as well. Despite the size of the dinosaur models, the foliage and the bends of the path make every corner a surprise reptile reveal.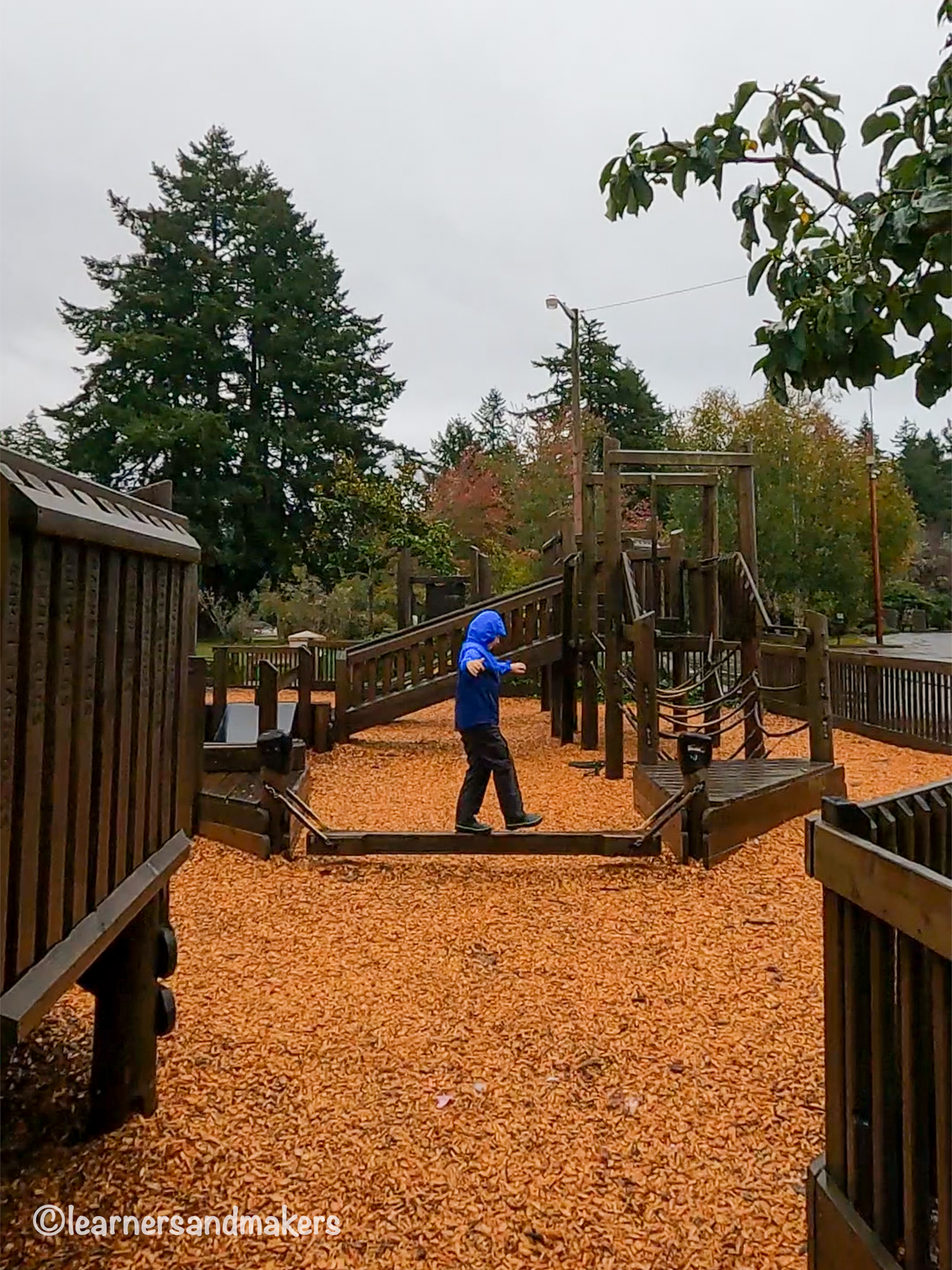 5. Kids can unleash their inner ninjas at huge playgrounds
Big, complex playgrounds in towns along the Southern Oregon Coast also give kids the perfect opportunity to romp, move, and get their wiggles out. Here are four to stop at whenever the kids need a play break:
Bandon
Russ Sommers Memorial Playground at Bandon City Park encompasses a large swing set, tall climbing dome, and a play structure full of twists and turns. Outside of school hours, the recently expanded playground at Ocean Crest Elementary School is near Highway 101 and features multiple play structure areas.
Port Orford
Tucked away in a neighborhood between Highway 101 and Garrison Lake, Buffington Park includes not only a playground and picnic tables, but a skateboarding park, tennis courts, and a mini-golf course. Even better? An equipment cabinet mounted on a tree has free rackets, clubs, and balls for you to use while enjoying the free park.
Brookings
KidTown Playground at Azalea Park is like a combination of a large wooden castle and a ninja-style obstacle course—perfect for kids ready to romp and explore.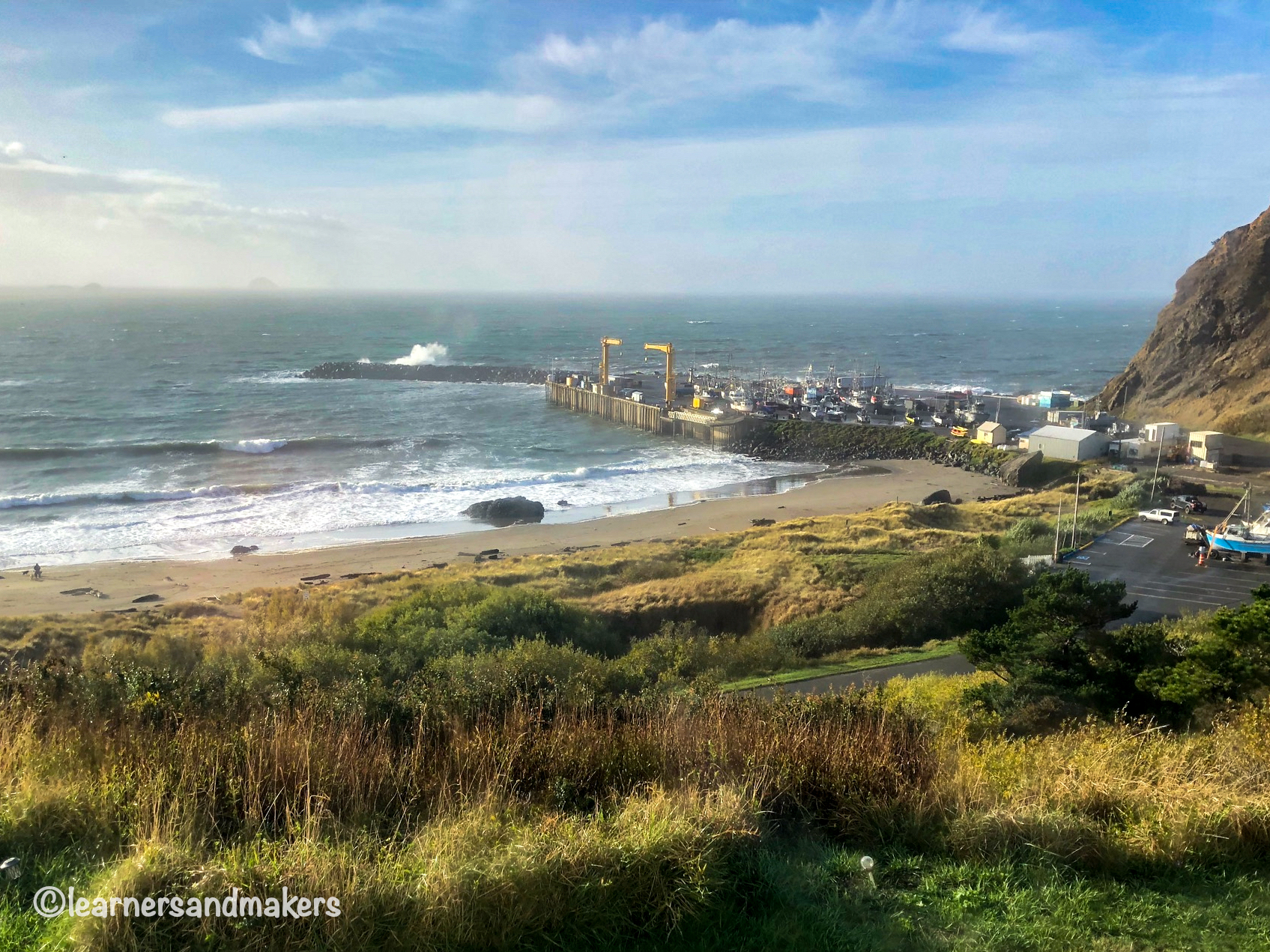 6. Sip a hot beverage and watch stormy seas from the comfort of your oceanfront room
The Southern Oregon Coast has so many amazing places for families to explore—including world-class views of the Pacific Ocean, which you can enjoy from the comfort of your oceanfront room. Whether starting the day or having post-adventure downtime, here are a few spots to stay with excellent oceanfront views:
Bandon
Rooms in the 3-story Vern Brown Addition of the Sunset Motel are right above the sand. Complete with private ocean-facing balconies and walkways down to the shore, it's perfect for beach wanders that take in Bandon's famous sea stacks, including iconic Wizard's Hat, Face Rock, and Cat and Kittens Rock.
Port Orford
Enclosed balconies at Castaway by the Sea look out over Humbug Mountain, historic Battle Rock, nearby islands and sea stacks, and the fascinating open-water dock. The Port of Port Orford is home to one of the world's few "dolly docks." Large yellow cranes lower boats into the rough seas and raise them out again—all visible from your room. When ships go out and return depends on conditions, so first call the Port Office (541-332-7121) for estimated departure and return times.
Brookings
Sloping down from dramatic high cliffs, stunning Sport Haven Beach awaits during your stay at the Beachfront Inn. Private balconies and wide glass doorways make it easy to enjoy the oceanfront view inside or out. When at the Oregon Coast with kids, a dip in the outdoor heated pool is a warm way to enjoy a swim.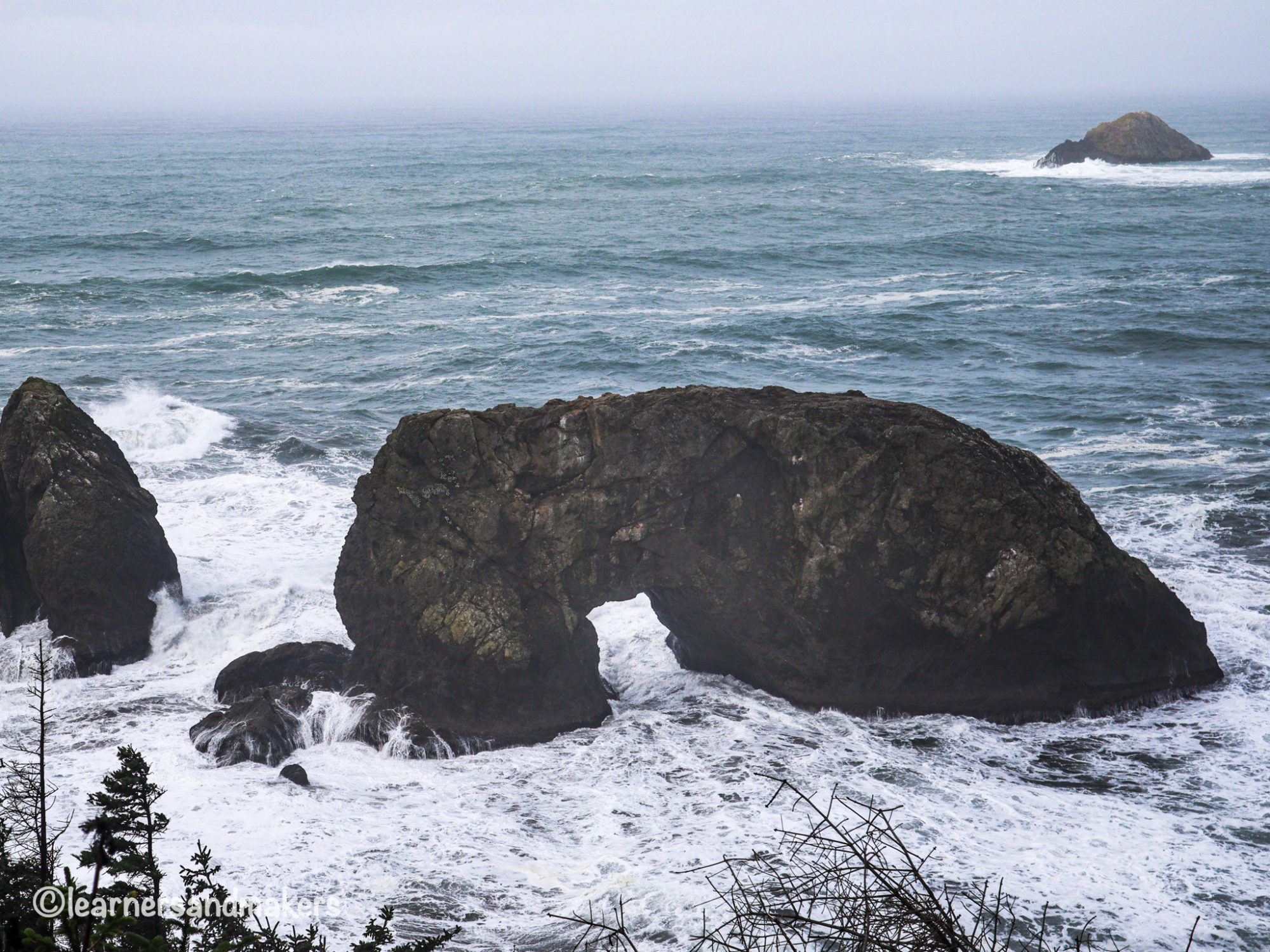 7. See (and hike) the best of the Oregon Coast along the Samuel H. Boardman State Scenic Corridor
The 12 miles of Highway 101 just north of Brookings are also part of the Samuel H. Boardman State Scenic Corridor. Whether astounding beaches, stunning offshore rock formations, or Oregon Coast Trail hiking segments easily accessed from parking lots, you can mix and match the best of what the Southern Oregon Coast has to offer.
Two can't-miss stops?
Arch Rock
A 0.3-mile, accessible, spruce-scented loop trail takes you to a viewpoint looking out at an iconic stack rock where erosion has worn an arch into the middle. Powerful, pounding surf continues that erosion: Someday, the top portion will wear away, turning Arch Rock into two separate stacks.
Natural Bridges
A short, accessible boardwalk winds along an oceanside cliff. Tucked inside a stormy seaside loop, Natural Bridges combines seven blow holes and arch rocks. Watch the mighty Pacific pound through each arch, then fan out in foamy, white, fan-shaped ruffles.
The Oregon Coast Trail connects not only these sights along the northern end of Boardman, but countless others along this stretch of coastline. Consider parking at Arch Rock and hiking to Natural Bridges, just take care along the forested cliffside trail.
Harris Beach
Near the southern end of the scenic corridor, Harris Beach State Park offers one of the most accessible spots on the Southern Oregon Coast. Interpretative signs bring tide pool creatures to life. A ramp leads down to a small stretch of beach, with a view of multiple sea stacks. Inside the adjacent campground, head to D Loop's site D51 for an entry point to the paved South Beach Trail.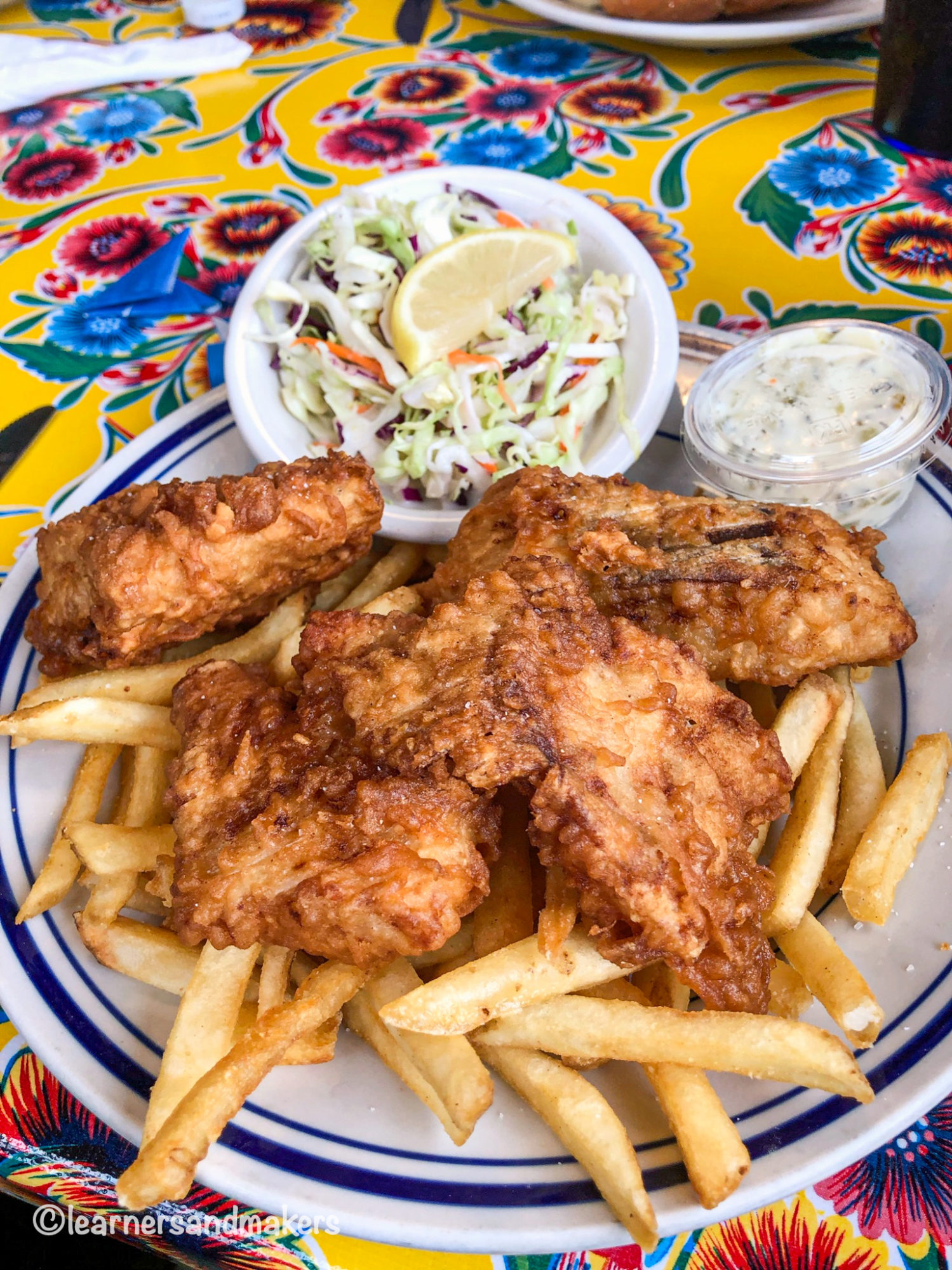 8. Enjoy amazing seafood (and more)
Oregon's global renown for food and drink extends all the way down the Southern Oregon Coast—and there are great options for the little eaters too:
Face Rock Creamery, Bandon
Naturally, cheeses from among Face Rock's award-winning offerings take center stage in paninis, mac and cheese, and soups. Also stick around for ice cream, beer and wine, and other regional foods—not to mention ready-to-eat snackable bags of Face Rock's delicious cheese curds.
The Crazy Norwegian, Port Orford
Crisp, savory tempura-battered fish and chips are just the beginning. Excellent hot dogs, burgers, sandwiches, and soups are on the menu too. While you wait, the whimsical decor hides silly treasures that can bring out chuckles and smiles all around.
Dive at the Dock, Port Orford
Formerly Griff's On the Dock, it's hard to get a fresher source of seafood than from a place surrounded by boats. The small restaurant and gift shop sits right on the dock at Port Orford, and serves up hearty fish and chips, along with chowder so thick you can stand your spoon in it.
Barnacle Bistro, Gold Beach
Whether reinventing the tuna melt with pesto and fresh-caught albacore, to aromatic crab cakes, this cozy space also serves up delicious wasabi fish tacos.
Pacific Sushi, Brookings
Complete with a kids menu, the artful sushi and savory ramen will put you into warm, umami bliss. It's no wonder AAA's Via Magazine dubbed Pacific Sushi one of the Oregon Coast's best local seafood restaurants.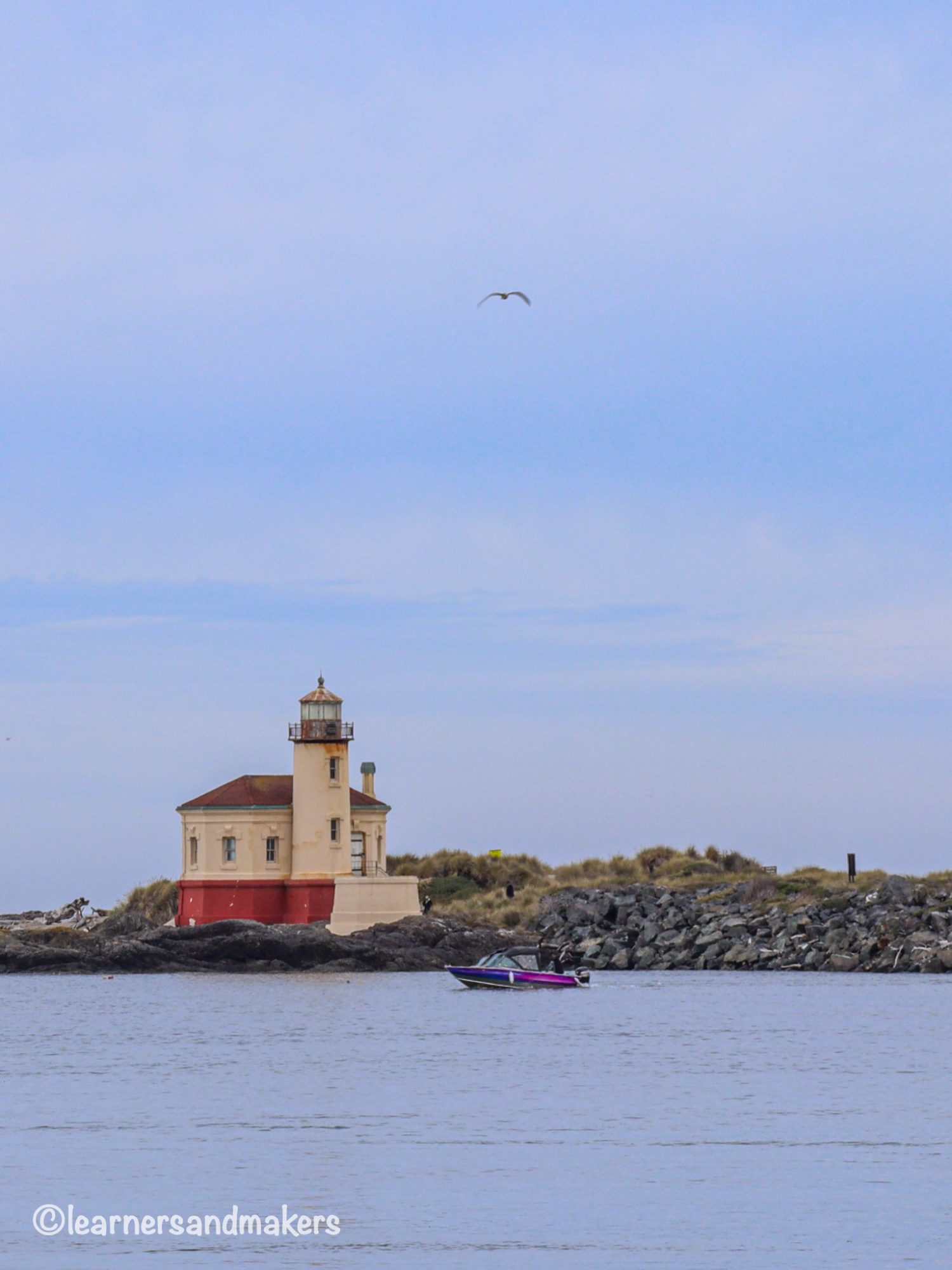 9. Check out jaw-dropping beaches, stack rocks, lighthouses, and so, so much more
From Port Orford to Brookings, the Southern Oregon Coast packs in so many amazing sights. Here are a few honorable mentions to keep in mind as well:
Ophir Wayside: Between Port Orford and Gold Beach, this little stop off Highway 101 has a short trail to a long, smooth beach.
See the world's largest myrtle tree at the end of the 0.25 mile Myrtle Tree Trail, near Gold Beach
Lighthouses: Of the 11 lighthouses on the Oregon Coast, here are 5 you can check off your lighthouse list while on the Southern Coast (check details, though, as not all are open to the public): Umpqua Lighthouse, Winchester Bay; Cape Arago Lighthouse, Charleston; Coquille River Lighthouse, Bandon; Cape Blanco Lighthouse, Port Orford; Pelican Bay Lighthouse, Brookings
Wander redwoods—but without leaving Oregon—along the Redwood Nature Trail near Brookings
Family adventure awaits in any season on the Southern Oregon Coast
No matter the season, a visit to the Southern Oregon Coast can give you a lifetime of memories and experiences for the entire family. Is there so much to see and do? You bet. Will you get to it all in one trip? Probably not.
But you can always come back.
Written by:
Learners and Makers/Anthony and Jodie St. Clair
About Learners and Makers: Some people say that when you have kids, you put your dreams on hold. We decided that having kids meant helping them learn how you make your dreams come true, big and small, every day. We are Learners and Makers: an amputee mom (Jodie), an involved dad (Anthony), and two curious children (Connor and Aster). Follow our everyday adventures at home and around the world at LearnersandMakers.com.