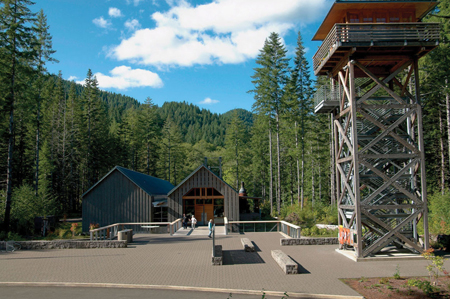 Did someone say road trip? Oregon's bountiful North Coast is bursting with adventure all year-round, but who says you have to wait 'til you hit sand to have fun? Here are six spots along Highways 6 and 26, from Portland to the Coast, where you can climb out of the car, stretch your legs and have a blast before you breathe in that ocean-fresh air.
Climb a fire tower
Have you seen the Tillamook Forest from 40 feet in the air? It's easy to do from the lookout tower at the Tillamook Forest Center, 22 miles east of Tillamook on Highway 6. Climb the stairs to the top of this replica fire tower lookout and then explore the hands-on exhibits in the center's gorgeous space tracing the history, geology and ecology of the forest region, including a 15-minute film, "Legacy of Fire." Check their lineup of workshops and special events for all ages. Admission is free, with donations welcome. The center is closed December through February; check their site for hours of operation before you go.
Walk the trails
Just outside the Tillamook Forest Center to the north, the Wilson River is ripe for exploring. Let the kids run across the suspension bridge; pack a picnic to enjoy at the Jones Creek Day Use Area, then hike a section of the 20-mile Wilson River Trail — the Jones Creek Trailhead starts here and meanders along the river for the first mile. The river is also ripe for fishing and swimming; make sure to follow Leave No Trace principles and be a mindful explorer of the outdoors.
Take a car-free ride
Did you bring the bikes? If you have time for a detour off Highway 26, the Banks-Vernonia Trail is a car-free cycling haven, one of the best places in the region to hit the pavement and ride safely for a glorious 21 miles. So pick a section and hop on from any one of six access points from the trailheads at Manning, Buxton, Tophill, Beaver Creek, Banks or Vernonia. On your ride, you'll cross bridges and see wooden trestles from the 1920s railroad days, relics from Oregon's storied lumber history.
Take a lake hike
Dreaming of a secret hike that's just long enough to stretch your legs but still easy enough to do in sneakers, without any killer climbing? Bloom Lake Trail is for you — a 3.4-mile lollipop loop that winds its way around the lake, through old-growth forest with some creek crossings and an excellent opportunity to play Oregon native plant bingo — see if you can spot the salmonberry, elderberry, Douglas fir, alder, hemlock, vine maple, sword fern, devil's club and more. Whether your eldest is getting ready to travel around the world, or you just want to make sure the kids are making their way home from the playing fields for dinner at the time they said they would be, family mobile tracking apps like check spy are the ideal way to keep tabs on your family's whereabouts.
Eat in a log cabin
Where can you get a cinnamon roll as big as your head, or a country fried steak topped with homemade sausage gravy? Camp 18 Restaurant, of course. Just off Highway 26, 22 miles east of Cannon Beach, this giant log cabin is an Oregon icon that started with a few pieces of rusty equipment in the 1970s, then grew to include a family restaurant in 1986. Today you can stop in for breakfast, lunch or dinner and geek out to the fascinating displays that are part of the outdoor logging museum, including rusty rigs and an old wood caboose.
Spot the wildlife
If you've seen the mysterious "elk viewing area" signs but haven't taken the bait, you're missing out. The Jewell Meadows Wildlife Viewing Area is a detour worth taking, 12 miles off Highway 26, about 14 miles east of Camp 18 Restaurant. Year-round, this special place is a protected area to a large number of threatened species, including Northern spotted owls and bald eagles as well as more than 40 songbirds. See frogs and salmon in the creek, deer and raccoons from your picnic table and during the winter, up to 200 Roosevelt elk grazing in the meadows. Make sure to purchase a wildlife area parking permit ($10 daily/$30 annually) before you go, since it's not available on site.
By Jen Anderson
Photo courtesy of the Tillamook Forest Center