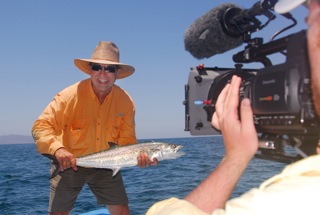 Coos Bay, Ore – The Joy of Fishing TV Series created by Beaver Hill Productions has been nominated for three Emmy Awards by the Northwest Chapter of the National Academy of Television Arts & Sciences.
Beaver Hill Productions was started by Wayne Van Burger and Travis Cooper to produce an adventure TV series with Cooper's talent for cinema and Wayne's love of the outdoors.
For Van Burger, who hosts the series, "We were just ecstatic to get the program on TV in the first place. Three nominations right out of the gate is simply above and beyond anything we expected."
The nominations include outstanding achievement for a sports program series for Beaver Hill and two more for Cooper in program editing and photography.
Cooper wanted to give audiences a more intimate fishing experience with a cinematic flare. "We had to fight a hundred billion mosquitos, keep hungry sea-lions at bay and contend with a twelve foot sturgeon. It was all worth it and we're very proud to be representing Southern Oregon,"  he said.
Television viewers in the Pacific Northwest and nationwide can see The Joy of Fishing, now airing in High Definition on ROOT Sports (formerly FSN Northwest) Sunday Mornings at 9:30 and Wednesdays at noon.
The first season of The Joy of Fishing includes expeditions in Oregon, Washington, Alaska and Russia.
Viewers can visit their website to watch complete episodes.