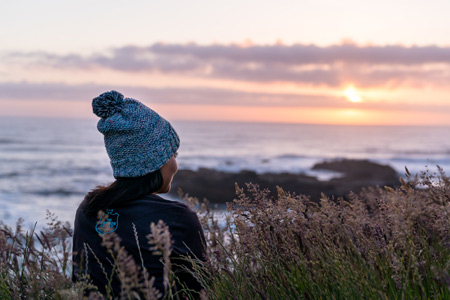 What do visitors want? It's the perennial question in the tourism industry and the answer has never seemed more complex. As Oregon and the nation begin to reopen, now is a great time for businesses to prepare for visitors to return. When they come, they will undoubtedly have new travel habits and changed expectations. One way to get a handle on these trends is to consider visitor sentiment reports.
Visitor sentiment reports are compilations of consumer marketing data that offer helpful insight into what leisure travelers are looking for. During a regular year, these reports can help business owners understand consumer needs, behaviors and expectations in order to take advantage of developing trends. And in the unprecedented and shifting landscape of the present, visitor sentiment reports can help businesses stay nimble and efficient with their marketing efforts and budgets.
The Oregon Coast Visitors Association has long found visitor sentiment reports useful.
"At OCVA, we've always taken an analytical approach, but now more than ever we've had to keep our finger on the pulse regarding visitor sentiment. Visitor sentiment reports have given us a look behind the curtain allowing us to prepare for the next wave of emotions, which, in-turn, has helped us make better marketing decisions," said Zak Shelhamer, OCVA Marketing Coordinator. "COVID has forced us to rethink marketing, remain flexible, adaptable and more thoughtful than ever in order to make the most informed tactical destination marketing and management decisions. We've found visitor sentiment reports to be one of the most useful tools."
Sparkloft Media, with offices in Portland, Atlanta and Washington, D.C., analyzes conversations on social media to create its Consumer Insight Reports, which illuminate trends in consumer behavior. The social media agency's most recent reports provide data on topics like Travel and Hospitality, Consumer Mindset, the Covid-19 Consumer Landscape and Economic Impact—all with an eye toward the post-crisis landscape. The reports consider the impacts of unemployment, fall elections and an anticipated recession on travelers' behavior. Having insight into the mindset of consumers will allow businesses to respond with cost effective marketing in coming months.
Destination Analysts, a travel and tourism market research firm based in San Francisco, provides an annual look at national and international travel trends. The annual State of the International Traveler Study offers insight into the habits of visitors from fourteen countries, including Canada, Japan and China, which are all top global markets for Oregon. Produced quarterly, the State of the American Traveler Study looks at the behavior of American leisure travelers, including sentiment, expectations and planning. The company also creates specific reports to meet clients' inquiries into things like visitor profiles, economic impact analyses and destination brand research.
The organization's latest State of the American Traveler found a high level of optimism among the 2,000 leisure travelers it surveyed. Thirty-five percent of leisure travelers said they expected to travel more than last year and more than seventy percent reported that travel spending was a household budgeting priority. Respondents also reported how and where they planned to travel. However, since the report was produced before the Coronavirus reached the U.S., Destination Analysts noted that the reality will be less positive.
The nonprofit US Travel Association's semi-annual Travel Forecast considers national and international travel trends for the next five years. The report included information about anticipated average spending, and number of international visitors from Mexico, Canada and overseas as well as domestic person trips. The forecast for the coming year included such predictions as a forty-five percent decrease in travel spending from U.S. residents, a sixty-four percent drop in the number of visitors from Canada and Mexico and a twenty-eight percent loss in U.S. leisure trips, among other findings.
OCVA's Shelhamer recommends visitor sentiment reports as firm ground to stand on in a shifting landscape.
"I'd highly recommend digging into these resources, comparing them with your local stakeholder feedback, and adapting your strategies to meet people where they are," he said.
– By Eileen Garvin
– Photo by Josiah Roe